Beach Weddings on Florida's Emerald Coast
BEACH WEDDINGS ON FLORIDA'S EMERALD COAST
Coastal destination weddings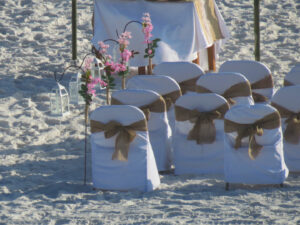 I've photographed many beach weddings during six seasons of living across the street from a popular spot for destination weddings. I've also attended destination weddings in Myrtle Beach, SC, Los Angeles, CA and Las Vegas, NV and my husband and I were married on the beach of St Lucia, West Indies for our own destination wedding. There's nothing more stunning than the gorgeous backdrop of the ocean for a beach wedding. There's also a lot to consider.
Less is more! Let the water, sky and sand provide the natural beauty with a few simple strategies to make your day memorable and photograph to the best possible advantage. Many snowbirds renew their vows and/or have a second or third chance at marriage after having been widowed or divorced. They also have family members who may wish to plan a beach destination wedding or have already or will attend one in the future. Whether guest, observer or the marrying couple, here's a few tips to help make it go smoother.
---
14 Considerations for Your Beach Wedding
One: Research locations online, public beaches generally allow weddings, but there may be restrictions to work out with the local authorities regarding permits. Local authorities may want to know exactly when, where, how many and what is planned. Private beaches generally do not allow weddings unless you directly make arrangements with the owner/s or venue. Gather ideas of the overall vision of what you'd like to emulate.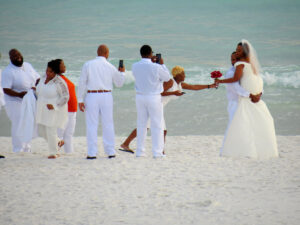 Two: Consider hiring a local wedding planner or event firm. You're paying for their knowledge and experience. It's already stressful to host a wedding, so an experienced event planner can help alleviate some of the pressure by performing valuable functions for you. For my destination wedding in St. Lucia, the resort where we stayed planned everything for us and made the legal arrangements, set up the officiant, witnesses and the wedding ceremony, photographer and our private reception for two was held in a private beach gazebo. It was a carefree time for our special day. We then enjoyed a romantic dinner onsite at a French restaurant. Upon our return to the US a week later, we hosted a lovely dinner reception for family and friends at a downtown hotel.
Three: Ask for recommendations via online specialty groups. I'm part of a social media group where there's continual posts asking for recommendations for locations, photographers, videographers, catering services, clergy, wedding planners and housing information.
Four: Figure out other details and necessities such as budget, date, time of day, whether to invite guests and if so, how many? Will you host a reception? Will the reception be on the beach or elsewhere? Destination weddings don't really follow conventional Saturday dates. A mid-week wedding gives everyone time to arrive the weekend before, relax and settle in. It helps ease delays such as missed flights. Next are the pre-parties, rehearsal and dinner, wedding ceremony, post-celebrations and then return home. If you plan to give swag bags to your guests, figure out how elaborate or simple they will be. Two bottles of water, pre-packaged snacks and a handwritten welcome note are a lovely gesture. Consider whether your pet will travel with you and/or be permitted to be on the beach. Most public beaches do not allow domestic animals.
Five: What accessories do you want to have? Decorated arches, flameless candles, lanterns, draped chairs, ribbons, flowers, signage, shepherd's crooks, programs, an altar and more are all part of the considerations. Real flames in candles or torches are unlikely unless you obtain a special permit and/or have incredibly durable hurricane lanterns. Arches need to be professionally installed due to the possibility of injuries should they fall over from wind. Never touch or adjust an arch that has been installed. Consider the weather conditions for your wedding and don't get upset if your arch can't be fully decorated due to high winds. The swag of flowers may need to be skipped, but that's what beach weddings are about: flexibility.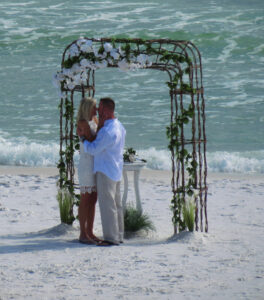 Six: Logistics: Where will you and/or your guests stay? Do you want them all together at the same resort? Where will you and your guests prep for the wedding? Is there adequate parking for your event? Who will tear down afterwards? If you hired a wedding service to set up and tear down, it is much less stressful for the newlyweds and the guests. If you are giving swag bags, who will distribute them and when?
Seven: Do any of the guests have ADA requirements? Is an ADA ramp available to reach the sand? Many access points require traversing many steep steps to go over the sand dunes. Is the sand of the beach ADA accessible with special mats? Do your ADA guests need to sit down during the service? I've witnessed a wedding where a guest in a wheelchair remained on the overlook where the loved one could see the wedding from afar. If this is necessary, who will accompany the ADA guest?
Eight: What are your plans for the ceremony? What, if any accessories will you have? Who will be the person who will perform the ceremony as well as create the vows and content? Will you have attendants? When will the rehearsal take place? If no rehearsal is planned, do guests and attendants know where to be and when?
Nine: Are amplified sound devices available? The roar of the surf can make it very difficult for guests to hear, even when gathered very close. Check with local authorities to ensure what if any restrictions are imposed on amplified devices.
Ten: Will you have a reception? On site or somewhere else such as a restaurant or private venue? What will you serve and who will pay for the meal? Beverages? What restrictions, such as noise, size of event and so forth are in place for private beach events such a catered reception. Will catering trucks have a place to park?
Eleven: Do you have a plan for inclement weather? Rain, cold temps, clouds, high winds, thunderstorms and so forth can derail a beautiful beach wedding. Make contingency plans. The beach weddings I photographed from afar have worked around chilly temps, rough surf, cloudy skies and very gusty winds. I've never seen a beach wedding in the rain and no doubt because those weddings had to be moved to an alternate location or wait for better weather.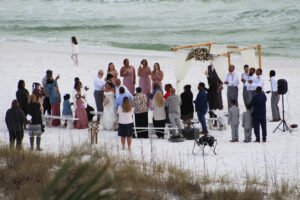 Twelve: Consider what else can affect your wedding ceremony? Illness, miscommunication, lost or forgotten items can make it more difficult. I've seen weddings being set up across from where we stay and the fellow beach goers sit in their beach chairs right next to where the event is obviously being staged. Sometimes up until what seems like the very last minute before it starts. Noise from vehicles blasting their music while traversing along the beach can affect the mood. And one wedding was about to begin when suddenly several guests departed the staging area and began walking quickly along the boardwalk away from the wedding. Then two by two, more guests followed. About 20+ minutes later, they hurriedly returned to the ceremony which then commenced. I will forever wonder what exactly happened, but it's possible the bride or groom left something of importance behind such as their handwritten vows or perhaps a wedding ring.
Thirteen: At what point does your honeymoon start? Do you have a departure plan so your guests know when they need to give you private time as newlyweds? When I attended the destination wedding in Vegas, the newlyweds departed the next day for their honeymoon in Puerto Rico. It was one very clear way to indicate the honeymoon is private; however, it adds to the cost and stress levels to travel to your destination wedding and then pack up and move to your destination honeymoon. Another option would be to not invite guests in the first place or move to a different nearby hotel or rental once your wedding day is complete.
Fourteen: Consider those who cannot attend your wedding. Are you or they going to feel bad when your loved ones cannot attend your beach wedding due to budget, unable to obtain time off, unable to travel or unable to make it to the beach due to physical limitations?
Best Beach Wedding Photos
One: Hire an experienced photographer who is within your budget and has availability for your date. Make sure of details such as the terms of the contract, an out-clause for either party and how much it will cost. Are digital images included in the price? Leave nothing to chance, it's imperative to work it all out in writing well before your wedding date. Will the photographer be solo? Or will there be a second shooter? Are they comfortable and experienced with the various lighting and weather conditions of a beach wedding?
Two: Determine your colors. Color makes a huge impact on your photos! Everything should look well-coordinated or it will be very obvious when you see the outcome. For example, your colors should work well with the natural colors of the beach. If the lighting will be golden warm sunset hues, choose warm colors for your palette. If you want "watery" colors such as pale blues, teals and greens, they will look better with the backdrop of the gulf. Beige and white will work well with the sand, water and sky. Opposite colors of the natural surroundings, such as red, will "pop" against the backdrop. Since you chose the beach for your wedding, make your wedding colors purposefully coastal. If you want "fall colors" such as golds and burgundy the beach probably isn't the best place for that palette.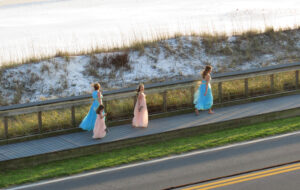 Three: Do you want guests to stick with your color scheme? If you do, be very specific so everyone is on board. There's many interpretations of what "teal" looks like or "ocean blue" or even "off-white." Ensure everyone has the actual color sample of what you want them to work with. If your guests should all wear beige and white, let them know well in advance. Also inform guests if your wedding is formal or casual. It is completely acceptable for everyone to wear something comfortable such as khaki pants or tailored shorts and white shirts, especially on a hot day. If your wedding is formal, let the attendants know if they should wear black tuxedos, crisp white shirts with teal blue pocket squares or teal and white dresses.
Four: Accessories and props: What do you want to convey? Will you have an oversized empty frame to hold up with you and your betrothed smiling behind it? A gorgeous bouquet? My bouquet of live orchids was extra special and aside from my dress and jewelry, nothing else was needed. My husband's black tuxedo and orchid boutonnière looked great too. More isn't always better with a beach wedding. Remember, silk flowers are convenient and typically will photograph well, but actual flowers provide movement and authenticity, especially when they are your primary accessory. The extra expense of real flowers may be worth the effort because they are a focal point of your wedding ensemble.
Five: Convey emotion. You're probably going to be a mix of nervous, excited and happy and it will come through in the photos. Be prepared for all of your emotions to be displayed, it's impossible to hide your feelings. There may be tears of joy, stress and more and that's ok. Don't forget to be spontaneous because those are often the most treasured photos of all.
Six: Let the photographer and everyone else included in your wedding know in advance what photos they will be in and when/where they need to be. Proper planning and organization goes a long way. Avoid hurt feelings by including everyone in at least some of the professional photos.
Seven: Candid shots can be the best! I've attended weddings where guests were discouraged from taking photos with their phone cameras for various reasons including "ruining" the ambiance. If your wedding is being filmed for reality tv, then maybe that's a valid point, but it's overlooking the value of the photographers who know you best, your guests. Wedding photos have come a long way since the days of disposable cameras placed in the center of the reception tables so guests can help capture the moments. Take advantage of digital cameras and run with it. What's the worst that can happen? You have a "free" photo that might just be your favorite.
Eight: Drone photos are increasingly popular in today's electronic age. Although more expensive, your results will provide an entirely new dimension of your wedding at the beach.
Nine: Last, but not least: hair and make-up. I've witnessed many beautifully made-up brides and attendants show up with stunning hair designs. Typically, within minutes of arriving at the beach the wind will take over and your perfect hair is now blowing uncontrollably. Your photographer will do as much as possible to work with the wind, but they aren't miracle workers. Take it into account when planning your hair style so you are adequately prepared. This also applies to your plan if sand accidentally gets in someone's eye and causes make-up to run. Have a Plan B for everything!
All you need is love and a beach
-- Unknown
---
---