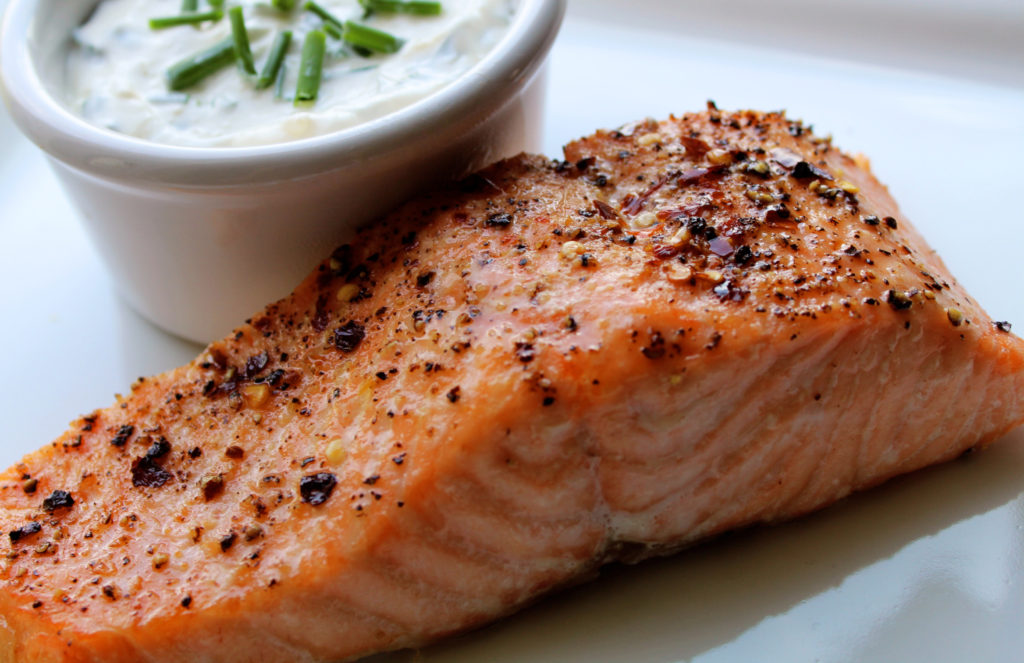 ---
Snowbird Recipe:
Salmon Fillets, Restaurant Style
With herb sauce, blue cheese or fresh herbs
---
My husband and I never order salmon when dining out because our broiled salmon rivals any restaurant entree. For best results, you'll need a true classic broiler pan set, the kind with a lower tray for hot water and an upper unit with holes that allow steam to pass through. Broiler pan sets can be purchased for as little as $15 -- well worth it for amazing results with our salmon recipe. Once you've mastered broiling salmon fillets, there are endless marinades, sauces and enhancements to dress it up, so go ahead and experiment with your own finishes. This is how to cook perfect salmon fillets every time.
---
Snowbird meals tend to be much simpler, using fewer ingredients and a very limited selection of appliances and gadgets to prepare them. Choose the freshest, highest quality ingredients and find alternate ways to make your favorite recipes. Forget about what you don't have to cook with, instead focus on what you can accomplish with what you do have. - Midlife Snowbird
---
Ingredients:
1 to 1.5 pounds fresh salmon fillet, center cut is best (do not substitute frozen fillets or "steelhead trout salmon")
2 T. Canola oil, reserve half
1/2 t. garlic powder
1/2 t. Kosher salt
1/2 t. Creole salt
1/4 t. fresh cracked black pepper
1/4 t. crushed red pepper, optional
---
Garnishes: Lemons; butter; blue cheese crumbles or blue cheese sauce; fresh green herbs such as chives, sage, dill, rosemary
---
Key Notes:
Choose fresh center cut salmon fillets if possible.
Do not substitute "steelhead trout salmon," which is not salmon and it has pin bones. Do not ever substitute frozen salmon fillets.
There are many commercially prepared dry fish rubs in lieu of the above seasonings. The Fresh Market offers a very good private labeled salmon rub and marinade.
---
Suggested brands: Alouette® Blue Cheese Crumbles; Zatarain's® Creole Seasoning, The Fresh Market's Salmon Rub and Marinade®
---
Preparation:
NOTE: Read all directions carefully before beginning the cooking process if you are a novice and/or not familiar with broiling fish fillets.
Preheat oven to 350 degrees. The top rack should be at least six inches from the top of the oven.
Pour hot tap water about one-third to one-half to the top of the lower broiler pan
Carefully place broiler pan filled with hot tap water into preheated 350 degree oven for ten minutes
Prep salmon fillet by patting it dry with a paper towel
Score fillet with a sharp knife down to the skin layer. Generally determine where to score by dividing the fillet into three or four equal portions of approximately 1/3 pound each
Oil the upper tray of the broiler pan set if it's not a non-stick pan
Place fillet on the upper broiler pan tray, skin side down
Brush remaining oil onto the top of the salmon fillet
Dust the top of the salmon fillet with seasonings
Place upper tray onto the hot lower broiler pan
Turn the oven off and turn on the broiler
Broil salmon fillet with oven door ajar approximately 10 to 12 minutes until salmon is no longer raw in the thickest part of the center
Do not overcook. After ten minutes, slide oven rack out far enough to check salmon with a meat thermometer (until just before it reaches 145 F degrees) or a knife. Insert knife into thickest part of the center to see if it's done.
The salmon fillets should not look dried out or raw. They should flake easily. If in doubt, remove fillets too soon rather than too late because they will continue cooking.
Turn broiler off
Carefully remove upper tray from lower broiler pan and place on a heat-resistant surface.
SAFETY WARNING: Do not remove lower broiler pan until the hot water has completely cooled.
Use lifter to remove fillets, without the skin, onto a serving platter.
Tent the fillets with aluminum foil for 3 to 5 minutes. The fillets are done at a temperature of 145 F degrees.
Serve warm with chilled herb sauce; or lemons; or blue cheese; or fresh herbs
Serve any leftovers chilled with a green salad and dressing
---
Servings:
Three to four portions
---
Serving Suggestion:
--Serve warm with herb sauce as a main entree OR
--Garnish with blue cheese or blue cheese sauce; lemons or fresh herbs such as chives, dill, sage, rosemary
--Serve chilled on a green salad
--Suitable for guests
---
Equipment List:
--9 X 13" classic broiler pan set
--sharp knife
--meat thermometer (for best results)
--measuring utensils
--lifter spatula
--aluminum foil
--serving platter
---
---
HOME VS. AWAY: APPLIANCES, GADGETS
---
Share your own recipe...
What are your favorite seafood recipes? Side dishes? Desserts? Go-to party recipes?