30 Tips for Successful Hotel Stays with your Dog
30 Tips for Successful Hotel Stays with your Dog
---
Pet friendly hotels are becoming increasingly popular and the internet and web sites such as bringfido.com makes it much easier to find them. Typically, these are going to be the "highway hotels" rather than the upscale beach resorts and five star luxury properties. Some hotel brands, such as Best Western and La Quinta, promote their properties as pet friendly. Be open to all options when looking for a place to stay, you never know when you might find a hidden gem, as we did.
One year, we knew we would be in transit to our snowbird destination for our wedding anniversary, so we decided to make a small detour and spend the night along the water if there were any good options. At the time, it was difficult to find online information for the independently operated waterfront hotels in the area I was searching, so I began calling each one to inquire. I used Google Maps and went right down the line until finally, I found a pet-friendly property in Gulf Breeze, Florida. Not only did they accept our dog, but the Pensacola Bay waterfront location was outstanding! The Quality Inn on the Bayfront in NW Florida was exactly what we wanted: Gorgeous view, a decent room for a reasonable price and onsite restaurant with patio dining so our dog could be with us. It was the perfect place for us to celebrate our anniversary. 
No matter what your ideal hotel is, make sure the property you are considering accepts the size, weight and type of breed you have. Check into any other restrictions, such as only registered service pets or whether there are limited pet-friendly rooms that may or may not be available.
Inquire about how much the additional fee will be. Do not try to sneak your pet into the hotel to cut costs or think you won't be found out. Cameras are everywhere these days and it is unfair to the hotel and your dog. Not paying for your dog is a quick way to either be asked to leave and/or put on a "do not return" list. Yes, these lists exist. Remember, some guests refuse to stay in a hotel or hotel room that allows pets due to allergies, dander and the possibility of fleas, so the hotels have to enforce their pet policies to avoid potential problems with their guests. 
Travelling with a pet, whether near or far, is stressful for all involved. Concerns such as safety are always top of mind. No one wants their pet to accidentally escape or make themselves sick with anxiety. Don't take unnecessary chances, be overly cautious and it is possible to have an enjoyable time with your dog. These are my personal strategies that can help pet parents and their fur babies have a better experience when staying in a hotel. 
---
30 Tips for Managing Your Dog in a Hotel
1. If your dog isn't already micro-chipped with current contact information, talk to your vet and get the procedure done well in advance of your travel dates. You need adequate time for the micro chip to be properly registered. It is well worth the cost and inconvenience.
2. Prior to travelling, make sure your pet is current with all vaccines, kennel cough, flea and heartworm treatment and bring your up-to-date veterinary records showing the information if needed.
3. Your dog needs to wear a collar with current tags at all times. No exceptions.
4. Always keep your dog on a leash when outdoors. Even normally calm dogs become nervous and skittish when in an unfamiliar environment. Most hotels and public spaces require a leash and it would be devastating for an off-leash dog to get spooked and run into traffic, scare fellow guests or chase something, never to be found again.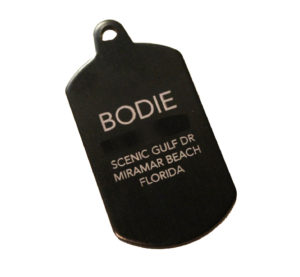 5. Make sure your dog wears a distinguishing collar and perhaps an additional item such as a bandana when traveling. Make sure you have quick access to a recent photo of your pet. If your pet somehow gets loose, it's easier to find a dog with a photo and full description such as 80 pound, male, chocolate Lab with blue collar and bright red bandana around his neck.
6. Mature dogs make better hotel guests. If your dog is accustomed to hotel stays, that is a huge advantage for you and your pet because they will acclimate more quickly.
7. If you have a house-trained puppy and must stay in a hotel to/from your snowbird destination, take every precaution to ensure the puppy is safe, can't escape and isn't going to destroy the hotel property or furnishings. Bring a crate if the puppy is crate trained. Distract from noises. Puppies tend to bark and react to every creak or sound in the hallway, which is not easy for owners or puppies to deal with. If possible use white noise to distract from other guests talking in the hallway or doors opening and closing. Bring your own fan or play "sounds of nature" or other soothing music on your portable device. Let the puppy know right away that barking won't be tolerated. They do learn. Our now five-year-old Golden Retriever has dramatically improved from his original skittish puppy behavior in hotels.
8. Prior to bringing your dog into the room, visually sweep every nook and cranny of the room for items that may be under the bed or within reach of your dog. You don't want your curious dog to find a pill or sharp object before you do.
9. Put the "Do Not Disturb" sign on your exterior doors and keep them there for the duration of your stay. Housekeeping won't inadvertently be confronted with an unpredictable pet or worse, the pet escapes due to the simple act of accessing the room.
10. Make sure the door is secured and locked for the duration of your stay, regardless of having a pet with you.
11. Keep the bathroom toilet lid closed at all times for sanitary reasons, no dog should be exposed to a toilet bowl.
12. Place the waste baskets out of reach of your dog if s/he is prone to digging through the trash. If necessary, keep your glasses, keys, shoes, socks, clothes, wallet or purse out of reach of your pet.
13. Familiarize yourself with the exits. We stay in a highway hotel that has hallway doors to the guest rooms. At first, this may seem safer than hotels with rooms that open right to the parking lot. However, the hotel has lobby doors that automatically open when anyone, including a loose pet, steps on the sensor. It would be an easy escape down the hall and right out the hotel's front doors before anyone can react. An alternate option is to request a room on an upper floor so there are fire doors in between your room and the outdoors.
14. If you stay in a room with a door that opens directly to the parking lot, leash and/or hold onto your dog's collar every single time the door opens. You don't want a panicked dog to dart out! Your dog will be afraid of being abandoned and their behavior may change for the worse if they think they are being left behind.
15. If you and your dog need the convenience of a ground floor room due to navigating stairs or elevators, then be extra cautious your pet doesn't escape.
16. Be careful when entering and exiting elevators. Do everything possible to swiftly enter/exit and avoid having the leash extended in front of you. Elevators and pets are not ideal, there's many safety issues to consider, including pinch points, navigating thresholds and becoming separated via closing doors. Research your own options for safely navigating elevators so you can avoid disasters.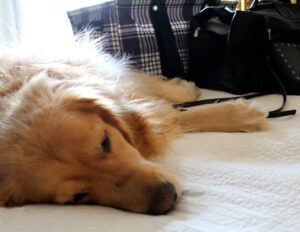 17. Make your dog as comfortable as possible in the hotel room. We bring our dog's large, heavy bed in and out of each hotel room because it's important that our dog sleeps as well as possible. Everyone is road weary when travelling for multiple days at a time. If the hotel has a cart, it's much easier, but make sure your dog has a comfortable sleep space. Many hotels do not allow owners to permit pets to be on the linens or furniture, so if your dog likes to sleep in bed with you, bring your own sheet/s to cover the hotel's linens.
18. Position the dog's bed so they can keep an eye on you as well as the door.
19. Place the water bowl in a low traffic area where it won't get spilled.
20. Put the leash on the doorknob so you easily can find it, especially in the event of a fire or emergency.
21. Avoid leaving your dog alone in the room if possible. If you are travelling solo, take the pet with you if you need to leave the room, it will help keep them calmer. If you travel with a spouse or partner, take turns for trips to the breakfast buffet, pool, spa, lounge, lobby, your car or going outdoors to smoke. It's not ideal, but your pet is a higher priority than almost anything else.
22. Exercise your dog with a walk in the designated areas. Pets who are crammed into a packed vehicle need to stretch and unwind after a long day of travel.
23. Promptly pick up after your pet. We bring our own plastic grocery bags to take care of the pet's business and properly discard the waste in an exterior trash can.
24. If no pet-friendly onsite restaurant is available, order pizza to be delivered or hire a service to bring your food directly to your room so your pet isn't left alone.
25. Spoil your dog more than usual when staying in a hotel. Give them special treats and extra attention. Help reduce their stress by speaking in a calm voice and keeping the TV volume lower.
26. If the hotel offers breakfast included, bring a plate of extra food back to the room. Our dog gets a hard boiled or scrambled egg, yogurt, sliced bananas or fresh blueberries and a low fat protein. These are all part of the start to a good day for you and your dog. Perhaps reward your dog with a few tiny bites of a powdered donut. It's better for your dog to eat a little too much and have extra energy than have a stressed out dog who is not able to eat at all.
27. Do not allow your dog to go into restricted areas such as the food service areas, pool or surrounding deck or housekeeping closets.
28. If no professional pet sitters are available and it isn't against the hotel's policy, plus the hotel isn't especially busy and you've verified management is ok with it, there is one strategy we have used when leaving our mature, experienced and acclimated dog unattended in a hotel. The key words here are mature, experienced and acclimated. We set up a laptop computer to monitor our dog through the computer's built-in camera. My husband sets up a Go To Meeting or a Zoom meeting with his phone and then "invites" our laptop computer to attend (or you can set it up the other way around). We position the laptop to show as much of the room as possible. Remember, if you leave the TV on for white noise in the room, the monitor will also pick up all of that noise, so leave the TV off. Be sure to test your operations before leaving your hotel. If your dog starts barking, you can hear it through the monitor and speak to him through the computer's speakers and tell him to stop. Yes, we've done this and our boy typically listens. You can also monitor to see if the dog is sleeping by the door waiting for your return. If your dog is too stressed out in your absence, you know it's time to get back to the hotel, ASAP. Beware of losing your internet signal if you go to somewhere that happens to be out of range for cell service. Yes, this happened to us and it was stressful. Thankfully our dog behaved in our absence. I do not recommend leaving a dog, especially a puppy, unattended if at all possible, but a monitor is one option to check that everything is OK.
29. Being loyal to the same hotels helps you and your pet know the layout and the general vicinity of the area. Our dog is more comfortable of what to expect and we have our systems worked out of how the room is set up and where to walk him. Even though we only stay at our highway hotel twice a year, the staff knows us and our boy Bodie and welcome us back each time.
30. Practice makes perfect! Over the years, our Golden Retriever has improved dramatically when we stay in hotels both to and from our snowbird destination as well as for mini getaways all year round.
"In life, it's not where you go, it's who you travel with.
"
-- Charles M. Schwartz, American Cartoonist
---
---