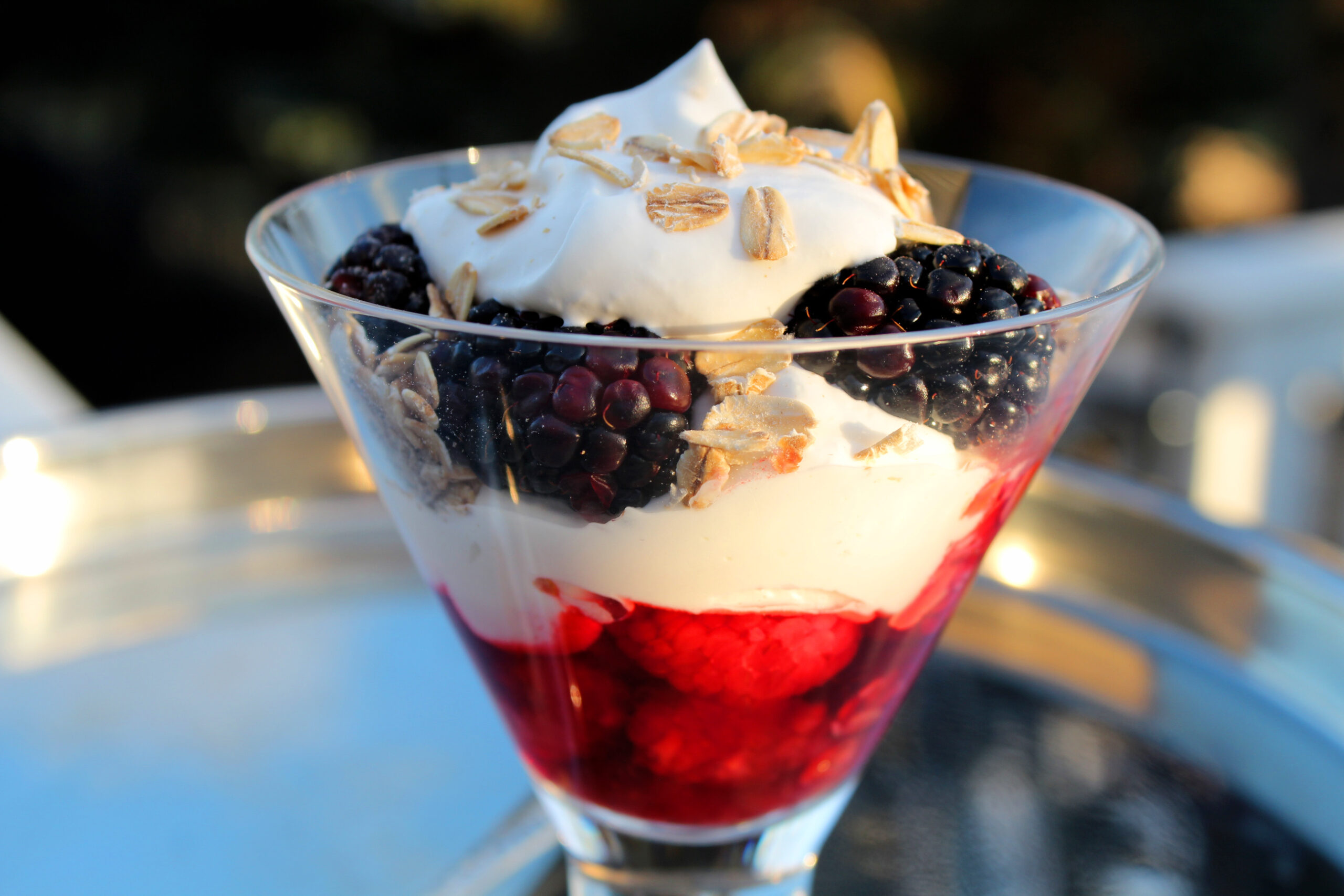 ---
Creamy Berry Parfait
Raspberries, Honey Whipped Cream, Toasted Oats
Scottish Cranachan
A creamy berry parfait great for breakfast or dessert, Cranachan is known as "the king of Scottish desserts." The modern version of Cranachan features fresh raspberries, heather honey whipped cream, toasted oats and whiskey. Historically, soft fruit such as raisins or preserved raspberries, were soaked overnight in whiskey, but with modern access to fresh raspberries all year round, the light, refreshing dessert is typically served for special occasions, including Burns Night. Scottish Gaelic in origin, Cranachan means "churn" and the dessert evolved during a time when summer cream was considered luxurious compared to eating one's oats with water. A creamy berry parfait is a simple, beautiful brunch or dessert ideal for snowbirds. Whip the cream just prior to serving for best results. I adapted my recipe from the simple, yet rich recipes on page 164 and 167 of Pippa Middleton's book, "Celebrate: A Year of Festivities for Families and Friends."
---
Snowbird meals tend to be much simpler, using fewer ingredients and a very limited selection of appliances and gadgets to prepare them. Choose the freshest, highest quality ingredients and find alternate ways to make your favorite recipes. Forget about what you don't have to cook with, instead focus on what you can accomplish with what you do have. - Midlife Snowbird
---
Ingredients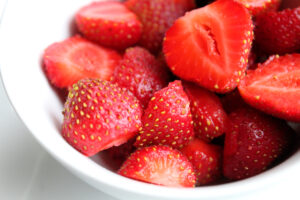 1 1/4 cups cream
8 ounces of raspberries, blueberries, blackberries, strawberries or a combo
3 T. honey (heather honey is traditional)
2 - 3 T. whiskey
1/4 cup oats, toasted
Notes: Of course, omit the whiskey if serving to underage guests. Depending on whether using a whiskey blend or true whiskey, adjust the amount used in this recipe to taste.
---
Recommended: Real whipping cream or heavy cream
---
Preparation
Toast oats in small saucepan over medium heat until browned, approximately 5 or 6 minutes. Stir frequently and do not overcook or burn them. Remove from heat and let cool.
Rinse and pat berries dry, if needed
Add cream, honey and whiskey to mixing bowl.
Using an electric mixer (or whisk), lightly whip the cream until peaks form. Do not overmix.
Two options with the berries:
Place half of the berries in the bottom of serving bowls or parfait cups, then layer half of the whipped cream, the remaining portion of berries and top with whipped cream.
Heat half of the berries in a small saucepan over low heat with a teaspoon of sugar and a dash of lemon juice. Smash the berries a bit and gently stir until the sugar dissolves. Remove from heat and put into the bottom of serving bowls or parfait cups, then layer half of the whipped cream, the remaining portion of whole berries and top with whipped cream.
Garnish with toasted oats.
Serve immediately.
---
Servings:
Approximately 3-4 servings
---
Serving Suggestion:
--Breakfast
--Dessert
--Serve as the final course of your Burns Night Dinner Celebration
---
Equipment List:
--medium mixing bowl
--small flat pan
--measuring utensils
--spatula
--whisk or electric mixer (preferred)
--small serving bowls or parfait glasses
---
---
HOME VS. AWAY: APPLIANCES, GADGETS
---
Share your own recipe...
What are your favorite seafood recipes? Side dishes? Desserts? Go-to party recipes?