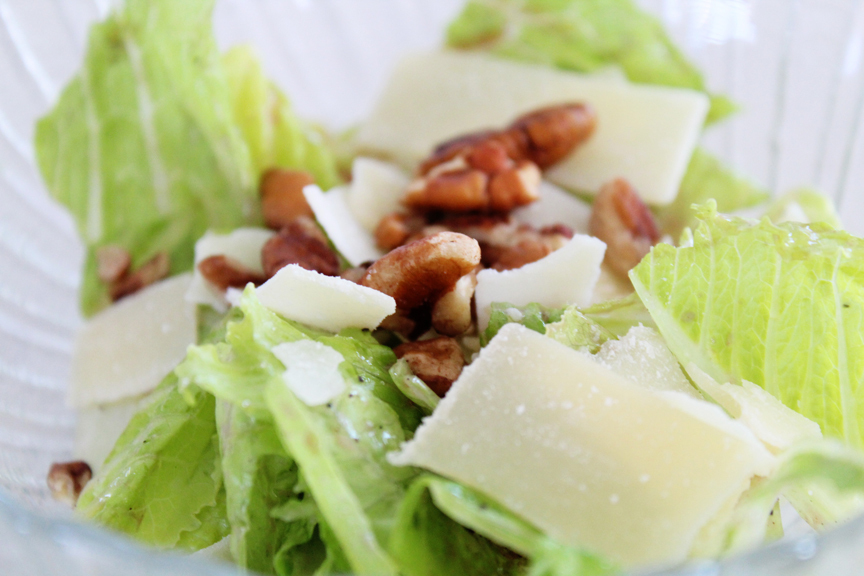 ---
Snowbird Recipe:
Romaine with Red Wine Vinaigrette
Light and refreshing, it only takes a few minutes to make this romaine with red wine vinaigrette salad. I serve this recipe as part of a quick lunch or with a meal for guests and it always gets compliments. This recipe is based on Wine Lovers' Salad on page 120 of "Vera Bradley Cooking With Friends" published in 2006. 
---
Snowbird meals tend to be much simpler, using fewer ingredients and a very limited selection of appliances and gadgets to prepare them. Choose the freshest, highest quality ingredients and find alternate ways to make your favorite recipes. Forget about what you don't have to cook with, instead focus on what you can accomplish with what you do have. - Midlife Snowbird
---
Ingredients
Red Wine Vinaigrette:
Two to Four Servings
1/4 cup extra virgin olive oil
1 T. red wine
1 T. red wine vinegar
1 T. Dijon mustard
1/2 t. Kosher salt
1/4 t. garlic powder
1/4 t. fresh cracked pepper
Vinaigrette:
Six Servings
1/2 cup extra virgin olive oil
2 T. red wine
2 T. red wine vinegar
2 T. Dijon mustard
1 t. Kosher salt
1/2 t. garlic powder
1/2 t. fresh cracked pepper
Salad
Hearts of Romaine, chopped
Pecans or walnuts, chopped
Parmesan cheese, shaved
Croutons
Additional toppings such as diced tomatoes, bacon bits or hard boiled egg are optional
*Adjust the salad ingredients based on how many servings you are preparing. Generally estimate 1 cup of chopped Romaine per serving.
---
Suggested brand: Grey Poupon® Dijon Mustard
---
Preparation
For the red wine vinaigrette, use a salad cruet OR small jar with tight lid. Combine all ingredients and shake well.
Chop the salad greens into approximately 1 inch pieces
Toss greens with red wine vinaigrette and let it rest a few minutes
Top with remaining salad ingredients
Serve chilled
---
Servings:
Two to six
---
Serving Suggestion:
--With a green salad, such as Romaine
---
Equipment List:
--salad cruet OR small canning-style jar with tight lid
--measuring cup
--measuring spoons
---
---
HOME VS. AWAY: APPLIANCES, GADGETS
---
Share your own recipe...
What are your favorite seafood recipes? Side dishes? Desserts? Go-to party recipes?