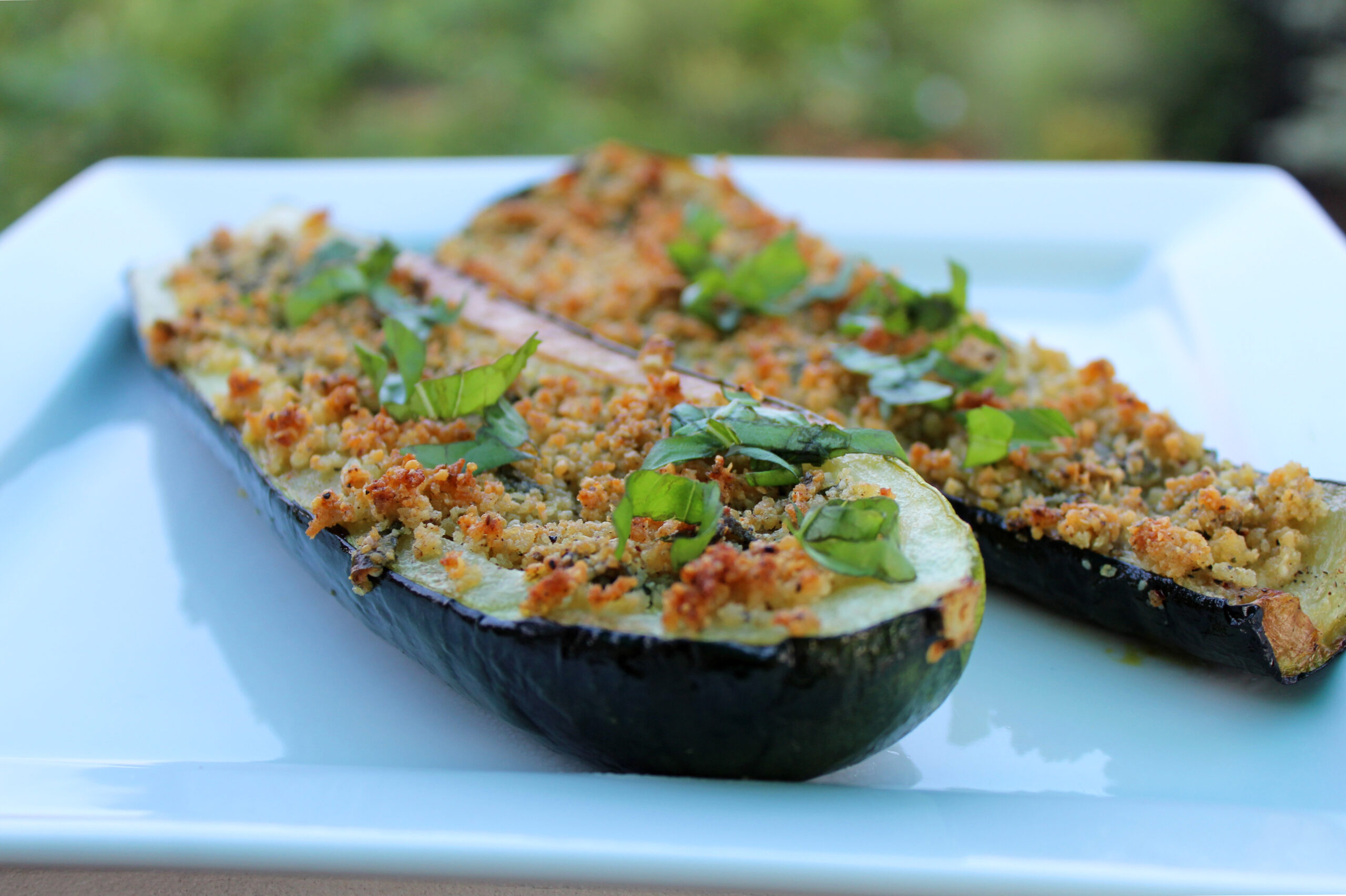 ---
Snowbird Recipe:
Stuffed Zucchini
Basil, Panko, Parmesan Cheese
This is a newly found, tasty, go-to recipe for baked zucchini. Garden squash combined with fragrant, fresh basil, panko crumbs and Parmesan cheese become a quick, easy recipe for a delicious baked side or meatless main dish. The secret is flavorful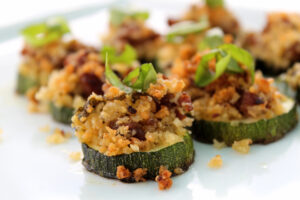 herbed seasonings for a crispy crumb crust to stuff into zucchini boats or pile onto bite-sized coins for a starter or hors d'oeuvres. Any summer squash with thin skin such as zucchini or yellow squash works well. Sauteed ground beef or sausage crumbles can be added to the topping as a variation. 
I use a herb and chive spice blend that is produced by Fresco Spice Blends® in the same city as my Northern home. It is made of the best quality authentic, natural ingredients, 100% free of preservatives and additives and most of all, created and hand-packed in the Midwest. Seasoned panko crumbs are another option or create your own blend of herbs and spices.
My recipe is inspired by Parmesan Roasted Zucchini on page 134 of "Cooking for Jeffrey" by Ina Garten. 
---
Snowbird meals tend to be much simpler, using fewer ingredients and a very limited selection of appliances and gadgets to prepare them. Choose the freshest, highest quality ingredients and find alternate ways to make your favorite recipes. Forget about what you don't have to cook with, instead focus on what you can accomplish with what you do have. - Midlife Snowbird
---
Ingredients
One 10 to 12" long zucchini for two boats OR two small zucchini for coins
1/3 cup Parmesan cheese
1/3 cup panko crumbs
6 to 8 fresh basil leaves, sliced into ribbons
4 T. extra virgin olive oil
1 t. herbs and chives seasoning blend
1/4 t. garlic salt or to taste
1/4 t. kosher salt
1/4 t. fresh cracked pepper
Optional: approx. 2/3 cup ground beef or sausage, browned/drained
---
Suggested Brands: Fresco Spice Blend® Herbs and Chives Seasoning; Kikkoman® Panko Japanese Style Bread Crumbs
---
Preparation
Preheat oven to 375 degrees
Rinse and dry zucchini, trim ends
Cut zucchini lengthwise in half or into round coins approximately .25" thick
Scoop out the seeds of the boats, discard
Brush olive oil on both sides of the boats or coins
Place zucchini coins in a single layer on a sheet pan with edges touching (coins) OR a single layer with skin side up (boats)
Sprinkle with kosher salt
Bake boats for about 12 minutes or until tender OR bake coins about 7 - 8 minutes or until tender
While zucchini is baking, combine panko, Parmesan cheese, herb and chives seasoning, 2 T. olive oil half of the fresh basil ribbons, garlic salt and pepper. Optional: add drained browned ground beef or sausage.
Remove zucchini from oven
Turn boats cut-side up
Stuff boats or top coins with crumb mixture. Bake an additional 7 to 8 minutes until browned and crispy.
Sprinkle with fresh ribbons of basil just before serving
Slice boats into strips approximately 1" to 2" wide.
Serve warm or at room temperature
---
Servings:
Approximately two 10" to 12" boats or 12 to 13 coins per small zucchini
---
Serving Suggestion:
--As a starter, snack or appetizer
--As a side or main dish
---
Equipment List:
--mixing bowl
--knife and cutting board
--measuring utensils
--sheet pan
---
COOKING CLASS: FIVE ELEGANT APPETIZERS
---
---
HOME VS. AWAY: APPLIANCES, GADGETS
---
Share your own recipe...
What are your favorite seafood recipes? Side dishes? Desserts? Go-to party recipes?