How to Pack Your Vehicle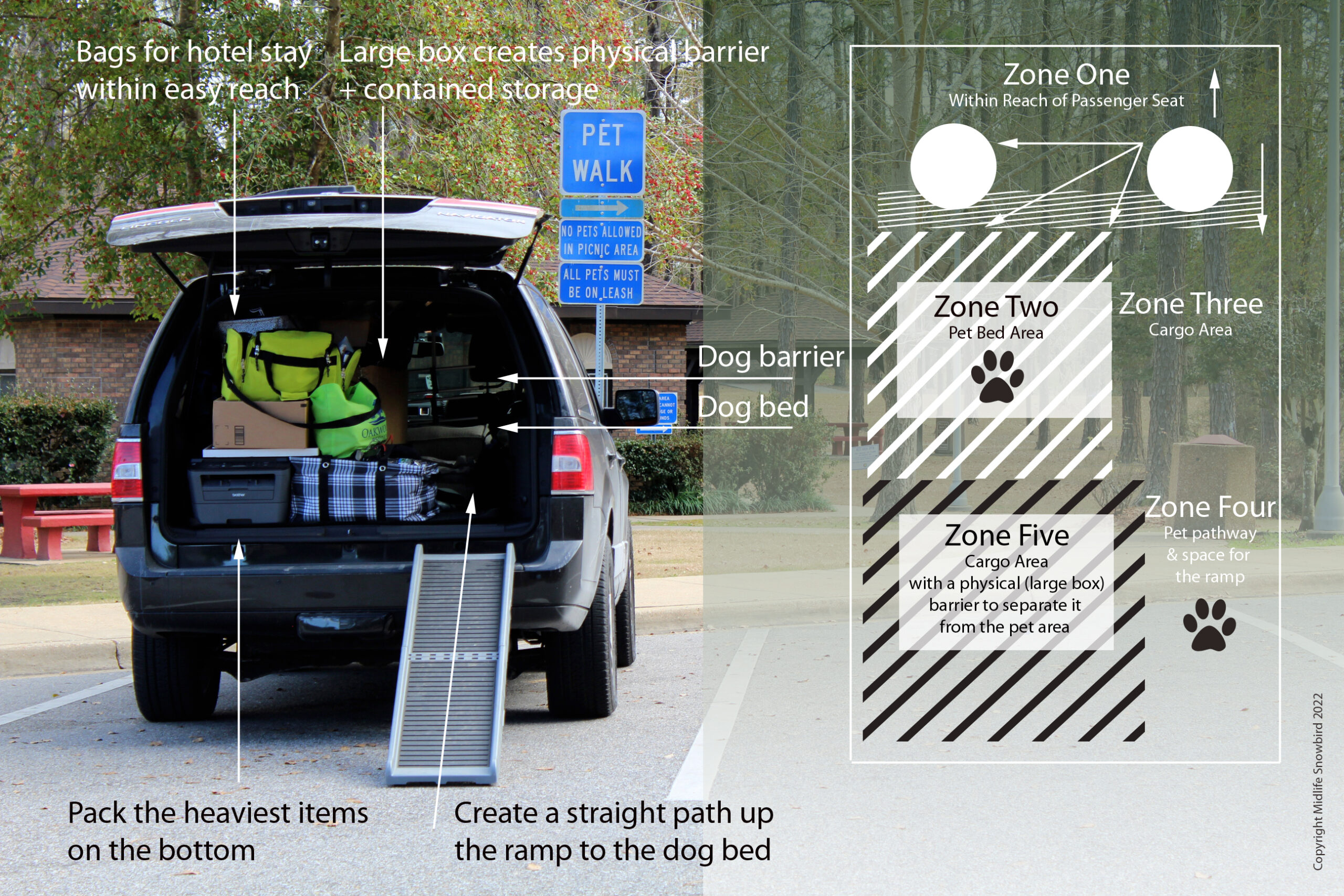 How to Pack Your Vehicle
Strategic Organization for a Successful Snowbird Road Trip
---
The first season we became snowbirds, I made a huge mistake. I did not get involved in packing the vehicle, only the stuff that goes in the vehicle. I was naively happy my husband handled all of the rest. As you can guess, it didn't take long to realize I had no idea where anything was, nor was it organized so that essential items could be easily reached from the passenger seat in transit or while stopped. 
Over the years, I've developed strategies for packing the vehicle to/from our snowbird community or any other destination. Because most people, including us, typically don't make long haul road trips more than once or twice a year, I recommend reviewing your techniques of what worked and what to skip prior to departure. Yes, it's rather intuitive, but there's always some detail that gets overlooked and it's not typically convenient to correct it while in transit.
We transport our Golden Retriever and business essentials such as computers, supplies, equipment and a printer to our snowbird community. If you don't have a dog and/or a business to bring, it's much less complicated. These are my personal strategies for organizing our vehicle for a successful road trip.
---
Related Posts:
Countdown to Departure, Pet Prep
---
Strategic Organization for a Successful Road Trip
First Get Your Basics Organized/Updated
Most of us already keep the basics organized in our vehicles: proof of insurance, registration, vehicle manual, cash, garage door opener and compact umbrellas stowed in the pocket of every door. I always have an atlas in the seat pocket in case of no cell service while traveling through rural areas.
Emergency preparedness is essential for a long road trip. If you have all of the items for first aid or to change a tire or give/get a battery jump, verify it's all there. If you don't have any of those items, consider purchasing them or invest in a AAA membership if you're not the type to work on your own vehicle. Newer vehicles may not be designed for a jump due to the absence of battery terminals. If your vehicle is in that category, it's better to know in advance that you'll need professional roadside assistance than to try to flag down help only to find they can't help you and vice versa. Keep gloves, hats and an extra blanket or two in your vehicle in case of a problem.
If you travel via toll roads, your Riverlink, SunPass and E-Z electronic passes should already be installed on the windshield. If you prefer the cash/credit lanes, restock your small bills and change as a back-up just in case.
It's also assumed you will remember to bring your purse and/or wallet, sunglasses and keys. Everyone should have their own set of keys, don't try to downsize to one set in the event of lost or stolen keys.
Start With a Clean Vehicle
This should go without saying, but thoroughly vacuum and wipe down every inch of your vehicle's interior surfaces prior to departure. Road trips are stressful enough, it's important to start with an exceptionally clean interior for safety and launching your journey the correct way for no other reason than it just feels better. The exterior should be clean too, especially the windshield and all glass windows. By personally cleaning everything, you'll have an opportunity to check the condition and restock any of the aforementioned basics.
Organize by Zone
The most important zone, which I refer to as "zone one" is a radius within reach of the front seats. The primary job of the passenger is to assist the driver in every way possible while in transit. Second is to manage any additional passengers, including the family pet/s. Solo drivers will have a different set of needs that are not addressed in this post.
Many snowbirds travel by SUV, however, the zone strategy applies to any vehicle. Zone one is everything within reach of the front seats. The other zones include the back seats and cargo area. If your uncaged pet is travelling with you, remember that not only can you reach zone one, your pet likely can too. This means it's important to plan accordingly so your dog isn't chomping on snacks or discarded food wrappers that are within easy reach of you and him. The first year we traveled with our puppy, Bodie, he was delighted to discover rolls of toilet paper were located near his dog bed. He entertained himself biting them until our next pit stop.
Physical Barriers to Separate the Zones
We use physical barriers to separate the zones. This includes a commercially produced aluminum pet barrier that keeps our dog from entering the front seat area. For his safety and ours, this is non-negotiable. I've seen many dogs travel in pet cages, which is a good option for smaller animals. Even if your pet doesn't typically try to barge into the front, think of safety in the event of a fast stop on the highway. Your pet should not become a missle and neither should anything else in the cargo zones.
To contain the items in the cargo area of our SUV, they are packed within a large box with the heaviest items on the bottom and only lighter items on the top. Never put heavy items anywhere they can become harmful projectiles. The large box in our cargo area helps contain items that shift while in transit and might fall onto the dog. Yes, in the past it has happened with coat jackets that are stowed on top of the heavy items and it's frustrating because the passenger cannot safely move the item until the next pit stop.
Zone One Requires Multi-Functions
Zone one is very important because there are many functions happening in this zone. The passenger must be able to help the driver navigate as well as efficiently dispense food and beverages to the humans and pet/s. Other functions include storing and charging electronic equipment and adjusting the front and rear temperature and radio stations. Sleeping/resting are also important for the passenger. Zone one requires being able to quickly clean up spills and messes and dispose of trash.
Middle Console
The hard-working middle console is a plethora of activity. We keep our cell phone super charger and phones in the middle console area. The interior of the console stores bags of snacks plus cash/change and the vehicle manual. A bottle of hand sanitizer plus each person's beverages fit into the cup holders.
Always bring extra clean sandwich bags and varying sizes of extra plastic containers with lids to keep inside the console. These containers are very handy in transit. The driver can keep their own individual bag or plastic dish of trail mix, chips or popcorn on their lap during transit. Plastic containers are ideal to catch crumbs or drippy sandwiches. Leftovers, such as pizza slices or uneaten sandwiches travel better in a clean sealed plastic container vs. a flimsy styrofoam to-go container. There's nothing fun about cleaning up a capsized fast food box, especially because it never happens when it's convenient.
One of my best tips for travelling with a dog is to keep a decent-sized high quality (such as Rubbermaid® brand) air-tight plastic container on top of the middle console. Our dog prefers to munch on ice cubes in transit and when the ice melts, he has chilled water to enjoy. I layer two or three clean dish cloths under the container of ice to keep the condensation away from leather console top and to clean up drool or messes as needed. It works very well compared to the days of travelling with a traditional water bowl on the console. No matter what the ice/water is stored in, offer it to your pet frequently to ensure they don't get too dehydrated. They are stressed too.
Within your middle console, pet's travel bag or somewhere else within reach, make sure you know where the portions of kibble are located to feed the dog in transit or at a rest stop. I portion each meal in baggies so I don't have to measure from our bulk supply of dog food, which travels in a tin in the cargo area. There have been trips where I couldn't remember where the food was and resorted to getting it from the bin.
I stack the dog's travel bag on top of the bottled water (which sits on the floor behind the middle console, then my purse, travel pillow and cosmetic bag are on top of that. Whatever is most important to you should go where it can be easily reached.
Cosmetic bags should have practical items such as eye drops, lip balm, an extra contact case, spare glasses, a lens cloth, breath mints or mini bottles of mouthwash, tweezers, aspirin, make-up and purse-sized perfume. When spending that much time in your vehicle, you'll want to be able to refresh as needed between fuel stops.
Magazines and paperback books are stowed between the passenger seat and console within easy reach.
Dashboard console
As previously mentioned, the dashboard console should contain your proof of insurance, registration and plenty of extra paper napkins. The paper napkins are handy for messes that need to be thrown away at the next pit stop or in the event your drive-through order didn't include napkins.
Behind the Seats
I never travel without a throw-style blanket and beach towel or two and keep them and my travel pillow within easy reach for a nap or when it's a little chilly. We don't want our dog to overheat, especially if the sun is shining on his area of the vehicle, so it's easier to rely on a blanket and keep the overall temp colder rather than too warm. We also make sure the vents are not blowing directly on the dog too much. Keep an eye on things so the dog isn't miserable the entire time.
Our dog's pet bed is huge and it's situated behind the driver's seat since the driver won't be needing to reach back there anyway. We cover it with a clean sheet to not only keep it cooler than the fuzzy fabric of the actual bed, but the sheet can be washed upon arrival. By the time we've spent two full days travelling, it's hairy and has seen it's share of drool and other fluids.
Plenty of 12 oz bottled waters are stowed behind the middle console for the passenger to locate as needed. I also have at least one gallon of bottled water in the vehicle. My experience is the gallon of water is better for bringing into the hotel and the 12 oz bottles are easier to reach and dispense while in transit.
We keep our coats behind our respective seats so we can quickly find them for pit stops.
Floor Space
Slip-on shoes are essential. The passenger's floor space is usually not all that roomy and quickly fills up with shoes, bags of trash and often, my purse. I travel with two or three professional cameras and keep at least one within easy reach at all times. Sometimes that means on my lap, in my purse or in the pile behind the middle console.
The floor space between the two rear seats is filled with a solid box filled with canned goods and pantry items. If we had a small cooler that would fit in the space, that's what would be located here, but none fit the space. Not only does the box of canned goods give us something to eat when we arrive, it most importantly supports the dog's bed.
There's a lot to be utilized with floor space and the gaps from where the seats fold down. We usually bring multiple packs of double roll toilet paper to stuff in these gaps. Shoes and smaller items that aren't needed while in transit also fit in the gap.
A small set of weights is ideal for gaps or floor space and two liters and glass bottles wrapped in kitchen towels can travel on the floor or in the gaps if they won't be trampled in transit or roll out when the side doors are opened.
Pet Pathway Zone
Our dog is physically unable to jump into the vehicle even once, let alone multiple times per day on a road trip. We find it much safer for him and us to use a sturdy commercially made folding ramp. Because the ramp takes up space in the SUV cargo area, we often pack duffle and utility bags on top of it. That means unloading the bags every time the dog uses the ramp. It's a trade-off and not really a big deal. Other dogs travel in commercial pet carriers and cages with the cargo area. No matter how it works out best in each situation, be careful of air flow or lack thereof, as well as heating/cooling and access to food and water.
Practice and Refine with Your Own Vehicle
Before loading your sedan or SUV, carefully consider, "Do we really need this? Is it essential? A duplicate? Hard working?" If so, then it's worth planning and organizing how to make it fit within the allotted space of your vehicle. If not, leave it behind and direct your energy to the items of most importance.
Our first two seasons we travelled in a sedan, which is a lot different than the very large SUV that we purchased for the practical cargo space. No matter the mode of travel, think creatively and work out the strategies that are best for your own personal needs. Don't forget to observe other vehicles at the rest and fuel stops. It will either reassure you are on the right track or inspire you to try new tactics.
When we arrive at our snowbird destination, I enjoy watching the other travelers loading their belongings on the utility carts to move in for the season. I've never seen anyone with a light load and it's refreshing to know we're not that different from anyone else.
---
" 'Just in case' is the curse of packing."
-- Alexandra Potter, British Author
---
DISCLAIMER
The information contained in this website is for general information purposes only. We make no representations or warranties of any kind, express or implied, about the completeness, accuracy, reliability, suitability or availability with respect to the website or the information, products, services, or related graphics contained on the website for any purpose. Any reliance you place on such information is therefore strictly at your own risk.
In no event will we be liable for any loss or damage including without limitation, indirect or consequential loss or damage, or any loss or damage whatsoever arising from or in connection with, the use of this website.
Through this website you are able to link to other websites which are not under the control of Midlife Snowbird. We have no control over the nature, content and availability of those sites. The inclusion of any links or advertisements does not necessarily imply a recommendation or endorse the views expressed within them.
---
---