Vacation Rental Property Steps to Ownership
VACATION RENTAL PROPERTY
21 Basic Steps to Purchasing an Investment Property
My husband and I set a long-time goal to buy a vacation rental property years ago and February of 2021 is when we made it happen! When the Covid pandemic hit the United States in early 2020, we realized we needed to delay our investment plans until the uncertainty of the rippling pandemic effects including the economic impact would become clearer.
Not only were we concerned about the viability of the vacation rental market, we worried about what would happen with our business and investment portfolio. During the extremely tumultuous year of unknowns, including the historic presidential election, we played our cards close and made a move when we felt the time was right, just after the 2020 holiday season.
Here's an overview of the basic steps that led to successfully purchasing our first vacation rental property in the Destin area of Northwest Florida. There's a lot of moving parts, at which any given time unexpected obstacles can derail the plans, so keep focused and don't let setbacks get you down. If you don't succeed on the first try, step back, re-evaluate and give it another shot in the future. For this post, I am referencing a true investment property, which is one that is largely rented to guests compared to a second home that is vacant for most of the time the owners aren't there. 
---
11 Pre-Sale Steps
Step One: Choose an appealing target area.
Step Two: Calculate expenses and rental income.
Step Three: Select and get pre-qualified with a lender to finance your property.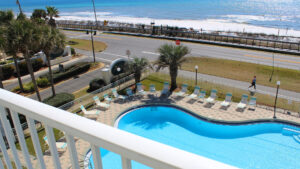 Step Four: Determine your target neighborhood, property, features, amenities and price range as well as what restrictions are deal breakers.
Step Five: Hire an experienced local real estate agent to help find your property, as well as do your own online shopping.
Step Six: Work with your realtor to negotiate an offer and accept the terms of sale.
Step Seven: Work with your lender to close the loan.
Step Eight: Plan your renovations, operations and marketing promotions.
Step Nine: Source, meet and hire your property manager, if you plan to utilize one, as well as any vendors such as a maintenance person.
Step Ten: Shop for and order the items needed to enhance the property with the caveat that it will not derail your loan closing or that you cannot return the items if the loan fails to close.
Step Eleven: Set up the insurance, HOA and utilities in your name.
10 Post-Sale Steps
Step One: Work with the property manager to begin or continue the process of marketing and promoting the property.
Step Two: Continue shopping, receiving (and returning) the items needed to renovate your property.
Step Three: Begin the renovation work, if applicable.
Step Four: Take photos where applicable to show the improvements.
Step Five: Set up your own web site, whether you do it yourself or contract with a third party.
Step Six: Announce the availibility of the new property online to your social media channels.
Step Seven: Invite local friends and business acquaintances to preview the property.
Step Eight: Set up a new bank account for the new business.
Step Nine: Set up your payments to auto-notify you and/or auto-pay your mortgage, utilities, insurance and HOA fees.
Step Ten: Manage and promote your vacation rental property.
---
Based on the above, my insight based on recent first-hand experience is:
--Before you even approach a lender or broker, you'll need to have 20% to 30% for the down payment (or more), six months' reserves of liquid assets, cash for pre-paids and closing costs. Plus you'll need to meet the lender's standards for the added debt compared with your existing assets, mortgage/s, revolving credit and loans. There's no point in going any further until finances are in place. As an example, to purchase a $500,000 investment property in Florida, you may need 30% down, which is $150,000 plus another 7-8% for points, fees, closing costs, pre-paids and so forth. That could mean another $25,000 to $28,000 outlay on a $350,000 mortgage ($500,000 minus $150,000 down payment). Buying an investment property is not cheap by any means.
--If you aren't prepared to outright buy a place, consider alternatives such as fractional ownership or less expensive property options that fit your budget and finances. Before we made our final decision, we looked at everything from the very least expensive park models in Central Florida, low and high rises in our southern community and a large condominium located in the same building where we rented for six seasons. We even considered a condo-tel studio unit in a golf cart community with a bay view. Ultimately, we purchased what we believe is the very best fit for us: a one bedroom unit with hall bunks, two full bathrooms, an amazing view of the resort's South pool and unobstructed views of the stunning Gulf of Mexico. Our unit is on the top floor, which means no noise from above and it's pet friendly to both owners and guests.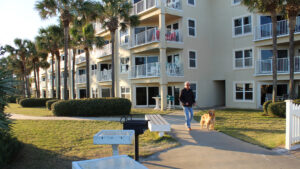 --Research the locations of interest to you and determine what will also be of interest to anyone looking for a vacation rental in that area. We chose a full-blown gated "resort" condo complex that is located within a popular resort community. Yes, it's expensive, but in the long run it's easier to attract guests when you don't have to sell them on why your less-travelled community is a better plan and try to compete against the very popular resort communities. Well-known examples include Destin in NW Florida, Orlando and Clearwater Beach in Central Florida; South Beach, Naples and Key West in South Florida; Gulf Shores in Southern Alabama; South Padre Island and Galveston in Southern Texas and Sedona in Arizona.
--Read the threads of specialty groups on social media. The questions that arise and subsequent conversations will tell you volumes of information. Look at the competition regarding decor, view, amenities, price, location. Sign up for daily notices from a third party web site such as realtor.com to let you know when properties in your target area go on the market.
--Enlist the advice of one or two close personal friends or family members to give unbiased insight. I thought I had found the perfect property and my sister pointed out that because of the stucco half-wall balcony, it would be impossible to see the gulf when sitting down in the main living area. So, we increased our budget and chose what turned out to be the perfect place for our criteria.
--For us, the two biggest deal breakers were:
1. Pet restrictions for owners, IE, no dogs at all or no dogs over a certain weight limit.
2. No view.
We bypassed many properties based on those criteria. We were OK with pet restrictions for guests, but ultimately, we bought a place that has the most lenient pet restrictions for owners and guests.
--Your lender may also have deal breakers. We found out our broker could not work with portfolio loans for
1. High rise properties
2. Condo-tels
3. Certain HOA restrictions
--When we made an offer on our vacation rental, we chose not to tell a soul except the two family members who had helped us research, our accountant and my husband's best friend. Why go through it all only to have the deal potentially fall apart and then have to walk-back everything? We waited until we had a closing date to tell our parents and close family and then waited until the loan closed to tell friends and make a general announcement.
Consider hiring the same property manager who the previous owners employed. We didn't even look at any other options because our first choice was the same firm who managed it for more than ten years. The fees and terms were fair with market rates, the vendors and client list are already in place and most of all, the familiarity with the property is worth a lot.
Once you close on the property, be prepared to move FAST. We thought we would have two weeks to paint, remove old furniture, install new pieces of furniture and wall art, deep clean, install a new faucet, chandelier, keyless entry, take new photos and so forth. Wrong. Because of circumstances beyond our control, we had just one week to get everything done and it was stressful. We had to make choices, sacrifice several of the projects and make alternate plans. As I was shutting the door to leave, the cleaning crew was right there waiting to get in to prepare for the next guest.
Be realistic about expenses, scheduling, booking guests and getting projects done. We set goals for all of these things and are ahead of some goals and way behind on others. For example, I ordered glass to be custom cut to cover all of the wood surfaces to protect them from spills. It was possible the order would be ready in time before we hosted our first guest, but the vendor had a large project ahead of ours that resulted in a delay. So we arranged for the property manager to receive the delivery three weeks after we hosted our first guest. All went well except one of the pieces was too large. I had measured incorrectly, so the glass had to be returned and redone. Now, because of schedules, the final piece of glass will be delivered more than seven weeks after the original target date.
Last but not least, remember that no one has more of a vested interest in your vacation rental property than you. Take time to learn the business and give your enterprise the proper attention it needs, whether in terms of investing in the furnishings or the marketing. If you take care of your property, your vendors and guests, it will have that much better chance of not just surviving, but exceeding your goals and ambitions.
To view the property we purchased, please visit maravilla2411.com for a photo tour, rates and availability. We hope to host you as our guest.
"The best investment you can make is an investment in yourself... The more you learn, the more you'll earn.
"
-- Warren Buffett, American investor, business tycoon, philanthropist, CEO of Berkshire Hathaway
---
---