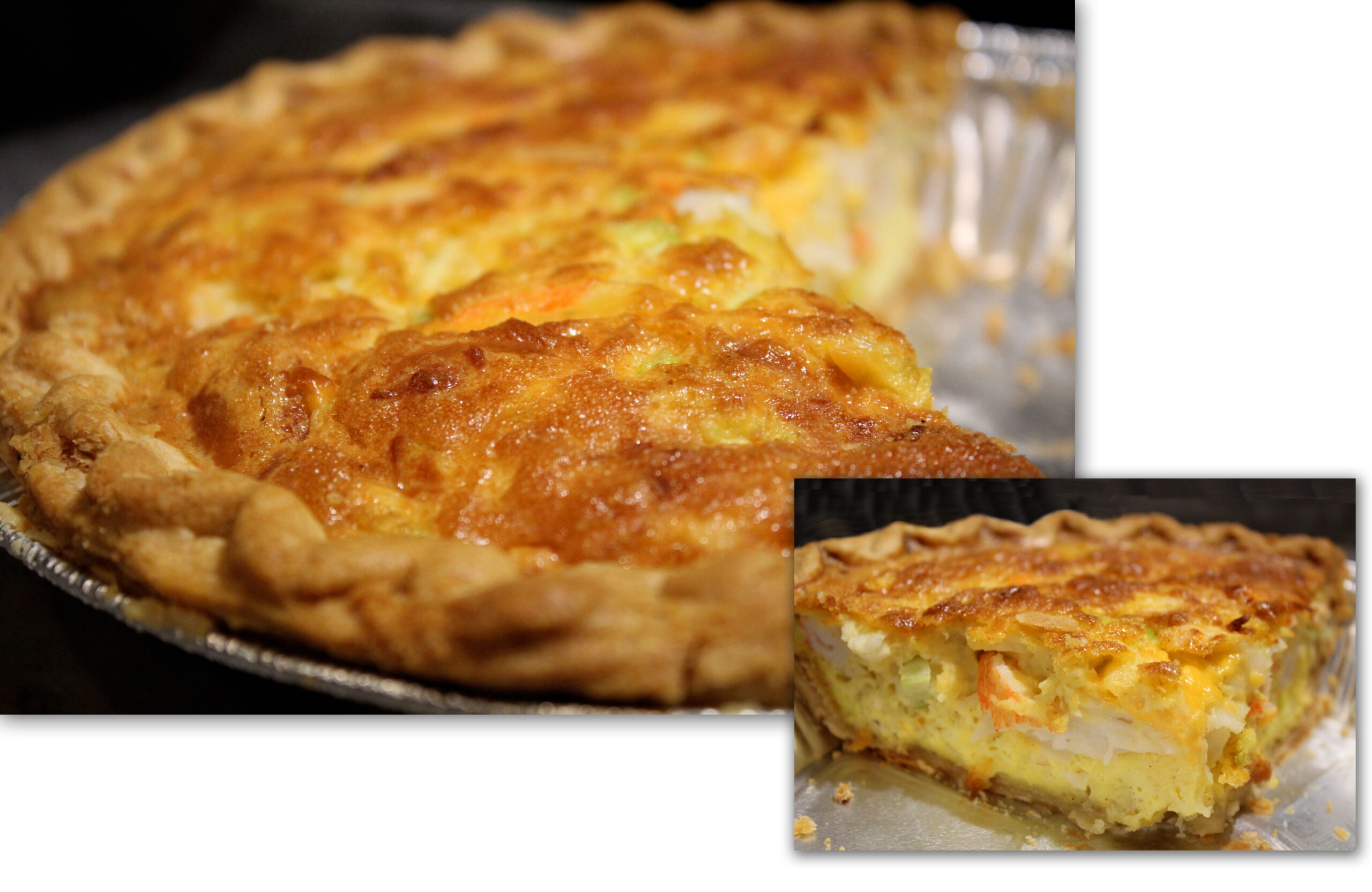 ---
Snowbird Recipe:
Imitation Crab Quiche
Crab, Cheese, Eggs, Celery
---
I love quiche for so many reasons -- it is delicious golden baked comfort food that is easy to put together for breakfast, brunch, lunch or dinner. It is the secret to a fantastic, almost fool-proof meal. If serving guests, the egg mixture can be assembled in advance and baked later. If you have any leftovers, it tastes just as good the next day either cold or reheated in the microwave. I developed my basic quiche during the course of many years from a composite of many recipes that had a lot of ingredients. For snowbirds, a simplified version such as this one can be adapted into many incarnations. However, this is my best recipe for imitation crab quiche. Celery gives a subtle freshness and crunch, the eggs and cheese with seasonings create a fantastic quiche you will crave.
---
Snowbird meals tend to be much simpler, using fewer ingredients and a very limited selection of appliances and gadgets to prepare them. Choose the freshest, highest quality ingredients and find alternate ways to make your favorite recipes. Forget about what you don't have to cook with, instead focus on what you can accomplish with what you do have. - Midlife Snowbird
---
Ingredients
One 9" deep-dish pie crust, frozen
6 eggs
1.5 cups flake style imitation crab meat (8 ounces) OR refer to list of substitutions below
1 cup shredded cheese: such as cheddar, mozzarella, gruyere or a combo
1 cup whipping cream or fat free half and half
1/3 c. finely chopped celery
1 T. all purpose flour
1 t. minced dried onion flakes
1/2 t. garlic salt
1/4 t. onion powder
1/4 t. garlic powder
1/4 t. Old Bay® seasoning
4 or 5 dashes ground nutmeg
Several dashes of fresh cracked pepper to taste
Optional: Several dashes of Creole salt add extra heat
---
SUBSTITUTIONS:
Lump crab, drained; scallops; shrimp; bacon, sweet, hot or mild sausage; Canadian bacon; ham or meatless with walnuts, baby bellas, fresh asparagus, spinach or broccoli
---
Recommended: Old Bay® seasoning; Zatarain's® Creole salt
---
Preparation
PIE CRUST
Preheat oven to 350 degrees.
Place unwrapped pie crust on a baking sheet or pan. Let the crust warm up just enough not to crack it when adding vent holes, but do not defrost or thaw it.
Use a fork to poke vent holes all over the crust.
Bake for 5 to 7 minutes until it turns light golden brown. Remove from oven.
Dust bottom of crust with an even layer of onion and garlic powder, then set aside.
QUICHE
Dice celery into fine pieces.
In a separate bowl, add flour to cheese, stir or shake to coat the cheese evenly.
Crack eggs into large mixing bowl, then stir in the seasonings and cream or fat free half and half.
Use a whisk or electric mixer to beat air into the egg mixture.
Fold the imitation crab, celery and cheese into the egg mixture, stir until blended.
Pour egg mixture into the pie crust. Then use aluminum foil to cover the edges of the crust to prevent them from getting too brown.
Bake quiche for 35 to 40 minutes. Oven temps vary, as well as convection ovens versus conventional ovens, so occasionally check the quiche for progress after 35 to 40 minutes. Continue baking for another 10 or 15 minutes as needed. The middle should be very slightly jiggly, but not too much.
Remove the quiche when the pie is browned on top and a knife inserted in the center comes out clean. The center should be fairly firm, not runny or raw.
Remove foil from crust and let it rest for a few minutes.
Slice into triangles, serve hot.
Refrigerate any leftovers.
---
Servings:
One 9" deep dish quiche
---
Serving Suggestion:
--Serve for breakfast, brunch, lunch, dinner
--Great with a side of fresh sliced fruit or berries
--Suitable for guests
--Serve any leftovers chilled or reheated in a microwave
---
Equipment List:
--baking sheet or pan
--cutting board and sharp knife
--whisk or electric mixer
--large mixing bowl
--small mixing bowl
--measuring utensils
--aluminum foil
---
---
COOKING CLASS: FIVE ELEGANT HORS D'OEUVRES
---
---
HOME VS. AWAY: APPLIANCES, GADGETS
---
Share your own recipe...
What are your favorite seafood recipes? Side dishes? Desserts? Go-to party recipes?