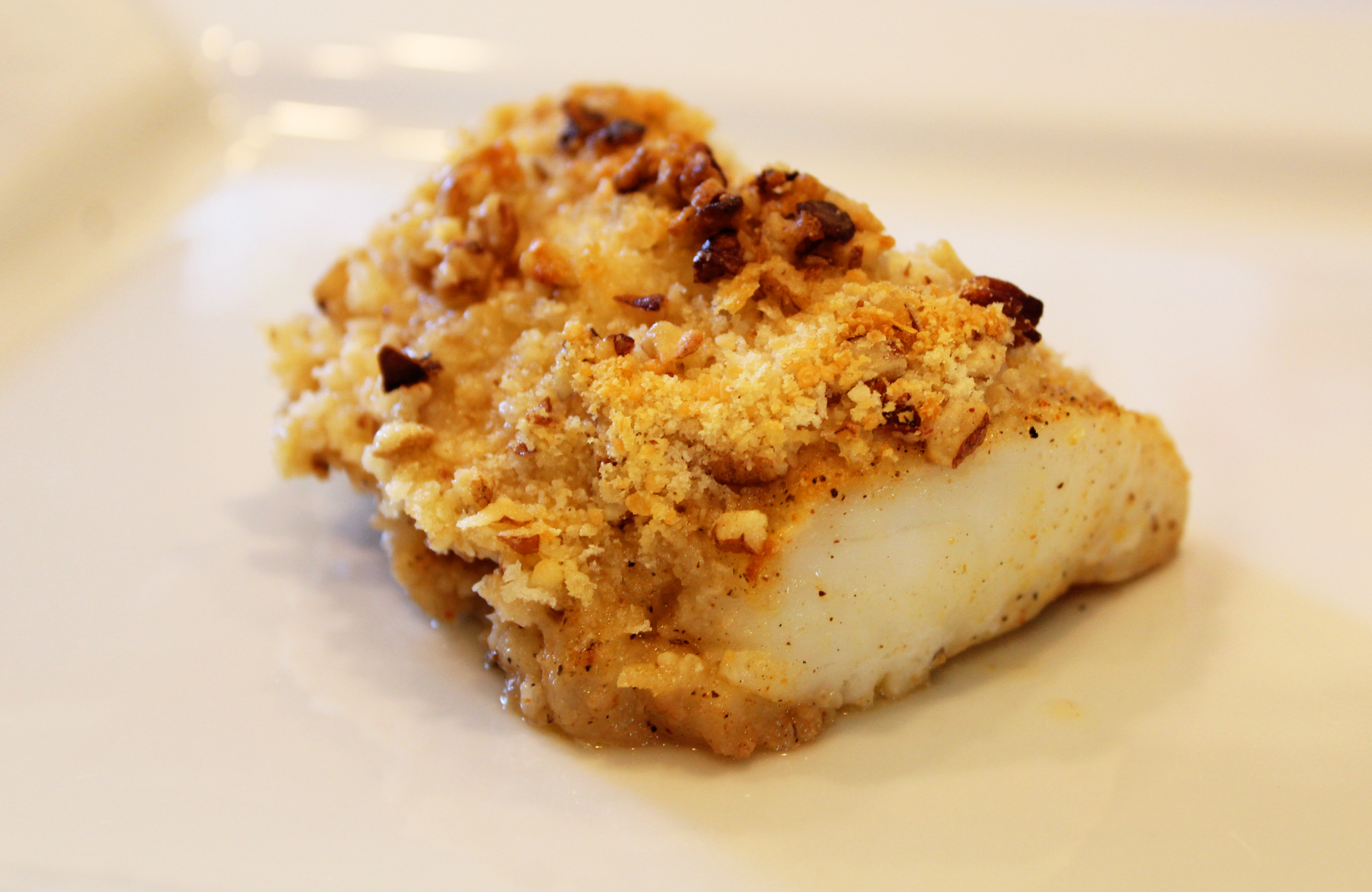 Seafood Recipe:
Baked White Fish
With 
Garlic Butter,
Pecans, Parmesan, Panko Crust
This easy, almost foolproof recipe is my personal favorite for white fish. It is suitable for any mild, white fish with a delicate texture that easily flakes when baked properly. Some options include flounder, sole, halibut, snapper, haddock, grouper and tilapia. Choose fish fillets that are skinless and virtually boneless. Most groceries sell white fish in the frozen food section in a 16 oz. package of individually wrapped fillets. It doesn't take much time to defrost fish in a pan of water, which is why this recipe is great for a delicious last minute dinner. For best results, follow the recipe exactly. The crusted fillets should be baked -- not broiled, pan fried or grilled. This recipe was inspired by trial and error from a composite of many recipes over the years.
---
Snowbird meals tend to be much simpler, using fewer ingredients and a very limited selection of appliances and gadgets to prepare them. Choose the freshest, highest quality ingredients and find alternate ways to make your favorite recipes. Forget about what you don't have to cook with, instead focus on what you can accomplish with what you do have. - Midlife Snowbird
---
Ingredients
4 white fish fillets, about 4 to 5 oz each, defrosted
2 or 3 cloves fresh garlic, minced
4 - 6 T. butter or margarine
1/4 cup unseasoned panko bread crumbs
1/4 cup finely chopped pecan nuts
1/4 cup parmesan cheese
1/4 t. garlic powder
1/4 t. onion powder
1/4 t. Old Bay® seasoning
1/4 t. fresh cracked pepper
1/4 t. Kosher salt
Note: Seasoning measurements are approximate. Dust the fillets generously or to taste.
---
Suggested brands: 4C® Japanese Style Panko Bread Crumbs; Old Bay® seasoning
---
Preparation
Preheat oven to 425 degrees. If using a true convection oven, reduce heat to 400 degrees.
Saute fresh minced garlic in 3 T. margarine or butter until garlic is softened, do not overcook. Or use powdered garlic as a short cut.
Strain garlic from butter and reserve garlic for another recipe or discard.
Mix equal parts Panko bread crumbs, pecan chips and Parmesan cheese in a bowl.
Place fish fillets on baking sheet or in glass baking dish sprayed with cooking oil.
Dust both sides of fillets with Old Bay® seasoning, onion powder, garlic powder, pepper and kosher salt and place fish into baking dish.
Brush garlic butter on top of filet.
Top with Panko / pecan / Parmesan mixture. Mixture should cover the top of the fish entirely.
Brush or drizzle more garlic butter on top of fillets.
Bake, uncovered, for 9 to 13 minutes. Cod and other thicker fish may need more time than the thinner, delicate white fish. Flounder, Tilapia and other white fish are delicate, do not broil, grill or pan fry.
Remove from oven and let rest for a minute or two covered with foil.
---
Servings:
Four fish fillets
---
Recommended Sides:
--Angel hair pasta OR
--Plain white rice or Basmati rice or Caribbean style rice AND
--A green vegetable, such as fresh steamed broccoli, salad, peas or green beans
---
Equipment List:
--9" x 13" (quarter sized) baking sheet pan OR
--9" x 13" glass or ceramic baking dish
--small mixing bowl
--small saute pan
--cutting board
--chopper or knife
--wide spatula / flipper / turner / lifter
---
---
HOME VS. AWAY: APPLIANCES, GADGETS
---
Share your own recipe...
What are your favorite seafood recipes? Side dishes? Desserts? Go-to party recipes?