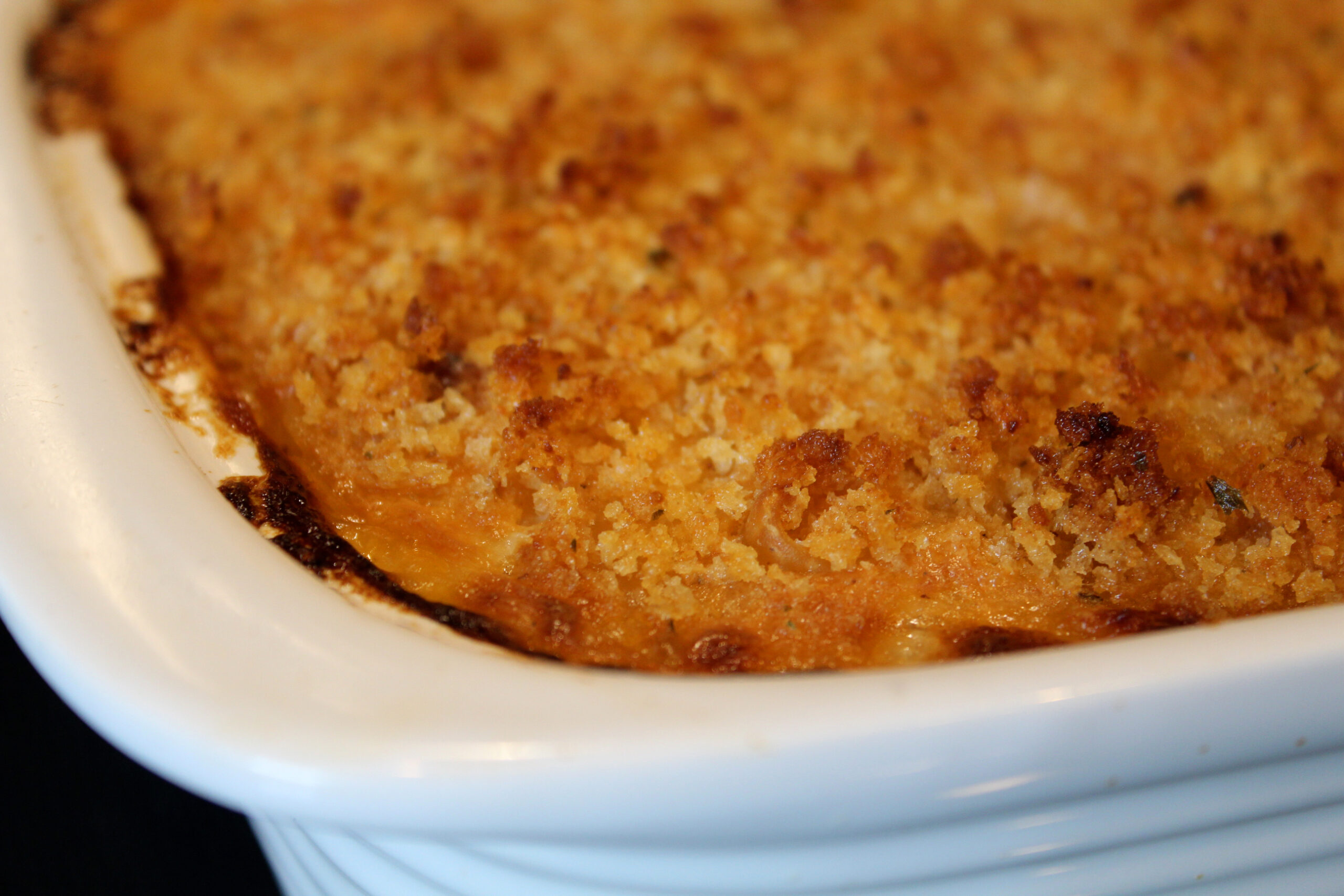 Best Homemade Baked Mac and Cheese
Easy Comfort Food with Cheddar Cheese, Crispy Panko Crust
---
I don't know of anyone who doesn't love homemade baked mac and cheese for a comforting meal of rich indulgence. For a weeknight meatless meal or when entertaining guests, this creamy macaroni and cheese recipe is hot and cheesy with a crispy Panko crust topping. It also has a distinctive underlying warmth from an essential secret weapon flavor; ground mustard powder that makes it more gourmet than the typical mac and cheese recipe.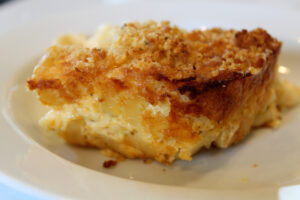 Italian Trottole pasta, with it's beautiful curved shape is more interesting than the typical elbow macaroni and is well-suited to hold the cheese sauce within the pasta. For best results, shred your cheese from a block, although it is quicker and also delicious with packaged shredded cheese. Crispy buttered Panko crumbs are the perfect texture to balance the creamy cheese sauce and pasta.
Although it would be fine to add a protein of your choice: lobster, shrimp, bacon, ham or shredded chicken, it really isn't necessary. The recipe is absolutely delicious as a meatless main.
If you like, cut the recipe in half and make just one pan of baked macaroni and cheese, but frankly, why not make a full batch so you have enough for two or three meals or leftovers to freeze for another day. This recipe can be prepared and assembled a few hours in advance, then bake when needed. However, don't prepare too far in advance so the pasta doesn't get too mushy. 
If you ever get the chance to eat mac and cheese at the Union Woodshop and/or Clarkston Union Bar and Kitchen in Clarkston, Michigan, it is amazing! So amazing that singer-songwriter Kid Rock and Guy Fieri featured it on an episode of "Diners, Drive-Ins and Dives" as shown on Season 13, Episode 3 on the Food Network. It was also named as "One of the top ten best mac and cheese in the country" by USA Today in 2015. I've made many types of baked mac and cheese, but this one most reminds me of the Clarkston restaurant's mac and cheese and it is absolutely the best.
---
My version of homemade baked Mac and Cheese is inspired by a recipe by Alton Brown's show "Good Eats" on the Food Network.
---
Snowbird meals tend to be much simpler, using fewer ingredients and a very limited selection of appliances and gadgets to prepare them. Choose the freshest, highest quality ingredients and find alternate ways to make your favorite recipes. Forget about what you don't have to cook with, instead focus on what you can accomplish with what you do have. - Midlife Snowbird
---
Ingredients
One pound Trottole pasta, or any large pasta noodles with a curved shape
6 cups milk
3 1/4 cups (1 3/4 pounds) sharp cheddar cheese, mozzarella cheese, provolone or a blend
1 cup onion, diced
2/3 cup Panko crumbs
Canola oil cooking spray
2 large eggs
1/2 c. (1 stick) butter or margarine, plus 4 T. for Panko topping
6 T. flour
2 T. ground mustard
1 t. paprika or 1/2 t. smoked paprika
1/2 t. onion powder
1/4 t. granulated garlic
1 t. ground black pepper
2 t. Kosher salt
---
Optional:
Shrimp, lobster, shredded chicken, diced ham, pre-cooked
---
Recommended: Private Selection® Italian Trottole® pasta
---
Preparation
Preheat oven to 350°F
Spray baking pans with oil, set aside.
In large pot of boiling, salted, water, cook pasta al dente, about one or two minutes less than package directions. Drain and place equally into baking pan/s.
Melt one stick of butter over low heat in medium pot while pasta is cooking.
Whisk in flour, ground mustard and paprika until there are no lumps.
Raise the heat to low-medium and add milk in small batches, whisking thoroughly so there's no lumps.
Heat the milk mixture, stirring frequently, until it simmers gently.
Dice an onion into small pieces.
Add salt, pepper and onions to the milk mixture.
Crack eggs in a small bowl and whisk until blended.
Temper eggs into milk mixture.
Add shredded cheese, stirring frequently until melted.
Evenly pour cheese mixture into baking pan/s.
Melt 4 T. butter or margarine in microwave oven in small ceramic or glass bowl, then blend Panko crumbs until evenly coated.
Distribute Panko crumbs over the top of the pasta.
Bake uncovered for up to one hour -- until hot and bubbly. Remove from oven and let rest for ten minutes.
Serve hot, at room temperature, warm or chilled.
---
Servings:
Two 9" x 12" casseroles or one 9" x 13" casserole
---
Serving Suggestions:
--Serve hot for lunch or dinner
--Suitable for guests
--Leftovers reheat well
--Can be frozen
---
Equipment List:
--two 6" X 9" X 3" bake pans OR one 9" X 13" baking pan
--cutting board and sharp knife
--medium sauce pan
--large sauce pan
--collander
--two small bowls
--wooden spoon or whisk
--spatula
--measuring utensils
---
---
HOME VS. AWAY: APPLIANCES, GADGETS
---
Share your own recipe...
What are your favorite seafood recipes? Side dishes? Desserts? Go-to party recipes?