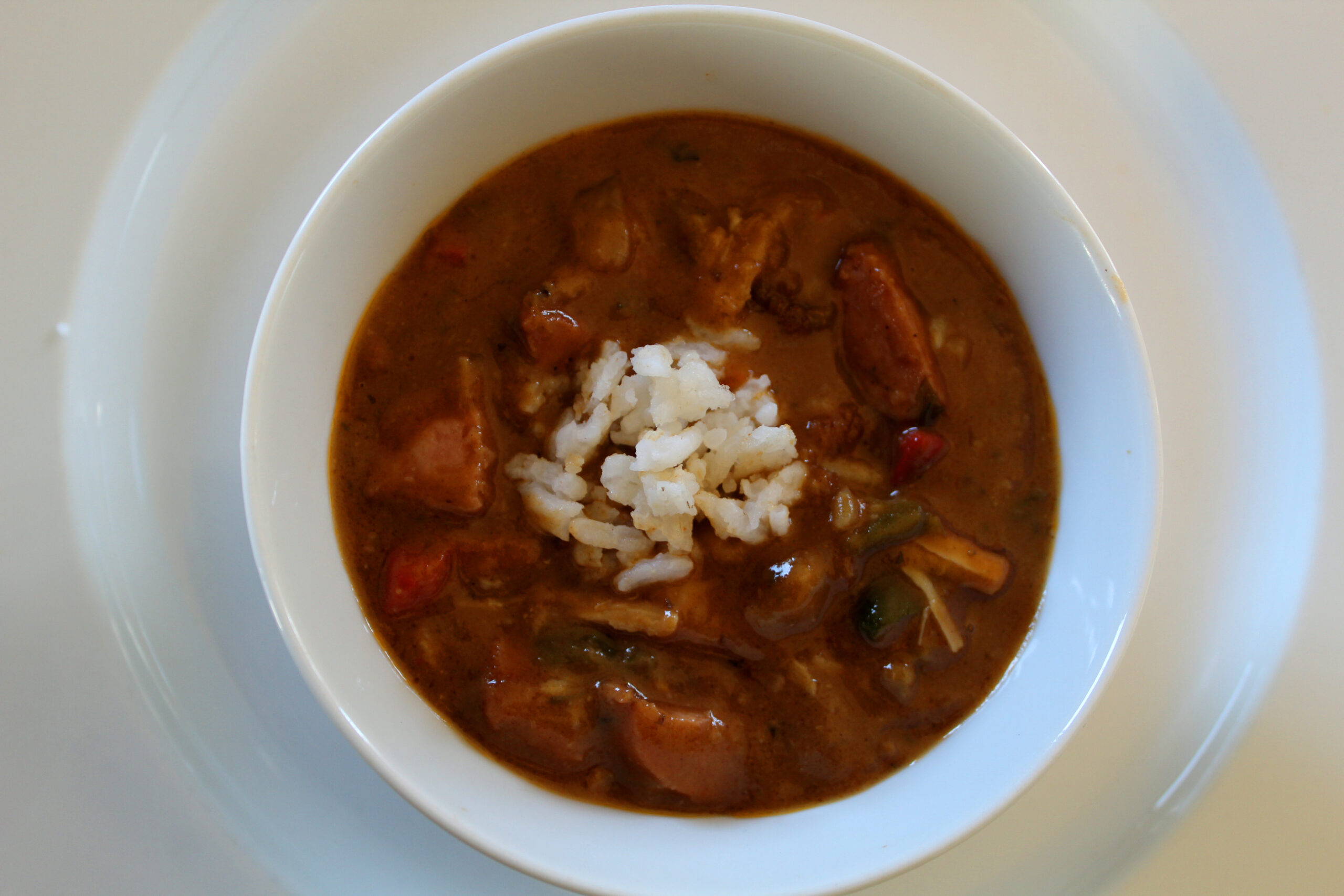 ---
Snowbird Recipe:
Chicken, Kielbasa, Shrimp Gumbo
Louisiana's Coastal Southern Comfort Food
---
For many years, I have considered gumbo to be a beloved signature recipe of my portfolio, mostly because it is classic Louisiana comfort food that isn't the run-of-the-mill type of entree in the Midwest. It's a southern stew that originated 160+ years ago in the coastal areas around New Orleans. Gumbo is based on the fundamentals of a beautiful brown French roux that is textured with the trinity of chopped bell peppers, celery and onion. A special spice blend flavors the roux along with a variety of proteins. Choose a combo of poultry, sausage and seafood, such as chicken, kielbasa or andouille and shrimp. Often times I add cod fillets because they are firm and don't entirely disappear within the stew. Scallops, crab, crawfish, okra, other firm white fish and various meats are great variations. Gumbo is always served with white rice and can be dressed up with garnishes such as chopped scallions, fried okra, pork rinds and a side of hush puppies or corn bread.
My version is inspired by two recipes: "Emeril's Rustic Rub" and "Chicken and Sausage Gumbo" that Emerald Coast resident Chef Emeril Lagasse originally published. I've become such a gumbo aficionado, I sample it in just about every restaurant that serves it. My husband and I enjoy the annual Sandestin Gumbo Fest that is hosted on President's Day weekend at the Village of Baytowne Wharf in Northwest Florida. 
Gumbo isn't an entree that can be rushed. Plan ahead with the preparing the meats and allow plenty of time to prep, chop and cook the roux. Let your "silent sous chef" assist -- put your rice maker on auto pilot while you are preparing the stew. In my opinion, gumbo is the ultimate Southern comfort food. Gumbo is ideal to make ahead and let the flavors blend and it's delicious the next day as a leftover meal. It's definitely worth the effort.
"Peace, love, gumbo"--Mardi Gras theme
---
Snowbird meals tend to be much simpler, using fewer ingredients and a very limited selection of appliances and gadgets to prepare them. Choose the freshest, highest quality ingredients and find alternate ways to make your favorite recipes. Forget about what you don't have to cook with, instead focus on what you can accomplish with what you do have. - Midlife Snowbird
---
Ingredients
GUMBO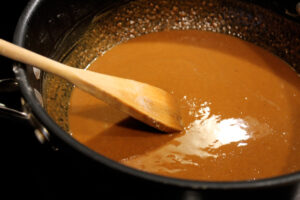 1 cup Canola oil
1 cup all-purpose flour
1 ½ cups chopped white onions
1 ½ cups finely chopped celery, including tops
1 ½ cups red and/or yellow peppers, finely chopped
13 to 16 ounces kielbasa, grilled
3 - 4 skinless chicken breasts, grilled or slow cooked and shredded into bite-sized pieces
½ pound of raw deveined shrimp, defrosted
4 cups chicken broth, shell stock or vegetable broth
2 - 3 T. gumbo spice blend, or to taste. Recipe below.
2 T. Creole salt, or to taste
1 teaspoon celery seed
3 teaspoons onion powder
2 teaspoons garlic powder
Fresh cracked pepper
Red pepper flakes to taste
Splashes of hot pepper sauce to taste
1 to 2 cups long grain white rice, cooked to package directions (approx 3 to 4 cups rice when cooked)
---
OPTIONAL INGREDIENTS:
Note: Keep your ratios in balance when incorporating any optional ingredients. Remember, the texture of cooked okra can be slimy, depending on how it's prepared.
2 - 3 grilled poblano peppers, blackened with skins removed, deseeded, then chopped
2 - 3 three ounce raw cod fillets (or other firm white fish), fresh or defrosted
Crawfish, scallops, crab, crawfish, andouille, chorizo sausage, etc.
Drained canned chicken is a short cut
Okra is traditional, but I don't typically include it
---
OPTIONAL GARNISHES/SIDES: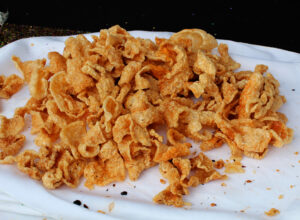 1/2 cup sliced green scallions
2 T. fresh Italian or flat leaf parsley
Fried sliced okra
Pork rinds
Hush puppies
Corn bread
---
GUMBO SPICE BLEND
Yield: approx one cup
2 T. paprika
1.5 T. garlic powder
1.5 T. Kosher salt
1.5 T. fresh cracked pepper
1 T. onion powder
2 t. celery seed
2 t. dried oregano
2 t. dried thyme
1/4 to 1/2 t. cayenne pepper
Combine all ingredients in a small bowl and store in an airtight container.
---
Recommended: Frank's Original Red Hot® sauce, Louisiana® brand hot sauce, Zatarain's® Creole salt
---
Preparation
GUMBO SPICE BLEND
Combine spices in a bowl and store in an airtight container.
MEATS/POULTRY/SEAFOOD
Prepare the meats, poultry and seafood in advance. This is time-consuming, so plan accordingly. Kielbasa should be sliced longwise in half and carmelized on the grill (then cut into smaller chunks) or slice it on the diagonal and carmelize in a sauté pan. Canned drained chicken is an alternate short cut. Kielbasa tastes better when grilled, but this step can be skipped to save time. Fish and seafood should be raw, defrosted.
GARNISHES/SIDES
Prepare any garnishes and/or side dishes that will be served.
RICE
Cook the long grain white rice per package directions. A rice maker is very helpful to cook the rice while the gumbo is being prepared. Don't serve gumbo with sticky-style rice.
GUMBO
SAFETY FIRST: Because the roux becomes extremely hot, keep children and pets away from the range-top so they won't accidentally get burned.
Chop onions, peppers and celery into similar sized small pieces, set aside.
Pre-heat a medium sized skillet to medium high. Saute the vegetables in a small amount of butter or Canola oil until they soften. Remove from the heat, set aside.
Preheat a deep skillet or Dutch oven that is at least 10" by 4 or 5" tall over medium heat. Add one cup of Canola oil and one cup of flour. Use a wooden spoon to stir slowly, gently and continually for 25 minutes+ until the roux becomes the traditional chocolate-brown color. Ensure the heat is medium high or it takes a lot longer to reach the proper color.
The color should be a in a range from milk chocolate to a rich dark brown and the flour/oil will be very hot and bubbly throughout the cooking process. Stir slowly and continuously so it doesn't scorch. Never leave it unattended at any time. Don't risk a fire -- if the roux starts smoking, remove it from the heat and turn down the heat.
Once the roux is the proper color, slowly and gently add the sauteed vegetables. Because the roux is very hot, the vegetables may tend to crackle and cause the roux to flare a bit. Keep stirring slowly and consistently to keep the mixture from scorching. The stew will be fairly thick at this point. Add the liquid broth one cup at a time and incorporate it to cool down the roux and loosen the consistency. The consistency can be adjusted to personal preference. It is acceptable if it is thicker like a stew or thinner.
Add the seasonings, stirring throughout. Reduce the heat if necessary so the roux gently simmers up to an hour or two. Stir it fairly often to avoid burning. Add the chicken, kielbasa, andouille or chorizo sausage about 30 minutes before serving.
About ten to fifteen minutes prior to serving, add the raw seafood. It will cook from the heat of the roux and the juices will flavor the gumbo. Firm white fish such as cod may take longer to cook, but will be done when opaque. It will break down into pieces, but try to keep it from breaking up too much and entirely getting lost in the gumbo.
Serve gumbo hot in shallow bowls ladled over rice. Add garnishes.
The gumbo can be cooled down and stored in a refrigerator for later use or frozen and reheated. Adjust the consistency with broth if needed.
---
Servings:
Approximately eight to ten servings
---
Serving Suggestion:
--Ideal for potlucks and gatherings
--Serve for lunch, dinner
--Suitable for guests
---
Equipment List:
--deep 10" skillet or Dutch oven
--medium skillet
--medium sized sauce pot with lid or rice maker
--cutting board and sharp knife
--wooden spoon
--measuring utensils
---
---
COOKING CLASS: FIVE ELEGANT HORS D'OEUVRES
---
---
HOME VS. AWAY: APPLIANCES, GADGETS
---
Share your own recipe...
What are your favorite seafood recipes? Side dishes? Desserts? Go-to party recipes?