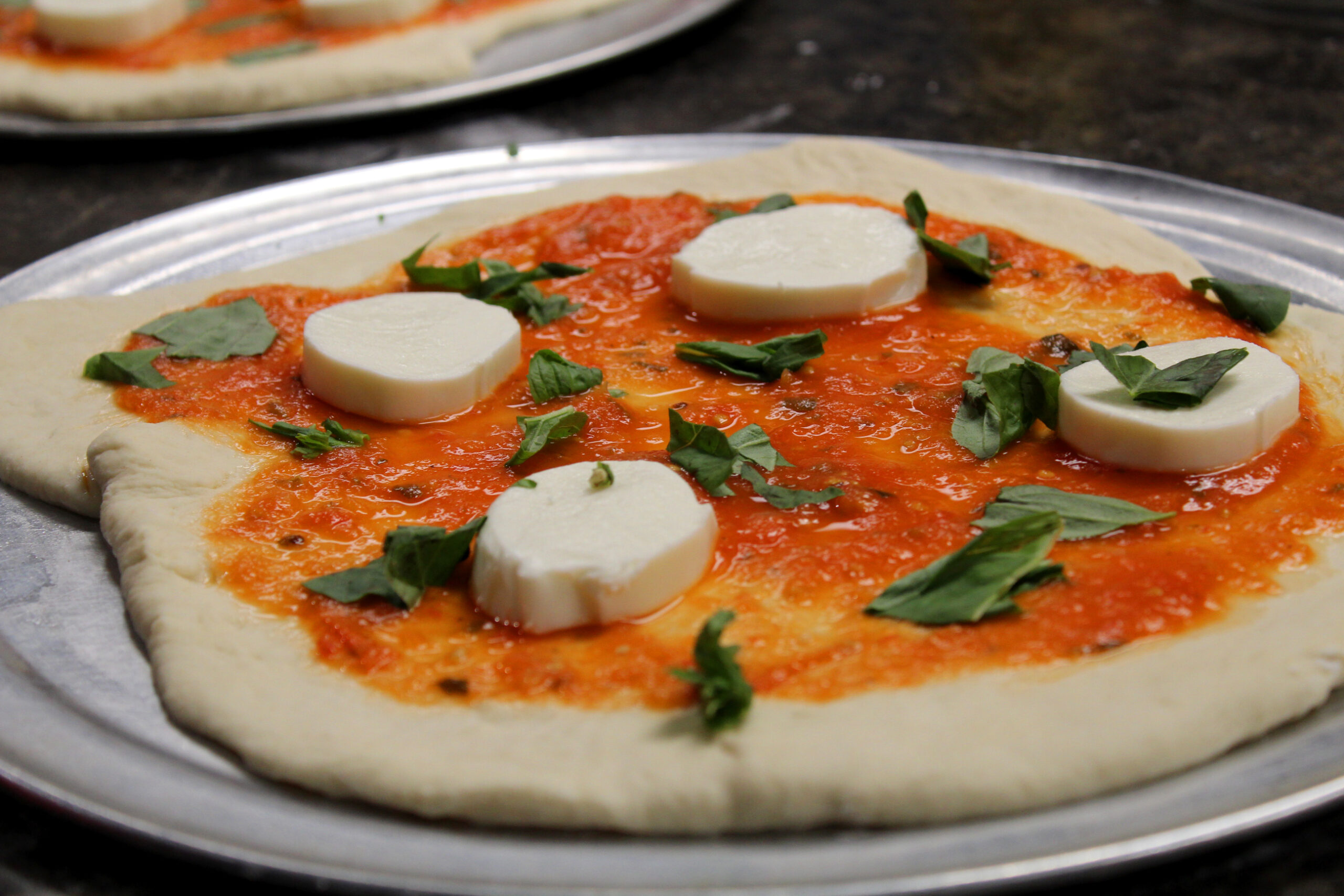 Snowbird Recipe:
Cooking Class: Pizza Night
Easy Pizza at Home
---
For years, my husband and I have tried to figure out the best way to make pizza at home. Of course, we love our local pizza restaurants, but homemade pizza is fun for a relaxing stay-at-home date night, a group activity for a gathering or an easy weekend lunch. Plus it's a great option to control the calories and type, quantity and quality of ingredients.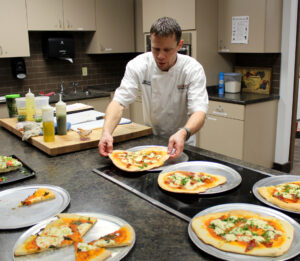 When our city's Parks and Recreation Department department offered a pizza class presented by professional Chef Patrick Whetstone, we immediately signed up -- Chef Whetstone already wowed me with his Elegant Hors D'oeuvres class. For pizza class, Chef Patrick demonstrated different styles of toppings and pizza crust: homemade dough, sliced French bread and naan bread. Sauces range from traditional red or white sauce, pesto, olive oil, alfredo and bottled barbecue sauces. Regarding toppings, there's no right or wrong answer. Experiment and have fun with various flavor profiles.
In the past, we struggled with the crust because it is tricky to get the dough properly baked in a regular oven so it isn't tough, soggy, over or under cooked. My conclusion is canned or homemade dough is fine if you have a professional pizza oven to bake it. For those who want to use non-traditional crusts such as cauliflower, canned pizza dough or make their own, go for it. There's many recipes and options depending on one's baking appliances and skill level.
Because of the pizza class, we found that pre-made naan flatbread is our favorite option for at-home pizza. It is available in the freezer section of the grocery which makes it easy to store at home and retrieve it at the last minute to throw it all together. The 8" size of naan bread easily lends itself to each person making their own pizza their own way. Other good options include crusty ciabatta bread, focaccia bread or any kind of flat bread. We have found flatbread works best for us. 
The ideas included below are primarily based on using a pre-made crust rather than canned or homemade dough; however, the basic process is the same no matter what the crust is. I've created a check list of ingredients by category and 18 popular pizza combo ideas for quick reference. Have fun, get creative and enjoy.
Buon Appetito!
---
Snowbird meals tend to be much simpler, using fewer ingredients and a very limited selection of appliances and gadgets to prepare them. Choose the freshest, highest quality ingredients and find alternate ways to make your favorite recipes. Forget about what you don't have to cook with, instead focus on what you can accomplish with what you do have. - Midlife Snowbird
---
Ingredients
Select ingredient/s from each category: crust, sauce, seasonings, toppings, cheese. Exact measurements aren't necessary. Save any prepped, unused ingredients for another meal. Then follow preparation instructions below.
CRUST
Ciabatta or focaccia bread, sliced lengthwise
French baguette, cut in half lengthwise
Fresh dough, rolled out
Naan or any type of flatbread
Pre-made, canned dough
---
SAUCES
Alfredo sauce: from a jar or homemade
Barbecue Sauce
Garlic butter
Extra virgin olive oil
Pesto (ground olive oil, fresh basil, walnuts or pine nuts, parmesan cheese, garlic)
Red tomato sauce
White sauce: garlic/parmesan, Ranch/neufchatel cheese
---
SEASONINGS
Basil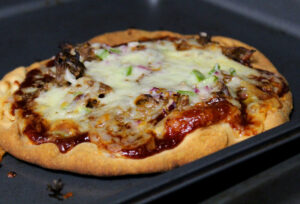 Chili flakes
Creole salt
Dried minced onion
Fennel
Garlic powder
Onion powder
Oregano
Rosemary
Salt/pepper
Taco seasoning
---
MEAT
Anchovies
Bacon pieces
Canadian bacon
Chicken: shredded, grilled or canned (drained)
Ground beef or turkey: browned or with taco seasoning
Ham, sliced or diced
Mini meatballs
Pepperoni: regular or turkey
Prosciutto ham
Salami
Sausage: Italian sweet, hot or mild
Shredded beef, pork or chicken
Turkey: Sliced or diced
---
VEGETABLES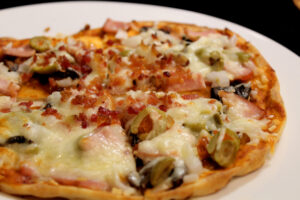 Arugula
Artichoke hearts
Avocado
Capers
Fennel, fresh
Garlic, sauteed
Jalapenos, finely diced or sliced
Mushrooms (sautéed to eliminate liquid): white, baby bella, shitake, crimini
Olives, black, green, kalamata
Onion, red, white or green scallions (raw)
Peppers, red, yellow or green
Pineapple chunks
Salsa, hot or mild
Shallots, diced
Spinach
Tomatoes, diced or sliced
Zucchini, sliced
---
CHEESE
Cheddar, white or yellow
Feta
Goat
Gorgonzola/blue cheese
Gouda
Mozzarella (shredded or fresh Italian style)
Parmesan, shaved or ground
Provolone
Ricotta
Swiss
---
GARNISHES
Arugula
Avocado
Cilantro
Fresh parsley
Salsa
Scallions (green onions)
Shaved Parmesan
Sour Cream
Tortilla chips
---
Recommended: Sienna Bakery® 8" naan flatbread, Sweet Baby Ray's® original barbecue sauce
---
Preparation
--Preheat oven to 400 degrees
--If using canned dough, follow package instructions
--Assemble your ingredients: crust, sauce, seasonings, toppings, cheese/s
--Exact measurements for cheese and toppings aren't necessary. Just follow your own preferences.
--Chop/prep any ingredients that require it and place into small bowls for easy assembly
--Saute meat/s, vegetables as required
--Prepare sauce/s
Choose a crust base, then add toppings in this order:
1. Sauce
2. Seasonings
3. Meat/s
4. Vegetable/s
5. Re-season
6. Cheese/s
--Bake on sheet pans at 400 degrees for ten or 15 minutes or until hot and bubbly, broil if needed
--Remove from oven and let cool a few minutes
--Brush crust edges with olive oil, garlic butter or Parmesan cheese, optional
--Add fresh garnishes
--Slice into squares or triangles
--Serve hot
---
18 PIZZA COMBO IDEAS
Bianca/Vegetarian
White sauce
Green olives, mozzarella cheese, sauteed garlic, chili flakes. Garnish with fresh basil
---
Chicken Florentine
Garlic parmesan sauce
Grilled chicken, fresh spinach, red onions, sliced tomatoes, three-cheese blend, plus feta cheese
---
Chicken Fresco
Red sauce
Grilled chicken, real bacon bits, onions, sliced tomatoes, three-cheese blend, plus cheddar cheese
---
Chicken, Pesto, Fresh Mozzarella
Olive oil
Pesto, chicken and balls of fresh mozzarella cheese (do not overcook)
---
Deluxe
Red sauce
Pepperoni, Italian sausage, mushrooms, green peppers, raw onions, cheese
---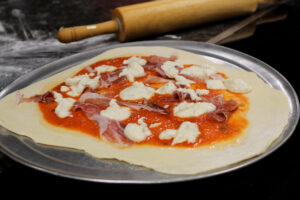 Garden/Vegetarian
Red sauce
Mushrooms, black olives, onions, sliced tomatoes, cheese, plus feta cheese
---
Hawaiian Chicken, Ham, Pineapple
Red sauce
Ham or Canadian bacon, grilled chicken, real bacon bits, pineapple and cheese
---
Local Favorite Signature Pizza
Red sauce
Hot Italian sausage, roasted red pepper, Mozzarella cheese and ricotta cheese. Garnish with fresh flat leaf parsley and chili oil
---
Meat Lovers
Red sauce
Pepperoni, ham, Italian sausage, ground beef and cheese, topped with bacon bits
---
Mushroom – Olives
White garlic sauce or olive oil
Mushrooms, black olives and mozzarella cheese (optional: add chicken or meat)
---
Pepperoni Combo
Red sauce
Pepperoni, mushrooms and cheese
---
Prosciutto Ham and Arugula
Red sauce
Prosciutto ham, fontina cheese and sautéed minced garlic cloves. Garnish with fresh arugula and olive oil
---
Salsiccia
Red sauce
Italian sausage, mozzarella cheese, garlic, rosemary and olive oil
---
Saturday Night Combo
BBQ sauce or olive oil
Canadian bacon, sliced baby bella mushrooms sautéed with minced garlic cloves and shallots; green olives, sweet onion, mozzarella cheese, topped with real bacon bits
---
Shredded Meat and BBQ 
BBQ sauce, such as Sweet Baby Ray's original
Braised short ribs, pulled pork or shredded beef or chicken, red onion, diced jalapeno and white cheddar cheese. Garnish with fresh cilantro.
---
Taco Pizza
Red sauce or salsa
Ground beef (with taco seasoning) and/or Italian sausage, jalapenos, black olives, onion and Colby jack cheese. Garnish with diced fresh tomato, lettuce, crumbled tortilla chips, sour cream, cilantro, salsa and avocado
---
Verdure/Vegetarian
White garlic sauce
Roasted red pepper, zucchini, mushroom, red onion, grape tomato, mozzarella cheese and fresh fennel. Garnish with fresh basil and chive oil
---
White Cheesy
Garlic parmesan sauce
Bacon, onions, sliced tomatoes and cheese
---
Servings:
N/A
---
Serving Suggestion:
--Ideal for potlucks and gatherings
--Serve for lunch, dinner
--Suitable for guests
---
Equipment List:
--Baking sheet or cookie sheet pan
--cutting board and sharp knife
--measuring utensils
--small bowls for prepped ingredients
--pizza cutter, optional
---
---
COOKING CLASS: FIVE ELEGANT HORS D'OEUVRES
---
---
HOME VS. AWAY: APPLIANCES, GADGETS
---
Share your own recipe...
What are your favorite seafood recipes? Side dishes? Desserts? Go-to party recipes?