Cooking Class: Four Festive Hors d'oeuvres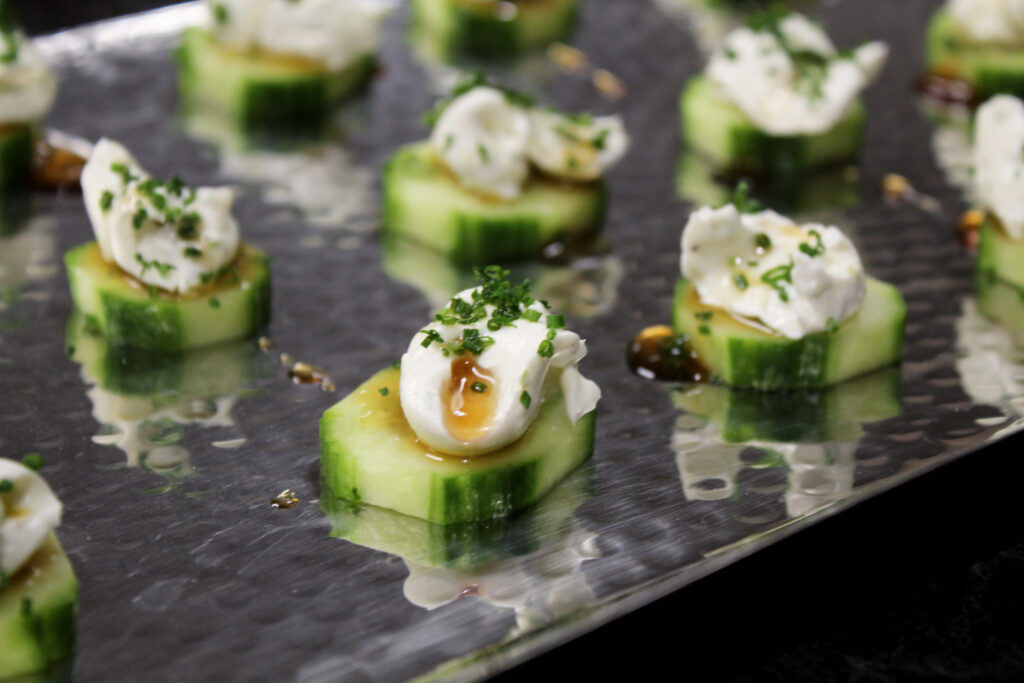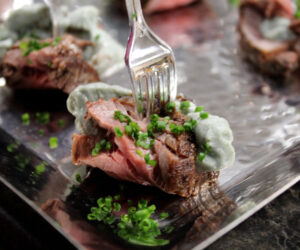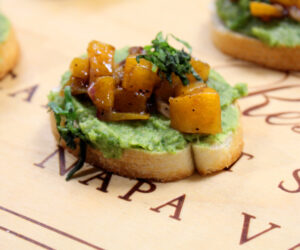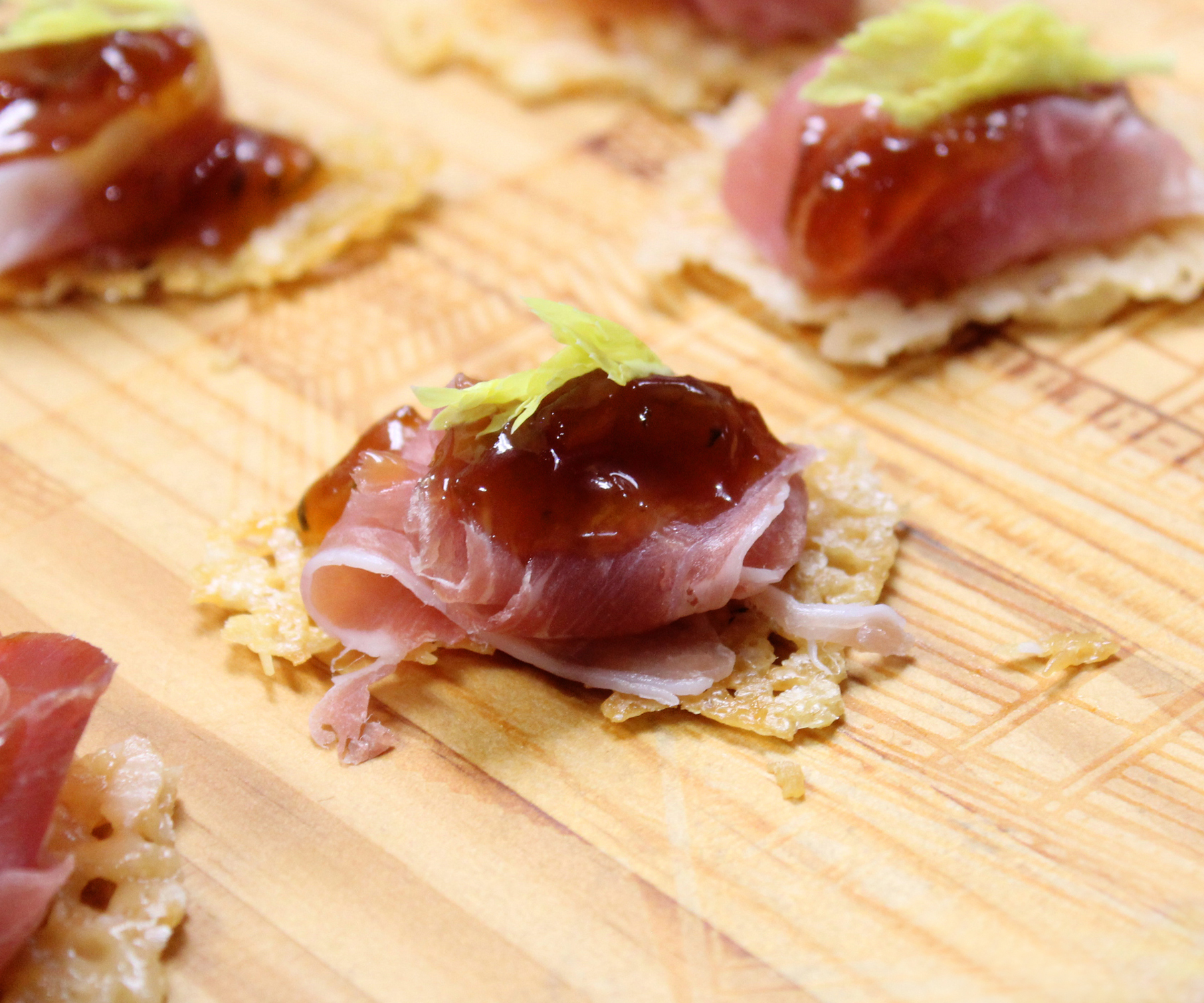 COOKING CLASS
Four Festive Small Bite Hors d'oeuvres
---
The December holidays are all about something extra: extra festive, extra special and hopefully not too much extra work. Our city's Parks and Recreation Department offers community cooking classes and I was once again fortunate to learn from one of the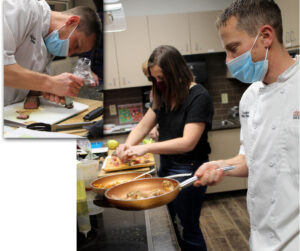 area's best instructors, professional chef Patrick Whetstone.
The small bite hors d'oeuvres we learned to make are beautifully presented, which is much of what makes this time of year so special. Everything is more sparkly and has an element of being that much better. More flavor, high quality ingredients and extra attention to make the presentation gorgeous. These small bite recipes accommodate a variety of  dietary requests: plant-based, meat eaters, cheese lovers and keto-friendly. You can adjust the quantities to your preference, the number of pieces is only an estimate, subject to many variables. For less stress, make at least some of the components a day or two in advance or purchase items you prefer not to make such as Parmesan crisps. Chef's tip: cooked food that will be chilled, such as the beef tenderloin and butternut squash relish can be a little more over seasoned when heated because it will become more subdued when chilled.
All four recipes are delicious, easy and most definitely suitable for snowbird entertaining. Not only are these hors d'oeuvres festive for the holidays, they are great for any event year round. The recipes shown here are written based on my notes from the class presented by Chef Whetstone. Bon appétit!
---
Snowbird meals tend to be much simpler, using fewer ingredients and a very limited selection of appliances and gadgets to prepare them. Choose the freshest, highest quality ingredients and find alternate ways to make your favorite recipes. Forget about what you don't have to cook with, instead focus on what you can accomplish with what you do have. - Midlife Snowbird
---
Elegant Hors d'oeuvres
Prosciutto Parmesan Crisps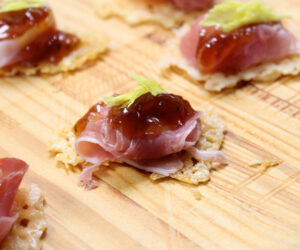 24 - 36 Pieces
Recommended: Homemade or Purchased* Parmesan Crisps
24 - 36 Parmesan crisps, homemade or purchased
2 - 3 oz Prosciutto ham, torn into pieces
1/3 cup orange marmalade or apricot preserves, or to taste
Celery leaves for garnish
*Pre-made Parmesan crisps are typically available in the cheese or deli section of the grocery or specialty food store
Preparation
Homemade Parmesan crisps recipe or use pre-made crisps from the grocery
Assemble Prosciutto ham piled on the Parmesan crisps, then top with a dollop of preserves and a celery leaf for garnish. Serve at room temperature.
---
Elegant Hors d'oeuvres
Beef Tenderloin Bites Stuffed with Blue Cheese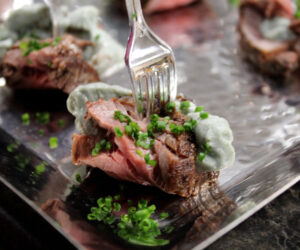 12 -15 Pieces
Recommended: Serve with mini plastic party forks*
6 oz. beef tenderloin, room temperature
4 oz. blue cheese wedge or crumbles, room temperature
1/4 c. heavy cream
2 - 3 t. fresh chives or to taste, sliced thin
2 T. canola oil, approx
Fresh cracked black pepper to taste
Kosher salt to taste
ALTERNATE CHEESES: Brie, goat or fresh mozzarella
Preparation
Pre-heat oven to 350 degrees.
In a small bowl, combine blue cheese and heavy cream. Set aside.
Heavily coat all sides of the beef tenderloin with salt and pepper.
Heat oven-safe skillet over medium-high heat. Add oil and bring to temperature.
Sear tenderloin in hot oil on all sides until there is a crust on every surface.
Place skillet with beef tenderloin in oven to finish cooking, about 5 to 7 minutes. Use a meat thermometer to check until it reaches the desired temperature: rare, medium rare, medium, well done etc.
Remove meat from oven and let it rest about 5 - 10 minutes.
Slice beef tenderloin against the grain into 1/4" wide pieces.
Pipe or spoon blue cheese mixture into the middle of each slice of tenderloin. Fold over and place mini plastic fork into it to hold it in place.
Garnish with fresh chopped chives.
Serve chilled or at room temperature.
*Mini plastic party forks can be purchased at party supply stores such as Party City
---
Elegant Hors d'oeuvres
Cucumber Rounds with Citrus Whipped Cheese
36+ Pieces
Recommended: Honey Ginger Balsamic Vinegar
1 - 2 English cucumbers
Honey ginger balsamic vinegar to taste
3/4 c. cream cheese, room temperature
1/4 c. heavy cream
Zest from one lemon
Zest from one lime
Fresh chives to taste
Fresh cracked black pepper to taste
Kosher salt to taste
Preparation
Combine cream cheese and heavy cream, then add salt and pepper to taste plus lemon and lime zest. Set aside.
Remove ends and 50% of the peel from cucumber/s, slice into approximately 1/4" rounds.
Pipe or spread a dollop of the whipped cream cheese onto the top of each cucumber slice.
Top with fresh chives. Drizzle with honey ginger balsamic vinegar or a flavored balsamic vinegar of your choice.
Serve chilled or at room temperature.
---
Elegant Hors d'oeuvres
Crostini with Arugula Hummus and Butternut Squash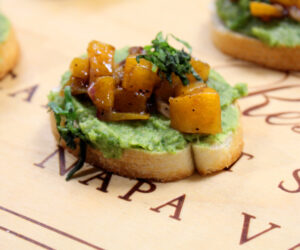 24 - 36 Pieces
Recommended: Pre-sliced baguette bread
Crostini
One loaf pre-sliced baguette bread
1/4 c. Extra virgin olive oil or as needed
Kosher salt to taste
Preparation
Preheat oven to 350 degrees
Brush tops of sliced baguette with olive oil
Bake on sheet pan approx 3 - 5 minutes or until toasted, the center of the bread should be soft. Do not over bake.
Remove from oven, sprinkle with Kosher salt, set aside to cool
Butternut Squash Relish
3 cups fresh butternut squash, small diced
1/4 c. red onion, diced fine
2 T. Balsamic vinegar
2 T. Extra virgin olive oil
Fresh basil, approx 5 - 6 leaves, sliced chiffonade style
Kosher salt and fresh cracked pepper to taste
Preparation
Preheat skillet to medium-high. Add oil to skillet and allow oil to get hot.
Pan fry butternut squash in skillet until it is softened and brown, approx 10 to 15 minutes. Remove from heat.
Add onions to squash, season with salt and pepper to taste. Chill mixture in the refrigerator.
Prior to serving, add balsamic vinegar to the butternut squash mixture. Re-season if necessary.
Set basil chiffonade aside until ready to assemble.
Arugula Hummus
2 T. butter, room temperature
1 T. garlic, chopped (from a jar has stronger flavor)
1/2 c. onion, diced
2 fl oz. white wine
1 can (15 oz) garbanzo beans, rinsed and drained
1 1/2 c. vegetable stock
3 c. arugula
Kosher salt and fresh cracked black pepper to taste
Preparation
Sweat onions and garlic in butter in saute pan.
Add garbanzo beans and white wine, cook until wine reduces.
Add stock, let simmer for 15 to 20 minutes. Strain liquid into bowl and reserve it.
Puree bean mixture with arugula until smooth in food processor OR use an immersion blender. Add reserved liquid as needed to achieve a spreadable texture. The desired consistency is wet sand, it should not be runny. Adjust reserved liquid if more is needed to obtain the proper thickness. Re-season as necessary.
Chill mixture in the refrigerator.
Assembly
Assemble crostini with a thick slather of the Arugula hummus mixture. Top with butternut squash relish. Garnish with basil chiffonade. Sprinkle with kosher salt.
Serve chilled or at room temperature.
---
"Life is like a giant hors d'oeuvre tray in that it is to be savored."
-- Jack Fitzgerald, Canadian Author
---
---