How to Evaluate Online Rental Photos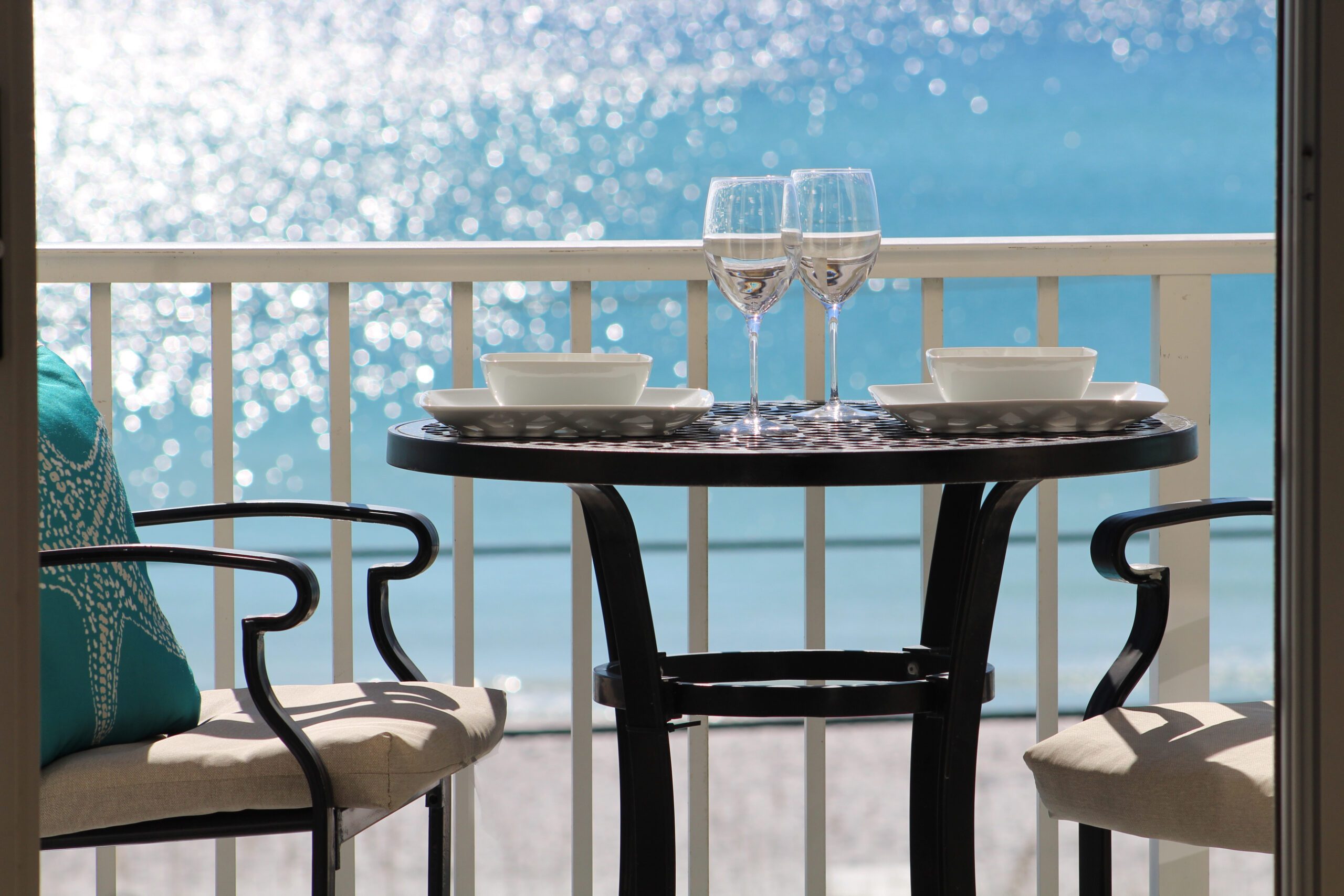 How to Evaluate Online Rental Photos 
Travel and snowbirds are synonymous. Snowbirds by definition seasonally migrate to a warm climate and for many that means selecting a place to stay with very basic information such as online photos, reviews and a description of the property. From personal experience, before ever selecting our snowbird community in Northwest Florida, I looked at hundreds of properties online via specialized travel sites. The photos that got my attention were taken by professionals, had great lighting and flattering angles.
I consider myself to be rather astute evaluating a property from afar, whether hotel or other type of rental; however, every once in awhile there are blunders. My sister and I spent time in Saugatuck Michigan and selected a specific, beautifully decorated ground floor suite of an expensive boutique hotel based on photos, reviews and web site. Prior to arrival we envisioned ourselves walking from the porch of our suite across the expanse of lawn and reading books while seated next to the lovely lake. Wrong. Upon checking in, we discovered the enclosed porch does not have an exterior door, a road separates the lake from the hotel and the expanse of lawn is actually not part of the hotel's property. Worse, a new residence was under construction directly across the street from our hotel. Not only was it noisy, the new home completely blocked 50% of our view of the lake. We loved the hotel and had a great weekend regardless, but finding out about a blocked view from online photos that had not been updated was not fun.
I've compiled 11 categories below to assist with selecting a rental, whether during snowbird season or the off season. As always, careful research can result in the best success.    
---
1. COMPARE PHOTOS WITH AN ACTUAL MAP
Once you've narrowed down your top options, look at an online map and compare the distance of the property address with the online photos. Look at both 360 degree street view and the overhead bird's view. Is it physically impossible to see a great view from inside the unit, such as the water or mountains? Many times a rental listing will show supporting photos that are not actually views from the rental unit itself, but are from around the resort property or neighborhood. Just about every listing for a rental near a beach will show an image of the beach, yet the view shown in the photo isn't necessarily what you will actually see from your kitchen, living room or balcony. Same for mountains, rolling hills or even the community pool.
2. COMPARE LISTING PHOTOS WITH GUESTS PHOTOS
Of course every rental owner wants to show their listing in the most flattering manner, which usually includes professional photos that have been lightly retouched for brightness and color. Now compare those photos with actual photos guests have posted online, if available. If the decor and images tell the same story, it's a good sign. Remember, guest photos may not reflect the most current version of the property and the reverse may also be the case: the rental photos may not be current. Guest photos are likely taken with clutter in them or poor angles and/or lighting, which is to be expected. Guests typically want to share their enthusiasm for a place, but don't forget motive. If a guest is unhappy, they may unfairly post photos and reviews that show the worst or exaggerated attributes of a property.
3. COMPARE LISTING PHOTOS WITH REVIEWS
Online reviews, when available, can reveal details that may not be obvious from the photos. Typically this might include clarification that a view is partially obstructed, that the water is much further away than it appears, that the unit's space is much smaller than it looks or that there is a road in-between the property and the beach. Most owners do not intentionally mislead their guests or do not realize that guests who have never been to the area don't have the personal experience of having seen the neighborhood in person. If there is a valid suggestion that can privately be sent to the owner to improve their listing, that is always appreciated. As mentioned before, remember the motive for reviews. If a review seems unfair or one-sided it may be because of an unhappy guest who does not have the best intentions.
4. BE REALISTIC ABOUT DRONE PHOTOS
Drone photos showing the bird's eye view are great for getting an overview of an area, particularly in relationship to a particular feature, such as a body of water. Be realistic of where the property you are considering actually is and what obstacles will be in the way of your rental compared to the feature shown in the photo. You are not going to be in a drone looking at the view, so don't confuse the purpose of the drone photos.
I know first-hand of guests who rented a private home with fenced private pool directly facing the gulf and beach with just a road in-between. What isn't obvious is that because of the fence, to get from the home's pool to the beach, it's necessary to walk a block West down the street to exit the housing addition, walk over and cross the main road and then walk back East another block to get to the neighborhood's beach access point. Because of the fence, it isn't as quick or simple as merely walking across the street.
5. STRETCHED PHOTOS
Many times photos are stretched on purpose or inadvertently which causes the space to look much larger than it is. Be aware of stretched photos that may have unnatural proportions of the items that you can see are wider than taller, such as appliances. Misconceptions about the size of a space are likely to cause the most distress upon actually renting a place only to find it's smaller than they realized.
6. WATCH THE ANGLES
Photo angles are a legitimate method of showing the expanse of a space, but recognize that angles also can make an object appear much larger than it actually is. This is especially apparent with angles used to show features such as a yard, swimming pool or interior rooms of a home or condo. Low angles or cameras mounted on the ceiling looking downwards can make a room or feature seem much larger than it is. When you are actually in a space, you will not have the same "fly on the wall" or "worm's" view which means the space will not look as large as it does in the photos.
7. ACCURATE DESCRIPTIONS
It's frustrating to see listings promoting rentals that don't accurately portray the property. As an example, I commonly see photos of "gulf view" properties that actually have a side view of the water from way back in a condo complex. An unsuspecting guest may not realize the view from the interior of the unit is going to be of the homes adjacent to the unit, not the water. The only way to see the gulf is by stepping onto the balcony and looking into the distance. Technically, it is a gulf view, but there is a huge difference in what that gulf view is compared to a unit where you can directly see the gulf from the interior rooms and the balcony. Ground floor units that promote themselves as "gulf view," present a different challenge. Be aware of what that gulf view might actually be. For anyone not familiar with ground floor units, your actual view may be a sliver of the gulf due to natural topography where the ground floor unit is lower than the dunes next to the gulf and it results in limited views. If you aren't sure of what view you are getting, ask for photos that are not "zoomed in."
8. LOOK FOR VISUAL CUES
Visual cues provide a wealth of information. Look for hints in the listing photos that show the balcony railing in the foreground and other details such as the pool, road and beach in the background. High rise photos typically show great views looking across the water and/or other natural features. However, the view looking down from say, the 11th floor, may be terrifying for you, your pet or guests. I have friends who stayed on upper floors of high rises just one time. It was too much and they returned to the same complex only in a lower location. Visual cues can indicate the distance from your potential rental unit to get to the nearest parking lot, pool, attraction such as golf course or body of water. There are many great rentals in buildings that are second or third row to the beach, just make sure you are aware of it from studying the photos.
9. ACCURATE STAGING
I've seen plenty of online photos of beautifully staged rentals with props that are not likely included in the rental. This may be items such as dishware or glassware, food, beverages, napkins, accessories, beach equipment and much more. If a staged photo shows these excluded items, it should specifically say on the photo "Food and beverages are not included" to make the potential guest realize the photo is for illustrative purposes. I have also seen rental photos with items such as laundry soap, beach towels or high end barware and the description does clarify that the soap, barware and beach towels are indeed part of the rental. To be sure, read the fine print or ask the owner or property manager.
10. OMMITTED PHOTOS
As is commonly known in psychology, don't be distracted by dazzling photos, pay attention to what is not being said or shown. Prime photos, also known as "Hero" shots might show an amazing view looking in one specific direction. However, what is to the left or the right that is not shown in the photo? Telephone poles? A privacy fence, dumpsters or other obstruction?
Does the rental have a dishwasher or washer and dryer? Photos of appliances such as an in-unit washer and dryer may or may not be shown online for various reasons, so you should clarify what is available. If in-unit washers are lacking and there's no visual cue from a listing photo, it can easily be missed prior to arriving and realizing coin-op laundry facilities are located in a common area.  Similarly, distance to parking, dumpsters, elevators, stairways and much more may not be photographed. Always ask for clarification.
Don't assume every room has a nice or any view. The bedroom window in our condo looks at a covered walkway and swaying palm trees. The bedroom of the unit directly next door looks at a covered walkway and a dark stairwell. I cannot say it enough, "Pay attention to what is not being said or shown." It's ok to ask for photos showing each view or all perspectives of the rental so there's no surprises.
11. CURRENT PHOTOS
It is expensive to hire a professional photographer, but current photos that accurately portray a property are invaluable for potential guests as well as owners. Professional photos are designed to dazzle you, however, don't overlook the gems that may be bypassed due to poor quality photos. Over time, furniture, appliances, rugs, lighting and decorations change. If you aren't sure of how recent the photos are, don't hesitate to ask.
Overall, take your time to carefully study the promotional photos, reviews and then make an informed decision. If necessary, try out different places until you find the one you want to return to over and over again.
---
"Photography is the only language that can be understood anywhere in the world."
-- Bruno Barbey, French Photographer
---
DISCLAIMER
The information contained in this website is for general information purposes only. We make no representations or warranties of any kind, express or implied, about the completeness, accuracy, reliability, suitability or availability with respect to the website or the information, products, services, or related graphics contained on the website for any purpose. Any reliance you place on such information is therefore strictly at your own risk.
In no event will we be liable for any loss or damage including without limitation, indirect or consequential loss or damage, or any loss or damage whatsoever arising from or in connection with, the use of this website.
Through this website you are able to link to other websites which are not under the control of Midlife Snowbird. We have no control over the nature, content and availability of those sites. The inclusion of any links or advertisements does not necessarily imply a recommendation or endorse the views expressed within them.
---
---