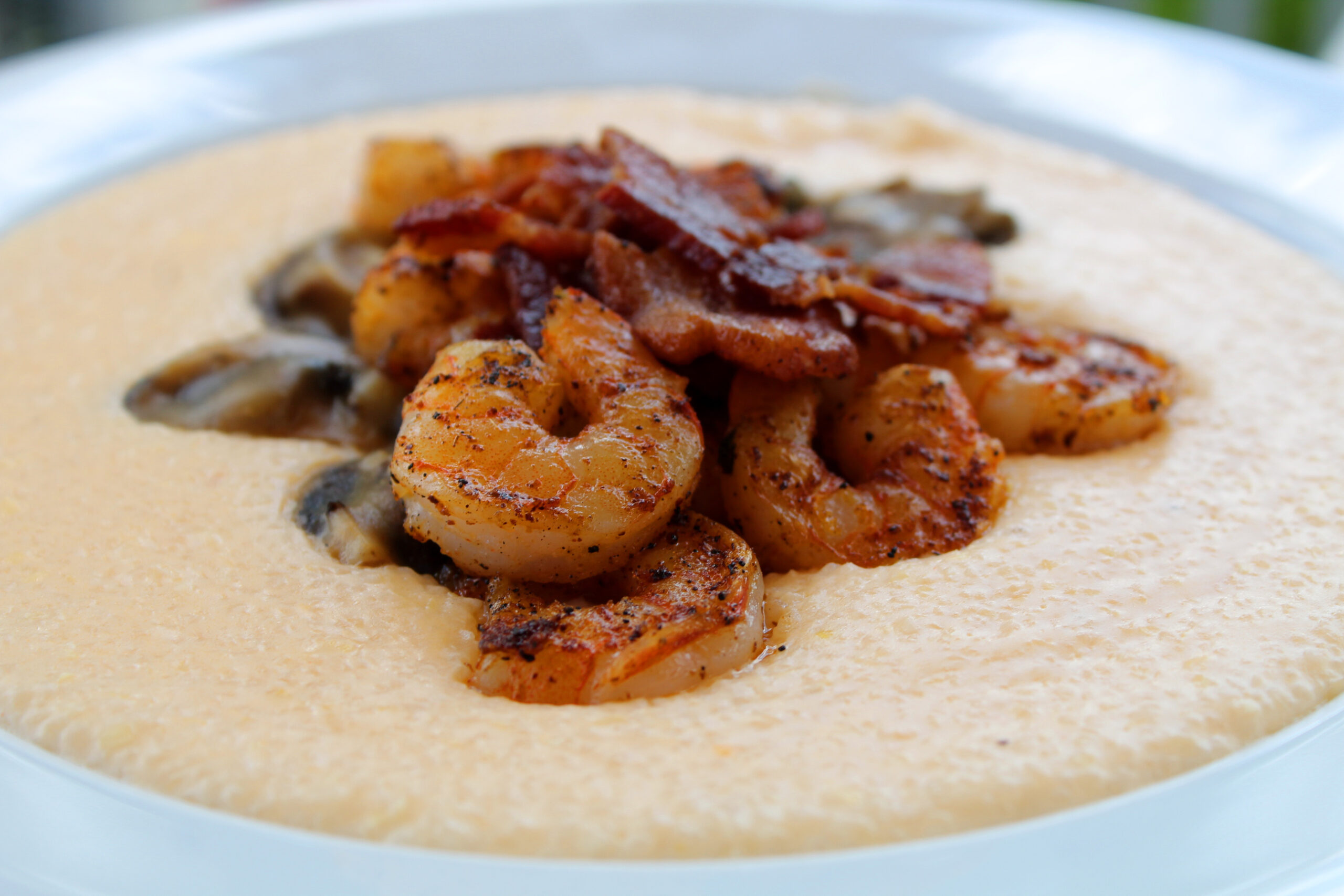 Classic Shrimp and Grits
Cheddar cheese, shrimp, bacon, mushrooms
---
For years, I wondered why the iconic beloved Southern combo is shrimp and grits -- not bacon and grits, sausage and grits or perhaps gravy and grits. It turns out the history dates back to the days of fishermen in the low country coastal waters of Georgia and the Carolina's during shrimp season. Because the fishermen were out for up to 24 hours at a time, they would prepare easy, one-pot meals. Grits are a readily available, economical Southern staple and when fresh shrimp from the catch was fried in bacon grease and eaten with the grits, it became a popular regional starter meal of the day.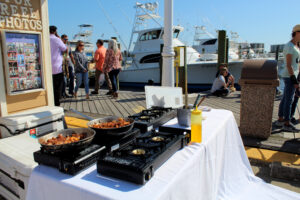 Eventually "breakfast shrimp" made its way to the menu of Crook's Corner in Chapel Hill, North Carolina in the early 1980's where owner/chef Bill Neal created what I consider the modern classic version of shrimp and grits. I was totally surprised it wasn't all that long ago that shrimp and grits transformed from a regional to national passion. In 1985 Food Editor Craig Claiborne published Chef Neal's recipe in "The New York Times" and that is what stirred the interest for home cooks and restaurants alike. My version is inspired by Neal's original recipe with a few changes.
Shrimp and grits without some extra pizzazz can be a bit bland, which is ok if you aren't the sort of person who wants Cajun or Creole seasoning first thing in the morning. By including an element with a smoky kick, it truly makes the recipe come together. Examples include crispy apple wood bacon, andouille sausage, smoked paprika, Cajun and/or Creole seasoning.
Chef Neal's restaurant, then and now, serves very large shrimp (26/30 count), dusted in flour prior to pan frying them in bacon drippings. A lemon wedge is included with each bowl, which is a nice touch, but more than I typically do. In contrast, I lightly coat the shrimp in extra virgin olive oil, then heavily dust both sides with Cajun seasoning and pan fry at a medium-high temperature to achieve a blackened exterior.
Of course, purists will insist on stone ground grits, which is the preferred type of grits, but they aren't always available, so quick-cooking grits are suitable for a substitute. I prefer shell stock instead of the original all-water base. Sharp cheddar cheese is essential -- mild cheddar is too bland. Although it seems it would be a quick entree, there are three main elements to preparing this recipe and each one involves multiple steps, so plan accordingly. There's many fun variations to shrimp and grits, but a classic recipe like this is delicious and comforting. For a more detailed history of shrimp and grits, please read my post about the first annual Destin, Florida Shrimp & Grits festival.
---
Snowbird meals tend to be much simpler, using fewer ingredients and a very limited selection of appliances and gadgets to prepare them. Choose the freshest, highest quality ingredients and find alternate ways to make your favorite recipes. Forget about what you don't have to cook with, instead focus on what you can accomplish with what you do have. - Midlife Snowbird
---
Ingredients
One pound 26/30 count or 31/35 count raw shrimp, peeled/deveined, reserve shells
4 1/2 cups shrimp shell stock OR chicken OR vegetable stock (OR use a combo of half water and stock)
1 1/2 cups baby bella mushrooms, sliced thinly
1 cup sharp cheddar cheese, shredded
1 cup stone ground or quick cooking grits
3/4 cup half and half or cream
1/2 cup scallions, sliced
1/8 cup flour
4 to 5 slices thick cut applewood bacon, cooked, torn into pieces
3 T. butter or margarine
1-2 T. Cajun seasoning or to taste
1-2 T. extra virgin olive oil
2 T. Tabasco® sauce or to taste
1 T. lemon juice
2 t. garlic cloves, minced
1/4 t. fresh cracked pepper
Kosher, Cajun or Creole salt to taste
---
Optional:
Lemon wedges, sea scallops or lobster or andouille sausage or diced Canadian bacon and/or fresh greens such as spinach, kale, chard
---
Recommended: Tabasco® pepper sauce, Quaker® instant grits, original flavor, Zatarain's® New Orleans Style Creole seasoning
---
Preparation
SHRIMP/BACON
Remove shells from shrimp, then set shrimp and shells aside
Fill small sauce pan with 5 to 6 cups water, bring to boil
Add shrimp shells and reduce to simmer for about 15 to 20 minutes
Use a lid or sieve to reserve the liquid, discard shells
Preheat large skillet over medium heat, then cook bacon until crispy, reserve drippings
Remove bacon and set aside, tear into pieces when cool
Rinse/dry shrimp, coat lightly in extra virgin olive oil
Turn heat up to medium high, then add shrimp to drippings in a single layer
Pan fry shrimp for about 90 seconds or more per side until the exterior is blackened and the interior isn't opaque. Flip over with a spatula until entirely no longer translucent. Do not overcook. Remove from pan and set aside.
---
GRITS
In a medium stock pot, add four cups stock, bring to a boil
Whisk grits into boiling liquid so the grits don't clump
Reduce heat and simmer for approximately 20 to 25 minutes for stone ground grits or 5 to 10 minutes for instant grits. The grits will absorb much of the liquid and soften. Stir frequently to prevent burning
Stir in 2 T. butter or margarine, cream or half and half, shredded cheddar cheese, Parmesan cheese and 1 t. Tabasco® sauce or to taste
Add 1/2 t. Kosher, Cajun or Creole salt or to taste
Reduce heat to low and keep warm until ready to serve. Stir once in awhile.
---
MUSHROOM SAUCE
Slice mushrooms into thin pieces
Slice scallions into pieces
Add 1 T. butter or margarine to the drippings and saute the mushrooms and green onions over medium-low heat until the mushrooms are softened
Add minced garlic and stir into mushrooms
Stir in flour, then add 1/2 cup stock, lemon juice and 1/2 t. Tabasco® sauce, and Kosher, Cajun or Creole salt to taste. Stir well.
Divide grits into four shallow bowls, then top each serving with the mushroom sauce, shrimp and crispy bacon
Serve hot or warm with Kosher, Cajun or Creole salt to taste
---
Servings:
Four servings
---
Serving Suggestions:
--Serve hot for breakfast, brunch, lunch or dinner
--Leftovers can be reheated but will need to have liquid added OR
--Leftovers can be sliced into squares, coated in egg/flour then pan fried
---
Equipment List:
--large skillet
--medium to large stock pot
--small stock pot
--cutting board and sharp knife
--whisk
--small spatula
--wooden spoon
--measuring utensils
--four shallow bowls
---
---
CHICKEN - KIELBASA - SHRIMP GUMBO
---
---
HOME VS. AWAY: APPLIANCES, GADGETS
---
Share your own recipe...
What are your favorite seafood recipes? Side dishes? Desserts? Go-to party recipes?