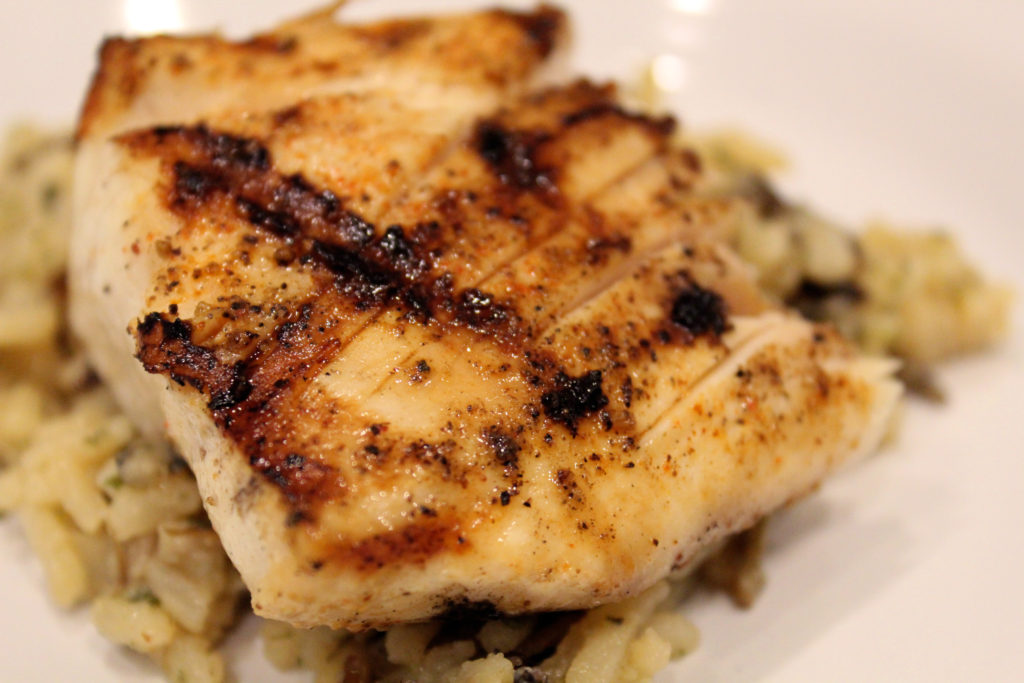 Fresh Grilled Amberjack
with Pineapple and Mango Salsa
This fresh fish seafood recipe features Amberjack, a firm-fleshed white fish, which is key to successfully grilling it. The freshness of the flavorful fish and salsa work well together for an amazing light meal. Amberjack fillets do not typically have pin bones and it's usually available skinless.
Grouper or mahi mahi are often substituted for Amberjack; however, they are not ideal for grilling due to their more delicate texture, you'll want to bake them instead. The ingredients in my snowbird recipes have been simplified due to a pared down pantry, but of course if you prefer to add more, do it. The recipe was inspired by combining several recipes my husband and I fused into our own creation.
---
Snowbird meals tend to be much simpler, using fewer ingredients and a very limited selection of appliances and gadgets to prepare them. Choose the freshest, highest quality ingredients and find alternate ways to make your favorite recipes. Forget about what you don't have to cook with, instead focus on what you can accomplish with what you do have. - Midlife Snowbird
---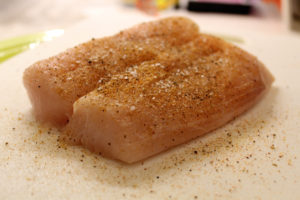 Amberjack / Marinade
INGREDIENTS
3/4 to 1 pound fresh amberjack, 1/2 inch thick
Fresh pineapple, sliced -- set aside
1 1/2 cups pineapple-orange juice
1 T. sugar
1 1/2 T. lime juice
1/4 t. crushed red pepper flakes
Canola oil
Cajun seasonings, Creole or Kosher salt, to taste
Granulated garlic and onion powder
---
Suggested brand: Zatarains® Creole Seasoning
---
Fresh Mango Salsa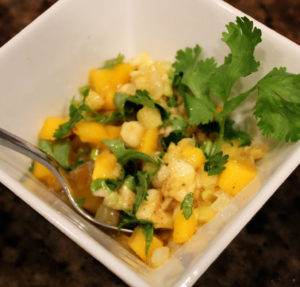 INGREDIENTS
1/2 ripe mango, diced
1 cup ripe pineapple, diced
1/2 fresh banana, diced
2 T. red onion, diced
1 T. fresh cilantro or parsley, minced
Dash fresh pepper
Creole salt to taste
Onion powder to taste
Minced dried onion to taste
PREPARATION
Gently fold all salsa ingredients together about 30 minutes prior to serving so the flavors have time to blend. Acid such as lemon or lime juice will help keep the banana from turning brown. Serve with grilled amberjack.
---
Seafood Recipe Preparation:
Grilled Marinated Amberjack
Mix together all of the marinade ingredients, except the sliced pineapple, salt and granulated seasonings. Marinate the fish fillets in half of the juice mixture about two hours, turning at least once. Reserve the other half of the marinade.
Remove fish and discard marinade.
Dust the fish with granulated seasonings (to your own preferences) and sprinkle with Cajun seasonings, Creole or Kosher salt. Lightly oil both sides of the fish and sliced pineapple. Let the fish rest about 15 minutes if possible.
Prep your grill and preheat to medium. Place sliced pineapple on grill rack about five minutes before the fish. Grill the fish approximately three minutes per side or just before until the fish flakes easily when tested with a fork. Do not overcook the fish. Remove from grill and tent with foil for five minutes. Remove pineapple when it has nice char marks. Drizzle reserved marinade over the fish and pineapple.
Serve with fresh mango salsa and grilled pineapple.
---
Recommended sides:
--Plain white rice OR Basmati rice OR Wild Rice Pilaf OR Caribbean rice AND
--A green vegetable, such as fresh steamed broccoli, salad, peas or green beans
---
Share your own recipe...
What are your favorite seafood recipes? Side dishes? Desserts? Go-to party recipes?