Snowbird Travel Precautions During A Pandemic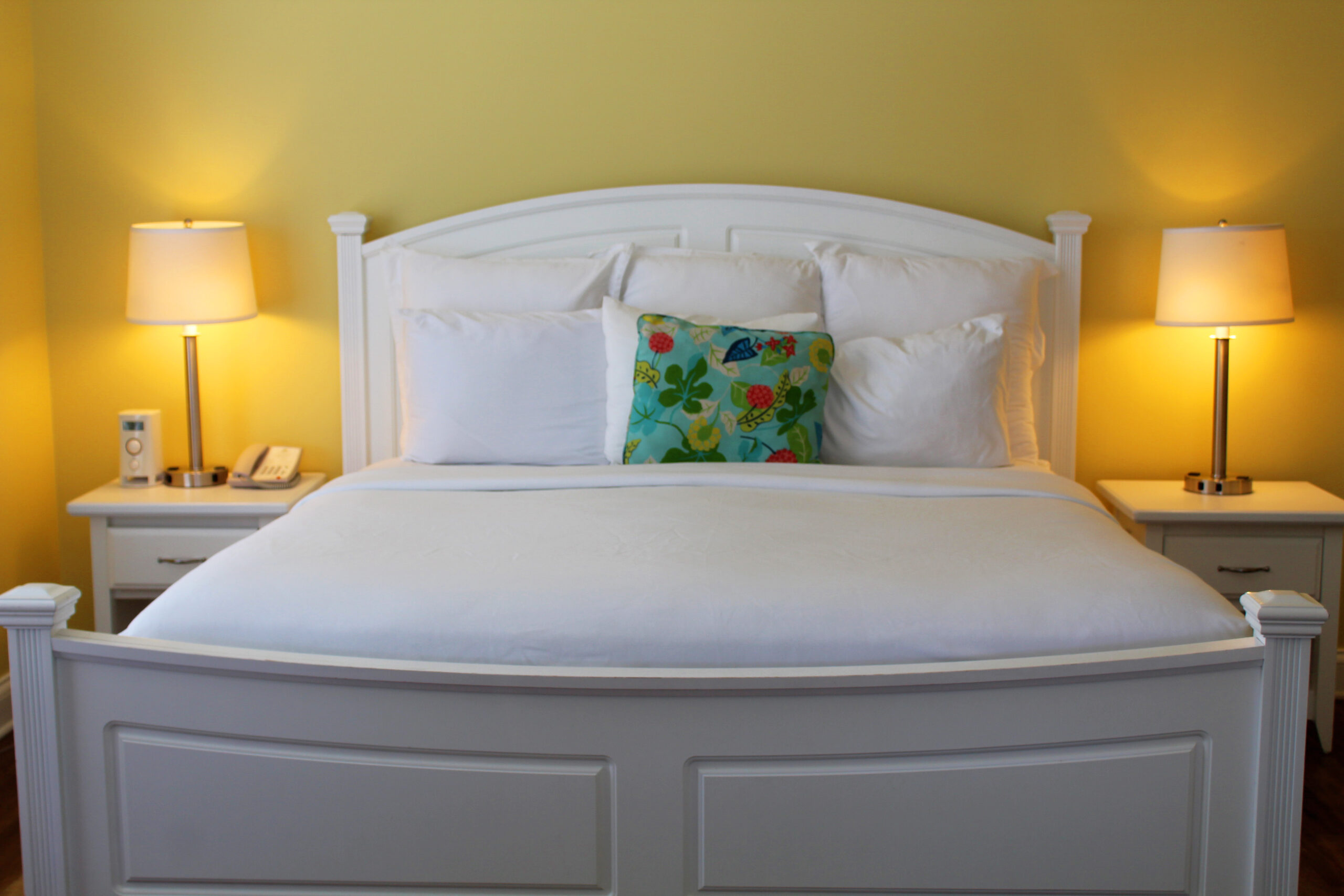 Snowbird Travel Precautions During A Pandemic
Guidelines to Consider Prior to Your Road Trip
Many snowbirds depart for their southern homes after the December holidays at the start of the new year, including my husband and I. However, 2020's historical Covid-19 pandemic has created even more reasons than ever to be smarter about when, where and if travel is necessary at this time. By now, there's been plenty of travel warnings and advisories issued from renowned health care experts, world governments and global health organizations.
First and foremost, above all else, anyone who is ill should stay home until fully recovered. Those at higher risk with health problems or who have other underlying conditions should weigh all options and consult with their own personal medical team. Snowbirds who have made the decision to travel should consider the advice of the experts and take the highest precautions to avoid becoming sick. Masks, social distancing and diligent sanitizing remain the top criteria for reducing risks of exposure; however, there is much more, especially when travelling.
Below are common sense guidelines for travelers driving to their destination with a hotel stay along the way based on my long-time personal experience. I have always been super cautious about germs, so it wasn't that much of an adjustment to step up to even higher levels of caution. During this past summer, my husband, dog and I went on two mini overnight getaways within an hour of our home and it helped us prep for the long haul to our warm weather home. We learned a few things that helped us improve our systems. Because of our short summer travel, we gained increased confidence that it can be done with proper precautions.  
Taking meticulous measures and constantly being alert and pro-active are traits I have employed long before there was a global pandemic. It is well worth the effort if it can improve the chances of getting to your destination safely and without becoming sick after arriving. These guidelines are in no way intended to be construed as anything other than general information. Do your own research, follow all local and state mandates, as well as other government agencies.
---
Checklist of General Travel Considerations
Many snowbirds have pre-paid for their non-refundable rental residences and may have other commitments and obligations in their southern communities. Of course, the reasons for migrating to warmer climates is to get out of the frigid temperatures, rejuvenate one's outlook and be able to spend time outdoors. Thus, cancelling the trip is not anyone's first choice if they can help it.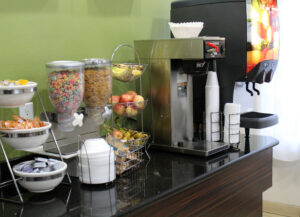 Finding ways to reduce risk and improve precautions is a smart way to prepare for the journey. There is no way possible to eliminate all risk, so travel at your own discretion.
Check in advance with your hotel regarding specific procedures they follow regarding extra cleaning and sanitation precautions. Ask if contactless check-in is available. You may want to also inquire about whether "free breakfast" and/or onsite restaurant services will be reduced or unavailable as well as amenities such as swimming pools, fitness centers, business centers and so forth.
I never thought I'd say this, but hotel rooms with (typically noisy) in-room heating and air conditioning units are preferred compared to hotel rooms with central HVAC systems. Our highway hotel fills this need, along with windows that can be opened for additional outside air. Motels with rooms that can be individually accessed via a private exterior door are also better options during a pandemic.
If travelling with anyone outside of your immediate household, do not share a hotel room or ride in the same vehicle if at all possible. If there's no other options, each household should try to self-isolate for 14 days prior to travelling together.
I've separated the travel considerations below into pre-planning/prep, in-transit and hotel guidelines. Upon arrival at your destination, follow the same procedures as when checking into your hotel. Always, always (pandemic or not) run every single utensil, plate, glass, dish and pan through the dishwasher with soap to sterilize them prior to first use. Never assume the dishes are sterile just because they look "clean," they may have only been rinsed or worse, just placed in the cupboard as the previous guest vacated the property.
---
PRE-PLANNING/PREP
1. Take inventory and Purchase All Necessary Sanitation Products, Including the Following:
--Masks or facial coverings for each person, plus several back-ups
--Hand sanitizer: bottle with cap or pump style
--Hand sanitizer: packets
--Hand sanitizer: travel size for purse or bag
--Towelette style sanitizers in a plastic container with lid
--Rubber gloves, disposable
--Spray sanitizers such as Lysol® Disinfectant Spray
--Paper towels
***Read the labels before using to ensure you don't damage any hard surfaces with your sanitation products***
2. Organize your sanitation supplies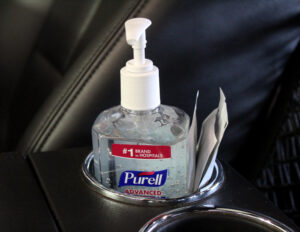 --Place hand sanitizer in your vehicle's drink holders, glove box and anywhere else that is within easy reach of both driver and passenger/s.
--Put travel-sized bottles of sanitizer in your purse, bag, brief case, etc.
--Keep a clean mask, plus extras in your purse, pocket, bag, brief case, glove box, luggage, etc.
--Transport full supplies of additional sanitizer products in an easily-identified tote bag within quick reach when arriving at your hotel and eventual destination.
--The tote bag of supplies should be one of the first items unloaded from your vehicle so you have it handy immediately upon checking into your hotel room.
3. Bring Your Own Everything (BYOE)
--Bring bottles of water and beverages; individually portioned snacks; candy; cigarettes/lighters; prescription and over the counter meds; toiletries; phone chargers, sunglasses, books, magazines, cash and anything else that will eliminate or reduce the need to go into a store during your road trip.
--Do the same for your pet/s that are also travelling with you: bowls, jugs of water, food, treats, leashes, meds, etc. should be self-contained. Don't forget to bring plenty of plastic bags for disposing pet waste.
--Bring several of your own travel mugs and plastic cups per person.
--Consider bringing your own linens such as pillows, pillow cases, blankets, towels, etc.
--Don't forget your digital thermometer and supply of vitamins and supplements.
4. Set up your e-pass toll accounts
--If you aren't already familiar with the tolls along your route, research it in well in advance of your travel dates
--Set up accounts with each one so you have an e-pass.
--Allow enough time for your paperwork to be processed and your pre-payment to be loaded
--Look in the mail for the arrival of your electronic monitoring device and decal/s, then install them in your vehicle
---
IN-TRANSIT
1. Make minimal pit stops
--Wear a mask at all times when indoors, socially distance, don't touch surfaces, minimize time indoors, wash your hands, then apply hand sanitizer upon re-entry into vehicle.
--Stop only as necessary to refuel and/or utilize restrooms. Wash your hands extra thoroughly.
--If you must go indoors for a restroom, be swift and skip browsing around the gift shop, magazine racks, beverage coolers and so forth.
--Pre-pay for fuel at the pump to avoid going indoors.
--Don't directly touch surfaces such as door handles, payment transaction key pads, pens, ATM cash machines or other high contact surfaces. Use hand sanitizer immediately upon completion of your task.
--Wear disposable gloves if possible while fueling and/or touching high contact surfaces.
--Keep your leashed pet away from other pets and people.
--Avoid handling cash. If unavoidable, sanitize your hands immediately.
2. Continually Sanitize
--Sanitize your hands, cell phone/s and high-touch surfaces frequently.
--Keep your pet bowls and supplies extra clean.
--Don't use the same travel coffee mug the entire trip. Bring clean travel mugs to switch out every 6-8 hours or less.
3. Utilize Drive-Through Restaurants
--Drive-through restaurants are typically plentiful en route, fairly quick and eliminate the need to dine indoors.
--Sanitize your hands immediately before and after eating.
4. Utilize E-Pass Toll Booths
--Avoid using the toll booths with attendants to minimize contact.
--If paying an attendant with a credit card, sanitize it immediately upon return to you. Their gloves protect them, not your card or you.
5. Dump Your Trash Frequently
--Get rid of your empty disposable cups, food bags and trash with every pit stop.
---
HOTEL STAYS
1. Minimize Contact at Check In
--Only one person should go into the hotel lobby and make an effort to check-in with minimal contact. If contactless check-in is available, use it.
--Wear a mask, practice social distance and/or wait in your vehicle until no one else is at the counter to check in.
--Use your own pen to sign paperwork.
--Avoid touching keypads or common touch points unless immediately using hand sanitizer afterwards.
--Leave your luggage and pets in the car with your travel companion/s if not travelling solo.
2. Wipe the handles of the luggage cart
--Wear disposable gloves and/or wipe the high touch surfaces of the luggage cart prior to loading or moving it. Wash or sanitize your hands immediately upon returning it to the lobby.
--Upon check-out, repeat the sanitizing procedures.
3. Sanitize Your Room
--Only one person, wearing a mask of course, should enter the room prior to sanitizing it.
--Bring your tote bag of sanitizer supplies to clean all surfaces in your room prior to bringing in your pets, bags and luggage.
--Open the exterior doors and window/s if possible.
--Spray the air with an aerosol can of disinfectant, such as Lysol® Disinfectant Spray.
--Spray all high contact hard surfaces such as door handles, light switches, sinks and handles, toilet handles, towel racks, shower handles and nozzles, tv remote control, un-upholstered chair arm rests, table tops, desk surface, microwave and mini fridge handles and so forth with a disinfectant. Allow the disinfectant to stay on the surface according to the package directions, then wipe dry.
--Bring only the most essential luggage and items into your hotel room and leave everything else in your locked vehicle.
--Wash your hands and sanitize them frequently and as needed.
--Don't touch or use the in-room phone unless you sanitize it first, then sanitize your hands upon completion of use.
4. Protect Yourself and Your Pet/s in Your Hotel Room
--Never, ever put ice in the bucket unless it has a clean, new plastic liner baggie.
--Drink out of your own cups if plastic wrapped items are not available.
--Don't allow anyone other than your travel companion/s in your room while you are in there. If housekeeping or maintenance needs to enter, then arrange to exit the room.
--Wear shoes, flip flops or at least socks when walking around your hotel room.
--Use your own pillow/s if you bring them.
--Avoid pulling the bedspread or duvet cover anywhere near your face.
--Stand on a clean towel upon entering/exiting the shower and while standing at the sink with bare feet.
--Don't touch the phone, microwave handle and mini fridge handles unless immediately washing or sanitizing your hands.
--Never allow your pet to eat anything that falls on the floor.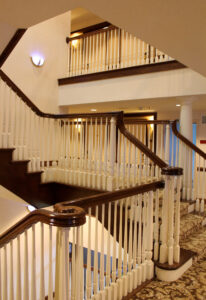 5. Avoid Public Spaces, Spend time outdoors, weather-permitting
--Wear a mask at all times when indoors in public and common areas, socially distance and wash your hands frequently.
--Avoid or minimize your time in public areas such as the lobby, hallway, common areas, elevators and so forth.
--Ask for a room on the first floor to avoid elevators and stairs.
--Take the stairs instead of the elevator when possible.
--Don't get into an elevator with anyone other than your own travel companion/s
--Don't touch the elevator buttons, ice machine knobs or vending machines unless you immediately use hand sanitizer afterwards.
--Don't congregate at the lobby bar, restaurant or in any area where the general public is mingling.
--If you can get to an exterior door with a shorter distance within the hotel, do it, even if it means walking all the way around the building to get to your vehicle or the pet area green space.
--If you can safely spend time outdoors at your hotel, weather permitting, do it as much as possible.
6. Food/Beverage Safety Precautions
--Order contactless takeout to be delivered to your room or go to a nearby drive-through restaurant.
--Add the tip at the time you place the order to reduce the need to give cash to your delivery person.
--Don't drink or eat from any plastic cups, glasses or utensils that haven't been pre-sealed in plastic wrap.
--Avoid any food, such as hospitality cookies that aren't individually wrapped or beverages that are available in a common coffee pot or pitcher.
--If a breakfast buffet is part of your hotel's amenities, don't touch high contact surfaces, handles or items if possible. Choose items that are individually wrapped. Take your food to eat in your room to minimize your time in the serving or dining room areas.
7. Contactless Check Out
--Call the front desk to let them know you are departing. Ask for an emailed copy of your receipt.
--Leave your hotel keys on the table or desk in your room.
--Don't forget to leave a generous tip for housekeeping, it's a lot more work for them, too.
--Sanitize your hands immediately once in your vehicle prior to departing the parking lot.
---
"Do what you can, with what you have, where you are.
"
-- Theodore Roosevelt, 26th President of the United States
---
DISCLAIMER
The information contained in this website is for general information purposes only. We make no representations or warranties of any kind, express or implied, about the completeness, accuracy, reliability, suitability or availability with respect to the website or the information, products, services, or related graphics contained on the website for any purpose. Any reliance you place on such information is therefore strictly at your own risk.
In no event will we be liable for any loss or damage including without limitation, indirect or consequential loss or damage, or any loss or damage whatsoever arising from or in connection with, the use of this website.
Through this website you are able to link to other websites which are not under the control of Midlife Snowbird. We have no control over the nature, content and availability of those sites. The inclusion of any links or advertisements does not necessarily imply a recommendation or endorse the views expressed within them.
---
---