Where to Shop to Furnish Your Vacation Rental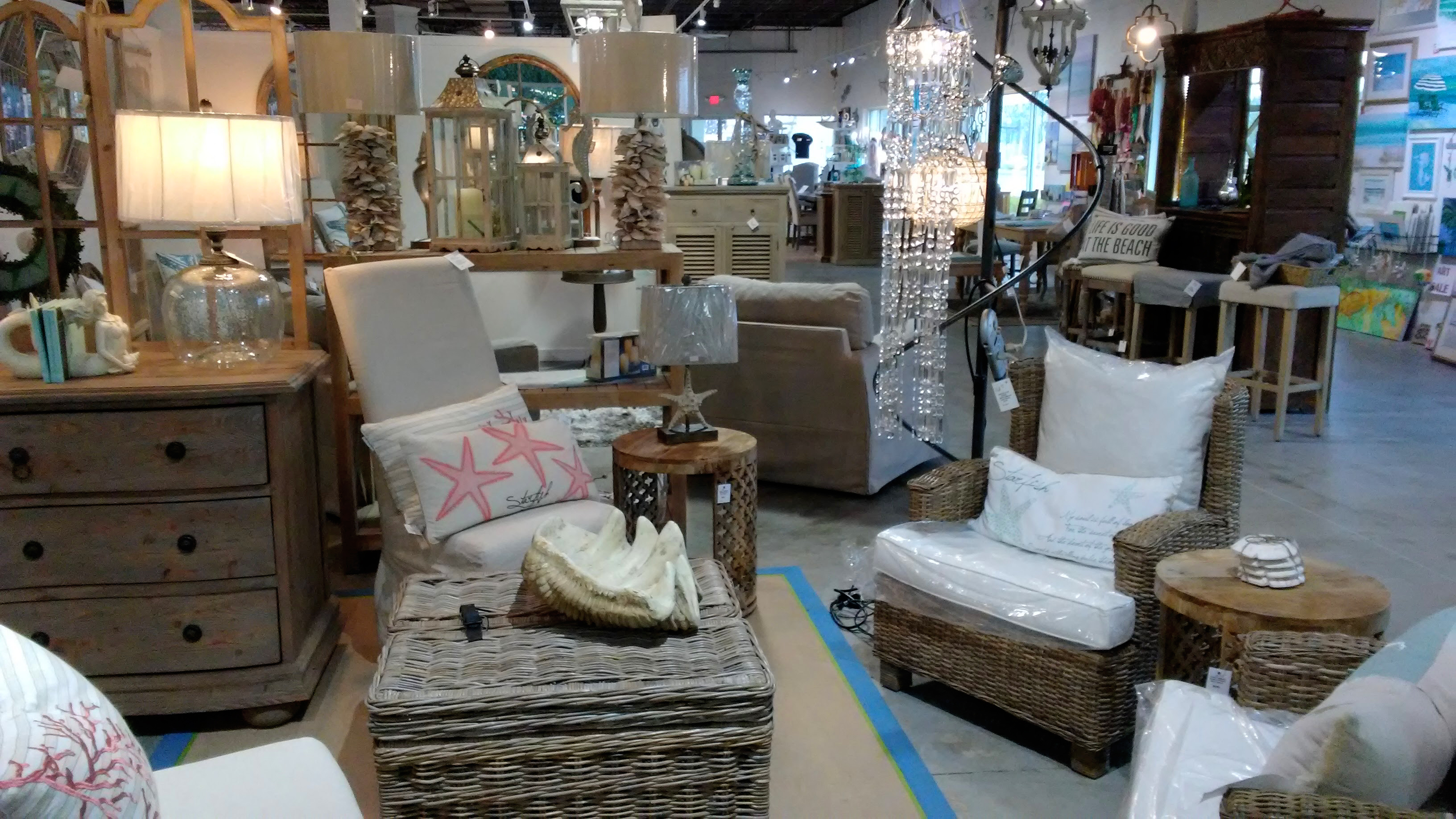 Where to Shop
Where to shop to furnish your vacation rental or second home
---
Personally, I'm not a shopper. I'd rather do almost anything else than run to the store for something. Professionally, I've become adept at finding everything needed to furnish our vacation rental and have invested much time and thought in choosing every single item. Nothing was purchased or returned on a whim or without weighing the pros and cons of how that item fit into the rental property or not. 
Many snowbirds own a vacation rental, second home, lake, desert or mountain home and/or simply want to know where to find the charming items stocked in their winter rental. That used to be me. Where did the owner acquire the rugs, pillows, lighting, accent pieces, furniture, artwork and outdoor patio set? Now I'm that person supplying these items and we've had guests ask, "Where exactly did the mattress come from and what is the specific model # of it?" A true compliment!
It's ironic that being a shopper in a professional capacity changes your outlook on what you are looking for. You are not only shopping for what you like, you are anticipating what your guests will like. It's not just the adults, you have to appeal to the teens and kids too. There's a mix of every personality staying in a rental unit, which means it's critical to identify the overall theme. I've written about this topic in another post [The Basics of How to Furnish a Vacation Rental Property] and it's important to get it right. A guy's rustic fishing trip kind of place is completely different than a ladies' luxury getaway or a romantic couple's retreat. 
Everything needs to work together in a cohesive way and you have to know what the limits are. When is enough, enough? How much is too much to spend? Is good enough, enough? Is it time to stop shopping?
Your furnishings must not only look appealing, they need to endure wear and tear to get through at least one entire busy season. Value, quality and brands do make a difference for many items that need to last much longer than one season. Other items, such as bath towels and wash cloths need only meet your minimal standards because they will be replaced before showing lots of wear. No one wants to use a thread-bare towel or make-up stained wash cloth. This also applies to chipped dishes. Buy a moderately priced brand that will be available from year to year and replace every single chipped item. Tired, imperfect and dirty is what many guests have at home and they want to escape to fresh everything. Below, I will share where I shopped to furnish our vacation rental. Consider every possible bricks and mortar store and online resource to find the mix that works for you.
---
Walmart
I love Walmart for anything where you only need the basics, large and small.
Ceramic every day dinner plates, salad plates, bowls, serving platters
Glassware such as short and tall drinking glasses, juice glasses, wine glasses
Casserole dishes in various sizes
Flatware and serving spoons
Utensils such as wooden spoons, whisks, spatulas
Stainless steel utensil caddy
Chip-resistant Corelle bowls, dinner and salad plates (kid friendly)
Coffee cups
Coffee filters
Dish racks and storage solutions
Dish clothes
Dish towels
Drawer organizers
Plastic wrap, aluminum foil
Measuring cups and measuring spoons
Plastic nesting mixing bowls
Glass pitcher
Plastic pitcher
Nesting skillets
Pots and pans in various sizes
Disposable salt and pepper shakers
Cleansers: toilet bowl, glass and multi-purpose
Liquid hand soap
Laundry soap
Laundry hamper
Collapsible drying rack
Coffee maker
Blender
Toaster
Iron
Alarm clock with charging portals
Mattress pads
Mattress topper
Pillows
Pillow cases
Batteries
Light bulbs
Paint brushes, drop cloth and supplies
Spray paint
Glass display jar for sea shells
Outdoor cushions
Markers, coloring books and sketch pads
Games, puzzles
Bar stools (I had to return them due to odd counter height)
---
Home Goods
Home Goods is great for discounted prices on better quality close-out items
Knick knack decor items that add charm to every room
Wall art
Beach towels
Ice bucket
Wooden charcuterie board
Cutting boards in various sizes
Household items such as coffee mugs, measuring utensils, serving spoons
Paper towel holder
Decorative liquid soap dispensers for kitchen and bath
Area rugs
Place mats
Pillows for both bed and outdoor use
Vanity seat
Foot stool
Games, puzzles
I also shopped regularly at Tuesday Morning for these same items, but unfortunately the retailer closed it's stores in 2023
---
Big Box Stores: Lowes and Home Depot
Big box stores fill in a lot of gaps for practical household items
Outdoor cushions
Outdoor rugs
Welcome mat
Wire closet shelves
Rubber wire coated dish shelves and racks
Hardware such as hammer, screwdriver and miscellaneous hardware
Paint brushes and spray paint
Room darkening curtains
Blinds
Light bulbs
Cleansers: for toilet bowl, glass, shower and multi-purpose
Gallon-sized liquid soap refill
Laundry soap
---
Thrift Shops
Thrift shops are ideal for pre-owned household items at a greatly reduced price. Typically, I drop off donations and then visit the shop to see if there's anything of interest. Thrift shop furniture is typically very well built if it's more than 20 years old and often will look fresh again with a new coat of paint.
Barware such as gently used glass beer mugs, wine glasses, pilsner glasses and rocks glasses
Games, puzzles, books
Kitchenware, pots, pans, casserole dishes
Furniture, mirrors, artwork, housewares
---
Restaurant Suppliers: Gordons Food Service
Restaurant suppliers such as Gordons Food Service are great for commercial grade products that need to wear well for many seasons.
Baking sheets in multiple sizes
Muffin tins
Glass pitchers
Serving utensils
---
Online
Amazon, Etsy and other online retailers such as Overstock and Wayfair offer practical specialty and unique items.
Driftwood decorative bowl
Knife set with butcher block holder
Hand towels, wash cloths, bath towels, bath mats
Hair dryer and cloth storage bag
Plastic storage bags with zippers
Bedspreads
Custom signage
Oversized plastic serving bowl
Specialized Christmas/holiday decor
---
Surf Shops
Surf shops are great for finding local items that add that extra special touch.
Starfish, specialty shells and sand dollars
Beachy front door decor and signage
Coastal accessories
Let's be real, there's no need to pay for free driftwood and shells from your local beach. Buy the items that you can't find at the shore.
---
Local Retail Shops
Local mom and pop retail or consignment shops, such as Retail Therapy in Santa Rosa Beach, Florida typically offer local products for a one-of-a-kind purchase.
Original art and ready-to-frame prints by local and regional artists
Handcrafted local items
Books by local and regional authors
One of a kind decor and items unique to the area
---
Local and Regional Furniture Stores
Mattress Firm, Rooms to Go and local furniture stores have practical options at various price points for big ticket items.
Lamps
Dressers
Bedroom set
Coffee tables, end tables
Buffet servers
Dining room set
Sofas
Easy chairs
Mattress with adjustable tilt bed frame
Mirrors
Lighting
Area rugs
Wall art
---
National Retail Stores
National retailers such as Marshalls/TJ Maxx, Hobby Lobby, At Home, Kirklands, Five Below and other medium to large home stores offer items you might not find elsewhere.
Mirrors and wall art
Decor and accessories
Kitchenware and utensils
Bedding, pillows, towels, blankets, bedspreads
Most any type of housewares and goods related to the home and patio
Before Bed, Bath and Beyond closed stores in 2023, I shopped there as well.
---
Parting Thoughts
You have to know when to edit yourself and stop shopping. If you can't do this on your own, ask a trusted friend or family member for honest feedback. No one wants to stay in a place that has too much of a good thing. If necessary, rotate your regular and seasonal accessories so returning guests feel there's something new to enjoy for their stay. Retire items that start to show a little wear, not after they are worn out or too dirty to clean. Never keep broken items, not only is it a safety hazard, it's unbecoming.
As a professional shopper, it can be fun, but it is a LOT of work. Pace yourself so you can think about each item and how it relates to what you already have. If necessary, return it or donate it to a local charity. I bought a charming $35 lamp with a sea-grass shade at Home Goods. Upon installing it in the rental unit's bedroom, it didn't quite look right. So I decided to paint it a coastal blue hue to blend in better with the decor. It still didn't look right and now it had an imperfect paint job. I felt it was time to retire the lamp. Letting go of the items that are not working for one reason or another is better than making a bad impression.
One more thing: don't forget to keep an eye on the trends. After a few years, it's important to replace dated items with fresher things, not because they actually are bad, just to keep ahead of or equal to your competition. Money can't buy happiness, but it can buy the large and small items that provide the extra special charm.
---
"Whoever said money can't buy happiness simply didn't know where to go shopping."
-- Gertrude Stein, American Novelist, Poet, Playwright, Art Collector [1874-1946]
---
DISCLAIMER
The information contained in this website is for general information purposes only. We make no representations or warranties of any kind, express or implied, about the completeness, accuracy, reliability, suitability or availability with respect to the website or the information, products, services, or related graphics contained on the website for any purpose. Any reliance you place on such information is therefore strictly at your own risk.
In no event will we be liable for any loss or damage including without limitation, indirect or consequential loss or damage, or any loss or damage whatsoever arising from or in connection with, the use of this website.
Through this website you are able to link to other websites which are not under the control of Midlife Snowbird. We have no control over the nature, content and availability of those sites. The inclusion of any links or advertisements does not necessarily imply a recommendation or endorse the views expressed within them.
---
---