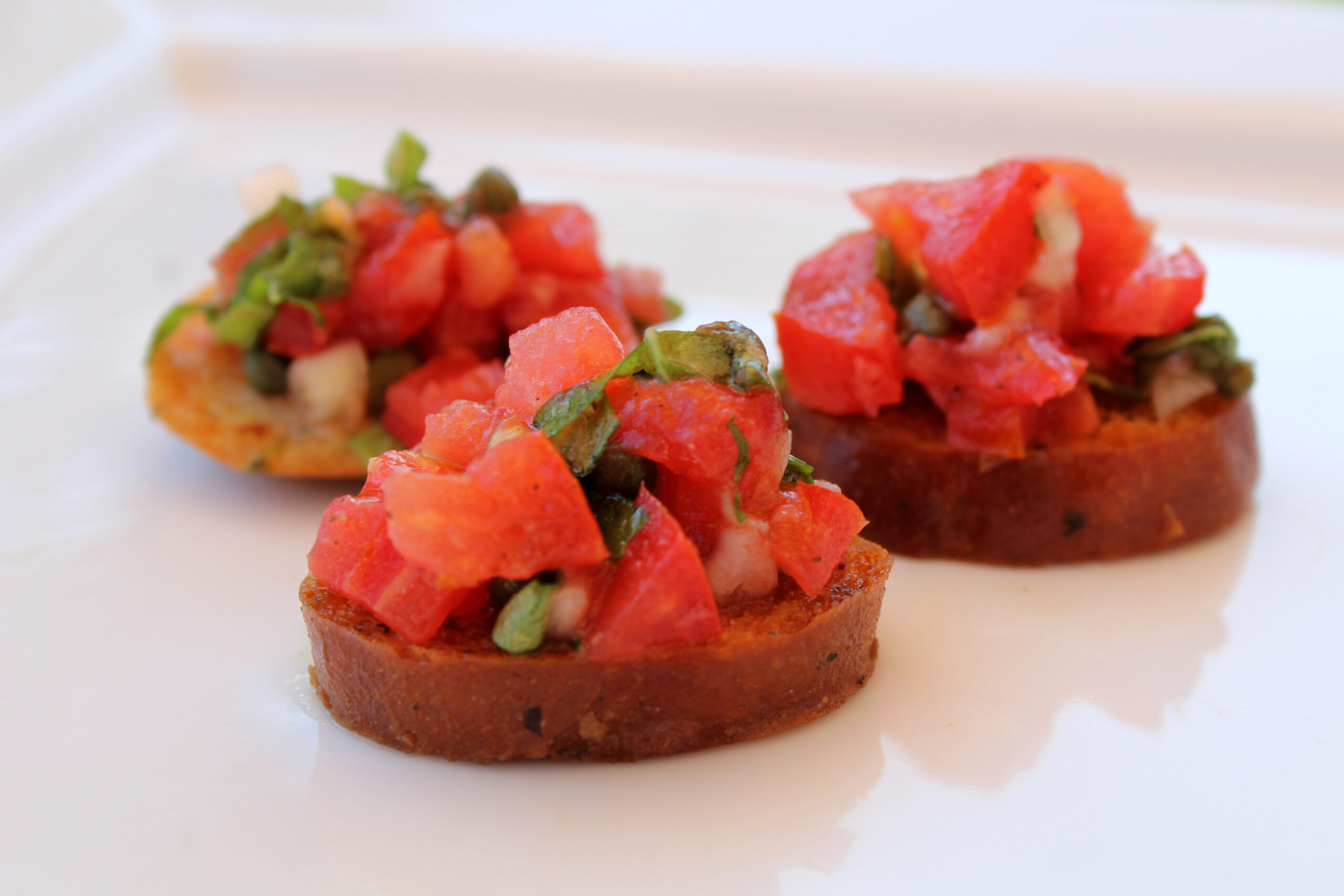 ---
Snowbird Recipe:
Tomato Basil Bruschetta
Summer gardens and flavorful recipes for ripe, juicy tomatoes combined with fragrant, fresh basil are always welcome in my home. Bruschetta or crostini rubbed with garlic and topped with a briney tomato, caper and basil combo are popular finger food snacks at almost any social gathering. A light, chilled tomato and herb topping over crunchy garlic toast is perfect for a quick meatless treat.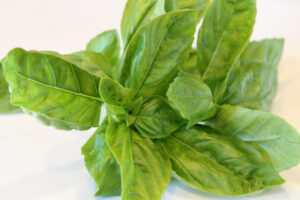 Bruschetta = grilled bread with garlic, olive oil and salt. There's a common misconception that "bruschetta" is more than bread. A fresh tomato topping is one of many that can be enjoyed on top of bruschetta or crostini; however, the thick rustic bread is bruschetta -- not the topping nor the crostini.
Technically, bruschetta is an Italian anti-pasto comprised of grilled crusty bread rubbed with fresh garlic cloves and drizzled with olive oil and salt. "Bruscare" means "to roast over coals" and typically the bread is rustic, thick Italian or sourdough bread. Crostini is a smaller, more refined sliced, crusty bread typically in the shape of a baguette. The term comes from the term "crostino" which is singular for "little crusts." The plural form is "crostini," which are almost always served with some sort of topping.
I created this recipe from a wide range of influences and it is simple yet refreshing on crusty bread, no matter whether bruschetta or crostini. If you have time to grill your own crusty bread, there's no doubt it will taste amazing. If you can get pre-packaged bruschetta or crostini, it's convenient yet delicious. The Fresh Market® gourmet supermarket sells a flavorful array of choices, including their store brands of Garlic Toasted French Rounds and Garlic Parmesan Cheese French Rounds. Just be sure to let the tomato - basil topping soak into the crusty bread a bit before taking that first bite. 
---
Snowbird meals tend to be much simpler, using fewer ingredients and a very limited selection of appliances and gadgets to prepare them. Choose the freshest, highest quality ingredients and find alternate ways to make your favorite recipes. Forget about what you don't have to cook with, instead focus on what you can accomplish with what you do have. - Midlife Snowbird
---
Ingredients
TOMATO BASIL CAPER TOPPING
1 1/4 cups ripe tomatoes
2 T. shallots, diced fine
1 T. capers with some juice
1 T. extra virgin olive oil
1 T. fresh basil (approx 8 to 10 leaves), cut into chiffonade ribbons
2 peeled fresh garlic cloves, minced or shaved
1/4 t. Kosher salt
1/8 t. fresh ground pepper
Garlic salt to taste
CRUSTY BREAD
A loaf of rustic Italian or sourdough bread, sliced thick
2 to 3 peeled garlic cloves
1 to 2 T. extra virgin olive oil
1/2 t. Kosher salt
NOTE: To make bruschetta or crostini, brush olive oil on thick slices of bread. Grill or toast until browned. Sprinkle with Kosher salt and rub with slices of raw garlic cloves.
OR a purchase pre-made bruschetta or crostini
---
Suggested Brands: Fresh Market® Garlic Toasted French Rounds®
---
Preparation
Cut tomatoes into small pieces, place in mixing bowl
Dice shallot into fine pieces, place in mixing bowl
Add capers, olive oil, Kosher salt, pepper and two cloves of shaved or minced garlic; gently stir until combined
Rinse fresh basil and pat dry, then stack and roll leaves and cut into chiffonade ribbons, fold into tomato mixture
Cut raw garlic cloves in half, then gently rub the garlic on crusty bread
Add a dollop of the tomato mixture to crusty bread
Sprinkle with garlic salt just before serving
Serve chilled or at room temperature
---
Servings:
Approximately 1 1/2 cups of tomatoes
---
Serving Suggestion:
--As a starter, snack or appetizer
--Do not assemble too far in advance of serving
--Leftovers do not keep well, especially after assembled
---
Equipment List:
--non-reactive glass or ceramic mixing bowl
--knife and cutting board
--measuring utensils
--microplane (optional)
---
COOKING CLASS: FIVE ELEGANT APPETIZERS
---
---
HOME VS. AWAY: APPLIANCES, GADGETS
---
Share your own recipe...
What are your favorite seafood recipes? Side dishes? Desserts? Go-to party recipes?