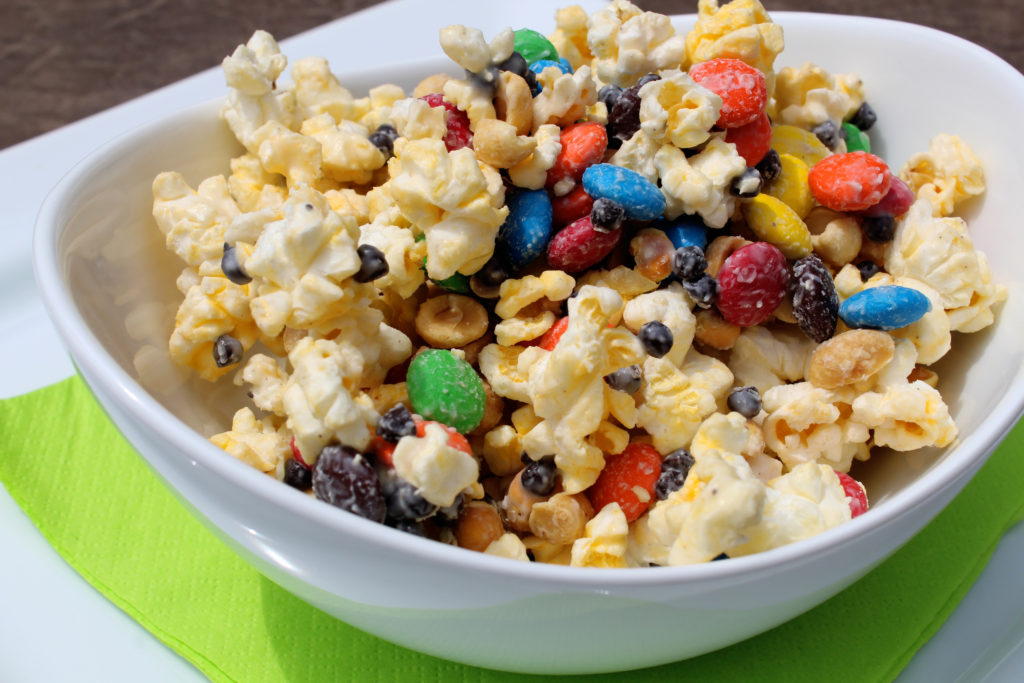 ---
Snowbird Recipe:
White Chocolate Popcorn
Irresistible, Sweet and Salty Snack
A neighbor first brought this sugary, clumpy, buttery, salty snack to a football party we hosted five years ago and it is simply irresistible. I don't make it often because of that. The basic ingredients of my version can be purchased from any convenience store or grocery. Hershey's ® Cookies 'n' Creme candy bar multi-purposes when it melts due to the chocolate/cookie bits in it. The recipe can be easily adapted to your preferences -- if you want, mix it up with plain, peanut, peanut butter or caramel M&M's®. A single batch serves a few people, so make extra for your gatherings, it will go fast!
---
Snowbird meals tend to be much simpler, using fewer ingredients and a very limited selection of appliances and gadgets to prepare them. Choose the freshest, highest quality ingredients and find alternate ways to make your favorite recipes. Forget about what you don't have to cook with, instead focus on what you can accomplish with what you do have. - Midlife Snowbird
---
Ingredients
3 oz bag microwave butter popcorn
3 oz Hershey's® Cookies 'n' Creme candy bar
1/2 cup plain M&M® milk chocolate candy
1/4 cup unsalted peanuts
1/4 t. kosher salt
Preparation
Pop the microwavable popcorn per the package directions. Set popcorn aside in a large bowl.
Melt the candy bar in a bowl in the microwave until softened, but do not overcook it
Gently pour the melted chocolate into the popcorn bowl, blending with a spoon until distributed evenly
Stir in the M&M's® and peanuts
Spread the mixture into a layer on an ungreased baking sheet. It should be clumpy and the layer should not be spread too thin.
Sprinkle evenly with kosher salt
Allow chocolate to harden, which takes about an hour
Serve in a bowl at room temperature
Store in an airtight container
---
Suggested brands:
M&M's® milk chocolate candy
Hershey's® Cookies 'n' Creme candy bar/s
---
Servings:
6 cups
---
Serving Suggestions:
--Serve as a snack or dessert
--Suitable for guests
---
Equipment List:
--microwave oven
--measuring utensils
--spoon
--baking sheet
--large and small glass or ceramic mixing bowls
--medium serving bowl
---
---
HOME VS. AWAY: APPLIANCES, GADGETS
---
Share your own recipe...
What are your favorite seafood recipes? Side dishes? Desserts? Go-to party recipes?