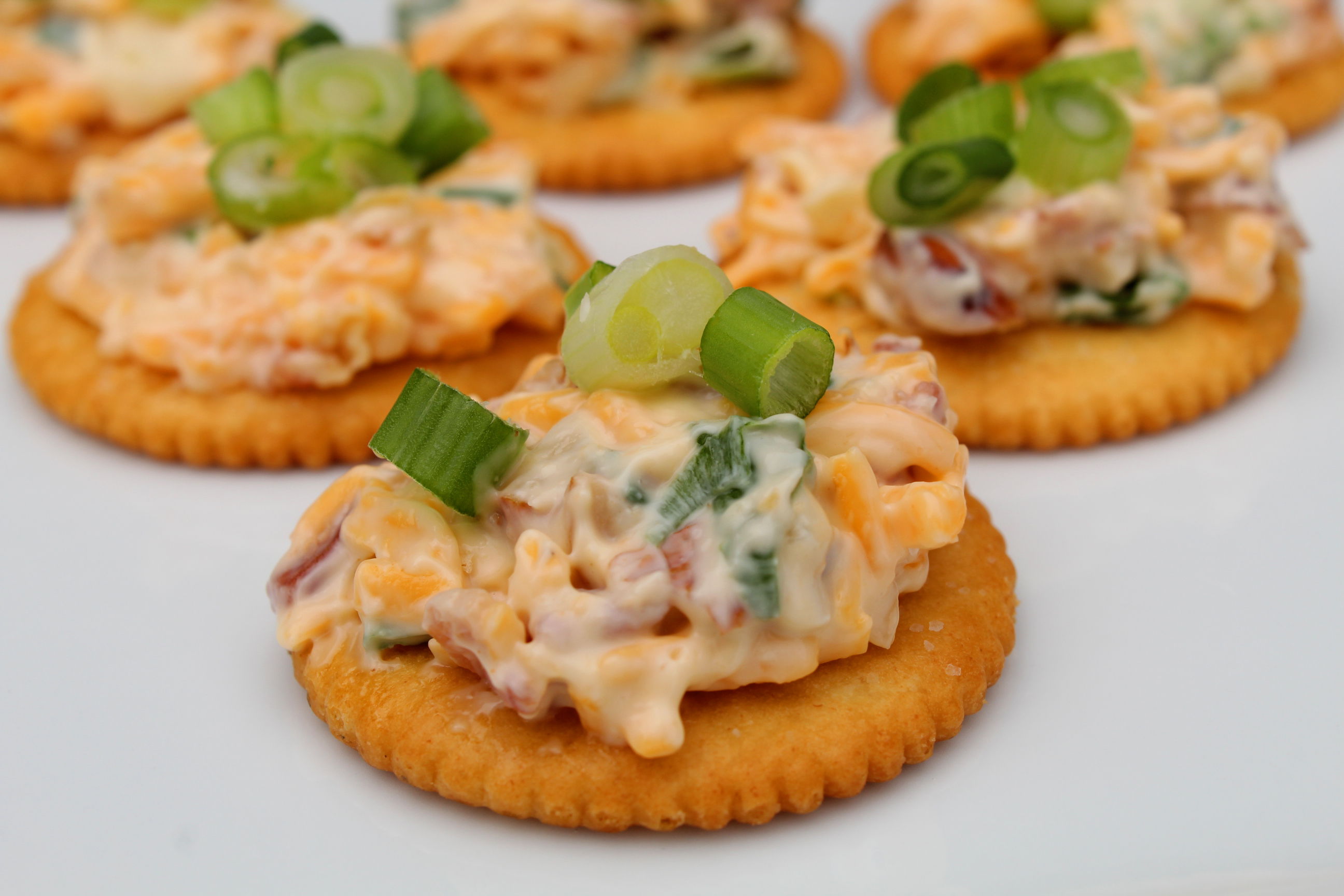 Snowbird Recipe:
Neiman Marcus Inspired Spread
Toasted Almond - Bacon - Cheddar Cheese with Crackers
---
No snowbird recipe file would be complete without a recipe inspired by Neiman Marcus spread, an American classic. Timeless and simple, the recipe was originally created in the 1950's by Helen Corbitt, Director of Food Services and served at Neiman Marcus' flagship Zodiac Restaurant located in Dallas, Texas. Way before the modern bacon obsession, this rich iconic spread worked it's way across America after it was published on page 3 of Helen Corbitt's first book, "Cookbook: by the Director of Neiman-Marcus Restaurants" where it was simply titled "Almond - Bacon - Cheese Spread." The original recipe has just six ingredients, but adding spices will make it smokier. Prepare and chill the cheese mixture in advance for best flavor. It is absolutely traditional to serve this spread with Ritz® crackers in keeping with the original recipe. Make more than you need since it's almost impossible not to eat half of it before it makes it to the party.
---
Snowbird meals tend to be much simpler, using fewer ingredients and a very limited selection of appliances and gadgets to prepare them. Choose the freshest, highest quality ingredients and find alternate ways to make your favorite recipes. Forget about what you don't have to cook with, instead focus on what you can accomplish with what you do have. - Midlife Snowbird
---
Ingredients
1 or two sleeves, Ritz crackers
1 1/2 cups mayonnaise
1 cup shredded sharp cheddar cheese
1/2 cup slivered almonds, toasted in margarine
3 oz. package real bacon pieces or 5 - 6 slices cooked crispy bacon, plus extra if using as a garnish
7 to 8 scallions, sliced, reserve 1/3 for garnish
1 t. margarine
Seasonings:
1/2 t. dried minced onion
1/8 t. garlic powder
1/8 t. onion powder
1/8 t. Kosher salt
Pinch fresh cracked black pepper
---
Suggested Brand: Ritz® crackers
---
Preparation
Saute almonds in margarine on low heat until they turn brown, which takes about 15 to 20 minutes. Stir them frequently. Remove almonds from heat and let them cool for at least 10 minutes before adding to the cheese-mayo mixture.
Cook bacon until crisp in a saute pan if using bacon slices. Remove from heat and let cool, drain grease then break into pieces.
Slice scallions, including the green tops.
Gently mix all ingredients (except the crackers) in medium bowl and refrigerate at least an hour or two before serving to let the flavors blend
Serve with Ritz® crackers
Garnish with additional chopped scallions and/or bacon bits
---
Servings:
Approx 2 1/2 cups
---
Serving Suggestion:
--Serve chilled as an appetizer or snack
--Suitable for gatherings and parties
---
Equipment List:
--small saute pan/s
--medium sized mixing bowl
--sharp knife
--cutting board
--measuring utensils
--spatula
--serving platter
---
---
HOME VS. AWAY: APPLIANCES, GADGETS
---
Share your own recipe...
What are your favorite seafood recipes? Side dishes? Desserts? Go-to party recipes?