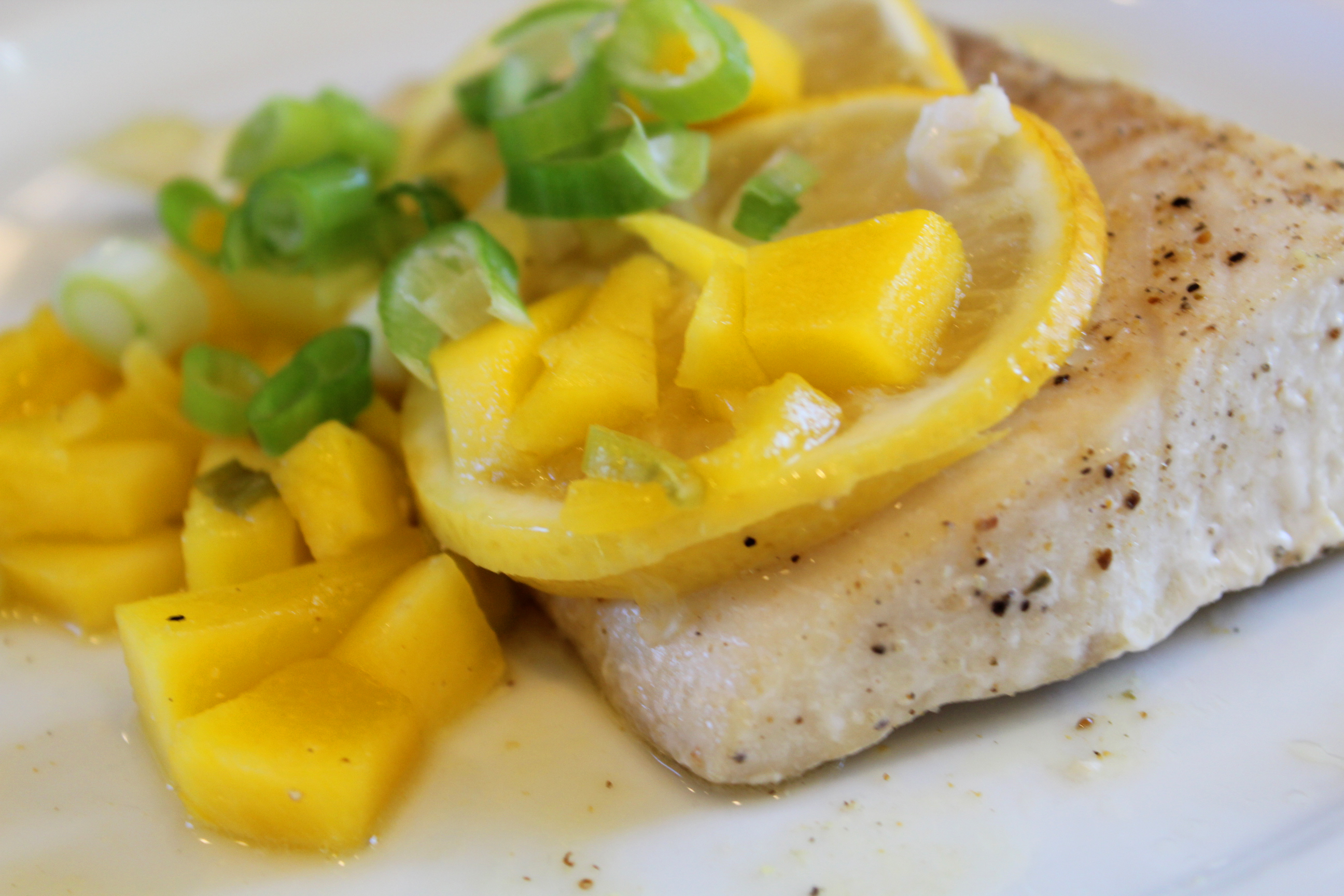 Mahi Mahi En Papillote
Mahi Mahi en papillote is a fun, French method of cooking with impressive results to wow your guests. En papillote refers to using steam to cook a lighter entree such as fish or chicken. It is roasted and served with aromatics in parchment paper packets. Although some will tell you foil is fine, make an effort to use parchment paper. I'm a purist and consider parchment paper a must; otherwise it would be called "en feuille d'aluminum."
---
Snowbird meals tend to be much simpler, using fewer ingredients and a very limited selection of appliances and gadgets to prepare them. Choose the freshest, highest quality ingredients and find alternate ways to make your favorite recipes. Forget about what you don't have to cook with, instead focus on what you can accomplish with what you do have. - Midlife Snowbird
---
Ingredients
Two to four Mahi Mahi fillets, thawed if frozen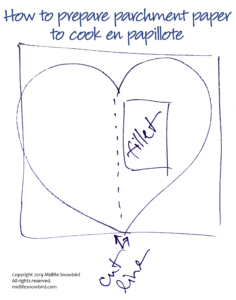 1 mango, peeled and diced
1 lemon
1/4 cup scallions, sliced including the green tops
1 T. butter or margarine per fillet
1 t. minced, dried onion flakes
1/2 t. Old Bay® Seasoning
1/2 t. Kosher salt
1/2 t. fresh cracked pepper
Optional: Fresh lime, diced shallots, cilantro, chives
---
Suggested Brands: Old Bay® Seasoning
---
Before You Start
If serving fillets with cous cous, steamed or cooked rice, prepare the cous cous or rice separately and time it to be ready in advance of the fillets.
If you place the cous cous or cooked rice into the parchment packet, adjust the cooking time to allow for the extra density.
Liquids, such as olive oil or cooking sherry tend to tear the parchment paper.
Keep in mind, the fish directly under the toppings will not bake as quickly. Lift the toppings to check the center of the fillet for best results.
Preparation
Preheat oven to 375 degrees
Slice scallions into thin pieces, including the green tops
Peel and dice mango into similar sized pieces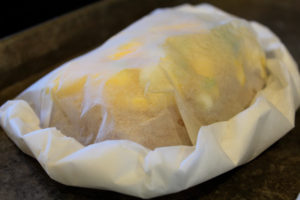 Zest a portion of the lemon, then slice into thin rounds
Pat fillet dry and sprinkle seasonings evenly over both sides of the fillets and set aside.
Tear off one square sheet of parchment paper per fillet. Use scissors to cut each piece of parchment paper into a large heart shape for best results. Set aside.
Place one fillet in the middle of each piece of parchment paper. Align the fillet along the center line of the middle of the heart.
Sprinkle fillet with lemon or lime zest, dot with butter or margarine, optional shallots, then layer thin lemon slices over the top. Place about 1/3 cup of mango on the top. Try to keep the toppings evenly placed over the fish because the density will affect the baking times.
Flap one half of the parchment paper over the other half.
Start folding the parchment paper, much like a pleat, around the fillet and continue along the edge until reaching the opposite end. Tuck end under so the packet is completely enclosed in paper to create a steam chamber.
Be careful not to rip the packet while placing each sealed packet onto a baking sheet.
Bake for about 15 minutes, then check one packet. Be cautious of hot steam.
Fish is done when no longer translucent and flakes easily. Do not overcook. Be aware the fish under the toppings will take longer to cook than the ends due to higher density. Adjust baking times based on your fillets and oven.
Remove from oven.
Serve each packet on individual plates, then carefully unwrap fillets from parchment paper -- the steam will be very hot.
OR
Carefully unwrap fillets from parchment paper -- the steam will be very hot. Then use a lifter to place fillets with juices and toppings onto individual plates.
Garnish with scallions or cilantro, additional mango and citrus wedges
Serve hot with steamed rice.
---
Servings:
This recipe adapts for two to four fillets
---
Serving Suggestion:
--As an entree for lunch or dinner
--Serve with steamed white rice, wild rice, basmati rice, Caribbean rice, coconut rice, jasmine rice or cous cous
---
Equipment List:
--parchment paper
--scissors
--medium mixing bowl
--measuring utensils
--knife
--cutting board
--baking sheet
---
---
HOME VS. AWAY: APPLIANCES, GADGETS
---
Share your own recipe...
What are your favorite seafood recipes? Side dishes? Desserts? Go-to party recipes?