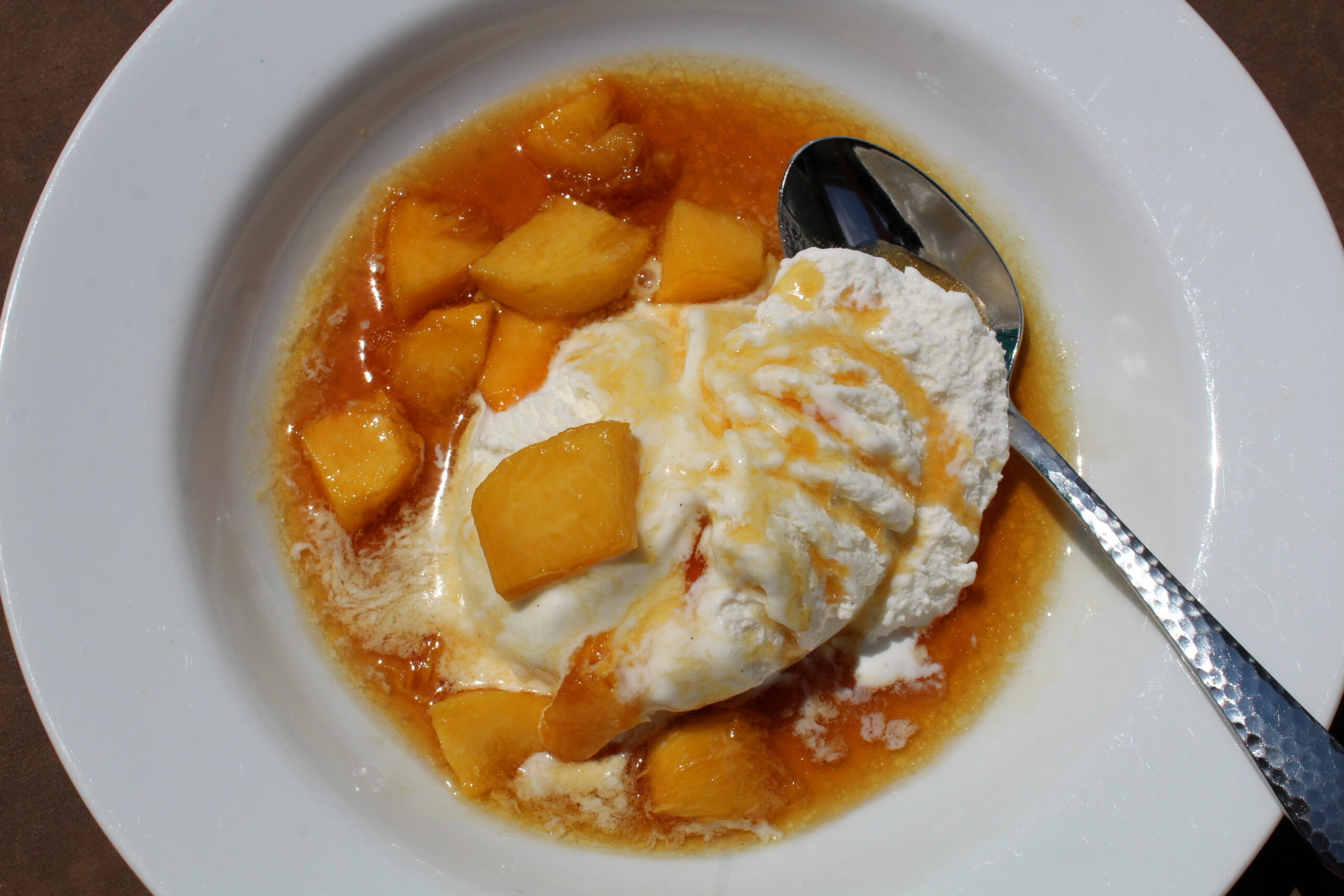 Fresh Peach Sauce
With Vanilla Bean Ice Cream
---
Fresh peaches and vanilla ice cream are a classic combo and my recipe for peach sauce only requires four ingredients, which makes it perfect for snowbirds. Rich in flavor and a gorgeous amber color, this peach sauce is a reduction of the peaches to concentrate the peachy essence. Serve it warm over vanilla bean ice cream, pancakes, waffles, yogurt, pound cake, by itself or with anything else that sounds good.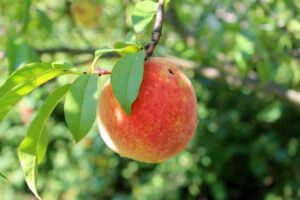 For best results, use ripe, freshly picked peaches instead of frozen. Years ago, I planted a peach tree in the back yard and every Spring it would produce an abundance of blossoms, but no peaches developed. Until this season -- to my surprise the tree produced about 50 beautiful peaches that were harvested the first Saturday of August. They were amazingly juicy and delicious fresh off the tree! I highly recommend a peach tree or two if you have patience to wait for a nice crop.
It isn't necessary to make your own fresh brown sugar, but if you don't typically keep brown sugar around, it's quick to make the exact amount needed in small batches.
I developed this sauce as a gluten free version of a peach crisp recipe for my mother in law. We love it so much, it's now a favorite. This is one of many peach recipes I am sharing with you. Enjoy!
---
Snowbird meals tend to be much simpler, using fewer ingredients and a very limited selection of appliances and gadgets to prepare them. Choose the freshest, highest quality ingredients and find alternate ways to make your favorite recipes. Forget about what you don't have to cook with, instead focus on what you can accomplish with what you do have. - Midlife Snowbird
---
Ingredients
Fresh Peach Sauce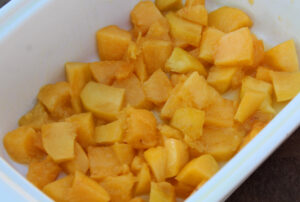 Two large fresh peaches
1/2 c. light brown sugar: loose, not tightly packed
2 T. Lemon juice
4 T. butter or margarine
Vanilla bean ice cream, pancakes, waffles, yogurt, pound cake, etc
---
Optional:
Bourbon, Peach Schnapps, Amaretto liqueur
---
Homemade Brown Sugar
1/2 cup sugar
3/4 T molasses
Stir together until the sugar is evenly brown. For darker brown sugar, add more molasses
---
Recommended: Fresh, not frozen peaches, Turkey Hill® Vanilla Bean ice cream
---
Preparation
Preheat oven to 350°F
Peel skin from the peaches, slice into wedges, then cut each slice in thirds.
Place slices into a ceramic or glass baking dish, approximately 6" X 9". Immediately coat the slices with lemon juice to prevent oxidation.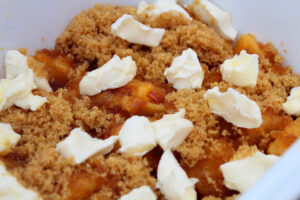 If you want to add a tablespoon or two of flavored liqueur, it will add flavor to the sauce, but if your peaches are fresh and juicy, the sauce is delicious as is without added flavors.
Sprinkle brown sugar evenly over the peach slices.
Dot the butter or margarine over the top of the brown sugar.
Bake uncovered for about 20 - 25 minutes. The sauce will develop and the peaches will shrink in size. The juices of the sauce will be a rich brown/amber color and boiling hot.
Carefully remove from oven.
Cool at room temperature until warm.
Serve warm, at room temperature or chilled.
---
Servings:
About 1 to 2 cups of sauce
---
Serving Suggestions:
--Great with vanilla bean ice cream, as a pancake or waffle syrup
--Whipped cream, maraschino cherries, toasted oatmeal, toasted nuts
--Suitable for guests
---
Equipment List:
--cutting board and sharp knife
--vegetable peeler
--measuring utensils
--ceramic baking dish
---
---
HOME VS. AWAY: APPLIANCES, GADGETS
---
Share your own recipe...
What are your favorite seafood recipes? Side dishes? Desserts? Go-to party recipes?