Books Connect Snowbirds to Community: Six Favorite Local Gulf Coast Books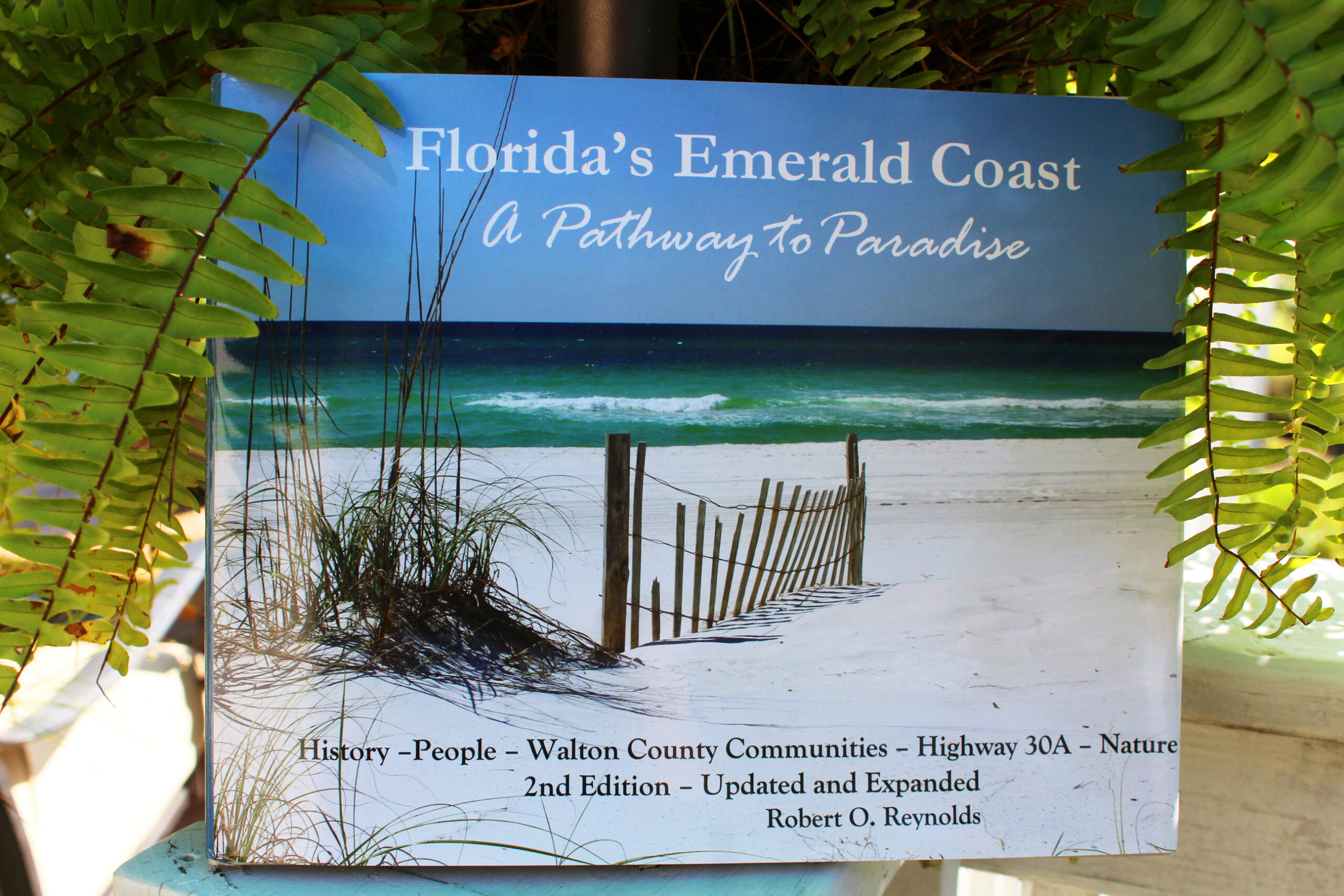 Books Connect Snowbirds to Community
Six Favorite Local and Regional Gulf Coast Books
---
At the end of summer when the weather starts changing and there's a lull in the seasons, it's the heart of the off season for snowbirds. I've found myself caught between the daily grind of my Northern home and planning ahead for the next snowbird season. It's not quite time to get caught up in the excitement of spending a winter away and there's still a lot to do to get to that point. Unfinished plans, unexpected commitments and personal goals are just a few of the barriers between now and the prospect of escaping to our beloved warm weather community. For me, bridging the off season gap is super important and I've found books to be therapeutic in many ways.
Books have always been a favorite past time and they bring many calming memories of reading by the lake, in the car as we travel or just sitting on the sofa in the evenings. Over the years I've collected local and regional cookbooks as well as beautiful coffee table books about my snowbird community. Each book is a prized possession because you can't just buy them anywhere. They are more special because they are exclusive to the southern community that we call home. Each one carries a memory: finding his and her local cookbooks in a charming downtown bookstore of the Walton County seat; browsing local books in The Henderson Park Inn's gift shop area after our anniversary dinner and shopping with the ladies in Seaside, a charming beach community of Northwest Florida. 
I've included an overview of favorite books in my collection and I encourage you to find your own personal local and regional books. New and used book stores, gift shops, local markets, online and everywhere in between, there's an array of books just waiting to be found. Books are more than just bound paper with ink. They transform, inspire, calm, inform, provide history, stories and entertainment as well as solace no matter where you are.
---
Books Bridge Time and Distances
One of the biggest comforts of either my Northern or Southern home are my growing collection of local and regional books. Each one is special with it's own story of how I acquired it. Not only do I purchase books for myself, I also look for books to leave behind for someone else to connect with and enjoy. I encourage each of you to find your own collection of meaningful books and share what makes them extra special.
Of the books featured in my collection, the most personally meaningful is "Florida's Emerald Coast, A Pathway to Paradise," because the author included two of my original graphics in the book. Robert Reynolds found my original map of Florida's Emerald Coast that I created specifically for my Midlife Snowbird blog and now the revised map is immortalized on page two of his latest book. Upon the author's request, I created a second map of Walton County Florida's rare coastal dune lakes and that map is featured on page 32 of Mr. Reynold's book. To say it is an honor is an understatement. I have read the first edition of "Pathway to Paradise" cover to cover and highly recommend Mr. Reynold's books for anyone who loves Northwest Florida and wants to know more about the "History, People Walton County Communities, Highway 30A and Nature."
---
GREAT AMERICAN GRILLING: The Ultimate Backyard Barbecue and Tailgate Cookbook
Author: Kent Whitaker
Pages: 287
Photos: Yes
Publisher: Great American Publishers, Brandon, Mississippi
greatamericanpublishers.com
Overview:
Sizzling Starters
Serious Grilling
Something Extra
Introduction:
"My grandparents in Alabama and Mississippi grilled over pecan, charcoal and other woods. My dad mastered the art of campfire cooking and back yard grilling.... My career in culinary writing and writing cookbooks began after I won the Emeril Live/Food Network Barbecue Contest.... In this book I share with you 250 of my favorite recipes for grilling, barbecuing and tailgating. It is my hope that if nothing else, you will have FUN cooking from my book, and, of course, cook some great food. A common theme in my writing is history, and this book is no exception." -- Kent Whitaker
---
LULU'S KITCHEN: A TASTE OF THE GULF COAST GOOD LIFE
Author: Lucy Buffet
Forward by Jimmy Buffet
Pages: 264
Photos: Yes
Publisher: Grand Central Life and Style, Hachette Book Group, New York, New York
grandcentrallifeandstyle.com
Overview:
Cocktail Hour
Gumbo Love and Other Deep South Soups
Sassy Salads
Sandwiches and Such
Sweet Things
Party Favors: Dinner Party Menus
Introduction:
"LuLu's Kitchen is Lucy Buffet's culinary guide to classic Southern coastal cuisine and features more than 120 signature recipes from her famous Gulf Coast restaurants, LuLu's. The greatest passion of this self-proclaimed gypsy rebel and reluctant entrepreneur is cooking food for the people she loves.... She currently serves more than one million guests a year at her two LuLu's locations. LuLu's Kitchen is brimming with authentic family recipes, humorous stories and plenty of wit and wisdom."
---
30A LIVING
Author: Eleanor Lynn Nesmith
Photography: Jean Allsopp
Pages: 221
Photos: Yes
Publisher: Design 360, llc, Santa Rosa Beach, Florida
design-360.com
Overview:
A Place Called 30A
Santa Rosa Beach
Grayton Beach
Watercolor
Seaside
Seagrove
Watersound
Seacrest
Rosemary Beach
Alys Beach
Introduction:
"Along the Gulf Coast of Northwest Florida, a string of picturesque towns known collectively as 30A... offers a retreat. Featuring hundreds of images, 30A Living explores nine of the the colorful towns that enliven this unique twenty mile stretch of beach and takes a rare glimpse inside eighteen inspiring homes from Santa Rosa Beach to Alys Beach. From the outside these homes are remarkable... Step inside where design cues and details reflect the area's strong architectural traditions..."
---
HENDERSON PARK INN: EXCEPTIONAL TASTE, TALES AND RECIPES
Executive Editor: William Hagerman
Pages: 287
Photos: Yes
Publisher: Dunavant Gulf, LLC, Memphis, Tennessee
Overview:
Breakfast on the Beach
Beachside Picnics
Sunset Toasts
Starlit Dinners
Sweet Evenings
Introduction:
"What's exceptional about Henderson Park Inn is the unforgettable experience created by the snow white sandy beach, emerald Gulf waters, nature's preserve at Henderson State Park, and rustic manor of the Inn, which are complemented by the tasty foods at Beach Walk Cafe, and the other Great Destin Places that continue to provide a lifetime of warm memories for their guests... whom they call family."
---
LITTLE GULF COAST SEAFOOD COOKBOOK
Author: Kent Whitaker
Pages: 192
Photos: Yes
Publisher: Great American Publishers, Brandon, Mississippi
greatamericanpublishers.com
Overview:
Starters and Soups
Sandwiches
Seafood/Fish
Sides and Sauces
Introduction:
"Join renowned cookbook author Kent Whitaker on a tasty scenic journey along the five coastal states of the Gulf of Mexico... Texas, Louisiana, Mississippi, Alabama and Florida. Along the way, experience some Gulf Coast history while reading profiles about beautiful places to visit in the area and enjoy expert tips.... Best of all, you will enjoy delectable southern seafood recipes... to please everyone."
---
FLORIDA'S EMERALD COAST: A PATHWAY TO PARADISE
History -- People -- Walton County Communities -- Highway 30A -- Nature
Author: Robert O. Reynolds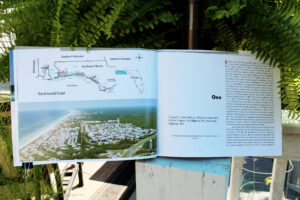 Pages: 161
Photos: Yes
Publisher: Emerald Waters Press, LLC, Tucson, Arizona
emeraldwaterspress.com
Overview:
Early History
The Highway 30A Corridor
Walton County Communities
The Coastal Dune Lakes of Walton County and Choctawhatchee Bay
Plants You'll See on the Emerald Coast
Communities Along Highway 30A
State Parks and Trails on Highway 30A and the Emerald Coast
Creatures of the Emerald Coast
A Timeline of Events in the Development of the Emerald Coast
Life on the Emerald Coast and Scenic Highway 30A, Present and Future
Introduction:
"This book tells the story of Florida's Emerald Coast with an emphasis on Walton County, and roads including Scenic Highway 30A, an iconic road that has been important in the development of the region... You'll meet a diverse set of characters, the people who planned, developed and managed the range of communities contained in the story... I will discuss the rare and beautiful coastal dune lakes that help to make the region unique... Florida's Emerald Coast is a place that gets in your mind and makes you want to return, as I continue to do for cherished vacations." -- Robert Reynolds
---
"Books are a uniquely portable magic."
-- Stephen King, American author
---
DISCLAIMER
The information contained in this website is for general information purposes only. We make no representations or warranties of any kind, express or implied, about the completeness, accuracy, reliability, suitability or availability with respect to the website or the information, products, services, or related graphics contained on the website for any purpose. Any reliance you place on such information is therefore strictly at your own risk.
In no event will we be liable for any loss or damage including without limitation, indirect or consequential loss or damage, or any loss or damage whatsoever arising from or in connection with, the use of this website.
Through this website you are able to link to other websites which are not under the control of Midlife Snowbird. We have no control over the nature, content and availability of those sites. The inclusion of any links or advertisements does not necessarily imply a recommendation or endorse the views expressed within them.
---
---