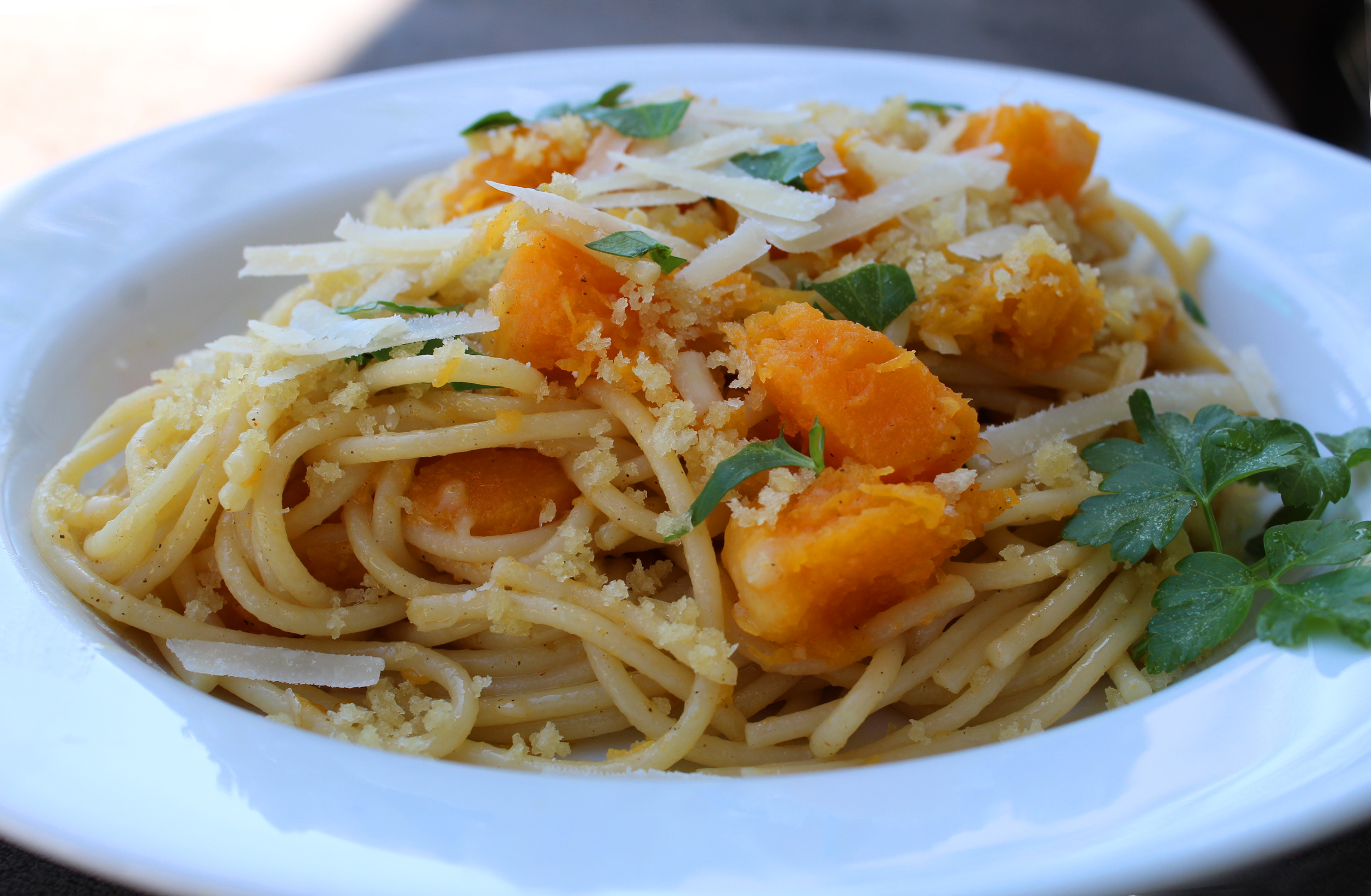 ---
Snowbird Recipe:
Butternut Squash Pasta
Fresh Herbs, Toasted Panko, Shaved Parmesan Cheese
Colorful roasted butternut squash combined with fresh herbs, shaved Parmesan cheese, brown butter, spaghetti and crunchy toasted Panko crumbs is a delicious meatless main or side dish. Don't skip the toasted Panko crumbs, the texture of the crispy crumbs against the firmness of the spaghetti and softened squash is what makes this recipe stand out compared to other pasta dishes.
This recipe is ideal for roasted butternut squash. I roast an entire squash and reserve half for this recipe and serve the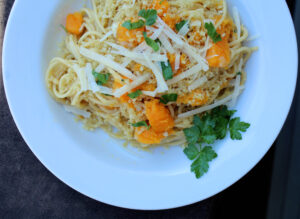 other half with another meal or make it into a soup. Roasted butternut squash can be served in this recipe as a leftover or it can be frozen if you don't plan to use it right away, but start with your own fresh butternut squash. Pre-packaged frozen vegetables never taste as good as whole foods.
Roasted chicken breast could be added or served on the side for an everyday meal or special occasion. Other options include adding goat or feta cheese, toasted pecans or pine nuts, sauteed minced onions and/or fresh baby spinach. However, the basic recipe is delicious as is and from there, it's fun to mix it up as much or as little as you like.
My recipe is inspired by a recipe published online from cookbook author, Chungah Rhee. 
---
Snowbird meals tend to be much simpler, using fewer ingredients and a very limited selection of appliances and gadgets to prepare them. Choose the freshest, highest quality ingredients and find alternate ways to make your favorite recipes. Forget about what you don't have to cook with, instead focus on what you can accomplish with what you do have. - Midlife Snowbird
---
Ingredients
One whole butternut squash, reserve 2 cups diced squash
8 to 10 oz. spaghetti
3/4 cup Panko crumbs
6 T. margarine or butter
1/3 cup Parmesan cheese, shaved
3 cloves garlic, minced
2 T. chopped fresh herbs: thyme, sage or a blend of both (reduce quantity by at least 40% for dried herbs)
1 T. fresh Parsley
3-4 T. extra virgin olive oil
2-3 T. Canola oil
1/4 t. + 1/4 t. garlic salt or to taste
1/4 t. Creole salt or to taste
1/4 t. fresh cracked pepper
several dashes nutmeg
Optional: 2 or 3 roasted chicken breasts, toasted pecans or pine nuts, goat or feta cheese, sauteed onions and/or fresh baby spinach
---
Suggested Brands: Kikkoman® Panko Japanese Style Bread Crumbs, Zatarains'® Creole salt
---
Preparation
ROASTED SQUASH
Preheat oven to 375 degrees.
Cut one whole butternut squash into four sections: halve the neck and bulb of the squash.
Cover all sides of the squash in Canola oil, add salt to the cut sides of the squash.
Place squash cut-side down on baking sheet pan.
Roast for 20 minutes, then remove pan from oven, turn the squash over and roast for 20 minutes cut side up or until squash is fork-tender.
Remove squash from oven and set aside.
PASTA-SQUASH-BUTTER MIXTURE
Bring a pot of salted water to a boil. Cook spaghetti al dente per package directions. Drain and set aside.
While pasta is boiling, preheat a large skillet over medium-low heat, then toast the Panko crumbs in olive oil until browned and crispy, approx 5-7 minutes. Stir crumbs frequently to avoid burning them.
Remove browned Panko crumbs from heat into a bowl, stir and season with 1/4 t. garlic salt and 1/4 t. pepper (or to taste) and set aside.
Cut butternut squash into evenly sized pieces, approx. 3/4" long. Season with 1/4 t. garlic salt, several dashes of nutmeg, Creole salt and fresh cracked pepper. Set aside.
Increase the heat to medium. Melt 6 tablespoons margarine or butter in the skillet about 8 minutes until it starts to foam, stirring often enough that it doesn't burn. The butter should be brown in hue.
Add garlic and chopped fresh sage and/or thyme to the skillet and stir frequently about one minute until softened.
Add pasta and butternut squash, stir until blended well.
Serve warm or at room temperature on individual plates or on a large platter.
Garnish with shaved parmesan cheese, toasted Panko crumbs and fresh parsley.
---
Servings:
Approximately three to four servings
---
Serving Suggestion:
--As a side or meatless main dish
---
Equipment List:
--medium pot
--large skillet
--baking sheet pan
--knife and cutting board
--measuring utensils
---
COOKING CLASS: FIVE ELEGANT APPETIZERS
---
---
HOME VS. AWAY: APPLIANCES, GADGETS
---
Share your own recipe...
What are your favorite seafood recipes? Side dishes? Desserts? Go-to party recipes?