Decorate Your Vacation Rental with Hints of the Holidays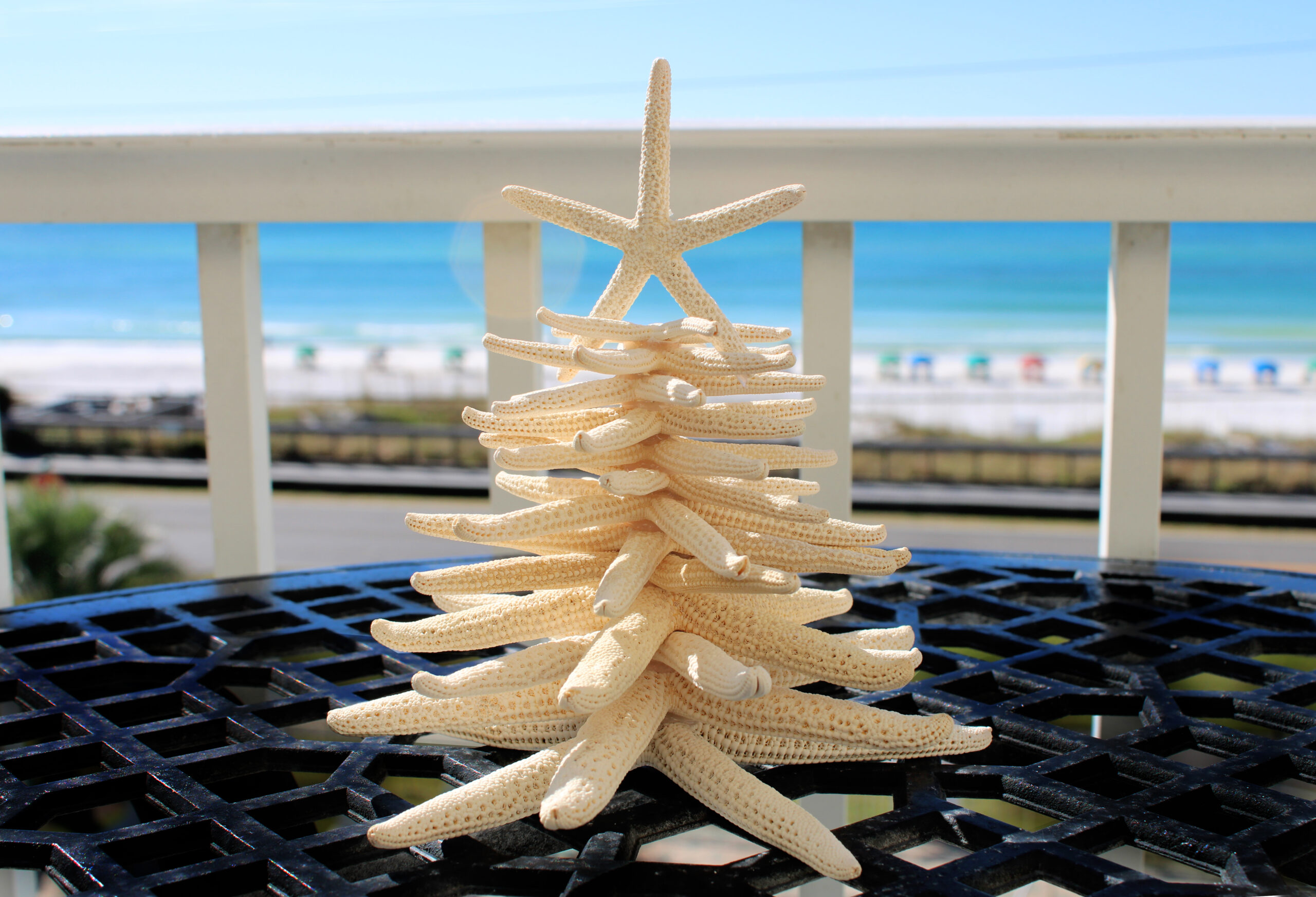 Decorate Your Vacation Rental with Hints of the Holidays
Ten Tips to Bring the Holiday Feeling to Your Southern Home
---
A year ago, my husband and I spent Thanksgiving at the beach and I loved it! It was that much better because Courtney and Bob, our Midwestern friends and their group of eight were in the area at the same time. We met them for dinner, walks on the beach and also gave a tour of our newly renovated vacation rental. When Courtney asked if I planned to decorate for the holidays, I told her no because I truly didn't think it could happen. Now, a year later, I realized yes I can decorate for the season!
Logistics were the biggest concern, but there were also considerations about finding the right mix of fun and festive versus too much, such as installing a full-sized Christmas tree in our 792 square foot space. Let's not forget the importance of appealing to as many people as possible without offending those who are not particularly religious or find the December holidays depressing. 
Many snowbirds arrive at their warm weather home in time for Thanksgiving, Christmas, Hanukkah, Kwanzaa and/or New Year's Eve. Decorating with hints of the holidays is easier and less stressful, yet it feels quite homey.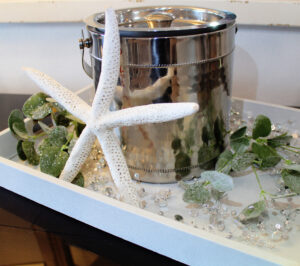 For those who have vacation rental/s, providing a special touch of the holidays is memorable and may be the unexpected charm that helps build a loyal repeat client base. If you are already in the area for yearly maintenance, it's a good opportunity to add/remove the seasonal decor. If you cannot be there in person, perhaps your property manager or a local trusted friend or professional service can help out. Just make sure your decor isn't on display too early or too long past the holiday season. 
Make a plan and set a budget. Be cautious not to overspend and invest in pieces that convey quality. Cheap close-out items are not endearing. I shop at national retail stores such as Home Goods, Marshalls, Kirklands, Hobby Lobby and Tuesday Morning and seek quality items that will enhance, not detract from my overall plan. If the item doesn't meet all of the criteria and I don't absolutely love it, I don't buy it. Less is more. Know your objectives, stick with them.  
Snowbirds who own second homes vs. vacation rentals have much more freedom to do as they wish. There's more options for the type, size and nature of the decorations, as well as whether to store them on site or transport them to/from your primary home. No matter whether a second home, rental or vacation rental, a decision is required to make space to store your decor year-round on site or choose items that can travel in a vehicle with minimal damage. "Coming up missing" and breakability are less important for second homes since no one but the owners will be handling them.
Planning as far in advance will give more time to think, research, shop, place custom orders and make changes. With that in mind, please consider the following ten tips.

---
Related Post: https://midlifesnowbird.com/snowbird-holiday-decor/
---
Tips for Decorating with Hints of the Holidays
One
Step one is to determine how you will handle transportation and storage. With that in mind, it will shape the framework for the rest of your plans. If your decor has to fit into your vehicle along with everything else, keeping the scale smaller is essential. Breakability is also part of this stage of planning. Fragile items should be carefully packed in bubble wrap within a sturdy box. If shipping your decorations, weight and bulk will add to the cost.
Two
Choose a theme and color scheme. The goal is to create a feeling -- an ambiance or whiff of the holidays. After much thought and online research, at first I thought I would focus only on coastal themed holiday decor -- natural elements such as starfish ornaments and blue and white kitchen towels with a smiling crab and "Santa Claws" emblazed on them. Instead of classic red/green, I envisioned watery blues, sea green and white. In hindsight I believe this is a rookie mistake.
It wasn't until I realized the decor still needs to feel "Christmas-y" that I changed my mind. Right or wrong, I decided to incorporate both traditional and coastal. Truthfully, the real turning point was I saw the most beautiful red and black buffalo plaid coffee mugs and knew I had to have them. So my theme became both coastal and red and black buffalo plaid. Ying and yang. "Christmas-y" and coastal in a fun, festive manner.
After all, when we were in our southern community for Thanksgiving, there was a beautiful mix of coastal and traditional decorations everywhere. A huge inflatable Santa in his red suit juxtaposed next to the white sandy beach of the Emerald Coast. We enjoyed rows of red poinsettias that were planted in the gardens of the public shopping areas; evergreens dripping with giant red ornaments and traditional red and green garlands draped from the exterior of the charming Seaside post office. Beautiful white lights twinkled in the evergreens as well as bejeweled the trunks of the palms. Christmas-y with a coastal twist.
Three
Determine how many spaces you will decorate. I chose to focus entirely on the open areas of our vacation rental which is the main living/dining/kitchen space, plus the front door. I did not bring anything into the bathrooms, hallways or sleeping spaces. My decision was made in part due to transportation space as well as understating rather than annoying the guests who stay at our property. Remember, we are creating hints of the holidays, not going full steam holiday overload like scenes from the movie, "Christmas Vacation."
Four
Keep it mostly neutral. Avoid too many cute messages that can quickly become annoying. Every time someone enters the front door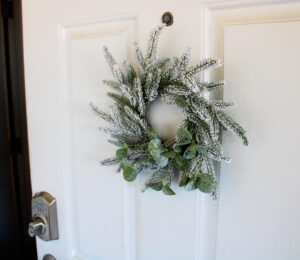 they will be reacting to your decor. A simple wreath on the door, as an example, is less irksome than a sign proclaiming "Sand is the New Snow" or "Seas and Greetings." No thanks! These messages get old fast. Likewise, not everyone is religious or shares the same religious views. Therefore a muted version of the classics may be a better option. Quintessential boxwood or evergreen arrangements with winter berries, fuzzy white trim and red and green tartan plaid convey the season in a secular way. Instead of a religious-themed liquid soap dispenser, choose Winterberry, Frasier Fir, Peppermint or Sugar Cookie.
Five
Rethink and reimagine how to display your seasonal decor. Because we have no space for a traditional Christmas tree in our rental, a charming 7" hand-made Christmas tree constructed of starfish is a great substitute. Deconstructing elements of the Christmas tree in the form of gorgeous teal blue ornaments displayed in a driftwood bowl are fun without taking up much space. Sparkling garland in a white platter on the server buffet create another element of the tree without the tree itself. A small, charming Christmas ornament above the coffee bar area completes the concept of the deconstructed tree.
Six
Think beyond the obvious. Displaying seasonal items on the countertops and end tables is nice, but don't overlook the feeling of Christmas. As an example, I purchased a charming 500 piece puzzle with a snowy country scene, old red truck, red barn and adorable Golden Retrievers. The scene has nothing to do with the beach, desert, lakes or mountains, it is appealing to nostalgia. Puzzles and the holidays are perfect partners. You will create guest loyalty because of your thoughtfulness tying into childhood recollections of family gatherings. Holiday coffee cups and accessories such as red buffalo plaid pot holders bring up warm memories of sipping something hot and baking cookies. Your guests are "home for the holidays," your job is to make it feel like their home away from home.
Seven
Balance your decor. Thanksgiving kicks off the winter holiday season and New Year's Eve wraps it up. Find the balance of the start, end and everything in between. Follow the 15 - 70 - 15 rule of 15% beginning, 70% middle and 15% end for displaying seasonal items. I chose a beautiful seafoam green glass pumpkin with flameless votive to represent the Autumn harvest and Thanksgiving (15%). For the December holidays (70%), display teal ornaments in a bowl, a starfish Christmas tree, red buffalo plaid hot pads, Winterberry liquid soap, a festive puzzle and red/green tartan and boxwood arrangement. A sparkly garland with ice bucket and coordinating wreath on the door (15%) represent New Year's Eve as well as the winter season.
Eight
Safety first. If you don't want your guests burning scented open-flame candles due to safety and insurance reasons, don't encourage it by putting real candles in your rental. Instead provide flameless candles with fresh batteries. If your vacation rental includes pets and kids, don't leave fragile glass breakables within easy reach. Place them up high or don't include that type of decor at all.
Nine
Determine what not to bring. I love soft throws for the couch, especially in the winter. However, for sanitary and other reasons, I gave up the idea of leaving any seasonal throws for the holiday guests to use. Same for holiday throw pillows. I also vetoed items such as real pumpkins or live seasonal plants of any kind. At some point you have to set boundaries of where to start and stop. Your choices will be different than mine, but decide to edit yourself to know when enough crosses into "too much."
Ten
Leave a gift for your seasonal guests and/or yourself. If you have extra holiday decorations or order customized mugs or personalized items, consider leaving a gift for your holiday guests. Twenty bucks is a good budget that brings many happy memories to you and them. It's better to give than receive. The goodwill of paying it forward will always balance out. Cheers to the holiday spirit!
---
"There's something about a holiday that isn't all about how much money you spend."
-- Hilarie Burton, American actress, businesswoman, author and producer
---
DISCLAIMER
The information contained in this website is for general information purposes only. We make no representations or warranties of any kind, express or implied, about the completeness, accuracy, reliability, suitability or availability with respect to the website or the information, products, services, or related graphics contained on the website for any purpose. Any reliance you place on such information is therefore strictly at your own risk.
In no event will we be liable for any loss or damage including without limitation, indirect or consequential loss or damage, or any loss or damage whatsoever arising from or in connection with, the use of this website.
Through this website you are able to link to other websites which are not under the control of Midlife Snowbird. We have no control over the nature, content and availability of those sites. The inclusion of any links or advertisements does not necessarily imply a recommendation or endorse the views expressed within them.
---
---