---
Snowbird Recipe:
Broccoli Con Capellini
Fresh broccoli, baby bellas, parmesan cheese, noodles
---
Fresh ingredients and just a little prep time add up to an outstanding side dish or meatless pasta entree recipe. It's worthy of serving to guests, as well as an everyday entree or side. Don't cut corners -- fresh truly is best -- properly steaming the broccoli is absolutely essential. The recipe that inspired my version of Broccoli con Capellini is from page 211 of a lifelong favorite cookbook, "Winners: Winning Recipes from the Junior League of Indianapolis" published in 1985. The cookbook was a high school graduation gift from my parents and has been the cornerstone of shaping my favorite recipes.
---
Snowbird meals tend to be much simpler, using fewer ingredients and a very limited selection of appliances and gadgets to prepare them. Choose the freshest, highest quality ingredients and find alternate ways to make your favorite recipes. Forget about what you don't have to cook with, instead focus on what you can accomplish with what you do have. - Midlife Snowbird
---
Ingredients
3 stems fresh broccoli, do not substitute frozen broccoli (approx 4-5 cups)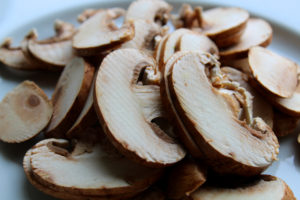 1/2 pound fresh baby bella mushrooms, sliced thin
6 ounces very thinly sliced egg noodles
1 cup freshly grated Parmesan cheese and/or commercially grated Parmesan cheese -- I prefer a 50% blend of both, reserve about 1/4 cup of the freshly shaved Parmesan cheese for garnish
8 T. margarine or butter (1 stick)
1/2 t. garlic powder or to taste
1/2 t. onion powder or to taste
1/2 t. Creole salt or to taste
1/2 t. fresh cracked pepper or to taste
*Commercially grated Parmesan cheese from a store-bought shaker is an alternative
Optional: Dashes of crushed red pepper flakes
---
Preparation
Trim woody ends from fresh broccoli and cut into approx 2" spears of similar size/weight
Bring a shallow pan of water to a boil in a steamer. Add cut broccoli. Cover and steam for exactly 15 minutes. Then remove broccoli from heat, remove lid and drain the water to stop the steaming process.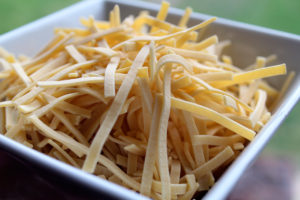 While broccoli is steaming, bring a medium pot of water to a boil. Cook very thin egg noodles per package directions, reduced by a minute or two so they are al dente. Drain. Add 2 T. margarine or butter.
In a separate medium-sized skillet over medium heat, saute 4 tablespoons butter or margarine, then add thinly sliced mushrooms. Saute until softened.
Add seasonings to mushrooms, plus gently fold in the steamed broccoli
Add remaining margarine or butter
Add Parmesan cheese into the broccoli-mushroom mixture then gently toss it immediately so it doesn't clump
Garnish with Parmesan cheese
Serve warm
---
Suggested brands: Inn Maid® medium egg noodles; Zatarain's® Creole Seasoning
---
Servings:
Six servings
---
Serving Suggestion:
--Ideal as a side dish or meatless pasta entree
--Suitable for guests
--Add shredded, cooked chicken or nuts as a protein option
---
Equipment List:
--steamer pot or apparatus, essential for this recipe
--medium-sized cooking pot
--medium-sized skillet
--cutting board and sharp knife
--box grater (or purchase pre-shredded parmesan cheese)
--wooden spoon
--measuring utensils
--colander or mesh strainer
---
---
HOME VS. AWAY: APPLIANCES, GADGETS
---
Share your own recipe...
What are your favorite seafood recipes? Side dishes? Desserts? Go-to party recipes?