My Story
How I Became a Midlife Snowbird

I first became a snowbird at the age of "forty-something." Growing up, I didn't have grandparents or close family who are snowbirds and we didn't own a vacation home -- it's just been a long time goal to become a snowbird. A bucket list goal... to escape from the Midwestern winters. I didn't think it would happen for me until possibly much later in life. Like many people, the daily shuffle of career, family and friends can be all-consuming and focusing on dreams typically gets pushed aside for "someday."
---
THE INSPIRATION
My husband and I were married in January in the West Indies, on the gorgeous island of St Lucia. Of course, most couples don't envision winter as ideal for weddings, but our plan was to go somewhere tropical, sunny and warm for our wedding and anniversaries so we could temporarily get away from frigid Midwestern winters, even if just for a long weekend.
A year before our ten year anniversary we decided to celebrate the milestone with a romantic week-long visit to a lush Caribbean island, such as Turks and Caicos. We had allocated a decent budget for a beach front hotel, airfare, food and entertainment. Turks and Caicos is stunning with everything anyone could ever want, but I felt something wasn't right. It didn't seem like a good fit for us.
---
WORKING SNOWBIRDS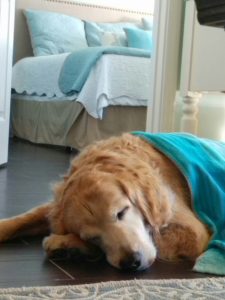 We are self-employed and Reilly, our beloved Golden Retriever was advanced in years with serious health issues. I doubted we could truly get away to an island without negatively affecting our business and/or vacation. So, I began thinking about our dream of becoming snowbirds. We could drive to our destination, which meant we could bring our sweet Reilly girl with us. We could stay at a place on the beach, but perhaps for a longer period of time. Two weeks? Three?
We wondered if we could realistically temporarily relocate our business short term. It was late Spring of 2015 and our milestone anniversary was about nine months away. I knew to make our goal happen, it would take time to figure it all out. Great beach front properties would be taken if not reserved months in advance. Our number one criteria was the property had to be gulf front, or at the very least, gulf view. For us, it makes no sense to rent a property near a beach if you can't see the water. We feel it is a key element to having a therapeutic, restorative winter destination.
---
VACATION LOCATIONS VS. OUR WINTER HOME
Before we were married, my husband and I lived in Northeast Florida in Ponte Vedra Beach for several years. We have each visited and vacationed in almost every popular Floridian beach area since a very early age. And we have repeatedly traveled to Florida for work, conferences and conventions. So it was an easy decision to narrow it down to Florida as our first choice for a snowbird home. However, seeking your second home in a warm climate is much more involved than selecting a vacation destination. What makes for a perfect vacation area does not necessarily translate to a great choice for a winter home, particularly for working snowbirds like us.
---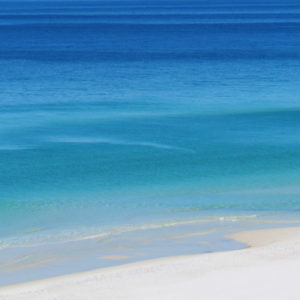 THE EMERALD COAST - DESTIN / MIRAMAR BEACH, FL
After much online research looking at low and high rise condos, beach homes, and many different geographical locations,  we chose the Emerald Coast as our ideal winter beach getaway. The location appeared to be perfect for us and it turned out to be even better than we expected.
Not only is it a good geographical fit, we found the gulf front rental rates in Northwest Florida, though expensive, are less than rates in warmer climates further south. We have all of the amenities we need for our second home and running our business. It is a relatively easy drive to the Emerald Coast from our home in the Midwest. The money we budgeted for one week in Turks and Caicos was enough to stretch into five weeks' rent for a spacious gulf front property on the Emerald Coast.
The Destin area has plenty to do and almost every major retailer in the local vicinity, plus our must-have requirements to run our business: easy access to shipping / receiving packages and reliable wi-fi.
---
OUR SOUTHERN HOME SWEET HOME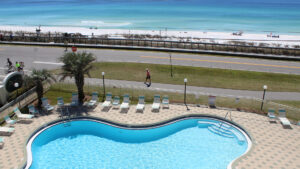 I found a rental with amazing panoramic gulf views. Large dogs are accepted and it has three bedrooms, three full bathrooms, a huge wraparound balcony and sliders from the master and living room. We can easily enjoy both sunrise and sunset, which is a daily ritual for many snowbirds and vacationers.
There is plenty of space in the condo for us and our business. The layout is like a true home. We use the third bedroom for our business / extra storage. The second suite is perfect for our guests. The low rise building also has an elevator, which is exactly what we needed for Reilly.
We love the location of the condo because of the beachy pedestrian lifestyle. There is a sidewalk in front of our unit with green space, a boardwalk across the street and gulf front restaurants within an easy three to eight minute walk in either direction.
However, our first season was bittersweet. We received terrible news the day of our anniversary -- Reilly was gravely ill. Sadly, our beloved Reilly passed away half way through our first season. We were completely heartbroken.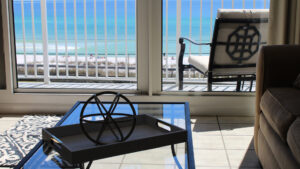 We spent five weeks in Destin / Miramar Beach the first season. Each year since then we have returned to the same place for six weeks along with Bodie, our mischievous Golden Retriever. During that time, we have made lifelong friends in our southern home and stay in contact and visit them throughout the year. We completed our sixth season since we first became midlife snowbirds; however, in February of 2021, we completed a long time goal: we purchased a gulf-front vacation rental property.
Ironically, there are only seven homes in-between the complex where we stayed for six years and the new place. Maravilla Resort is a wonderful gated community in the heart of Miramar Beach, Florida. The resort is well known as family and pet friendly. There are two pools, a hot tub, a beach volleyball net, BBQ grills, two tennis courts, basketball area, shuffleboard, a fitness center, plentiful parking and a relatively easy 7 to 8 minute walk to three restaurants. Beach service is included with our unit in season from March to October. Maravilla 2411 offers stunning unobstructed views of the South pool and the Gulf of Mexico. Our unit is on the top (4th) floor for no noise from above and we welcome large and small pets with prior permission. Check rates and availability, we invite you to be our guest.
---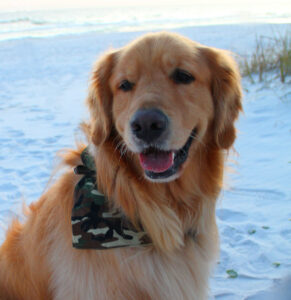 MIDLIFE SNOWBIRD BLOG
I created my first blog, Tropical Beach Escape, in 2015 as a travel journal for family and friends in anticipation of our first snowbird experience. However, during the winter of 2017, I created Midlife Snowbird, a fresh blog with a new identity that was much broader to feature my travel experiences, cuisine, recipes and original photography. Midlife Snowbird contains the detailed "how to" personal information I was looking for prior to becoming a midlife snowbird. Enjoy!
--Lana K Scherer
Creator of Midlife Snowbird
---