Walking Tour Ruskin Place Park, Seaside FL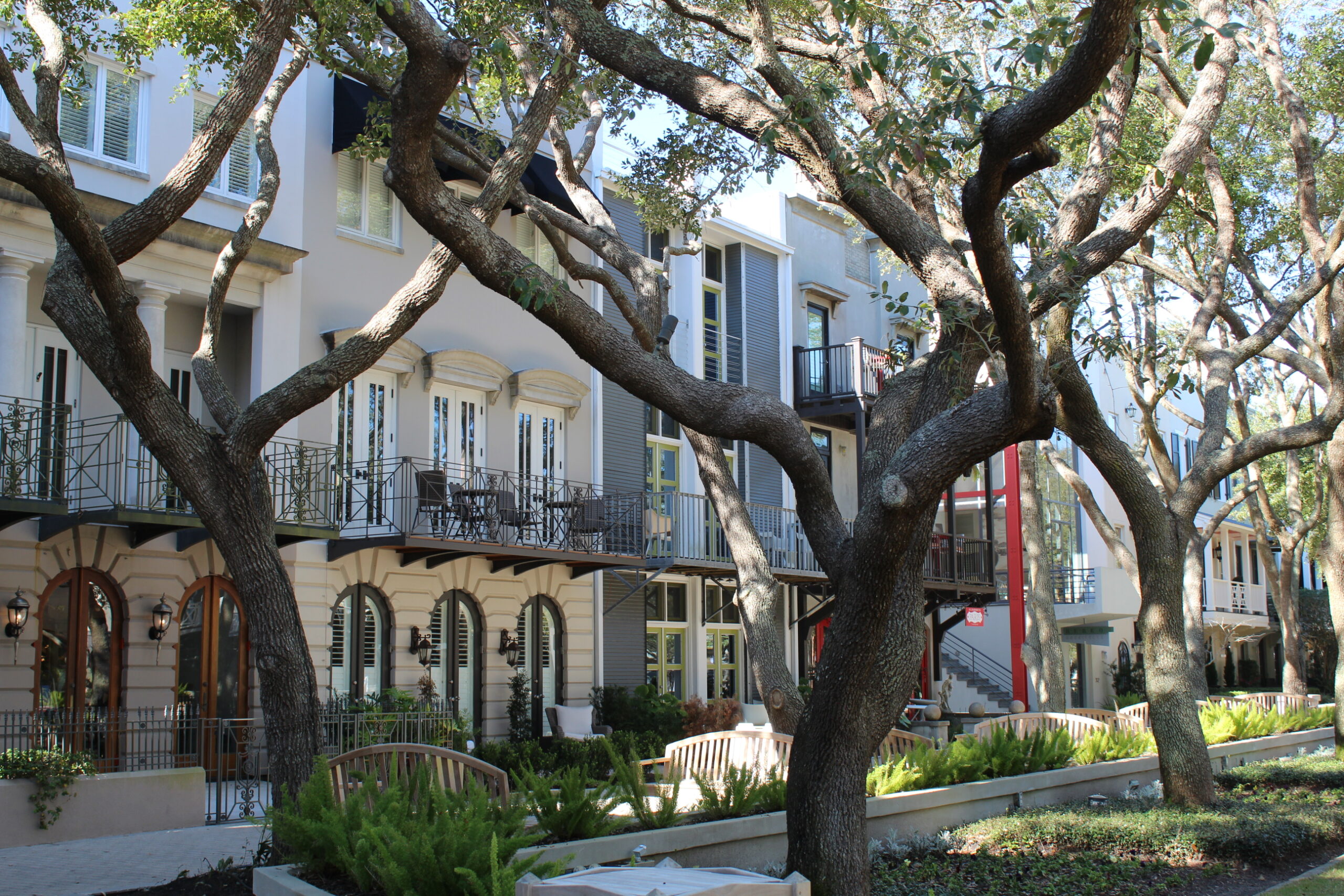 Ruskin Place Park
Walking Tour of Ruskin Place Park in Seaside Florida
Ruskin Place Park in Seaside Florida, former site of scenes from The Truman Show, filmed in scenic Seaside
---
Artist Colony, Townhomes, Shops, Live Entertainment 
Ruskin Place park is a wonderful destination for anyone touring the Seaside, Florida community in South Walton County of Northwest Florida. It is a community within a community that was designed for quieter moments away from the more crowded areas.
Originally conceptualized as a live/work concept for an artists' colony with shopkeepers residing above their storefronts, Ruskin Place has evolved into a multi-use neighborhood within Seaside. It is set up to be a purposefully less-trafficked business district away from the busier, more touristy areas of Seaside with permanent residences and vacation rentals located on the second and third floor townhomes lining the park, some of which have rooftop terraces. The center of the park serves as an event center for live entertainment and special occasions such as weddings.
Ruskin Place was the site of the fictional town of Seahaven's business district when the movie "The Truman Show" starring Jim Carrey was filmed on location in 1998. The entire town of Seaside was featured in The Truman Show and Ruskin Park scenes include a set-created fictional Seahaven Insurance, where Jim Carrey's character walked to walk. The town of Seaside allocated funds from the proceeds of their production/location fees to fund The Seaside School as well as make improvements to Ruskin Place park.
"Emerald Coast" magazine featured Ruskin Place and an online article was published March 20, 2013.
Ruskin Park is a hidden gem in the Seaside community. Take a closer look around your own community to find the special parks and places that may be lesser known than the more obvious attractions. You may be surprised at what you find.
The photos are from February, 2021, I hope you enjoy the photo gallery.
---
"Everybody needs beauty as well as bread, places to play in and pray in, where nature may heal and give strength to body and soul.
"
-- John Muir, Scottish-American "Father of the National Parks"
---
---