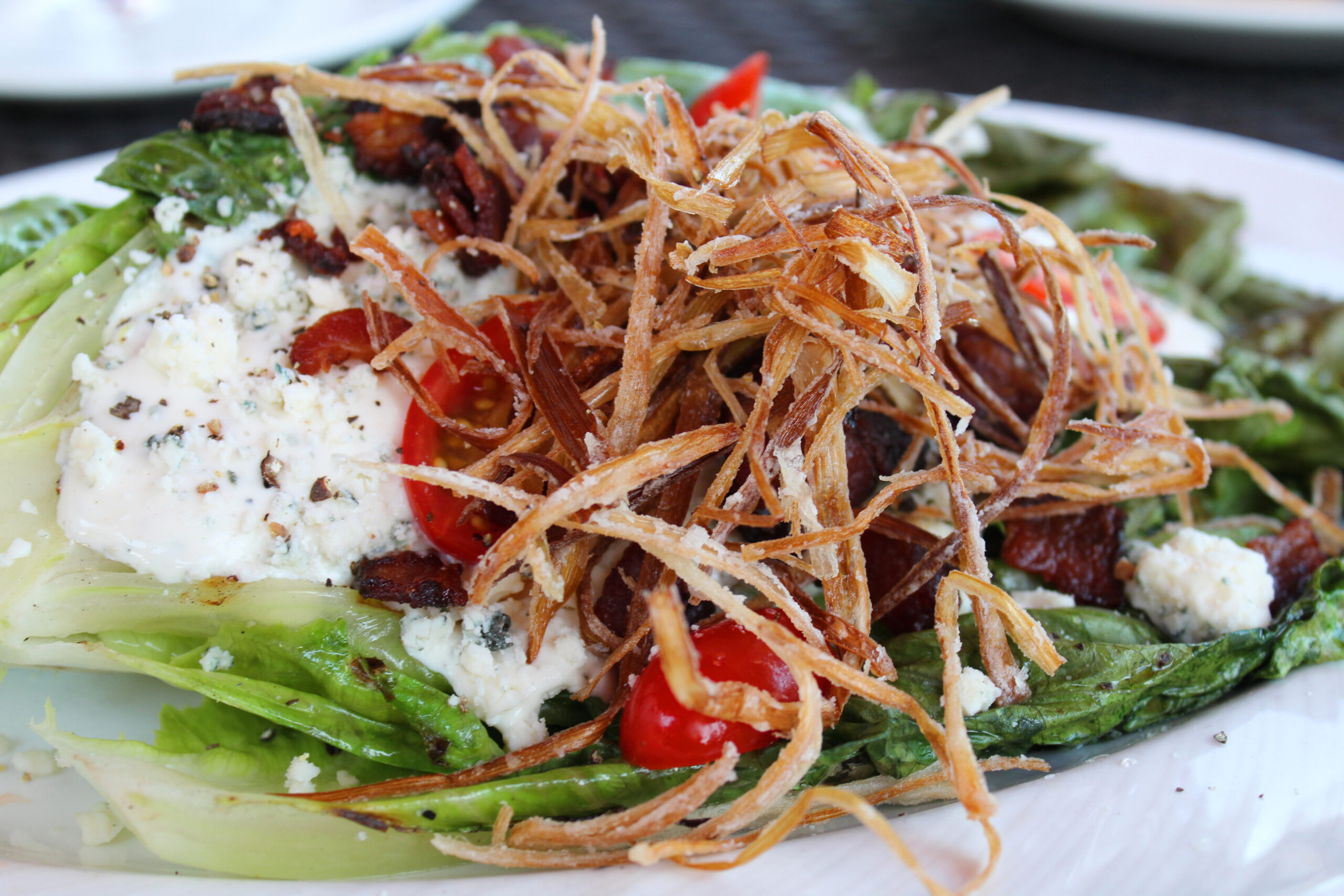 ---
Snowbird Recipe:
Blue Cheese Dressing: Steak House Style
The very best blue cheese salad dressing is served in a favorite and very popular upscale steak house restaurant that originated
in my northern community. When we dine at Eddie Merlot's, the amazing dressing is drizzled over grilled hearts of Romaine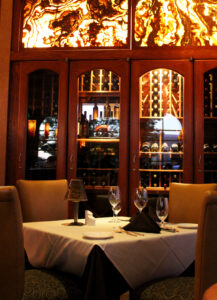 lettuce with blue cheese crumbles, thick applewood bacon, grape tomatoes and crispy thin onion straws. This hearty standout
salad is fantastically decadent and irresistable on a night out.
What a great surprise it was to find the steakhouse salad recipe in the official Eddie Merlot's cookbook. Now I make my version of the dressing at home and it's great on hearts of Romaine lettuce or as a crudite dip. One sure thing is it won't last long, it's that good. This recipe is easy to make in small batches. Refrigerate it a few hours or overnight for the flavors to blend.
My version is inspired by the Steak House Blue Cheese Dressing recipe on page 108 of "Eddie Merlot's A Journey Through Taste" edited by Margy Hooker and Matthew Nolot and published by Golden Rock, Inc. Eddie Merlot's originated in Fort Wayne, Indiana in 2001 and has since grown to 12 locations in eight states including Indiana, Illinois, Michigan, Ohio, Pennsylvania, Massachusetts, Virginia and Colorado. I highly recommend dining at Eddie Merlot's any chance you can.
---
Snowbird meals tend to be much simpler, using fewer ingredients and a very limited selection of appliances and gadgets to prepare them. Choose the freshest, highest quality ingredients and find alternate ways to make your favorite recipes. Forget about what you don't have to cook with, instead focus on what you can accomplish with what you do have. - Midlife Snowbird
---
Ingredients
3/4 cup mayonnaise
1/2 cup sour cream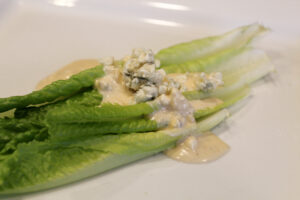 5 oz. blue cheese crumbles* (RESERVE HALF)
1/6 cup buttermilk
1 T. red wine vinegar
1/2 t. Worcestershire sauce
1/2 t. minced dried onion flakes
1/2 t. garlic salt
1/4 t. hot sauce
1/4 t. dry mustard
1/8 t. fresh cracked pepper
A dash of cayenne pepper
*Note: I prefer milder blue cheese crumbles that are "barely blue". If you like a strong blue cheese, the dressing flavor will reflect that and the color will be much more blue-ish purple.
---
Suggested Brands: Alouette® Blue Cheese Crumbled or Wal-Mart® house brand, Marketside® Blue Cheese Crumbles; Daisy® sour cream; Frank's® Red Hot sauce; Duke's® mayonnaise, Pompeian® red wine vinegar
---
Preparation
Set aside half of the blue cheese crumbles
Place remaining ingredients in a food processor or small bowl (with the exception of half of the reserved blue cheese crumbles)
Use an electric mixer or food processor to blend the ingredients until the consistency is slightly loose and creamy
Gently stir in remaining blue cheese so it retains texture OR stir in half of the remaining blue cheese and save the rest for a garnish
Refrigerate at least a few hours or overnight so the flavors can blend
Serve chilled
---
Servings:
Approximately 2 cups
---
Serving Suggestion:
--With a green salad such as hearts of Romaine, which can be sliced in half and grilled until charred a little OR cut into 1" pieces
--As a dip with crudite, such as carrots, celery, broccoli or endive leaves; adjust the consistency if needed
--As a dip with chips, adjust the consistency if needed
---
Equipment List:
--electric mixer or food processor if available OR mash blue cheese crumbles with a fork
--small glass bowl
--wooden spoon, fork or whisk
--spatula
--measuring cups
--measuring spoons
---
---
HOME VS. AWAY: APPLIANCES, GADGETS
---
Share your own recipe...
What are your favorite seafood recipes? Side dishes? Desserts? Go-to party recipes?