---
Lump Crab Melt Mini Sandwiches
Easy, open-faced party sandwiches
Real lump crab, cheese, mayo and toasted cocktail party bread make simple delicious, hot open-faced crab melt mini sandwiches. Creamy and crabby, these mini finger food sandwiches work well for parties because they are small portions or serve them as a light lunch with a green salad. Don't cut corners on the crab -- real lump crab, whether fresh, from a can or the deli -- is a key ingredient. Imitation crab, also called surimi (which is actually white fish) is not what you want to use here. The recipe that inspired my version of crab melts was given to me more than a decade ago by my twin sister and we've been making them ever since because they're that good!
---
Snowbird meals tend to be much simpler, using fewer ingredients and a very limited selection of appliances and gadgets to prepare them. Choose the freshest, highest quality ingredients and find alternate ways to make your favorite recipes. Forget about what you don't have to cook with, instead focus on what you can accomplish with what you do have. - Midlife Snowbird
---
Ingredients
12 oz. package of cocktail party bread, pumpernickel or Jewish rye (or use 24 slices)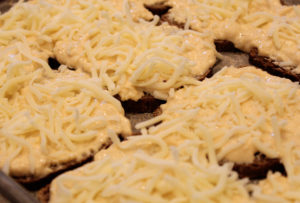 One 6 oz. can premium white lump crab meat, drained
¾ cup mayonnaise
½ cup freshly grated Parmesan cheese
1 cup shredded mozzarella cheese
½ t. Worchestershire sauce
Several dashes hot sauce
Garlic powder, two or three dashes or to taste
Onion powder, two or three dashes or to taste
Fresh cracked pepper to taste
*Commercially grated Parmesan cheese from a store-bought green shaker is an alternative
---
Suggested brands: Pepperidge Farm® Dark Pumpernickel Party Bread, Pepperidge Farm® Party Jewish Rye
---
Preparation
The crab mixture can be prepared in advance, but wait until baking to spread it on the crackers.
Preheat oven to 350 degrees.
Place 24 slices of party bread on an ungreased baking sheet pan and toast on both sides in the oven for 2 minutes. Untoasted bread will become too soggy.
Combine all remaining ingredients in a bowl and gently mix well
Spread about an 1/8 inch thick onto party bread slices
Top with shredded mozzarella cheese
Broil for 4 to 5 minutes until hot and bubbly and lightly browned.
Serve warm or at room temperature
---
Servings:
24 mini open-faced sandwiches
---
Serving Suggestion:
--Ideal for any social gathering, easy tapas style finger food
--A light meal served with a green salad
---
Equipment List:
--standard sized baking sheet pan
--medium sized mixing bowl
--cheese grater or shredder (or purchase pre-shredded cheese)
--wooden spoon or whisk
--measuring teaspoon
--spatula / lifter
---
---
HOME VS. AWAY: APPLIANCES, GADGETS
---
Share your own recipe...
What are your favorite seafood recipes? Side dishes? Desserts? Go-to party recipes?