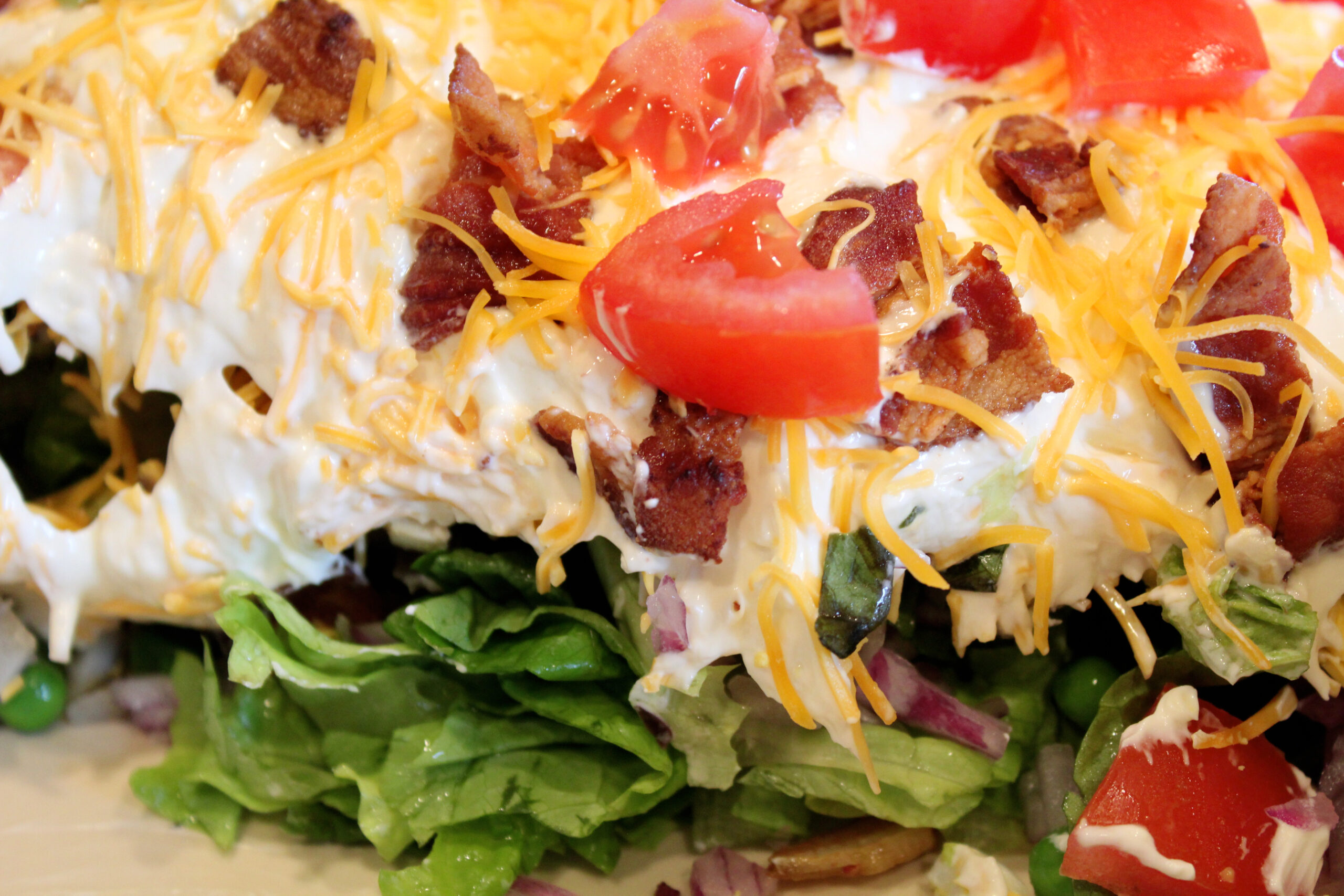 ---
Snowbird Recipe:
Overnight Layered Chop Salad
Fresh, creamy salad with olives, artichokes, bacon, eggs, cheese,
Romaine
---
My sister-in-law brought a refreshing overnight layered chop salad to our family's Christmas dinner and it is eye-catching, versatile, easy, creamy and extra special. A big hit for any gathering no matter what the occasion, there will be at least one person who asks for it again and again. This recipe is more updated than the original mid-century incarnations.
My version is based on a composite of recipes; however there's endless combinations based on your own families' personal preferences. Don't forget to allow enough time to prepare the components. There's many elements that need cooked, toasted, chopped and assembled that make the end result stand out, so plan accordingly. However, once it's prepared, there's no last minute rush -- all of the work is done in advance. Last, but not least, if you want to enjoy an everyday take on this recipe, just scale back the quantity of greens and toppings for a summer lunch or weeknight dinner.
---
Snowbird meals tend to be much simpler, using fewer ingredients and a very limited selection of appliances and gadgets to prepare them. Choose the freshest, highest quality ingredients and find alternate ways to make your favorite recipes. Forget about what you don't have to cook with, instead focus on what you can accomplish with what you do have. - Midlife Snowbird
---
Ingredients
DRESSING
1/2 cup mayonnaise or light mayonnaise
1/2 cup sour cream or light sour cream
SALAD
NOTE: measurements are approximate recommendations
Two to three Romaine lettuce hearts, cut into approx 1" pieces
8 strips Applewood bacon, cooked until crispy, crumbled
1 - 14 oz can artichoke hearts, drained, sliced
1/4 cup blue / Gorgonzola cheese, crumbled
1/5 cup black olives, halved OR
1/5 cup Kalamata olives, pitted, halved
1 cup cheddar cheese, fancy/thinly shredded
5 - 6 hard boiled eggs, finely chopped
1 cup frozen peas, defrosted, uncooked, drained
1/3 cup red onion, sliced
1/2 cup ripe tomatoes, de-seeded, chopped
1/4 cup water chestnuts, chopped (4 oz)
1/2 t. dried onion flakes or to taste
1/4 t. Kosher salt
1/8 t. fresh cracked pepper
OPTIONAL INGREDIENTS:
Almonds, sliced and toasted
Avocado, sliced
Dried cranberries
Cucumbers
Croutons, garlic or seasoned
Feta cheese crumbles
Hearts of palm, sliced
Iceburg lettuce
Green Olives, halved
Parmesan/ Parmesan - Reggiano blends of hard cheeses, sliced into thin shreds
Pecans, chopped, toasted
Red bell pepper, chopped
Scallions, sliced
Baby spinach
Sunflower seeds
Zucchini, sliced
---
Recommended: Dukes® light mayonnaise, Daisy® sour cream
---
Preparation
DRESSING
Combine mayonnaise and sour cream in a small bowl. Refrigerate.
SALAD
For best results, slice, dice, chop the ingredients into reasonably large pieces so they don't get lost in the salad.
Preheat oven to 375 degrees.
Bake the bacon at 375 degrees for about 20 to 25 minutes or until crispy. Remove from oven onto plate or wire rack to let cool. Break into chunky pieces.
Defrost peas in water, then drain. Set aside.
Drain olives, artichoke hearts, hearts of palm, etc. Cut into halves, then set aside.
Gently boil eggs in salted water for 15 minutes, drain, immerse in ice water to cool, then peel. Mash hard boiled eggs with a fork or chop into pieces. Sprinkle with salt and pepper, set aside.
Organize all fresh ingredients, rinse with water as needed, then pat dry.
Individually cut, chop and dice all fresh salad ingredients, then set aside.
Reserve the juiciest ingredients such as the tomatoes, cucumbers, for the top of the salad.
Reserve the crispy bacon pieces, scallions and cheddar cheese for the top of the salad.
Toast nuts in over medium low heat. Stir frequently so they don't burn. Remove from heat and set aside to cool. Reserve for the top of the salad.
Cut Romaine or Iceburg lettuce into approximately one inch pieces. Set aside.
When assembling the salad, make sure the ingredients are drained and dry, put the greens on the bottom of the bowl, then the next heaviest items, such as the peas, on top of the greens and work up from there. Sprinkle fresh cracked pepper into the greens, but not the salt. Try to avoid making the salad "weep."
Seal the ingredients with a layer of the salad dressing. Cover entire glass or ceramic dish with plastic wrap or aluminum foil.
Just prior to serving, sprinkle the shredded cheese/s, tomatoes, and any other juicy ingredients onto the mayo-sour cream mixture.
Add salt, cheese/s, tomatoes, scallions and nuts or sunflower seeds.
Toss salad just prior to serving OR scoop individual servings in layers onto small plates or bowls.
Serve chilled.
---
Servings:
Approximately 10 - 12 servings
---
Serving Suggestion:
--Ideal for potlucks, holidays and gatherings
--Serve for lunch, dinner
--Suitable for guests
---
Equipment List:
--small bowl
--large deep glass bowl or 9' X 13" ceramic dish
--cutting board and sharp knife
--large baking sheet pan
--measuring utensils
--plastic wrap or aluminum foil
--wire rack (optional)
---
---
HOME VS. AWAY: APPLIANCES, GADGETS
---
Share your own recipe...
What are your favorite seafood recipes? Side dishes? Desserts? Go-to party recipes?