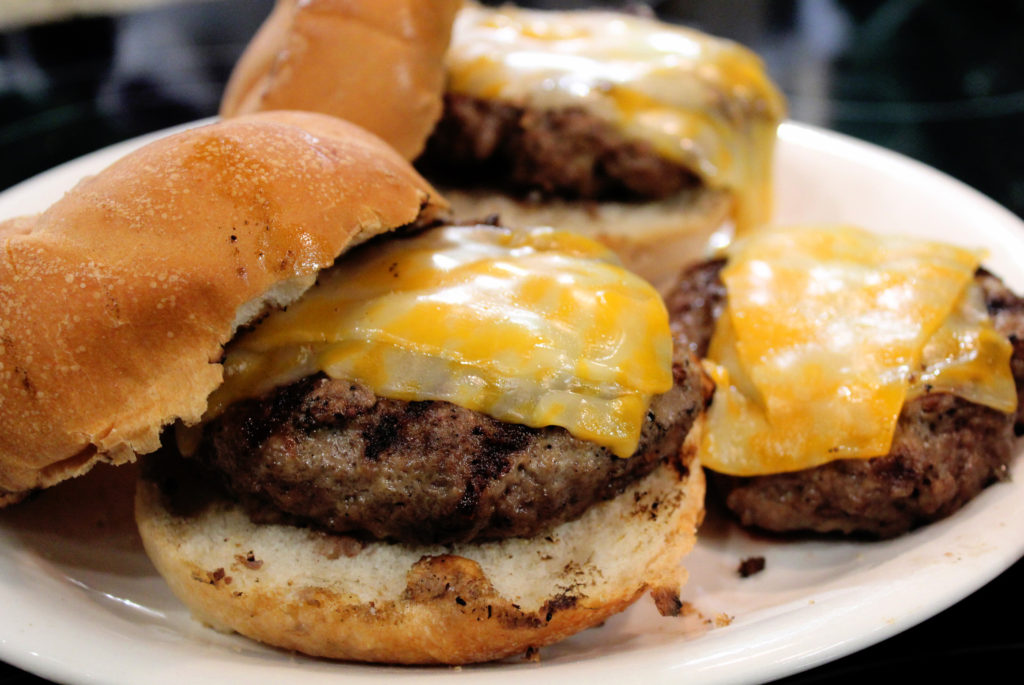 ---
Seasoned Steak Burgers
Best Burgers on the Beach
My husband is the grilling guru of our family and our seasoned Ranch steak burgers have become a signature recipe. They're thick, juicy and flavorful, especially when cooked on an infrared grill. I can't say enough about our infrared grill -- it makes everything taste amazing! Quality ingredients are also the key, choose 80-20% lean to fat ground chuck, select the freshest gourmet buns, vegetables and vine ripened tomatoes. Rufus Teague® Meat Rub generously applied to the patties is just as important as the Ranch seasoning. 
The most basic strategy for cooking meat of any kind is using a meat thermometer. This is essential – don't skip this step for best results. Prepare the burgers at least one hour in advance and let them rest in the refrigerator for best flavor. You can also form the raw meat into patties and freeze them. Together, we created this recipe with my husband's grilling expertise and my love of Ranch seasoning as the basis for the burger mixture.
---
Snowbird meals tend to be much simpler, using fewer ingredients and a very limited selection of appliances and gadgets to prepare them. Choose the freshest, highest quality ingredients and find alternate ways to make your favorite recipes. Forget about what you don't have to cook with, instead focus on what you can accomplish with what you do have. - Midlife Snowbird
---
Ingredients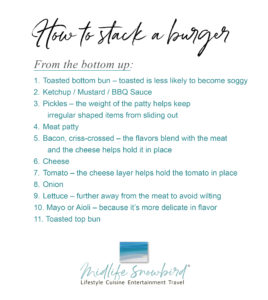 Burgers
One pound 80/20 ground beef chuck
One large egg, beaten
1.5 to 2 T. Hidden Valley ® Original Ranch Seasoning Mix (it's a dry mix, not to be confused with the Hidden Valley® Original Ranch Dips dry mix -- they aren't the same)
1/2 teaspoon garlic powder (or 1/8 t. granulated garlic) OR to taste
1/2 teaspoon onion powder (or 1/8 t. granulated onion) OR to taste
1/8 teaspoon fresh cracked black pepper
1/2 teaspoon Kosher salt OR
1 teaspoon Creole salt (optional instead of Kosher salt)
Rufus Teague® Meat Rub, sprinkled generously on both sides of the patties
Buns/Toppings
A great gourmet bun, preferably toasted, is the key to any burger and everything else is optional
Gourmet buns such as brioche, egg or bakery style buns
Sliced cheese such as Cheddar, Colby, Colby Jack, Mozzarella, Monterey Jack, Pepper Jack, Gruyere, Swiss
8 slices bacon
Romaine lettuce
Tomates, sliced
Red Onion, sliced
Pickles
Mayonnaise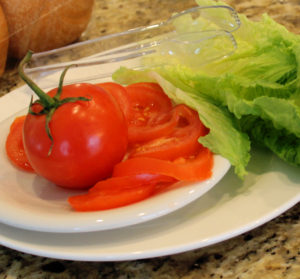 Ketchup
Mustard
Barbeque sauce
---
Suggested Brands:
Hidden Valley ® Original Ranch Seasoning Mix; Zatarain's® Creole Seasoning, Rufus Teague® Meat Rub
---
Preparation
Preheat infrared grill to 400 degrees.
Beat egg in a medium sized bowl. Stir in the seasonings, then gently combine ground chuck until well blended.
Form meat mixture into patties, preferably one third pound each or measure meat mixture into approximately three 3/4 cup portions.
For best flavor, let the meat patties chill in the refrigerator a few hours so the flavor can blend.
Prior to grilling, remove from refrigerator and allow time to warm up to room temperature.
Re-season the exterior of both sides of the patties with a heavy dusting of Rufus Teague® Meat Rub. Let rest a few minutes.
Sear patties on the grill and cook until an internal temperature of 145 degrees (medium rare) or 160 degrees (medium) is reached.
Remove patties onto a plate, add the cheese and let them rest under a foil tent a few minutes.
Toast the gourmet buns a few minutes on the top rack of the grill until light brown.
Add the remaining condiments and toppings to the burgers, serve warm.
---
Servings
Three 1/3 pound burgers or two half pound burgers
---
Serving Suggestion
--A lunch or dinner served with a salad, chips and brownies or cookies
--Suitable for any casual social gathering
---
Equipment List
--Infrared grill is recommended, or a standard type of gas, charcoal or electric grill
--meat thermometer
--medium sized mixing bowl
--wooden spoon
--knife
--measuring utensils
--spatula / lifter
--aluminum foil
---
---
HOME VS. AWAY: APPLIANCES, GADGETS
---
Share your own recipe...
What are your favorite seafood recipes? Side dishes? Desserts? Go-to party recipes?