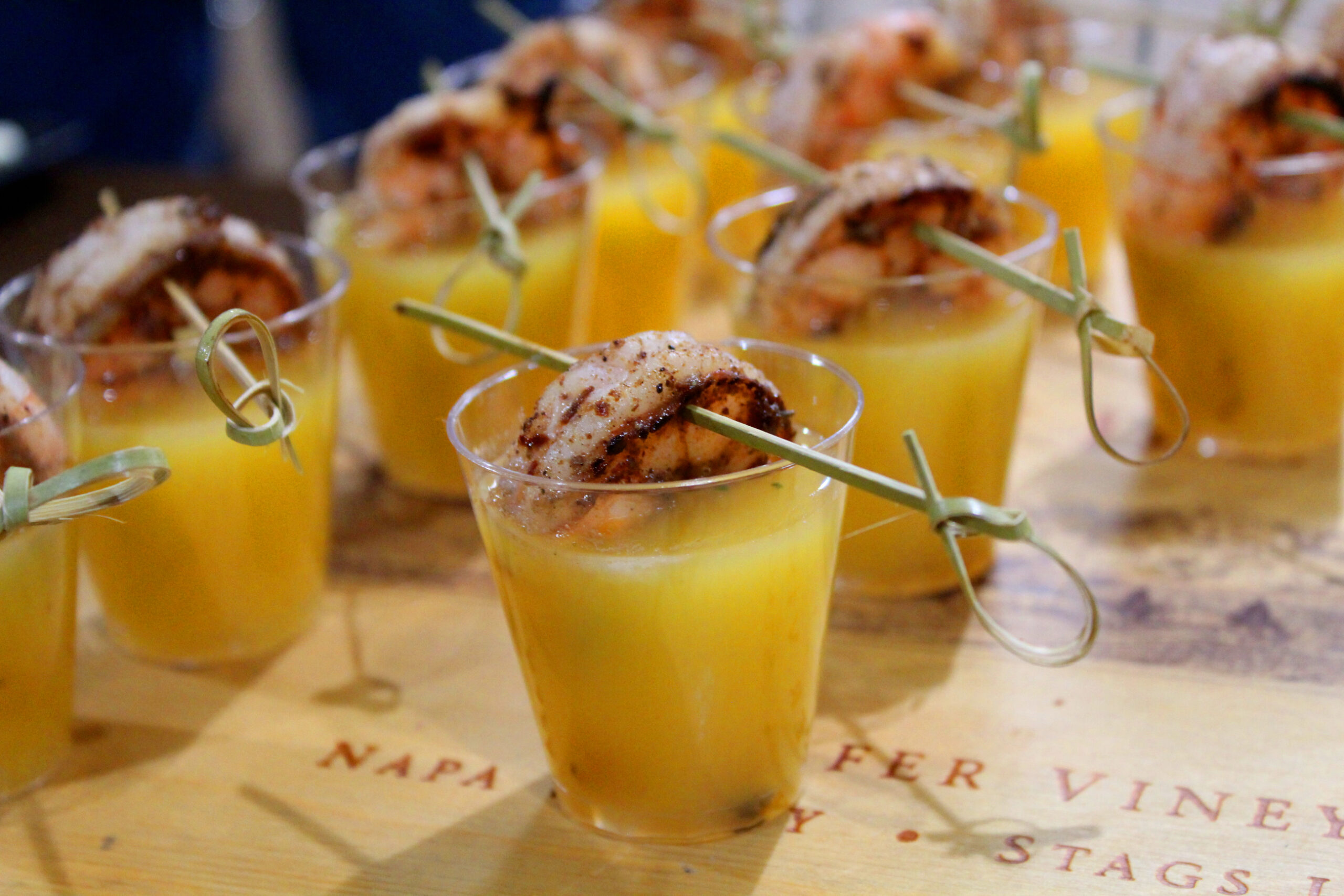 Caribbean shooters infused with aromatics and topped with Cajun shrimp are refreshing and surprisingly easy to prepare
---
Snowbird Recipe:
Caribbean Shooters
Cajun shrimp, fresh citrus juice infused with aromatics
---
Beautiful, refreshing and tropical with a discernible kick, virgin Caribbean shooters are fun for any social gathering. Pineapple juice with mango or orange juice creates the basis of the flavor profile, which is amped up with cilantro, peppers and onion. Plan ahead so the aromatics have time to infuse the citrus juice by prepping 12 to 24 hours in advance. Serve the Cajun shrimp with wooden skewers and either plain glass or clear plastic shot glasses. This recipe is based on Chef Patrick Whetstone's Hors D'oeuvres 2.0 cooking class that I attended via my city's Parks and Rec Department. Of all the recipes from Chef Whetstone's 2.0 class, this one is my favorite because it's so elegantly beautiful and delicious. Experiment with your own blends of citrus juices and fruits, there's so many directions this recipe for Caribbean Shooters can go. For non-virgin Caribbean Shooters, fill the shot glass half way with Coconut rum liqueur, then top with infused citrus juice and a shrimp skewer. 
---
Snowbird meals tend to be much simpler, using fewer ingredients and a very limited selection of appliances and gadgets to prepare them. Choose the freshest, highest quality ingredients and find alternate ways to make your favorite recipes. Forget about what you don't have to cook with, instead focus on what you can accomplish with what you do have. - Midlife Snowbird
---
Ingredients
INFUSED CITRUS JUICE
2 cups mango or orange juice
2 cups pineapple juice
One bunch cilantro, chopped
2 Jalapeno or 3-4 serrano peppers, deseeded and chopped
1/2 cup red or sweet onion, chopped
CAJUN SHRIMP
20 large raw shrimp
2 T. extra virgin olive oil
Cajun seasoning to taste
---
Recommended: Royal Bamboo® knot cocktail and hors' d'oeuvres pick, Malibu® Carribbean Rum with Coconut Liqueur, 2 oz. clear plastic or glass shot glasses
---
Preparation
INFUSED CITRUS JUICE
Deseed and chop the peppers, onion and fresh cilantro.
Place citrus juice and chopped aromatics into a pitcher or medium sized bowl, gently mix together
Cover and store in refrigerator for 12 to 24 hours until ready to serve. Stir once in awhile.
Prior to serving, strain the juice and discard the aromatics.
CAJUN SHRIMP SKEWERS
Preheat oven to 350 degrees.
Defrost shrimp in a small bowl, then pat dry.
Toss shrimp in olive oil on a cookie or baking sheet, then spread into one layer.
Generously dust each side of the shrimp with Cajun seasoning.
Bake or broil shrimp for a few minutes (watch them closely) until they are barely no longer opaque, do not overcook.
Remove shrimp from oven and place onto a cool surface to let the shrimp rest and stop the cooking process.
Skewer the shrimp onto a wooden pick and refrigerate in an airtight container until ready to serve.
Pour approximately 1.5 ounces of citrus juice into each shot glass, then top with Cajun shrimp skewers.
Serve chilled.
---
Servings:
Approximately 20 1.5 ounce servings
---
Serving Suggestion:
--Ideal as a starter for a meal or social gathering
--Serve for breakfast or brunch
--Suitable for guests
---
Equipment List:
--cookie or baking sheet
--small bowl
--medium sized pitcher or mixing bowl
--cutting board and sharp knife
--mesh strainer
--measuring utensils
--wood or bamboo skewers
--20 plastic or glass 2 ounce shot glasses
---
---
HOME VS. AWAY: APPLIANCES, GADGETS
---
MORE RECIPES
FRESH GRILLED AMBERJACK WITH MANGO PINEAPPLE SALSA
BAKED TILAPIA WITH PARMESAN, PECANS, PANKO, GARLIC BUTTER
Share your own recipe...
What are your favorite seafood recipes? Side dishes? Desserts? Go-to party recipes?