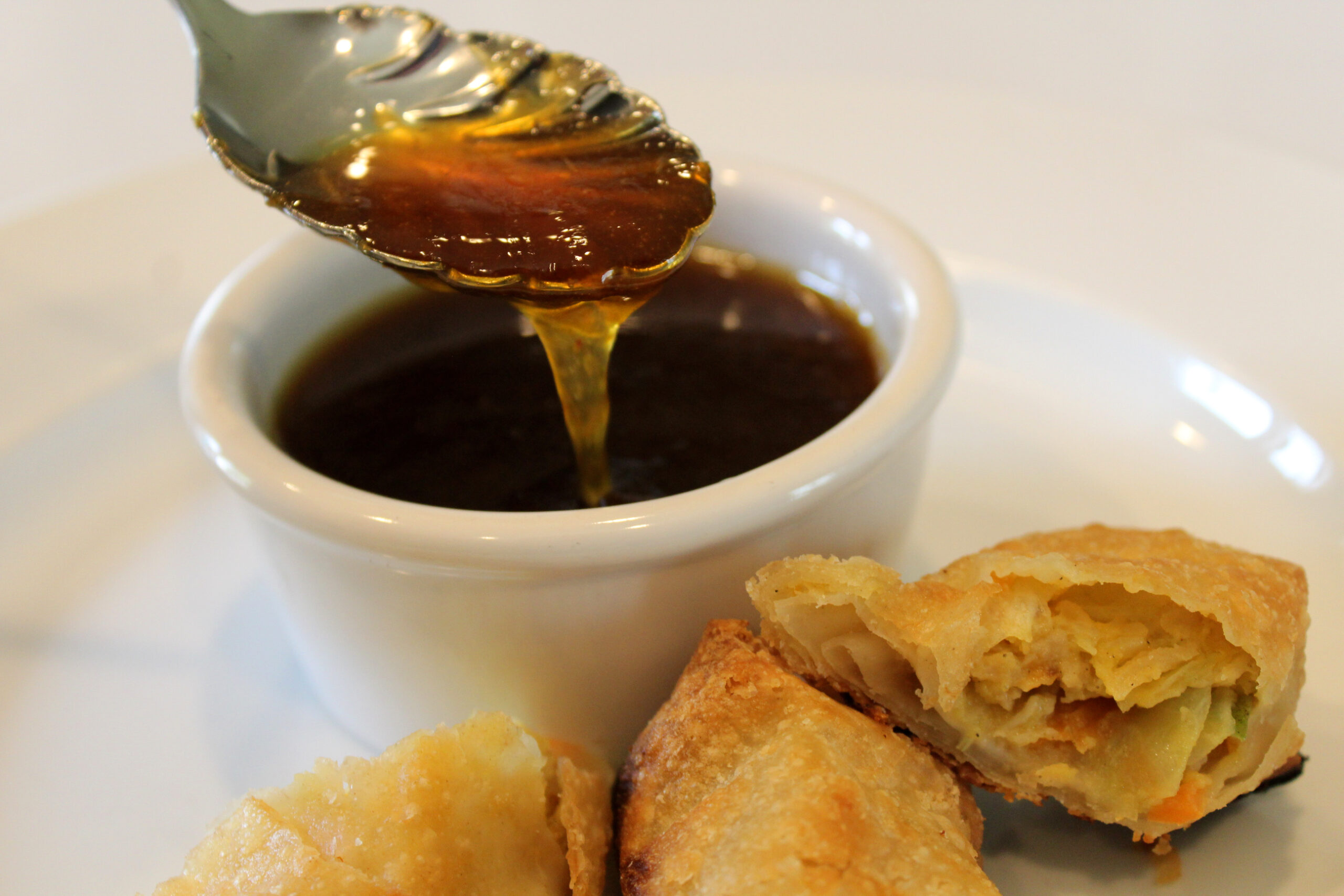 ---
Snowbird Recipe:
Apricot Dipping Sauce
I first created this easy, versatile apricot dipping sauce with just four ingredients: two oils, apricot preserves and citrus. The recipe works well as a basic dipping sauce, yet easily adapts to anyone's personal preferences by adding spicy heat, tangy flavors or liqueur. Examples to add your own spin include Dijon mustard, cayenne pepper, crushed red pepper, creamy horseradish or orange liqueur.
Because the ingredients can be primarily kept in a freezer and pantry, it's quick for snowbirds to make a batch at the last minute for an impromptu party or dinner with friends. This recipe is great as a dipping sauce with appetizers, stir fry, chicken or fish fingers, pork, egg rolls, fried or coconut shrimp and crab rangoon. It can also be used as a glaze during the last 15 minutes when baking a ham, chicken, Cornish hen or pork. Get creative and have fun, there's many ways to go with this simple recipe. 
---
Snowbird meals tend to be much simpler, using fewer ingredients and a very limited selection of appliances and gadgets to prepare them. Choose the freshest, highest quality ingredients and find alternate ways to make your favorite recipes. Forget about what you don't have to cook with, instead focus on what you can accomplish with what you do have. - Midlife Snowbird
---
Ingredients
Basic Apricot Dipping Sauce
1/2 cup apricot preserves
1/4 cup extra virgin olive oil
1 T. sesame oil
1 T. frozen orange juice concentrate OR 3 T. freshly squeezed orange juice
1 t. light soy sauce
1/4 teaspoon garlic powder
1/4 teaspoon onion powder
Pinch of Kosher salt
OPTIONAL:
1/4 teaspoon crushed red pepper flakes OR
1 T cream style horseradish OR
1 T Dijon or Chinese hot mustard OR
1 T. Grand Marnier® orange liqueur
Pinch of cayenne pepper
Cooking sherry or white wine are also options, but much more subtle in flavor
Note: Measurements for optional flavors are approximate -- adjust to your own preference
---
Suggested Brands: Smucker's® Apricot Preserves, Grand Marnier® orange liqueur, Grey Poupon® Dijon mustard, Inglehoffer® Cream Style horseradish, Holland House® sherry cooking wine, Holland House® white cooking wine
---
Preparation
Add all ingredients to a small sauce pan.
Bring to a simmer over low heat a few minutes until flavors blend, stirring periodically. Do not boil.
Remove from heat.
Optional: strain sauce through a fine mesh strainer or colander. Discard or set aside strained fruit.
Sauce will be a thin consistency.
Serve warm or at room temperature.
---
Servings:
Approximately 3/4 cup
---
Serving Suggestion:
--As a dipping sauce for appetizers such as egg rolls, crab rangoon, chicken or fish fingers, shrimp, chicken wings, won tons, etc.
--As a glaze for baked fish, ham, poultry, chicken, pork chops, pork tenderloin, Cornish hens, etc.
--As a sauce for fried chicken, vegetables, shrimp, fish, etc.
--With steamed rice or vegetable dishes
--With stir fry dishes
---
Equipment List:
--small sauce pan
--measuring cup
--measuring utensils
--fine mesh strainer or colander
---
---
HOME VS. AWAY: APPLIANCES, GADGETS
---
Share your own recipe...
What are your favorite seafood recipes? Side dishes? Desserts? Go-to party recipes?