Room by Room: How to Furnish a Vacation Rental Property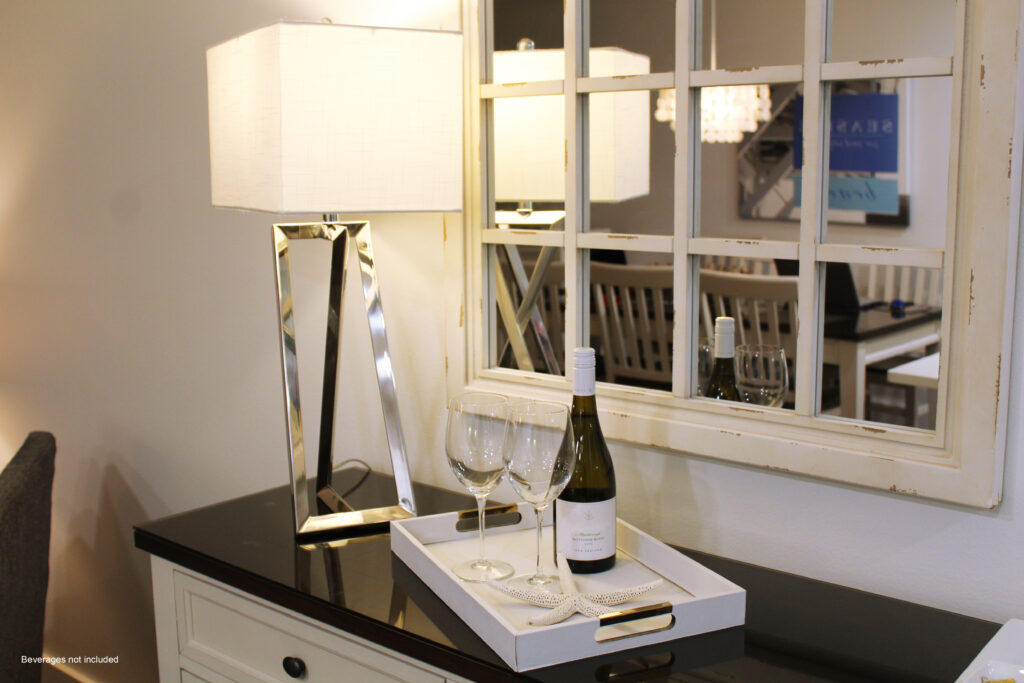 Room by Room: How to Furnish a Vacation Rental Property
Room by Room: How to Furnish a Vacation Rental Property is a follow-up to "The Basics of How to Furnish a Vacation Rental Property."
As an experienced vacation rental guest, I learned from observing and studying the best of the best: the property owner where we stayed. Not only does this very successful woman own many rentals, her company also manages a large vacation rental portfolio. Owners who are not savvy or comfortable furnishing their place can hire her to rework their property into a show-stopper. There is a specific formula that is effective. When browsing dozens of online properties, it is imperative to get attention for all of the right reasons and these properties stand out from the others. The woman who is the source of my inspiration is an amazing artist, designer and astute businesswoman. Without realizing it, she showed me the techniques to emulate her success. 
Room by Room: How to Furnish a Vacation Rental Property provides an overview of details large and small of each room of a rental. Anyone who is familiar with boats and yachts knows that each component must work together to form a cohesive and unified vessel, which is also what is needed for a vacation rental property, no matter how large or small. 
Along the same thoughts of being impressive whether a "Vacation rental or chartered yacht," the goal is to get at least one "Wow!" from yourself, your guests and total strangers who enter your property for the very first time. Listen and take notes. It matters. If it doesn't happen, don't get discouraged, make changes and keep going until you reach your goal.
I've compiled a basic overview of tips I've employed and considerations I recommend for anyone who is newly furnishing or re-working a vacation rental property.
---
FIRST THINGS FIRST
Not so long ago, vacation rentals had a reputation for being filled with a hodge-podge of worn, unwanted furniture that has seen much better days. We all know what that means: wicker, wicker, wicker, but not clean, modern wicker. Creepy wicker with dirty nooks and crannies. Saggy worn sofas, castaway ancient sinking mattresses with threadbare sheets and pillows. Too much clutter. Take it or leave it is generally what used to be the attitude. Someone else will come along. Or not.
That was the case in my own personal situation when we bought our beach condo. The furnishings were a mish-mash of yellow, black, red, green, brown, white; a variety of finishes/themes and three counter stools that had what looked like a DIY re-upholstery job -- stripes, but not in a good way. Stripes from the 1970's is more like it and believe it or not, the ugly fabric had PLASTIC protectors stapled over the seats. I wish I was kidding, I can only imagine how the guests felt about it. More than that, the bar stools were too high for the space, which caused knees knocked into the bi-level overhang.
On the other side of the counter an old sink and dripping original faucet were thankfully not visible from the main living area. However, much of the old, traditional days of finding rentals, which is word of mouth and tradition, gave way to the inevitable. With the popularity of third party online vacation rental sites, shopping for popular national and regional areas as well as specific rental units became much easier and resulted in owners upping their game to attract guests. Suddenly the obvious faults of a property became glaringly unavoidable and I believe that created the renaissance of vacation rentals. This is what leads me to explain what I mean by studying the places where I've been fortunate to be a guest. It's been a self-created apprenticeship, practicum and internship rolled into an ongoing life lesson.
An overview of what I learned from "the best of the best," means a road map to success. Maps are typically easily viewed, yet not so easily navigated. Stay the course for the best results.
--Cohesive, color-identity decor. Color is psychologically based on emotion. Color is powerful and color is attention-getting. Number one on the "best of the best" list is connect through color. Choose a color palette and repeat it everywhere without getting carried away. IE, Watery blues and seafoam greens with white. Or mid-blue, white and yellow. The possibilities are endless. Whatever you choose, stick with it so potential guests remember they saw the beautiful, "Dove gray, white and pale blue" combination.
--Comfortable, inviting, fresh-looking rooms that get attention via a striking view and/or focal point and picture-yourself-sitting-in-it furniture. Sofa, coffee table, end tables, lamps and an easy chair are minimal basics. At least one comfortable sturdy chair with arms is helpful for guests who need the support to rise from sit to stand.
--Accessories and wall art that work together to "tell the story" of the home. By that, the theme and ties to local interest is just the beginning. The rest of it boils down to details. The details are most often small yet very important.
An example of the details of the best of the best decor includes:
--An attractive, distinctive mirror located above the drop zone.
--Attractive area rugs in the living spaces and both sides of every bed.
--Appropriately sized, wall-mounted flat screen TV's with no visible wires
--Specialty glass custom-cut with polished edges to cover every surface that may be damaged from water or scratches.
--Bathrooms should look coordinated, but not exactly the same. This is my own take on how to avoid confusing your online shopper. If the bathrooms look too much alike, there's a chance the potential guest may not realize there are more than one.
---
ROOM BY ROOM
Consider each room and the features you want to highlight or downplay. Features include a great view, fireplace, large television, wall art, built-in bookcases, furniture such as a buffet and interesting finishes such as bead board, board and batten, shiplap and crown molding.
Downplay (or cover) windows without a view, walls or ceilings with unattractive finishes and problem areas such as an awkward layout or flow. You may be thinking, "Window without a view? Certainly there is something redeeming to look at?" Not really. In many condos, a bedroom window may face a dark stairwell or walled exterior hallway that adjoins with another unit. It's more common than you might think. Turn a negative into a positive with an amazing window treatment or headboard to distract from a lack of view. I spent six years loving an interior bedroom with a walled hallway view because the lone window's plantation shutters never needed opened and the room's decor was so lovely it didn't matter about anything else. It was my space and my private sanctuary 24/7.
Show restraint with accessories and wall art. Your rental should not be a hot mess overload of your style/theme. The goal is  uncluttered, clean and fresh.
Install mirrors where appropriate including one or two in the main living space. Full length mirrors belong in every bedroom. Bathrooms should have good-sized mirrors. Don't fall for trends of replacing large, sturdy bathroom mirrors with mirrors that are too small. Practicality is more important.
A little bit of word art and sayings on the wall and so forth goes a very long way. No one needs a sign telling them to "Relax," "Eat" or that it's "Wine O-Clock." It's annoying and the last thing you want to do is provoke your guests with silly messages or cause them to remove your signage into a closet during their stay. If in doubt, don't include any word art or signage. If you feel compelled, make sure it is tasteful and understated.
ENTRY
--Welcome mat/s and area rugs
--At least one element to make the entrance inviting such as wall art, mirror/s, a drop zone, bench and place for shoes, depending on how much space you have.
--The entry way should be well lit and entice a guest to want to proceed further into the rental.
MAIN ROOM + DINING:
--Comfortable, cohesive, consistent furniture and wall art and/or mirrors
--Properly sized furniture, including a spacious multi-functional dining table with adequate, sturdy seating. Even if you don't think your guests will be eating at the table very often, they may need space for game night, crafts, hobbies, computers/work/office and more.
--Hardworking multi-use furniture is smart, such as a dining table that also has storage drawers or an ottoman with built-in storage.
--High top bars or tables and chairs should be offset with a low top table and seating option to accommodate guests with physical limitations
--Bar stools should be appropriately sized for the height of the counter. Slippery, unstable or poorly constructed bar stools (or any furniture in disrepair) should be permanently removed no matter how trendy and fashionable they may seem.
--Adequate end tables, coffee tables or foot stools
--Flooring with appropriately sized area rugs
--Accents such as pillows and accessories, but don't overdo it. Spacious and uncluttered is the goal.
--An oversized or very large clock on the wall
--A large flat screen wall-mounted TV, preferably with no wires showing
--Basket or organizer for the remote control/s
--Books and games are expected in a vacation rental and a proper place for them such as in a drawer, on a shelf or within a server buffet helps keep everything organized
KITCHEN:
--Appliances should include a refrigerator/freezer, microwave, toaster, coffee maker, blender and perhaps an electric mixer, electric skillet, waffle maker or rice maker if space allows it. Wine refrigerators and separate ice makers are luxurious upgrades if there is space.
--Adequate supplies, utensils, cookware, skillets, pots/pans and dishware in good repair
--An array of sizes of plates, glasses and cookware
--A mix of ceramic plates and non-breakable plates/glasses are helpful for families with young children
--Plenty of fresh dish cloths and dish towels displayed in a small basket for easy reach
--Kitchen counters free of clutter and unnecessary items
--Wall-mounted shelving for extra coffee cups and glassware
--Drawer organizers and wire racks within cupboards for easier storage
--Dish rack stored under the sink for hand washed items
--A rack to hold wine glasses and/or wine bottles is nice if space allows for it
BEDROOM/S:
--Adequate furniture, end tables with lamps and a small area rug for each side of the bed
--A closet free of clutter with plenty of shelves, hangers and organizational helpers such as a wall-mounted rack for the iron and ironing board
--Fresh pillows in two sizes: standard and king
--Pillows with shams to make the bedding look more attractive
--Extra sheets and blankets stored in marked plastic bags or clear plastic bins
--Wall hooks for ease of storing coats, hats, scarves, shoes, dog leashes, etc.
--Layers of window treatments for added privacy: slatted blind/s plus sheer curtains and room-darkening drapes
--One or more electric nightstand clocks, preferably with ports to charge a cell phone and additional built-in electric outlets
--Floor space for the pet's bed if your rental is pet-friendly
--A large flat screen wall-mounted TV, preferably with no wires showing
--Basket or organizer for the remote control/s, keys, sunglasses, etc
--Small decorative bowl or dish to put jewelry
BATHROOM/S:
--Adequate storage for linens and toiletries. If needed, install wall-mounted cabinets for additional storage.
--Adequate number and appropriately sized towel racks
--Adequate hand and bath towels, preferably three or more sets of each per bathroom. Wash cloths should be plentiful, preferably six+ per bathroom.
--Bath mats and washable bathroom rugs next to the commode and shower/tub
--Wall hooks for clothes, towels, robes, hats and more
--Practical items such as plungers and toilet brushes should be readily available, but preferably stored out of sight
LAUNDRY:
--Organizational wall-mounted racks for detergent, hooks and so forth are always appreciated
--A plastic laundry basket is nice if there's adequate space available
--Polite signage recommending how to keep the equipment functioning, such as not putting sandy items in the washer, helps guests help you.
BALCONY/PATIO/DECK:
--Adequate sturdy outdoor tables and seating
--High top tables and chairs should be offset with a low top table and seating option to accommodate guests with physical limitations
--Comfortable cushions and outdoor pillows in good repair unless not necessary due to the type of outdoor furniture
--An outdoor rug if space and weather conditions allow for it
---
"A room should feel collected, not decorated."
-- Albert Hadley, American Interior Designer
---
---