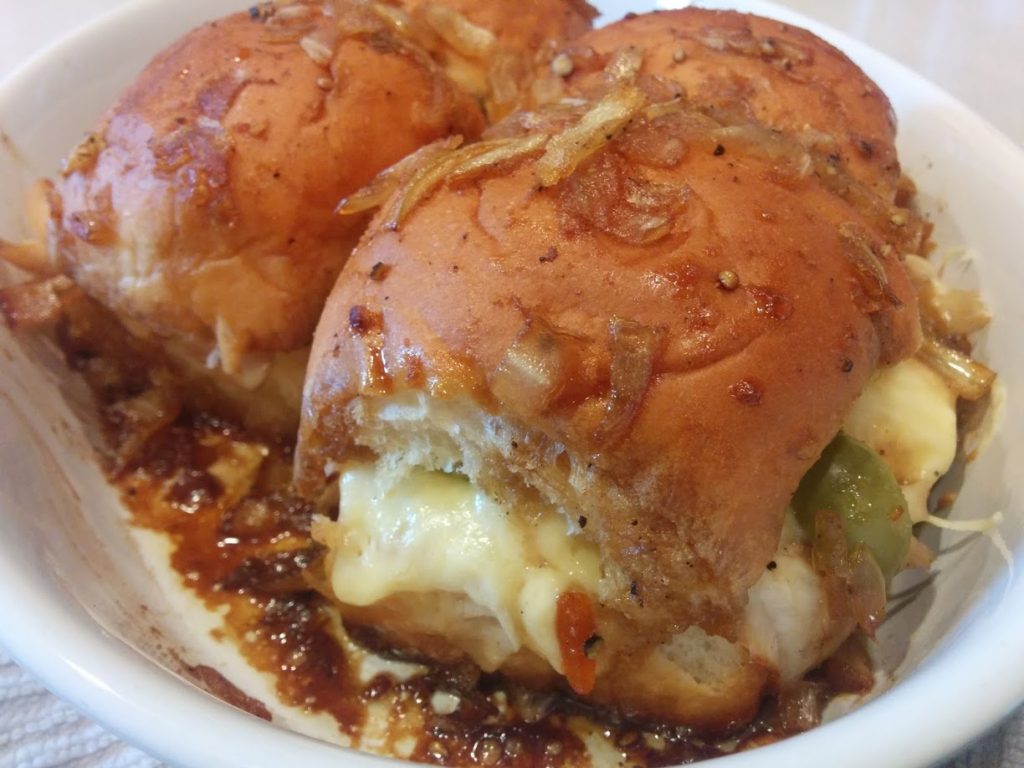 ---
Snowbird Comfort Food Recipe:
Baked Cheesy Deli Sliders
Baked, cheesy deli sandwiches are hearty, gooey and comforting. This is not your typical slider due to the buttery glaze that is brushed on the top so it soaks into the King's Hawaiian® buns. Ideal for serving a hungry crowd, just prep them ahead in batches of 12. This recipe should be assembled several hours in advance for best flavor and can easily be adapted to many variations. Plan for at least two to three sliders per person. My version is based on similar slider recipes found on the King's Hawaiian® and Land O Lakes® web sites.
---
Snowbird meals tend to be much simpler, using fewer ingredients and a very limited selection of appliances and gadgets to prepare them. Choose the freshest, highest quality ingredients and find alternate ways to make your favorite recipes. Forget about what you don't have to cook with, instead focus on what you can accomplish with what you do have. - Midlife Snowbird
---
Ingredients
SANDWICH
1 package (12 count) King's Hawaiian® original sweet rolls
1/2 cup mayonnaise (approx.)
1/2 to  3/4 pound deli meat, thinly sliced: roast beef, turkey, chicken, ham or a combination of meats
12 slices crispy bacon or turkey bacon, cooked
6 - 8 oz. cheese (sliced or shredded): Gruyere, Swiss, Cheddar, Mozzarella, Colby-Jack, Pepper Jack or a combination of cheeses
24 green olives,* halved
Minced/dried onion to taste
Garlic powder to taste
Onion powder to taste
Kosher salt
Fresh cracked pepper
*Or substitute sliced pickles, black olives, pimentos, or pepperoncini peppers
SANDWICH GLAZE
½ cup butter or margarine
2 T. sweet onion, finely diced
2 T. brown sugar
1 ½ teaspoons Worcestershire sauce
¼ teaspoon garlic powder
---
Suggested brand: King's Hawaiian® original sweet rolls
---
Preparation
Preheat oven to 350 degrees
In a small sauce pan, melt margarine and saute diced sweet onion until softened
Add brown sugar, Worcestershire sauce and garlic powder until brown sugar is dissolved. Remove from heat and let cool slightly.
Cut rolls in half horizontally so they are split into tops/bottoms. Do not separate the rolls, they should remain a cohesive unit.
Spread mayonnaise over top and bottom halves of the rolls.
Arrange bun bottoms in ungreased 9" X 9" baking dish.
Season the bottom half of the buns with minced onion, onion powder, garlic powder, salt and pepper.
Layer with sliced deli meat so the meat is self-contained on each sandwich bun. When served, the sandwiches will easily pull apart.
Re-season the top layer of meat.
Layer the cheese, then green olives and bacon. Replace the tops and gently push them into the layers.
Pour butter sauce over the tops of the sandwiches until well-covered and lightly soaked.
Cover with foil and refrigerate for several hours.
Bake covered for 25 minutes.
Remove foil and bake uncovered for an additional five minutes. Remove from oven and let cool slightly.
Serve warm.
Note: If you want to assemble the sandwiches a day ahead or more than a few hours in advance, do not add the glaze until the last two hours prior to baking so the sandwiches do not become overly soggy.
---
Servings:
12 sandwiches
---
Recommendations:
--Serve as a lunch or dinner entree
--Ideal finger food for a crowd or as part of a social gathering
---
Equipment List:
--baking dish, 9" X 9"
--small sauce pan
--knife
--measuring utensils
--aluminum foil
---
---
HOME VS. AWAY: APPLIANCES, GADGETS
---
Share your own recipe...
What are your favorite seafood recipes? Side dishes? Desserts? Go-to party recipes?