The Basics of How to Furnish a Vacation Rental Property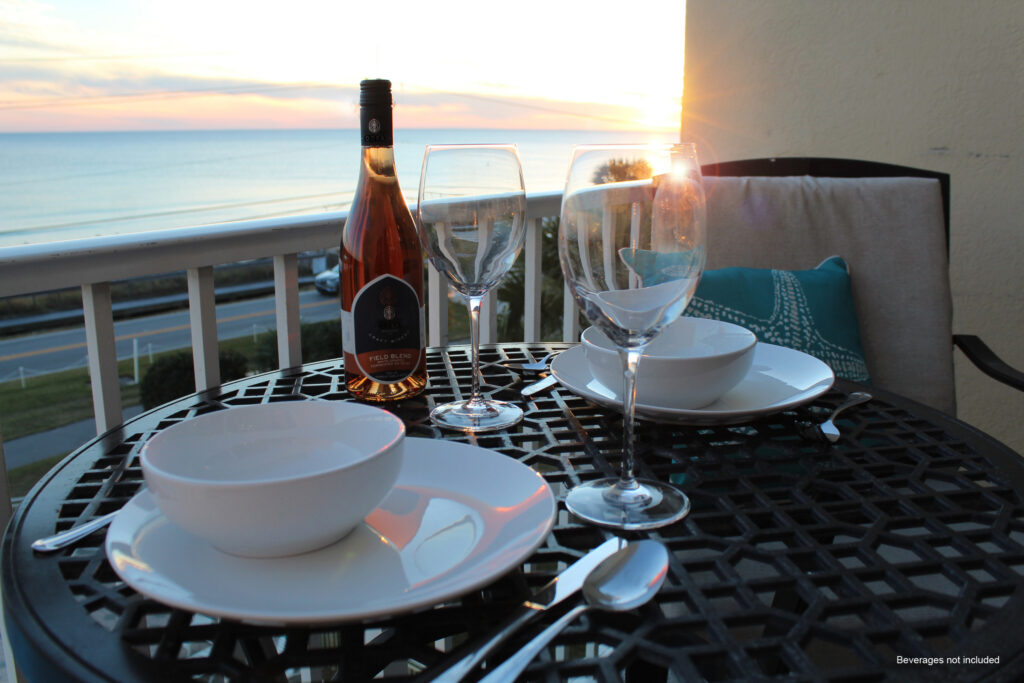 The Basics of How to Furnish a Vacation Rental Property
---
Many snowbirds understandably dream of eventually purchasing their own vacation rental property. My husband and I rented for six seasons and it inspired me to write a post entitled, "What to Look for in a Snowbird Rental." The information remains relevant today and gives insight into the minds of your current or future guests. Because I was a guest, I thought like a guest and critiqued like a guest. Like me, when/if you buy your own vacation rental property, with good timing you may be able to be your own guest, which will help you see the areas that can use improvement. That isn't always feasible, including my personal situation, as well as many others who buy during a hot real estate market. This is where personal and online research becomes especially invaluable.
Long ago, I read a post on a popular vacation rental site where a woman was searching for a rental property. She said she wanted something fresh and nice. "Old, tired and dirty is what I have at home." I've never forgotten her words. She wants what everybody wants: to escape the realities of home, even if just for a week.
When furnishing a vacation rental, there is an enormous difference in approach compared to a primary or second home. With your own personal space, you need only to please yourself and your household. You can rest assured the furnishings will still be there when you return from being away, it will be in the same condition as before and there will only be wear and tear of your own making. If you love all-white sofas and area rugs; a trendy style; delicate, colorful, patterned fabrics and pillows on the beds and lots of fragile or expensive artwork and accessories, no problem, it's your choice. Vacation rentals are a significantly different mindset because it is no longer only about you and your wishes, it involves appealing to a much wider demographic who are not likely to take care of your place with the same love as you. White rugs and furniture, delicate fabrics and expensive breakables are not practical in a rental. Plus your housekeeping staff must be able to be clean with the public's health in mind. Bleachable is the new standard for linens and much more.  
Durability is first and foremost for furnishing vacation rentals, but other factors are also important such as overall freshness of decor, linens and furniture; ease of keeping the property clean in the short and long term and supplying enough, but not too much of anything including stocked items. You don't want to have overstuffed closets and cupboards crammed with too many skillets, bowls and glassware, yet inadequate plates, silverware and sauce pans. Stocked items should be in good condition and replaced as necessary.
Identifying who your target guests are and appealing to them is a good place to start. The keyword here is "target" because it is impossible to determine exactly who your guests actually are. You more than likely will never personally meet them, which is not unusual nor necessary. Therefore, it is imperative to do your best to furnish for all ages, sizes and purposes. As an example, your guests may be traditional, modern and/or multi-generational families; solo guests; couples; pet owners; babies, young children, tweens, teens, young adults, mid-range adults and/or seniors. The goal is to be attractive to a range of guests. If your rental decor says "outdated" it will be as much of a turn off to some as "too trendy" is to others. 
It is impossible to cater to every guest due to lack of space or other reasons, so don't oversell your place as "great for young families" if there's no bathtub or in-unit washer/dryer, no space for a crib, stroller and toys, and it's located on the 25th floor of a high rise with not much greenspace. Focus instead on other demographics such as couples seeking a sophisticated retreat with breathtaking views, amenities such as an on-site spa and fitness center and located near popular upscale restaurants and night life.
Any and all of your guests will encompass a range of ages, abilities and physical sizes with varying budgets and personal objectives. Your guest's purposes may be a vacation, workcation, romantic getaway, family-cation, friends-cation, wedding, honeymoon or combination of many other special milestones and life events. Accommodating as many functions and purposes as possible will widen your rental's appeal, but be cognizant not to inadvertently misrepresent your unavoidable shortfalls. The goal is "no surprises." A third floor walk-up will not appeal to as many seniors or anyone with mobility issues so market it to the guest desiring a great way to stay fit with daily step workouts. If your place has just one bedroom and bathroom, you're not going to be as alluring for an adult "girl's or guy's trip" as the three bedroom, three bath rental up the street. Instead appeal to solo travelers and couples who don't want to pay for unneeded beds and baths. If there is a road between your property and the beach, make sure it is very obvious from your promotional photos and description. Extremely tiny rentals may be trendy, but beware you may not retain guests who try out the trend and realize it's impractical. Our neighbors stayed in a beautiful, luxurious mountain retreat aptly named "Tiny Cabin." They realized, trendy or not, there is such a thing as too tiny. 
Establishing your target guest's price tolerance is another critical factor. If your vacation rental is better suited for budget travelers, there is no point in overdoing the furnishings with high end and unneeded upgrades. Think about the appeal of basic highway hotels: a safe, comfortable and convenient space near major area attractions may be just the perfect combo. Budget travelers would rather sacrifice location, amenities and/or views for a better price. Alternately, your mid to luxury guests expect to receive more in return for amenities, views and proximity to the most coveted locations, larger spaces and other desirable features.
What about the fun part, the decor? Because of the ease of online shopping for vacation rentals, decor and the overall look and feel of your rental is very important. Your photography must be accurate, flattering and showcase your property's features. Most guests won't actually see the property until they walk through the door and they certainly won't book it or return if the overall perceived value is lacking.
The not so fun part? Your budget. Owners of vacation rentals fully understand it is a business and must be treated as such. That means setting and working within a budget. Yes, you may be able to charge more for a newly furnished rental, but your "numbers have to work" so you don't overspend on items such as purchasing all new furniture when your budget requires keeping some of your existing furniture and replacing only the most worn, dated or unattractive pieces. It's tempting to throw caution to the wind and indulge, but self-restraint is in order to minimize emotion-based purchases.
I've compiled a basic overview of tips I've employed and considerations I recommend for anyone who is newly furnishing or re-furnishing a vacation rental property.
---
Checklist of Furnishing Your Vacation Rental Property
OVERALL THEME/STYLE, COLORS
Your rental should reflect the area and region in which it is located because guests expect that. Coastal vibes are appropriate for a coastal location, as are mountainous themes best suited for the mountains. Other styles such as urban/contemporary are more likely to be found in metropolitan areas.
Some themes and styles complement each other beautifully such as a coastal - shabby chic - cottage style. Or you can feature a modern coastal vs. traditional nostalgic coastal or contemporary mountain rustic vs. traditional mountain rustic. Don't forget that your appeal should be to a range of guests, not entirely masculine nor feminine unless that is your target market. IE, a remote, rustic fishing cabin compared with a frilly, vintage Queen Anne or Victorian type of ambiance.
Be consistent throughout. If you are going with a sophisticated urban style, don't introduce a modern farmhouse vibe in a bedroom or bathroom.
Some theme/styles ideas include, but are not limited to the following:
THEME/STYLES: Coastal, modern/contemporary, urban, traditional or modern farmhouse, rustic, cottage, eclectic, shabby chic, Tuscan, tropical, Bohemian, vintage, early American, Victorian, Queen Anne, etc.
COLORS: Coastal blues, greens, yellow and white, Earthy, neutrals, monochromatic, bold, pastel, black/white, etc.
---
DURABILITY
Rentals take a beating and it isn't only because of carelessness. The effects of nature also create havoc on your furnishings including sunlight and wind. Avoid unnecessary glass and breakables in your rental. By that, I mean why cause someone the agony of feeling bad when a glass table lamp is knocked over and broken from an accident or wind tunnel effect? Go with durable metal or wood instead. No one wants to spend their time away repairing or replacing broken items and it's a headache for you too.
Necessary glass includes specialty glass cut and polished to the exact size of all of your furniture surfaces and tabletops. It can be costly, but long term it protects the surfaces from scratches, stains and water damage from sweaty glassware.
Area rugs, pillows, accessories, bedding, linens, dishes, glassware, cookware, utensils and much more should be chosen with durability in mind.
---
EASE TO CLEAN
Whether you or your housekeeping staff are cleaning your rental, it should be easy to take care of from floor to ceiling.
Avoid "dust-collectors" such as fake plants, fabric head board or porous accessories and anything that will show too much dust over time.
Most housekeeping arrangements include cleaning the basics. Dangling pendant lights and elaborate mirrors, ceiling fans and chandeliers look beautiful, but keep in mind they can require extra efforts to keep clean. If you have wall art everywhere, it also needs dusted and cleaned. Be prepared to pay for regular deep cleans if you have more complicated furnishings.
---
LIGHTING
Lighting is essential for every room and should not be overlooked. Bright lighting and lights with dimmable switches suit multiple purposes.
Furnish your rental with an adequate number of lamps, wall sconces and lighting. Bedrooms should have lights on either side of the bed, plus a lamp on the dresser and/or an overhead light.
Bathrooms should be brightly lit with vanity and overhead lighting. No one wants to spend time in any dark, poorly lit room.
Don't overlook nightlights. There are lighted switch plates available with sensors that can be installed in key areas to provide lighting at night. This helps your guests avoid tripping and falling and it saves energy. You don't want guests to have to resort to leaving regular lamps on all night to serve as a nightlight.
---
APPROPRIATE QUANTITIES
I shouldn't have to remind anyone of this, but here we go anyway. Provide enough of everything for the maximum number of guests that your rental accommodates. If your rental sleeps six guests, then your furniture/seating, linens and towels, cookware, plates, utensils and so forth should accommodate that number of guests.
I have seen online rentals that can host six or eight guests, yet there's an image of just four chairs around a small dining room table.  If you are being conservative and only have two sets of towels and wash cloths per bathroom, yet there are up to eight guests, someone is going to be doing a lot of laundry, which ultimately adds wear and tear to not only your washing machine, but your electric bill will be proportionately higher.
As a guideline, a rental should have at least twice as much as silverware, glassware and plates as the maximum number of guests. This means a minimum of 12 of everything for six guests, 16 for eight and so forth.
---
ELEMENTS OF FUN / MEMORABLE
Ensure that there are some elements of fun in your vacation rental. This could be a lovely selfie-spot or a playful mural or accessories in the children's bunk room. If you rent out a vacation house with a private pool, oversized flotation devices such as swans and unicorns are a fun surprise. If your rental is located near a landmark such as Disney, a homage to the region is nice with some sort of mementos incorporated into the decor.
When your potential guests are shopping online for a rental, make sure your place is noticed and remembered for all the right reasons. It could be your stunning view/s, a beautiful chandelier, a stunning fireplace, gorgeous furniture, architectural elements, lighting fixture or accessory, mural or wall art that is particularly memorable or perhaps something else noteworthy. You want the potential guests to say, "I want the property that had the amazing dining room with seating for eight." Or "The place with the stunning electric fireplace with glass rocks and mountain view."
---
ROOM BY ROOM
Consider each room and the features you want to highlight or downplay. Features include a great view, fireplace, large television, wall art, built-in bookcases, furniture such as a buffet and interesting finishes such as bead board, board and batten, shiplap and crown molding.
Downplay windows without a view, walls or ceilings with unattractive finishes and problem areas such as an awkward layout or flow.
Show restraint with accessories and wall art. Your rental should not be a hot mess overload of your style/theme. The goal is uncluttered, clean and fresh.
Install mirrors where appropriate including one or two in the main living space. Full length mirrors belong in every bedroom. Bathrooms should have good-sized mirrors. Don't fall for trends of replacing large, sturdy bathroom mirrors with mirrors that are too small, practicality is more important.
A little bit of word art and sayings on the wall and so forth goes a very long way. No one needs a sign telling them to "RELAX" or "EAT." It's annoying and the last thing you want to do is provoke your guests with silly messages or cause them to remove your signage into a closet during their stay. If in doubt, don't include any word art or signage. If you feel compelled, make sure it is tasteful and understated.
ENTRY
--Welcome mat/s and area rugs
--At least one element to make the entrance inviting such as wall art, mirror/s, a drop zone, bench and place for shoes, depending on how much space you have.
--The entry way should be well lit.
MAIN ROOM + DINING:
--Comfortable, cohesive, consistent furniture and wall art and/or mirrors
--Properly sized furniture, including a spacious multi-functional dining table with adequate, sturdy seating. Even if you don't think your guests will be eating at the table very often, they may need space for game night, crafts, hobbies, computers/work/office and more.
--Hardworking multi-use furniture is smart, such as a dining table that also has storage drawers or an ottoman with built-in storage.
--High top bars or tables and chairs should be offset with a low top table and seating option to accommodate guests with physical limitations
--Bar stools should be appropriately sized for the height of the counter. Slippery, unstable or poorly constructed bar stools (or any furniture in disrepair) should be permanently removed no matter how trendy and fashionable they may seem.
--Adequate end tables, coffee tables or foot stools
--Flooring with appropriately sized area rugs
--Accents such as pillows and accessories, but don't overdo it. Spacious and uncluttered is the goal.
--An oversized or very large clock on the wall
--A large flat screen wall-mounted TV, preferably with no wires showing
--Basket or organizer for the remote control/s
--Books and games are expected in a vacation rental and a proper place for them such as in a drawer, on a shelf or within a server buffet helps keep everything organized
KITCHEN:
--Appliances should include a refrigerator/freezer, microwave, toaster, coffee maker, blender and perhaps an electric mixer, electric skillet, waffle maker or rice maker if space allows it. Wine refrigerators and separate ice makers are luxurious upgrades if there is space.
--Adequate supplies, utensils, cookware, skillets, pots/pans and dishware in good repair
--An array of sizes of plates, glasses and cookware
--A mix of ceramic plates and non-breakable plates/glasses are helpful for families with young children
--Plenty of fresh dish cloths and dish towels displayed in a small basket for easy reach
--Kitchen counters free of clutter and unnecessary items
--Wall-mounted shelving for extra coffee cups and glassware
--Drawer organizers and wire racks within cupboards for easier storage
--Dish rack stored under the sink for hand washed items
--A rack to hold wine glasses and/or wine bottles is nice if space allows for it
BEDROOM/S:
--Adequate furniture, end tables with lamps and a small area rug for each side of the bed
--A closet free of clutter with plenty of shelves, hangers and organizational helpers such as a wall-mounted rack for the iron and ironing board
--Extra sheets and blankets stored in marked plastic bags or clear plastic bins
--Wall hooks for ease of storing coats, hats, scarves, shoes, dog leashes, etc.
--Layers of window treatments for added privacy: slatted blind/s plus sheer curtains and room-darkening drapes
--One or more electric nightstand clocks, preferably with ports to charge a cell phone and additional built-in electric outlets
--Floor space for the pet's bed if your rental is pet-friendly
--A large flat screen wall-mounted TV, preferably with no wires showing
--Basket or organizer for the remote control/s, keys, sunglasses, etc
--Small decorative bowl or dish to put jewelry
BATHROOM/S:
--Adequate storage for linens and toiletries. If needed, install wall-mounted cabinets for additional storage.
--Adequate number and appropriately sized towel racks
--Adequate hand and bath towels, preferably three or more sets of each per bathroom. Wash cloths should be plentiful, preferably six+ per bathroom.
--Bath mats and washable bathroom rugs next to the commode and shower/tub
--Wall hooks for clothes, towels, robes, hats and more
--Practical items such as plungers and toilet brushes should be readily available, but preferably stored out of sight
LAUNDRY:
--Organizational wall-mounted racks for detergent, hooks and so forth are always appreciated
--A plastic laundry basket is nice if there's adequate space available
--Polite signage recommending how to keep the equipment functioning, such as not putting sandy items in the washer, helps guests help you.
BALCONY/PATIO/DECK:
--Adequate sturdy outdoor tables and seating
--High top tables and chairs should be offset with a low top table and seating option to accommodate guests with physical limitations
--Comfortable cushions in good repair unless not necessary due to the type of outdoor furniture
--An outdoor rug if space and weather conditions allow for it
---
"Design is a funny word. Some people think design means how it looks. But of course, if you dig deeper, it's really how it works."
-- Steve Jobs, American Business Magnate
---
---