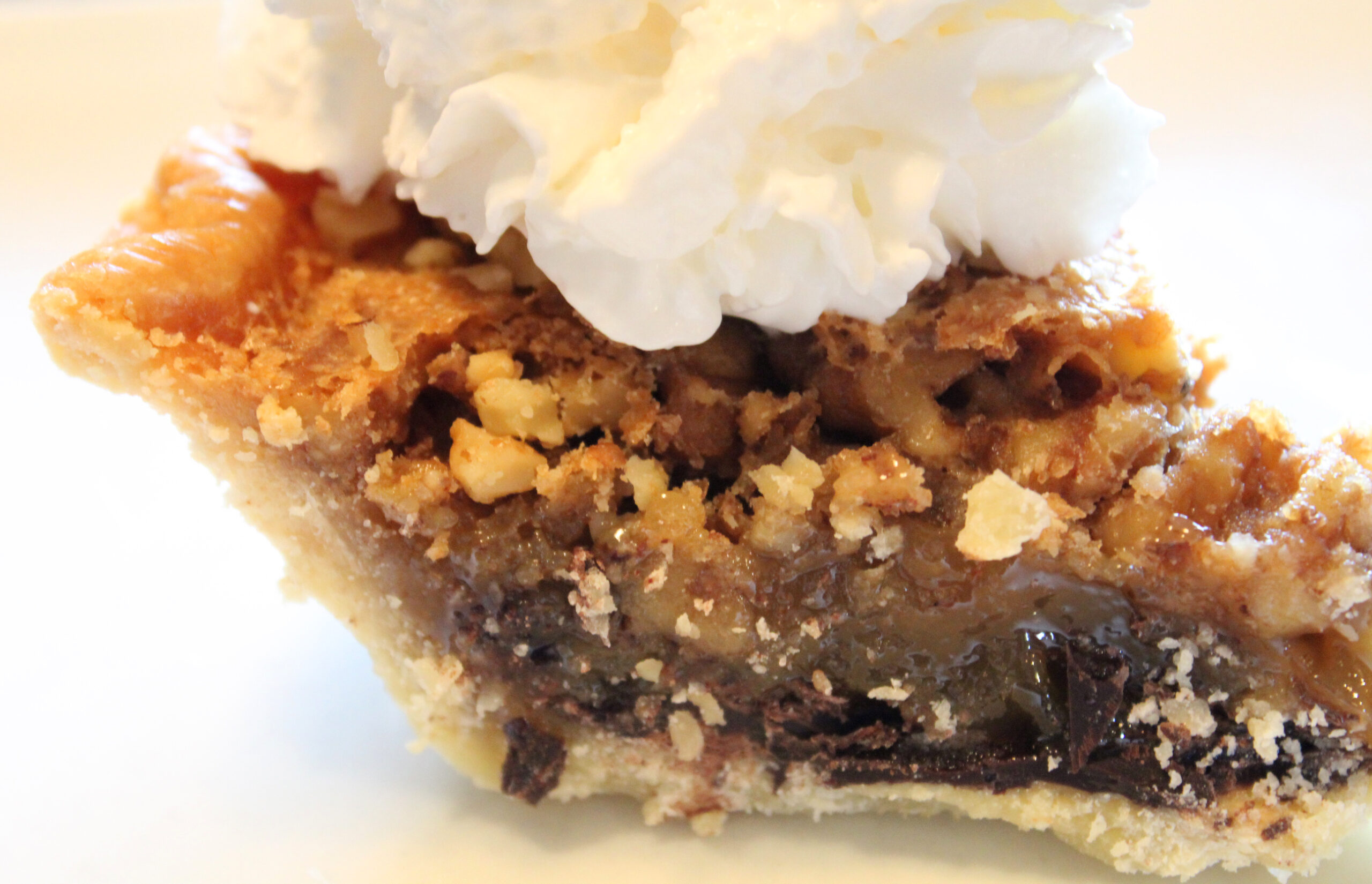 Classic Bourbon Chocolate Nut Pie
Rich, Decadent Pie with Kentucky Origins
---
If you've never sampled a classic bourbon chocolate walnut pie, it is best described as a rich, decadent cousin to a pecan pie. Except it is amped up with a crust smothered in dark chocolate and a distinguishable bourbon flavor. The pie originated in Kentucky in 1954 and is historically served at a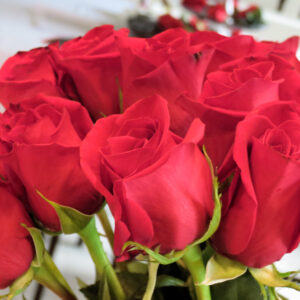 very famous horse race during the first Saturday of each May. Because of copyrights, the family who created the authentic recipe owns the name as well as the proprietary recipe. 
Decades ago, my husband and I attended the Kentucky Derby, which is also world famous for their gorgeous red roses, signature mint juleps and Hot Brown sandwiches, which were created in 1926 by a chef at the Brown Hotel in Louisville, Kentucky. When we saw an episode of Food Network's "Throwdown with Bobby Flay" (Season 2, Episode 13) that was filmed at the Brown Hotel, we took an opportunity to visit the hotel's restaurant, J. Graham's Cafe and order their authentic Hot Brown's plus The Original Kern's Kitchen Since 1968 Derby Pie® for dessert. Both were absolutely outstanding. Rich, creamy, heavenly. The Brown Hotel is an anchor of Kentucky's "Urban Bourbon Trail" and a great place to visit.
Because of our long-time love of the Kentucky Derby and our amazing meal at the Brown Hotel, we are known to host race day watch parties in May and serve our version of Hot Brown's and bourbon chocolate walnut pie. Of course, red roses and chocolate are perfect for just about any occasion, so go ahead and serve bourbon chocolate nut pie for anniversaries, milestones, parties or just because. It should be made in advance for best flavor and stores in the refrigerator for two or three days. It is delicious warm or chilled with a drizzle of chocolate ganache, a dollop of whipped cream and a scoop of vanilla bean ice cream. If you don't have time to bake, order an authentic pie from Kern's Kitchens. They make a unique and wonderful gift, especially for pie-lover's like my dad.
My version of bourbon chocolate walnut pie is inspired by a recipe published by Nicole Perry on Popsugar/food.
---
Snowbird meals tend to be much simpler, using fewer ingredients and a very limited selection of appliances and gadgets to prepare them. Choose the freshest, highest quality ingredients and find alternate ways to make your favorite recipes. Forget about what you don't have to cook with, instead focus on what you can accomplish with what you do have. - Midlife Snowbird
---
Ingredients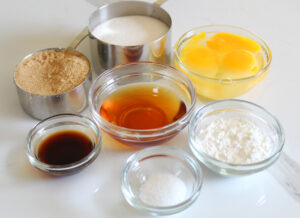 Bourbon Chocolate Walnut Pie
One 9-inch pie crust, frozen (not deep dish)
1 1/2 cups walnuts, chopped, toasted
1 cup (1 stick) unsalted butter
6 ounces dark chocolate
3/4 cup sugar
1/2 cup packed light brown sugar
2 large eggs plus 1 yolk, lightly beaten
4 T. bourbon
2 T. corn starch
1 t. vanilla extract
1/2 t. Kosher salt
---
Optional:
Chocolate ganache
Whipped cream or bourbon whipped cream
Vanilla bean ice cream
---
Bourbon Whipped Cream
1 cup heavy cream, chilled
1 T. bourbon
1 t. sugar
1 t. vanilla
Whip cream, sugar, vanilla and bourbon with an electric mixer until peaks form. Serve chilled.
---
Recommended: Woodford Reserve® bourbon; Ghirardelli® bittersweet 60% cacao baking chips
---
Preparation
Preheat oven to 350°F
Place frozen pie shell on a glass pie pan, then place on a sheet pan. Let the crust warm up for a few minutes, then prick the sides and bottom evenly with a fork.
Bake pie crust about 7 to 10 minutes until lightly golden brown. Remove from oven and let it cool for about five minutes.
Sprinkle chocolate evenly over the crust. Use a spatula to smooth the chocolate if needed.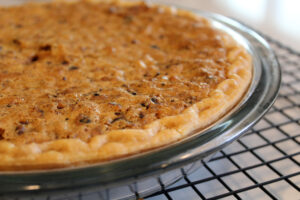 Tear three one inch strips of aluminum foil and wrap around the edges of the pie crust to prevent them from overcooking.
Measure and stage all remaining ingredients.
Melt butter in small saucepan over medium-low heat. Cook, stirring constantly, until butter is nutty brown, about ten minutes.
Off heat, slowly stir in bourbon (mixture will strongly bubble) and let it cool.
Whisk sugar, brown sugar, corn starch and salt in large bowl until combined.
Add eggs and vanilla, whisking until smooth. Slowly whisk in warm butter mixture until incorporated.
Add walnuts and pour filling into chocolate-lined crust.
Bake for about 50 to 60 minutes. Remove aluminum foil about half way through.
Monitor baking time to ensure the filling is browned and the center jiggles slightly when the pie is gently shaken. The internal temperature should be about 200 degrees.
Cool on wire rack about three to four hours.
Serve with chocolate ganache, bourbon whipped cream, vanilla bean ice cream.
Pie can be refrigerated, covered, for two to three days.
Serve at room temperature, warm or chilled
---
Servings:
One 9" pie
---
Serving Suggestions:
--Garnish with shaved or chocolate ganache AND/OR
--Whipped cream or bourbon whipped cream AND/OR
--Vanilla ice cream
--Suitable for guests
---
Equipment List:
--cutting board and sharp knife
--sheet pan
--medium mixing bowl
--small sauce pan
--wooden spoon or whisk
--spatula
--measuring utensils
--aluminum foil
--wire rack
--meat or candy thermometer
--electric mixer for whipped cream (optional)
--glass pie plate (optional)
---
---
HOME VS. AWAY: APPLIANCES, GADGETS
---
Share your own recipe...
What are your favorite seafood recipes? Side dishes? Desserts? Go-to party recipes?