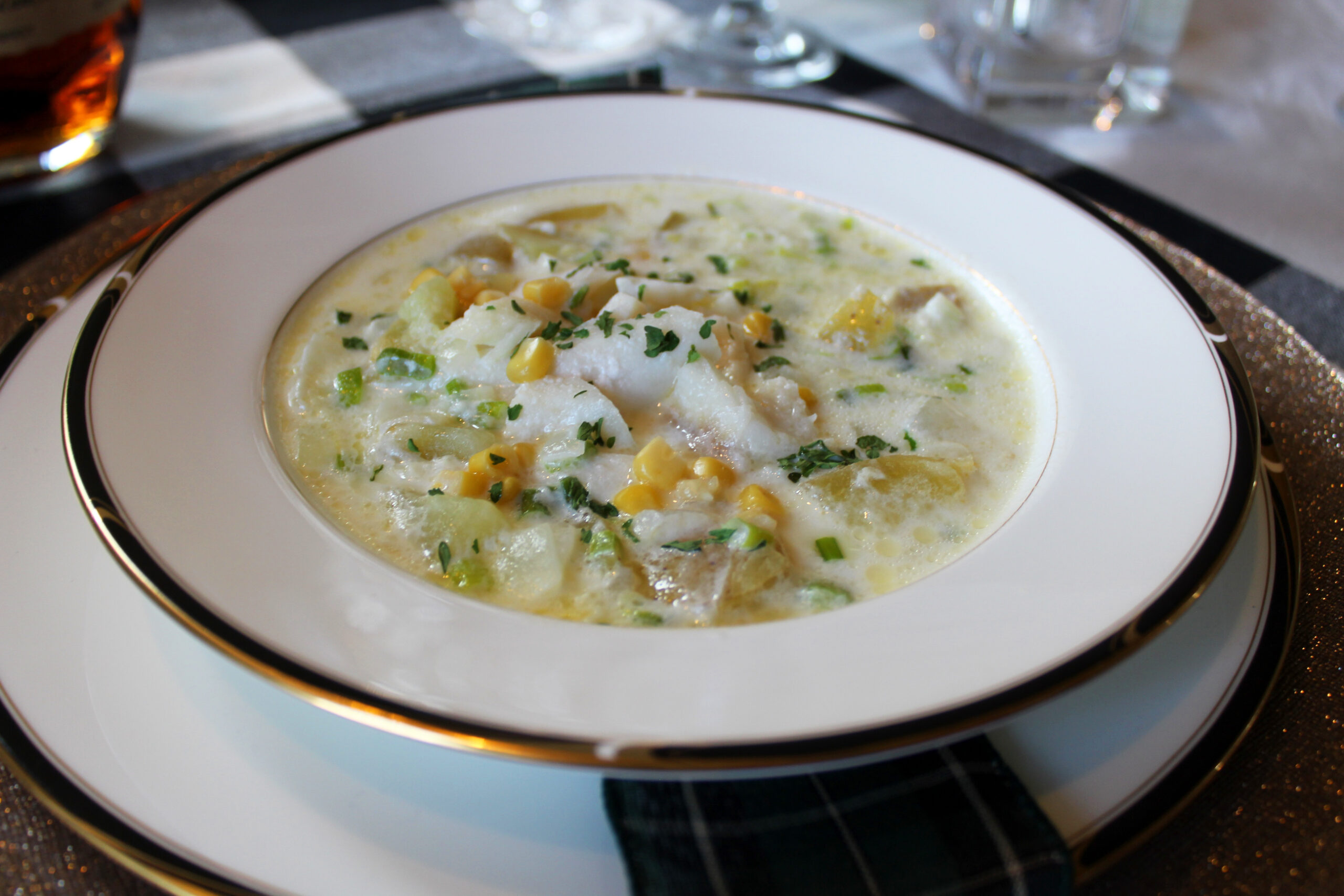 ---
Scottish Winter Soup
Creamy Potatoes, Leeks, Whitefish
Inspired by Scotland's Famous Cullen Skink Soup
Scottish Winter Soup is what I'm calling my Americanized version of Scotland's most famous soup, "Cullen Skink." It is surprisingly creamy, flavorful and ultra simple to make, which is why it's perfect for snowbirds. This is an absolutely fantastic soup! There's only a few ingredients, you can make it in one pot and it's definitely worthy of guests, but also perfect for a casual lunch entree with a piece of hot, crusty, buttery bread to dip into it.
What's in a name? A lot! I don't know how many of my friends would try "Cullen Skink" since many of us in North America aren't familiar with it. However, it's a famous historical dish that comes from the fishing village of Cullen in Northeast Scotland, which is renowned for their superb fish from the cold waters of the North Sea. Skink is the Scotch word for soup. Purists say the potatoes must be mashed or smashed so the soup is thick like a chowder. I tried it that way and prefer the broth to be thinner and the potatoes in small chunks rather than mashed. Most of all, the flavor is much more decadent with a thin broth. 
I've developed this adaptation of Cullen Skink from a recipe on page 160 of Pippa Middleton's beautiful book, "Celebrate, A Year of Festivities for Families and Friends." Pippa Middleton's recipe is very elegant with a thinner broth and she uses smoked haddock, which is no doubt amazing if you can get it. Cod is common in the US and very conveniently available in individually wrapped frozen fillets, plus cod's texture is great in soup, so that's what I use. 
---
Snowbird meals tend to be much simpler, using fewer ingredients and a very limited selection of appliances and gadgets to prepare them. Choose the freshest, highest quality ingredients and find alternate ways to make your favorite recipes. Forget about what you don't have to cook with, instead focus on what you can accomplish with what you do have. - Midlife Snowbird
---
Ingredients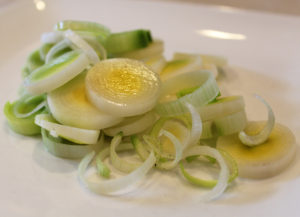 Two five oz frozen cod fillets, defrosted
2 cups Yukon gold potatoes, diced in small pieces
2 cups 2% milk
3/4 cup sweet onion, diced
3/4 cup leeks, sliced up to the greens
1/4 cup frozen or drained canned corn
2 T. butter
1 teaspoon garlic salt
1/2 teaspoon parsley flakes
1/4 t. Kosher salt or to taste
Optional: One or two bay leaves; 2 bunches of scallions instead of leeks; fresh minced chives instead of parsley; smoked haddock or smoked halibut instead of cod; half and half or whole milk instead of 2%; fresh cracked black pepper
---
Recommended: Yukon Gold potatoes, or a waxy new potato with a thin skin
---
Preparation
Defrost frozen cod fillets, then season both sides with Kosher salt.
Dice the onion into small pieces.
Carefully rinse any sand from the leeks, then slice into small rings. Rinse remaining sand away.
Cut the potatoes into fourths, then cut the fourths in thirds or fourths for similar sized pieces.
Place cod fillets flat on the bottom of an ungreased medium sized pot, then cover with butter and all of the milk over the top. Adding a couple of bay leaves is optional.
Bring to a boil over medium heat. Reduce to simmer, stirring frequently for five to six minutes so the milk doesn't burn and the fish poaches. Check the fish fillets to ensure they are mostly opaque and starting to become flaky.
Remove the fillets with a slotted spoon and move them to a plate. Tent fillets with a lid or foil.
Add potatoes, leeks, onions, corn and garlic salt to the broth. Simmer over low heat for approximately 25 minutes or until potatoes are fork tender. Stir frequently to avoid burning the milk. The starch from the potatoes will naturally thicken the milk.
For best flavor, do not smash the potatoes. For a chowder texture, smash some or all of the potatoes, but keep in mind it affects the flavor.
Check the fish fillets to ensure they are flaky.
Two plating methods:
Return fish fillets to the soup pot for an additional few minutes to heat them up and finish cooking OR
Place the fish fillets directly into the center of the flat serving bowls. Break them up slightly to display the thick flakes of the fish. Ladle hot soup over the top.
Garnish with parsley flakes or fresh minced chives.
Serve immediately.
---
Servings:
Approximately 2 - 3 servings
---
Serving Suggestion:
--As a starter or light main course
--With a loaf of hot crusty bread and butter, croutons or plain butter crackers
--Serve as a prelude to your Burns Night Dinner Celebration
---
Equipment List:
--medium sized pot
--measuring cups
--measuring spoons
--cutting board
--knife
--spatula or wooden spoon
--ladle
---
---
HOME VS. AWAY: APPLIANCES, GADGETS
---
Share your own recipe...
What are your favorite seafood recipes? Side dishes? Desserts? Go-to party recipes?