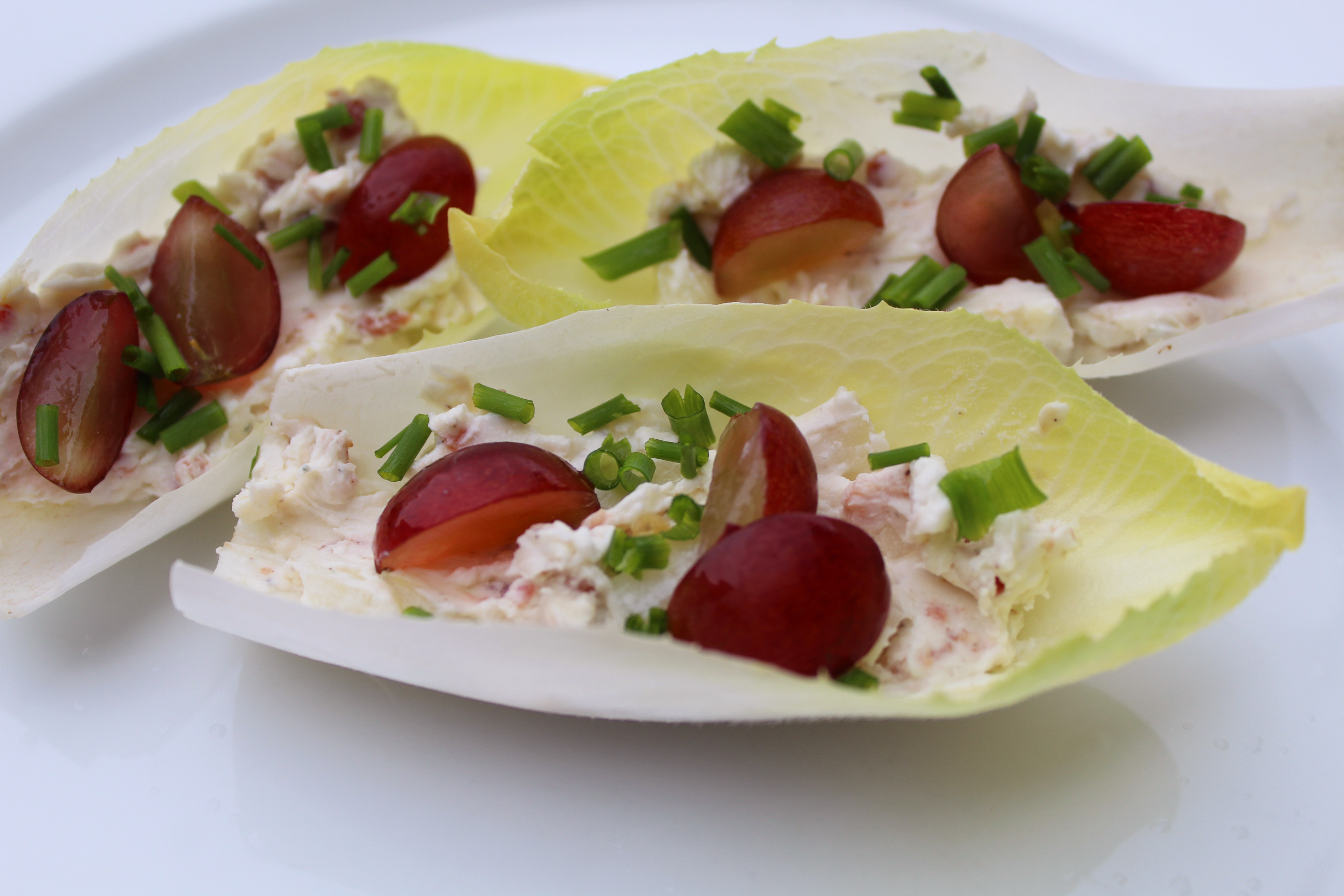 Snowbird Recipe:
Bacon, Blue Cheese Endive Boats
Topped with chilled red grapes and garden chives
---
Belgian endive is a fantastic foundation for creating light finger food appetizers because it is easy to work with, doesn't compete with the stuffing and is easily eaten in one or two bites. Endive provides a wonderful healthy alternative to crackers or toasted crusty bread. I created this pared down recipe especially for snowbirds who like to entertain, yet stock only the very basic ingredients in their southern homes. The recipe can be modified to add or swap other items such as toasted pecans or walnuts, just keep your ingredient ratios in proportion. Prepare and chill cheese mixture in advance for best flavor. Stuff and garnish the endive just before serving. Stuffed endive boats bring the wow factor without all the work.
---
Snowbird meals tend to be much simpler, using fewer ingredients and a very limited selection of appliances and gadgets to prepare them. Choose the freshest, highest quality ingredients and find alternate ways to make your favorite recipes. Forget about what you don't have to cook with, instead focus on what you can accomplish with what you do have. - Midlife Snowbird
---
Ingredients
2 to 3 heads of Belgian endive
8 oz. Neufchatel cheese, softened to room temperature
Approx 24 red grapes, quartered, reserve for garnish
1/4 cup blue cheese, crumbled
1/4 cup real bacon pieces
1/4 cup red onions, scallions or sweet onions, diced
4 T. fresh chives, chopped, reserve half for garnish
1 t. dried minced onion
1/2 t. garlic powder
1/2 t. onion powder
1/4 t. Kosher salt
1/4 t. fresh cracked black pepper
Optional: toasted almonds, pine nuts, walnuts or pecans, reserve for garnish
---
Suggested Brand: Alouette® Blue cheese crumbles
---
Preparation
Soften Neufchatel cheese to room temperature in a medium-sized bowl
Add all ingredients and seasonings except grapes and half of the chives
Gently mix well and refrigerate at least an hour or two before serving to let the flavors blend
Cut ends from stem end of Belgian endive
Separate the endive leaves
Spread mixture evenly into endive boats
Garnish with chives and red grapes
Optional: Add toasted nuts to garnish
Note: Don't prep the endive boats too much ahead of serving so the leaves remain fresh
Serve chilled on a platter, preferably over ice
---
Servings:
At least 30 pieces, it depends on how thick it's spread on the endive boats
---
Serving Suggestion:
--Serve chilled as an appetizer
--Ideal as a light snack
--Serve as a light side for lunch or dinner in lieu of a salad
--Suitable for guests
---
Equipment List:
--sharp knife
--cutting board
--measuring utensils
--medium sized mixing bowl
--spatula
--serving platter
---
---
HOME VS. AWAY: APPLIANCES, GADGETS
---
Share your own recipe...
What are your favorite seafood recipes? Side dishes? Desserts? Go-to party recipes?