100+ Easy, Simple Snowbird Menu Ideas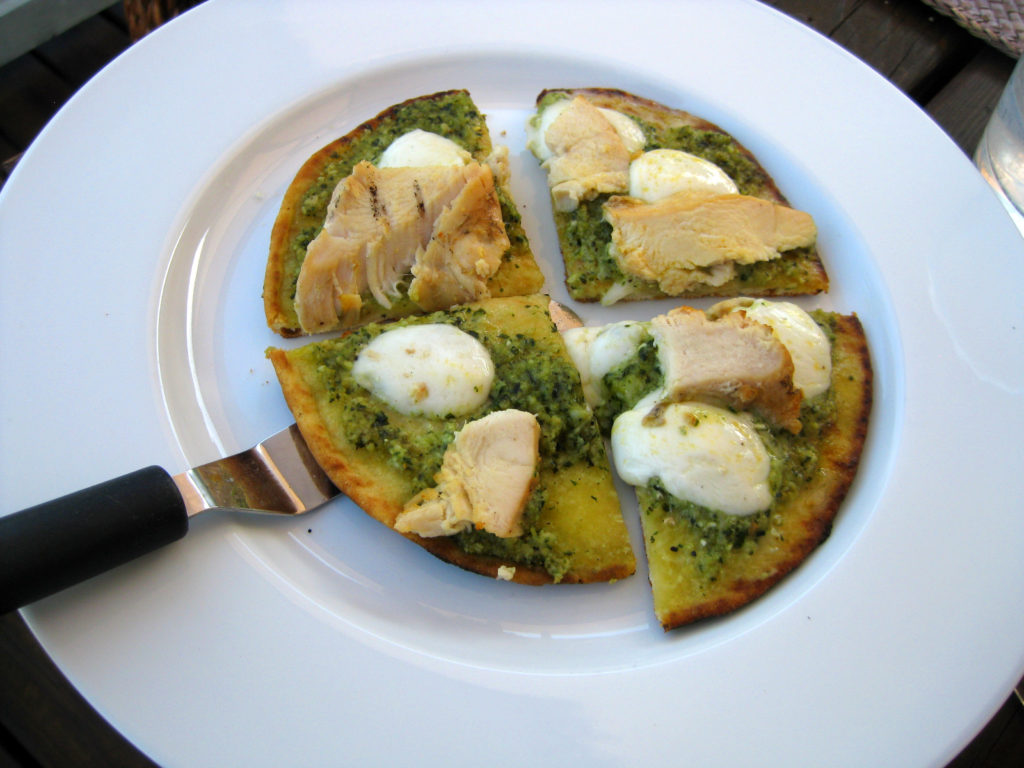 100+ Snowbird Menu Ideas
---
Snowbird menu ideas for 100+ easy, simple, go-to breakfast, lunch and dinner menus that are designed to be flexible, using hardworking basic ingredients without requiring special gadgets and appliances. Shop local, take advantage of access to fresh fish and regional or seasonal specialties in your snowbird home. Oftentimes we mix it up -- breakfast for dinner, leftovers for lunch and a more complicated meal on the weekends. I recommend "snowbird shortcuts" such as buying salad kits in a bag, instant rice, pre-grated cheeses, pre-made dips / spreads / desserts and semi-homemade recipes as much as possible.
---
Snowbird Menu Ideas
BREAKFAST:
Bagel with Neufchatel / cream cheese / flavored cream cheese and for special occasions, add lox, capers and red onion
Beverages: Coffee / tea / filtered water
Biscuits and gravy
Biscuits with sliced berries, jelly, jam, preserves or honey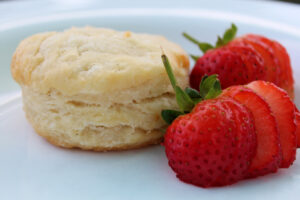 Breakfast burritos: ground meat or egg, cheese, tomatoes, salsa and Greek yogurt
Bread: muffins / cinnamon rolls / biscuits / banana bread / croissants / toast and chutney or preserves / English muffins
Breakfast bars / Granola
Breakfast Casserole: with eggs, cheese, milk, sausage, mushrooms over a crust
Cereal with fresh fruit
Eggs: hard boiled / sunny side up / fried / poached / scrambled
English muffin with Canadian bacon / sausage patty, fresh spinach, egg and cheese
Fresh fruit: bananas / oranges / grapes / mango / strawberries / blueberries / blackberries / raspberries / cherries / stone fruits / apples / grapefruit / pears / specialty fruits
Grits with cheese topped with any of the following: bacon / shrimp / ham / sausage / nuts/ mushrooms and spinach
Juice: Orange / apple / grapefruit / tomato
Meats: bacon / sausage / Canadian bacon / chicken
Omelette: eggs, cheese, bell peppers, meat / poultry, onions, mushrooms
Pancakes* French toast or waffles* with blueberries and syrup
Pastries: Coffee cake / cinnamon rolls / donuts / biscuits / scones / muffins / banana bread
Parfaits with fresh berries, honey whipped cream and toasted oatmeal
Potatoes: Home fries / hash browns / pan fried
Quiche: Lorraine / ham / sausage / mushroom / seafood
Smoothies: fruit / green smoothie's
Yogurt: plain / fruit / Greek
---
Snowbird Menu Ideas
LUNCH:
Salads:
Caesar with Romaine, homemade dressing, shaved Parmesan cheese, black olives and croutons
Caprese salad: with Romaine, fresh mozzarella, fresh basil, sliced tomatoes and balsamic vinegar
Greens with blue cheese, Ranch or red wine vinaigrette homemade salad dressing and vegetables, olives, avocado, cheese, nuts, croutons
Greek salad with greens, black olives, tomatoes, Feta cheese, cucumbers and homemade dressing
Layered Chop Salad: Romaine, tomatoes, artichoke hearts, black olives, shredded cheese and scallions
Mayo Salads: Egg salad / ham salad / chicken salad / seafood / imitation crab / tuna with croissant or fresh bread
Pasta salad with nuts, onions, red bell pepper, traditional or turkey pepperoni, Parmesan cheese
Potato salad: traditional or variations such as green olive, sour cream and hard boiled egg
Salad kits from the grocery (an essential snowbird short cut)
Slaw: traditional or Asian style
Spinach salad with red onions, diced eggs, strawberries, nuts and warm bacon dressing
Taco Salad: with Romaine, ground meat, cheese, onions, black olives, tomatoes, salsa, smashed chips
Sandwiches:
Burgers: Seasoned steak cheeseburger / hamburger / turkey burger / veggie burger and Parmesan aioli
Club: Bacon (turkey or pork), avocado, tomato, lettuce and mayo on fresh bread or lettuce cup
Crab melts with lump crab, melted Swiss and scallions
Crackers: with lunch meat, cheese, avocado or cream cheese / Neufchatel cheese / flavored cream cheese
Deli meat and cheese: ham / turkey / chicken / roast beef either chilled or Baked Cheesy Deli Sliders with butter sauce, olives and mayo
Fish fillets* with cheese, lettuce, mayo, Sriracha mayo, aioli or tartar sauce on a fresh bun
Grilled cheese with tomato and Canadian bacon
Hot dogs / kielbasa / brats: plain with traditional condiments or chili-cheese style with chili, onions, cheese, Dijon mustard on a fresh bun
Meatball: with sliced cheese and marinara sauce on a fresh bun
Muffuletta with a variety of deli meats, cheese and olive tapenade on crusty bread
Open faced versions of your favorites: such as mini Lump Crab Melts
Peanut butter and jelly (or peanut butter and honey) on fresh bread
Pulled pork with barbecue sauce on a bakery bun
Reuben: Corned beef with sauerkraut and Thousand Island sauce on pumpernickel, swirl or Rye bread
Sloppy Joe's with pickles on a fresh bun
Wraps: Deli meat with Ranch, cheese, lettuce and julienne-sliced vegetables or your favorite combination in a flour tortilla or lettuce cup
Entrees:
Burritos* or soft / crunchy tacos (fresh or frozen) with lettuce, tomatoes, cheese, onions, black olives, salsa, Greek yogurt
Chili-Spaghetti: Angel hair pasta topped with chili (from a can), diced onions and shredded cheese
Egg rolls* with Dijon mustard, apricot or sweet / sour sauce
Mac 'n cheese (from a box) with seasoned ground beef or ground turkey
Quesadillas with chicken or beef, cheese/s, grilled onions, tomatoes or salsa, Greek yogurt
Sides:
Applesauce
Baked beans
Chips, plain or with optional dip such as Fire Roasted Salsa or New England Clam Dip
Cottage cheese
Fruit: fresh or canned
Fries: white potato / yam
Hummus
Parmesan Crisps: with Kosher salt, fresh rosemary or bacon and bleu
Pickle spears
Vegetables: crudite with optional dip or grilled
Soups/Stews:
Refer to dinner menu
---
Snowbird Menu Ideas
DINNER:
Salads: refer to the lunch menu
Sandwiches: refer to the lunch menu
Entrees:
Baked spaghetti with cheese, green olives, onions, mushrooms and Parmesan cheese
Beef and noodles
Broccoli Con Capellini with fresh steamed broccoli, baby bella mushrooms, pasta and Parmesan cheese
Casserole: Broccoli, rice, cheese, chicken and mushroom sauce
Casseroles -- send your favorite casserole recipes to me!
Chicken and noodles
Chicken alfredo with fettucine / linguini
Chicken parmesan with marinara sauce and noodles
Chicken wings with celery, buffalo sauce or blue cheese sauce
Crab cakes with fresh herb sauce
Crusted fish or chicken with Parmesan-panko-garlic-pecans
Eggplant parmesan with marinara sauce
Fish fillets: broiled / baked Tilapia whitefish / pan fried / grilled Amberjack from the fish market or frozen / Salmon / Mahi Mahi en papillote
Grits with shrimp, bacon, Canadian bacon and/or mushrooms / spinach / white wine sauce
Gumbo: seafood, kielbasa and chicken, bell pepper, onion, celery with rice
Jalapenos stuffed with cheese, ground meat
Jambalaya with rice
Kielbasa / brats / sausage with grilled onions and pierogies or fresh bun and condiments
Lasagna: frozen or homemade with noodles, marinara, seasoned ground meat, ricotta and Parmesan cheese
Mac 'n cheese (homemade) baked with two+ cheeses and creamy sauce
Meat: grilled / pan fried / baked poultry / pork / beef
Meatballs with angel hair pasta and Parmesan cheese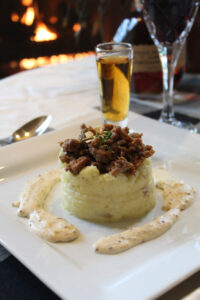 Meatloaf / ham loaf
Nachos with poultry / ground meat / seafood and tomatoes, lettuce, olives, cheese, Greek yogurt
Pierogies* with kielbasa and grilled onions
Pizza: frozen / homemade / flatbread with pesto, fresh mozzarella and roasted chicken
Poblano peppers stuffed with meat / cheese and chili releno sauce
Pot pie: beef / chicken / turkey with fresh vegetables, sauce in a crust
Pulled pork and mashed potatoes / pasta / bun and barbecue sauce
Scottish Mashed Potatoes with Sausage and Whiskey Gravy
Seafood: fish fillets / salmon / cod / white fish / shrimp / scallops / mussels / clams / crab / lobster
Seafood en papillote (in parchment paper)
Shrimp scampi with angel hair pasta
Stroganoff: ground meat with mushrooms, onions, sour cream with rice or egg noodles
Stuffed cabbage with green olives and tomato sauce
Stuffed pasta shells with ricotta, mozzarella cheese and marinara sauce
Stir fry: chicken / pork / beef / seafood with fresh vegetables
Salmon patties with fresh herb sauce
Sides:
Bread: Sour dough / rolls / garlic / cheesy / popovers / biscuits / croissants / pumpernickel / focaccia and specialty breads
Legumes / quinoa / hummus
Pasta: angel hair / spaghetti / fettuccine / egg noodles / shells / tortellini / linguini / gnocchi / pierogies / couscous / orzo
Potatoes: mashed / baked / twice baked / hash browns / home style / cheesy potato casserole / pierogies / latkes
Rice: White / brown / wild / basmati / jasmine / Caribbean / Tex-Mex / sunset style / risotto
Stuffed Baby Bella mushrooms with Parmesan cheese, panko bread crumbs, mozzarella and fresh rosemary
Vegetables GREEN: Avocados / green beans / peas / asparagus / broccoli / brussels sprouts / lima beans / zucchini squash / bell peppers / poblano peppers / Jalapeno peppers
Vegetables YELLOW/WHITE: Corn / potatoes / cauliflower / bell peppers / yellow squash / mushrooms / onions
Vegetables ORANGE/RED/PURPLE: Tomatoes / yams / sweet potatoes / egg plant / carrots / bell peppers / onions / butternut squash / acorn squash
Soups/Stews:
Beer cheese with popcorn
Bisque: Seafood / shrimp / crab / lobster
Butternut squash
Chicken noodle
Chili with cheese and onions
Chowder: clam / fish / seafood / corn
Cream of fresh broccoli / mushroom / chicken / shrimp / leek / potato
French onion with crusty bread, grilled onions and cheese
Potato and bacon
Seafood gumbo
Vegetable soup
---
Snowbird Menu Ideas
DESSERT:
Brownies / cookies / bars: semi homemade or from the bakery
Cheese cake: semi homemade or from the bakery
Cobbler: fruit with vanilla ice cream
Fruit: salad with whipped topping / tart / parfait style
Ice cream: plain or with chocolate, caramel or strawberry syrup, chopped nuts, whipped topping
Parfait: with fresh berries and whipped cream
Pudding: semi homemade or from the canned food section
Pie / cake: semi homemade or from the bakery; Bourbon Chocolate Nut pie
White Chocolate Popcorn: with peanuts, chocolate and butter
---
* denotes from the freezer section
---
Contact me with your favorite snowbird recipes and casseroles!
"Wisdom is never on the menu, you have to own the restaurant"
--Carrie Latet
---
---