Weekend Lake Getaway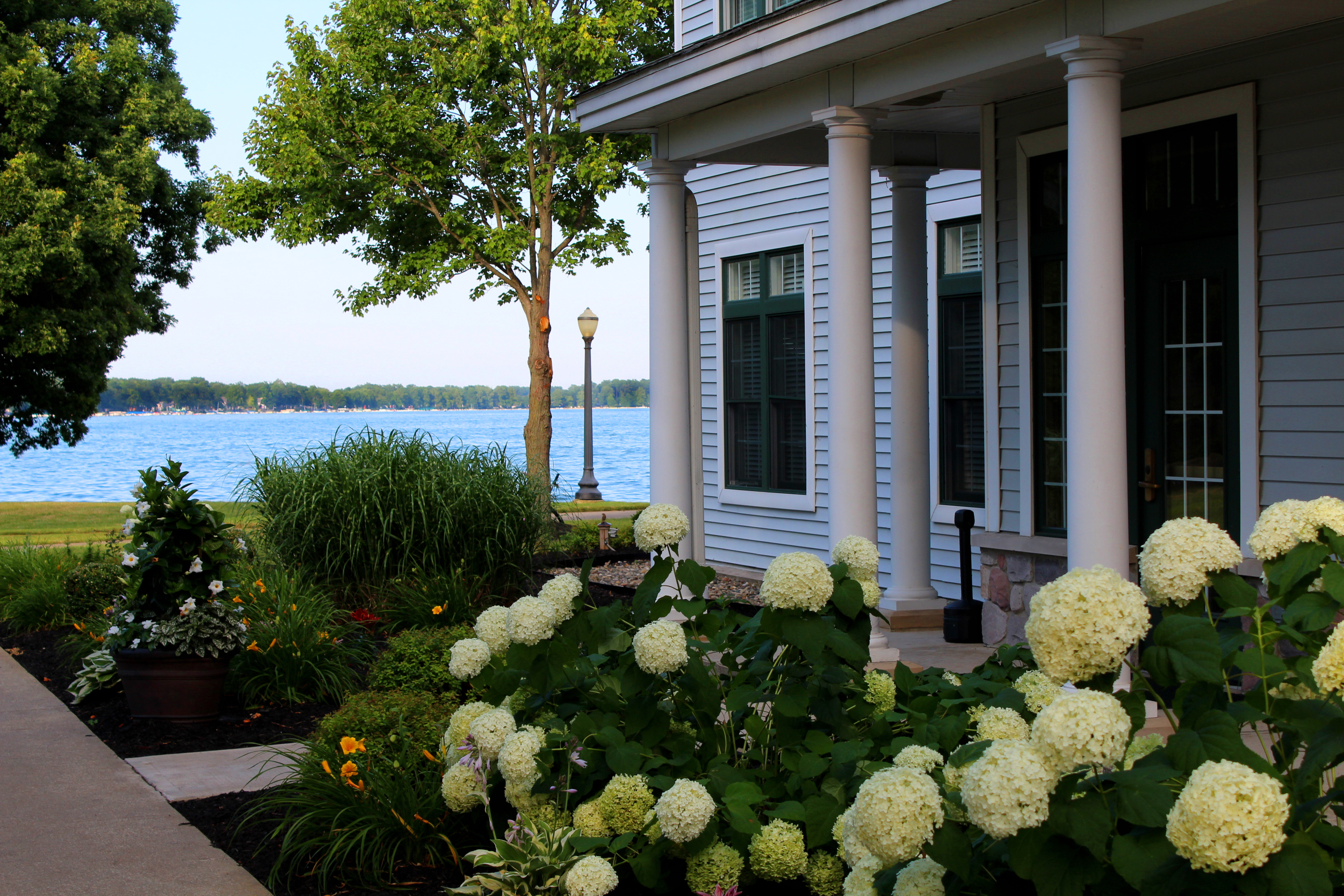 WEEKEND LAKE GETAWAY
---
For us, there's a long gap from the winter snowbird season until we begin again, so weekend getaways are an economical way to balance out the summer months. After many day trips to visit a gorgeous lakefront Midwestern resort, we decided to bring our dog and spend a weekend. Wow, was it impressive! I used to think it was necessary to drive further than an hour away to find paradise, but I've been proven wrong. This is why Oakwood Resort in Syracuse, Indiana is on our list of favorite summer places.
---
Summer Lake Retreat
Snowbirds typically do not go on elaborate vacations during the off season, usually because they would rather invest the budget into more time in their snowbird homes. Weekend trips become a short-term way to balance the snowbird season.
This year, when planning our weekend getaway, I reasearched "glamping," which is luxurious camping with nicer accommodations than traditional camping. Generally, glamping involves a large beautiful tent set up with lamps, rugs and a real bed, so everything is ready upon arrival. I was looking for a safari-style camp site as seen on amazing travel web sites. However, in reality I couldn't find any nearby places that fit what I envisioned. Ironically, our visit to Oakwood Resort in Syracuse, Indiana became the perfect blend of lakeside resort-style glamping.
---
How We Chose Our Lake Retreat
In the past, I thought it was necessary to travel by car at least four or five hours to feel a retreat is a true "getaway." In the past, this has included summer trips to the Indiana Dunes National Lakeshore; Four Winds Lakeside Inn on Lake Monroe in Bloomington, Indiana; downtown Chicago, Illinois; and Lake Michigan including South Haven, Saugatuck, Sleeping Bear Dunes National Lakeshore and Traverse City, Michigan. My husband has many fond memories at Lake Erie and Put-In-Bay, Ohio.
Now, I've changed my perspective about a summer retreat. I still want to visit places in surrounding states, but I'm more content considering places closer to home. And that is how our mini lake weekend came about.
For many summer celebrations and holidays, my husband and I sought out waterfront restaurants for day trips. After lunch we take a driving tour of the countryside, then return home. There have been visits to many charming places about an hour's drive away, but in recent years, we kept returning to one location in particular. And that is because not only does this lakeside restaurant serve delicious food, it is situated on the grounds of a beautiful resort hotel. After eating, we spent time next to the water watching the boats go past. It is a perfect way to spend an afternoon, but all too soon it is time to go home.
It was a natural progression to want to spend more time at this particular lake resort, so this summer we made that happen. You might find yourself in a similar situation. There may be a fantastic place within a relatively short drive that could potentially be your new favorite weekend getaway if you take a good look around. Search online and seek referrals. It could be a hotel resort, a bed and breakfast or perhaps a private home or cottage.
---
The Shores of Lake Wawasee
Oakwood Resort is located on upscale Lake Wawasee, Indiana's largest natural freshwater body of water. The full service resort is an hour's drive from our home and it features many amenities such as The Pier, a lakefront restaurant/bar; a salon and spa; boutique; sandy beach; tour boat; complimentary kayaks; firepit; tailgate games; game room; fitness room and marina slips for guests' boats.
Because the hotel is dog friendly, that was a significant factor in deciding to stay at Oakwood for our lake getaway. We requested and received a room that is well-suited for a pet.
We were assigned an over-sized corner room on the ground floor featuring an extra tall ceiling and extra large windows with fantastic dual views of the lake, a comfortable sparkling white king-sized bed, mini fridge and huge bathroom with two sinks, a separate lighted vanity area and Jacuzzi® tub. The floor is pet-friendly faux plank wood and has a full-sized white couch. The room is clean, inviting and conveys "home away from home" in a comforting way. It takes us back to our own lake cottage memories.
Outside the hallway door is a sun-filled game room with over-sized windows and an exterior door leading right to the water. Steps away are bright yellow Adirondack-style chairs in a grassy area, a beautiful gazebo, tailgate style games, a beach and a firepit with plentiful supply of chopped wood in a rack. This what makes it feel like "resort style" glamping -- being next to nature without all of the work. It truly is a carefree way to spend time.
At dusk, the staff builds a campfire and guests keep it well-stoked, roasting marshmallows for s'mores. Our bright, yellow and white room, with a great lake vibe, is comfortably furnished. Right outside the door is the right amount of connection with the great outdoors. We spread a large blanket on the grass for our Golden Retriever to unwind with us as we sip our beverages.
Sitting next to the peaceful lake in the afternoon and again under the stars on a clear night, takes me back to happy childhood memories of summer camp and weeks spent with my grandparents at their lake cottage in Northern Indiana. Our 24 hour getaway is just what we need for temporarily forgetting about work, enjoying breezy lakeside meals, mental and physical restoration and a sliver of time away from home.  We plan to return again and again.
---
Packing List
Even a short getaway requires planning and packing, which shouldn't be a big deal for snowbirds. Yet it's not always obvious to not pack too much, but enough to be prepared for anything. An overview of what we packed:
For ourselves:
Small suitcase with rolling wheels
Extra tote bag
Camera with two lenses
Clothing for daytime and evening
Shoes
Sunglasses
Jewelry
Beach/pool wear
Jackets
Toiletries
Books/magazines
Cell phones and chargers
Blanket
Large cooler with ice packs
Small portable cooler, just in case
Beverages and filtered water
Plastic "champagne" glasses
Insulated travel cups
Insect repellent
Portable LED light
Hand sanitizer
Umbrellas
For our dog:
Tote bag
Collar with updated tags
Leash, short
Leash, long
Large water bowl
Small water bowl
Small food bowl
Kibble, portioned in plastic containers by number of servings
Travel water in a plastic jug
Dog bed
Chew bone
Vibration collar and remote control
---
Sample 24 Hour Itinerary for Travelers with Pet/s
Day One
♦ Morning of the trip, pack the vehicle
♦ Depart for destination several hours ahead of check-in
♦ Stop on the way for a leisurely outdoor lunch at a waterfront cafe; dogs are generally permitted on the patio of most restaurants
♦ Arrive at resort ahead of check-in for a leisurely stroll on the grounds, especially if travelling with a dog
♦ Check-in on time
♦ Unpack, unwind in the room, allow the dog time to get acclimated, especially if travelling is stressful for your pet
♦ Spend the rest of the afternoon outdoors, enjoying the water/beach/view/spa/tailgate games/amenities
♦ Dine with the dog on the patio at the resort restaurant
♦ Watch the sunset
♦ Enjoy the remainder of the evening stargazing outdoors next to the water/firepit/beach
♦ Retire to room
Day Two
♦ Get up in time for breakfast at the hotel's restaurant
♦ Take another stroll around the resort and/or enjoy the amenities
♦ Pack, check out, load vehicle
♦ Dine with the dog on the patio at the resort's restaurant
♦ Depart for home
---
Additional Tips
Summertime is the busiest season for resorts, so consider looking into alternate options to obtain better deals. Like everyone else, we would prefer a Thursday, Friday or Saturday night stay. However, the down side of that is everything is much busier and more expensive.
Two night minimums may apply to weekend peak season stays
By switching to a Sunday - Monday stay, our resort rate decreases by $100 per night and there are much better chances of a great room being available.
A Sunday or weeknight stay might mean a nicer waterfront table at the resort's restaurant.
Another incentive might be complimentary breakfast for weekday guests.
There will likely be less of a wait for resort amenities and less competition for basics such as outdoor lounge chairs during the week
Thirty minute tours of the lake on the resort's long boat are offered at no cost to weekday guests compared to $10 per person on weekends.
Look into special packages. Incentives might include extras such as a chilled bottle of sparkling wine, fruit platter and chocolate truffles delivered to your room plus an extended check out time.
Additional discounts may be available such as military, senior, pre-paid, etc.
Review all policies. There may be a cancellation clause requiring longer notice than a typical hotel, such as two weeks' instead of 48 hours.
Review the details so you are fully informed if any services will not be available during your stay. IE, some amenities such as weekday boat tours and reduced or no lunch hours at the restaurant may apply to stays during non-peak season.
Make a note of your room number if you like it so you can request it again.
Remember, not everything on your wish list will be available at your destination. Our favorite resort does not offer a swimming pool or outdoor jetted hot tub and that's ok. Per state law, we wouldn't be able to bring our dog into swimming pool areas anyway. It also does not have private balconies or patios, which mattered less to me after staying there and realizing the public green spaces are perfectly nice too.
It's worth changing your thinking to modify your mini vacation plans and get the best of the best for a much better price. The restoration of your mind, body and soul is worth every penny, not to mention creating priceless memories.
Note: No compensation or consideration was provided by any entity for this review. It is strictly for informational purposes.
---
"SO MUCH OF WHO WE ARE IS WHERE WE HAVE BEEN"
-- William Langewiesche, American Author and Journalist
---
---