Burns Night Winter Dinner Celebration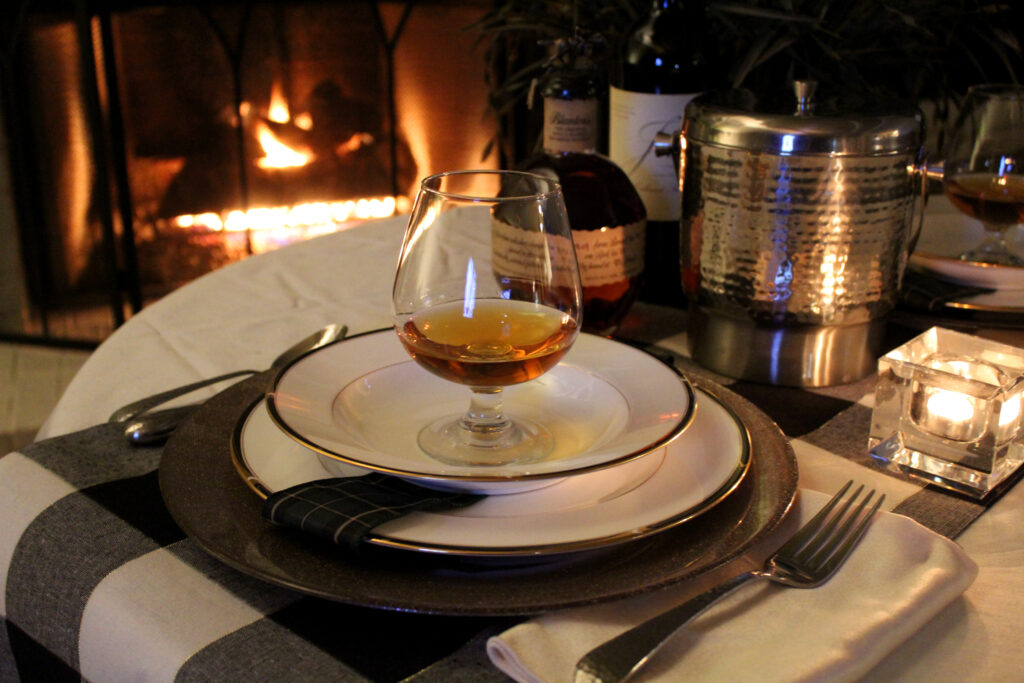 BURNS NIGHT
Romantic Scottish Dinner Celebration
---
I had never heard of Burns Night until reading a chapter in a European book featuring Burns Night as part of a "year of festivities for families and friends." I have to admit, my first impression of Burns Night was that it's a romantic dinner for two in front of the fireplace on a cold winter night. Burns Night is actually a historical celebration of the life of Scotland's widely revered national poet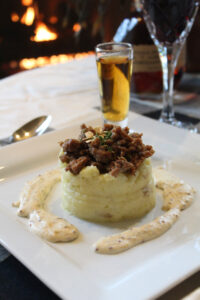 and lyricist, Robert Burns, whose most famous work is "Auld Lang Syne," published in 1788. The traditional Scottish Burns Night celebration centers around the poetry of Robert Burns, whiskey and a main course of haggis with mashed potatoes and turnips. My simplified American version of Burns Night features a warm, cozy ambiance, a menu honoring Scottish comfort food and a nod to the history and influence of Robert Burns. Burns Night is perfect for snowbirds with a menu of simple ingredients steeped in tradition and offers an interesting alternative to the typical date night or dinner party.
---
A few observations of the authentic European Burns Night celebration compared with my
Americanized version. The proper celebration is held on or near Robert Burn's birthday, January 25, but my take is go ahead and host Burns Night anytime during the winter. Setting up a small table next to the glow of a warm fireplace and having a relaxing meal for two or more people is not only romantic, but memorable and distinctive. If no fireplace is available, improvise by placing the table in a cozy corner of your living room. The point is to not sit at your regular dining room table to get a new perspective, as if dining in a quaint restaurant. Scottish plaid tartans, dim warm lighting, a white tablecloth and napkins, flowers or greenery and flickering candlelight make a charming ambiance. Creating an unusual backdrop appealing to all senses is key to emulating the feel of the Scottish Highlands. Why not create your own Burns Night in the midst of the December holidays, on New Year's Eve, an anniversary or any special occasion when darkness falls early on chilly winter nights.
Your menu should offer several courses and closely resemble the simply delicious traditional comfort food of Burns Night, of which haggis is always, always the focal point. After all, Burns' poem, "Ode to a Haggis" is traditionally read aloud to guests when the haggis is ceremoniously brought to the table by the cook, accompanied by a lone bagpiper or Scottish music, which is referred to as being "piped in."
Haggis is a Scottish delicacy composed of minced sheep organs, oatmeal, onions and seasonings stuffed in the lining of the intestine. Because Americans are typically less comfortable eating organ meats and more importantly, because haggis is impossible to buy in the United States (unless you have access to sheep lungs, which are banned from sale), my version of the Burns Night entree features a soup course, then sausage, mashed potatoes and turnips with a whiskey cream sauce, plus a berry parfait for dessert. It takes time to get accustomed to the Scottish terms and unfamiliar food combinations, so don't let it put you off. The meal truly tastes amazing!
A few facts about Burns Night -- it was first held in 1801, five years after Robert Burns passed. Classic celebrations may be elaborate, loud and festive with many guests or quite intimate and cozy. The meal starts with a prayer of Burns' poem, "Selkirk Grace." The haggis is "piped in" with pomp and circumstance, then a whiskey toast is made to the haggis -- which is why a shot of whiskey is presented on each dinner plate. Apple juice is a good alternative to serving whiskey with this meal. Burns' poetry, songs, dancing and toasts to the lassies and lads are central to the authentic celebrations, which always end with guests joining hands and singing Auld Lang Syne.
Creating your own version of Burns Night may be inspiring to learn more about Robert Burns, his poetry and Scottish culture and cuisine. I adapted my recipes from the simple, yet rich recipes on page 164 and 167 of Pippa Middleton's book, "Celebrate: A Year of Festivities for Families and Friends."
---
Burns Night Menu
Authentic Burns Night Menu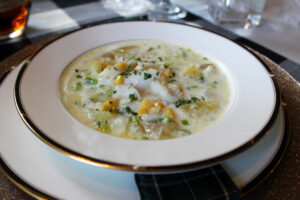 Starter: Cullen Skink Soup
Main Course*: Haggis and Clapshot, also called "Neeps and Tatties" with Whiskey Sauce
*Served with a shot of whiskey
Dessert: Cranachan (Raspberry Cream Parfait) or offer a cheese course
---
My Americanized Burns Night Menu
Starter: Scottish Winter Soup (Cullen Skink)
Main Course*: Sausage Crumbles, Mashed Potatoes and Turnips with Whiskey Sauce (Clapshot / Neeps and Tatties)
*Served with a shot of whiskey (or apple juice)
Dessert: Raspberry Cream Parfait (Cranachan)
---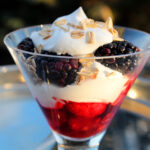 Burns Night Starter
---
Burns Night Dessert
---
Burns Night Main Course
Sausage with Mashed Potatoes and Turnips
and Whiskey Gravy
---
Mashed Potatoes and Turnips
Ingredients
2 cups Yukon Gold potatoes, unpeeled, quartered, then halved
1 1/3 cups turnips, peeled and quartered, then halved
6 T. unsalted butter
1/4 cup half and half OR fat free half and half
1 t. garlic salt
1/4 t. fresh cracked pepper
1/4 t. dried parsley or 1 T. fresh parsley or chives (garnish)
PREPARATION TIP: It may seem simpler to cook the turnips and potatoes in the same pot, then mash with an electric mixer. However, I tested the process both ways and it does make a difference in texture to follow the recipe exactly as written: boil potatoes and turnips in separate pots, then mash each separately with a fork by hand. I prefer the method as shown here.
Preparation
Peel turnips and cut into quarters, then in half.
Cut unpeeled Yukon Gold potatoes into quarters, then in half.
Bring two separate medium pots filled 2/3 with water and a pinch of salt to a boil over high heat.
Add cut turnips to one pot and potatoes to the other pot.
Reduce the heat and boil both vegetables until fork tender, approximately 20 to 25 minutes.
Drain the water from potatoes and turnips, keeping each vegetable separate from the other.
Add half and half to the potatoes.
Add butter to the turnips.
Mash the potatoes with a fork. Repeat for the turnips. The texture can retain some chunkiness and doesn't need to be pureed.
Gently combine the potatoes and turnips into one pot. Stir in seasonings and keep warm.
---
Sausage Crumbles
Ingredients
12 oz. package sausage (seasoned or plain)
1 shallot, minced
1 t. fennel seeds
3/4 t. garlic salt
1/4 t. fresh cracked pepper
Optional: garnish with one tablespoon toasted oatmeal (in a nod to haggis) and dried or fresh parsley
Preparation
Toast oatmeal in a small sauce pan over medium heat until golden brown. Stir frequently, remove from heat, set aside in a small dish and let cool.
Saute crumbled sausage in medium skillet until browned. Drain excess grease. Add seasonings and minced shallot, stir until combined and shallots are softened. Remove from heat and keep warm.
---
Whiskey Gravy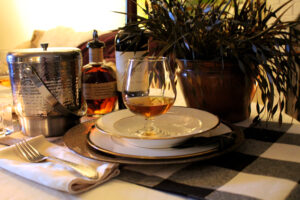 Ingredients
2 T. whole mustard
2 T. whiskey
2 T. butter
2 T. flour
3/4 cup half and half OR fat free half and half
1/2 t. garlic salt
Preparation
Gently heat whiskey over low heat in small saucepan until alcohol evaporates.
Add butter and flour, whisking until smooth.
Add seasonings and whole grain mustard, whisking until combined.
Stir in half and half in small batches and whisk until smooth.
Reduce heat and keep warm.
---
Suggested Brands: Jimmy Dean® Reduced Fat Premium Sausage, Yukon Gold potatoes
---
Assembly/Presentation
If available, use a chef's ring to hold the shape of the potato-turnip mixture. Place chef's ring on a plate, then scoop mashed potatoes-turnips into the chef's ring and fill to the rim.
Pull chef's ring up above the edge of the mixture and scoop sausage mixture on top.
Garnish with toasted oatmeal and parsley or chives.
If not using a chef's ring, place a portion of mashed potatoes-turnips on the plate, top with sausage mixture and garnish with toasted oatmeal and parsley or chives.
Spoon whiskey gravy in a circle around the edge of the mashed potatoes-turnips.
Add a shot of whiskey to the plate.
Repeat for each serving.
Serve warm - don't forget to toast the "haggis"
---
Servings:
Two or three -- there may be extra sausage crumbles and whiskey gravy
---
Serving Suggestion:
--As the main course for Burns Night
--Main course for lunch or dinner
---
Equipment List:
--two medium pots
--one small sauce pan
--one medium skillet
--colander
--whisk
--measuring utensils
--cutting board
--knife
--fork
--spatula
--A 3" diameter chef's ring is recommended for stacking the entree, but not required
---
"My heart's in the Highlands, my heart is not here,
My heart's in the Highlands, a-chasing the deer;
Chasing the wild-deer, and following the roe,
My heart's in the Highlands, wherever I go."
--Robert Burns, Scottish Poet and Lyricist, 1759 - 1796
---
---