Home Vs. Away
Home Vs. Away
It's easy to get caught up in the thrill of your snowbird home--the warmer weather, prospects of a new community, new friends and the alluring amenities of your home whether it is the beach, pedestrian lifestyle, shopping / restaurants and more.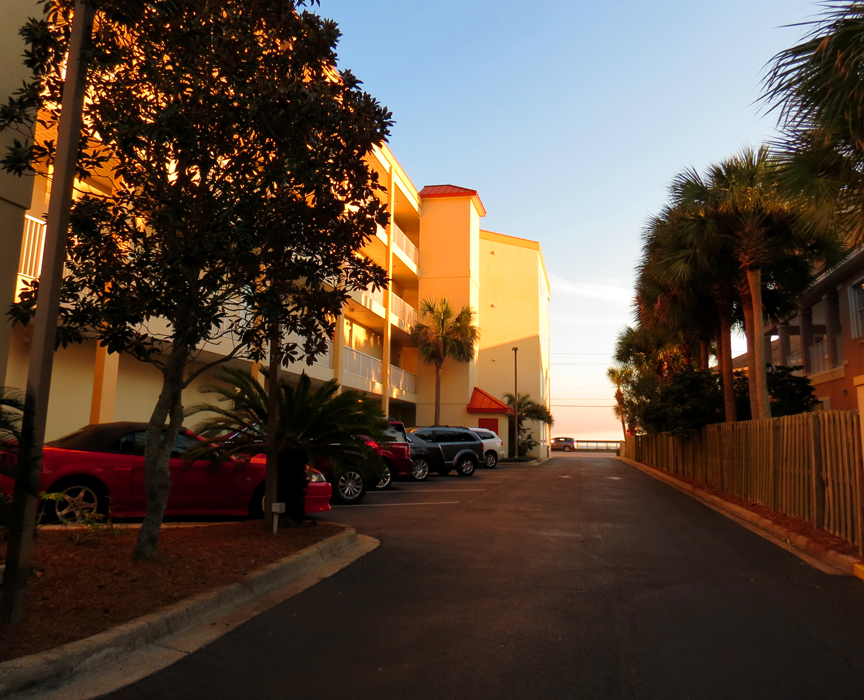 You may not think about other less exciting issues both big and small, such as whether your new place has a great sound system, flat screen tv's and your favorite high def cable channels.
Think About Everything, Big and Small
At home, you might take for granted having quiet neighbors who don't share a wall with you; plentiful storage; a garage with a second fridge and chest freezer; high end appliances; a quiet dishwasher; spacious bathrooms and comfortable king-sized beds.
It may not seem like a big deal at first, but if your snowbird home has no covered parking with a fair distance to your walk-up unit on the fourth floor, are you fully prepared:
--To trek through the inclement weather multiple times to haul your groceries, luggage and other items across the parking lot on a regular basis through pounding rain and gusty winds?
--To make trips to your vehicle parked in the back lot? Carts for luggage and groceries may or may not be available at your snowbird residence. It's typically an elevator ride and/or stairs, plus 500 steps to your car, not 10 like at home.
--To return to the dumpster all of your trash and each and every item that isn't consumed? Most dumpsters aren't located right outside your unit, they are typically much further away in the back of the parking lot. Not a few steps to reach the garage recycle bin like at home. Fire code and HOA rules prohibit leaving your trash or anything else outside your unit or fines will be imposed. And the garbage truck generally empties the dumpster three days a week, not one day like at home, which can be noisy early in the morning.
ADDITIONAL CONSIDERATIONS OF "HOME VS. AWAY" ARE:
---
INTERIOR SPACES
Laundry facilities: If your rental/snowbird home has no or limited onsite laundry or if you are particular about the size/brand/function of your washer/dryer, can you deal with it? Laundry isn't usually top of mind until you don't have it within the convenience of your own home.
---
Furniture: Snowbird rentals may or may not have the comfortable, stylish furniture you're accustomed to in your Northern home. If you have a guest for a week, such as your mother-in-law who has mobility issues and can't easily get up out of the chairs in your rental, that's a consideration. Some snowbirds bring in their own recliner chairs and then store them locally. Of course, that adds to the cost of your stay.
---
Man cave / Ladies lounge: At home, you and your spouse / partner probably have spaces where you retreat for "me" time. The basement, garage, an outbuilding or maybe a den become favorite sanctuaries for watching your movies, sports, reading books. In your snowbird home, these special spaces either don't exist or are much smaller, especially if you are staying in a RV or park model. 
---
Sheets / towels / linens: If your snowbird sheets are worn and you prefer a high thread count, definitely bring or buy your own
---
.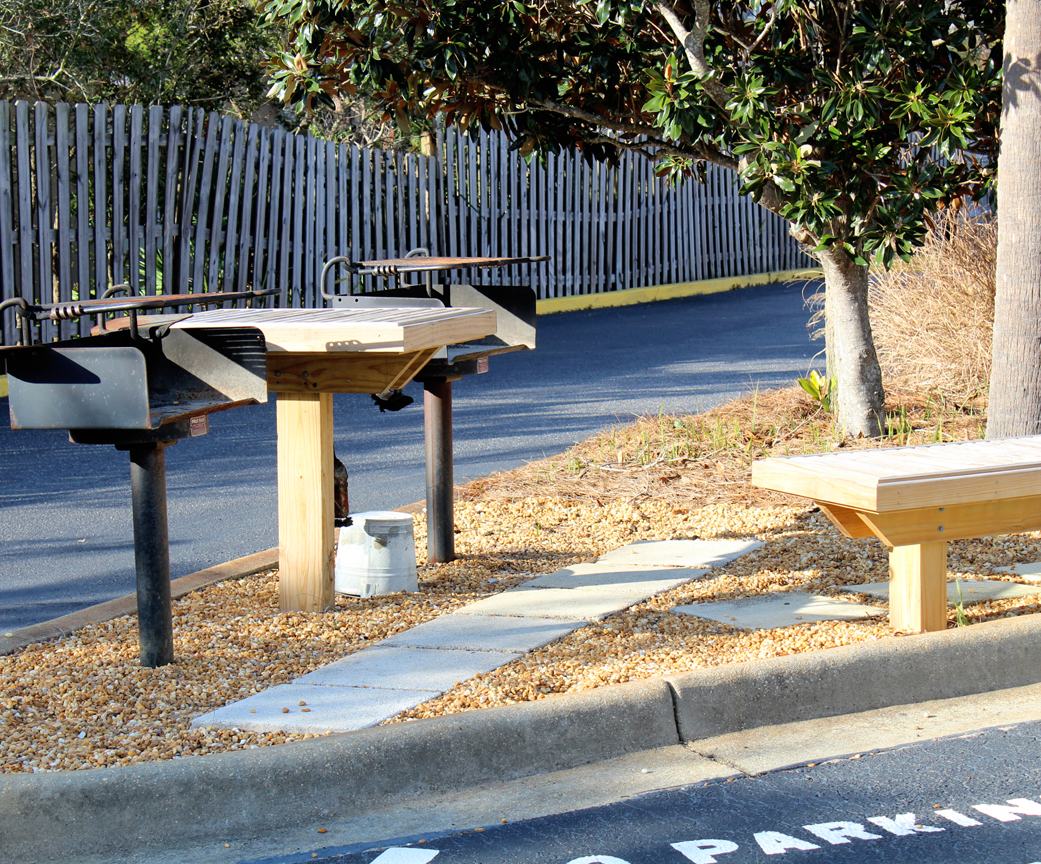 Community charcoal grills may be the only option if you live in a place where fire code prohibits personal grills
---
Pets: Pets sleeping under / on top of your pillows and bed linens or jumping around on your furniture may be fine at home, but your landlord probably will not allow it. Many snowbirds with dogs bring their own bed linens and cover the sofa with flat sheets to protect it from fur/damage.
---
THE KITCHEN
Tap vs. filtered water: For me, that's huge. At home we have a permanent water system that filters tap water and ice cubes. Not only is it convenient, I consider it essential because of the difference in how it tastes. For me, it is worth the effort to purchase and store gallons of filtered water in our condo because it matters that much. A pitcher with charcoal filter is an inexpensive alternative to bottled water. Regardless, finding a rental with built-in filtered water is a dream, but much more realistic for snowbirds who own their second home.
---
Appliances / Icemaker: Depending on your abode, there may or may not be an ice maker, plentiful freezer space, a dishwasher, fancy coffee maker or other conveniences like at home. It's doubtful you'll have a second refrigerator and chest-style freezer as many people have in their Northern garage.
---
OUTDOOR SPACE
Barbeque grills: We have many options for grilling in our Northern residence. However, fire code generally prohibits open flame or gas-powered grills on balconies or patios. The community charcoal grills, if available, are the only option for many snowbirds. You know, the kind of grills you see at public parks – and they don't have all the great features of a gas or charcoal grill. Plus, they are probably not located outside your kitchen door, which means you'll need to buy and store charcoal and transport your favorite BBQ utensils to your southern home and into/out of your unit. Check your local fire codes and ordinances in advance to be adequately prepared.
---
Yard: Many snowbirds live in smaller spaces with little or no private yard. A fenced yard is even rarer, so be prepared to be dressed and outdoors with your pet on a leash early am, mid morning, early afternoon, late afternoon, early evening and late evening. We worked out a system where one person takes the early am shift and the other takes the late night shift. For security purposes, stay within well lit, populated areas and carry your cell phone at all times.
---
DAILY LIFE
Sound systems: Your snowbird home probably does not include a sound system to listen to music or the radio.  Bring your own Echo® speaker, available for about $90 from Amazon® or another portable sound system. The largest Echo® speakers produce the highest quality sound, don't settle for the smaller version.
---
Security systems: More than likely, your snowbird home won't have a security system.  Dead-bolts might not even be installed, so one consideration is a mobile security camera system. When outdoors, bring a self-defense deterrent for your key chain and use flashlights when walking around outside at night. Some snowbirds wear LED lights on their sneakers, which can be expensive, but well worth it. If you're on a ground floor, keep your doors and windows locked after sundown. Make sure you are well-informed and adhere to local/federal laws and proper use of any self-defense method.
---
One vehicle: Last but certainly not least, are you and your spouse prepared to share one vehicle long term? At home, we have several choices, but it's a big change to share one car. Say your partner wants to go golfing for the day. Make sure you don't also need to get groceries, go out with a friend or run errands at the same time. And when you do your errands together, can you work it out when/where to go? My husband asked me to join him for a couple of things he needed to do. It took just one time of being completely bored sitting around for more than an hour while our vehicle was being washed, waxed and detailed before I realized I should have asked in advance how long he expected the errands to last.
---
These are the types of considerations snowbirds deal with on a regular basis. Everyone will have their own opinions of what affects them personally, but when it comes to "the daily grind" of life in a different community, it's helpful to know what to expect at home vs. away.
---
"When you live far away, home looks a little different every time."
--Gideon Raff, Israeli film and television director, screenwriter, and writer
---
---