Alys Beach – Stunning Architectural Tour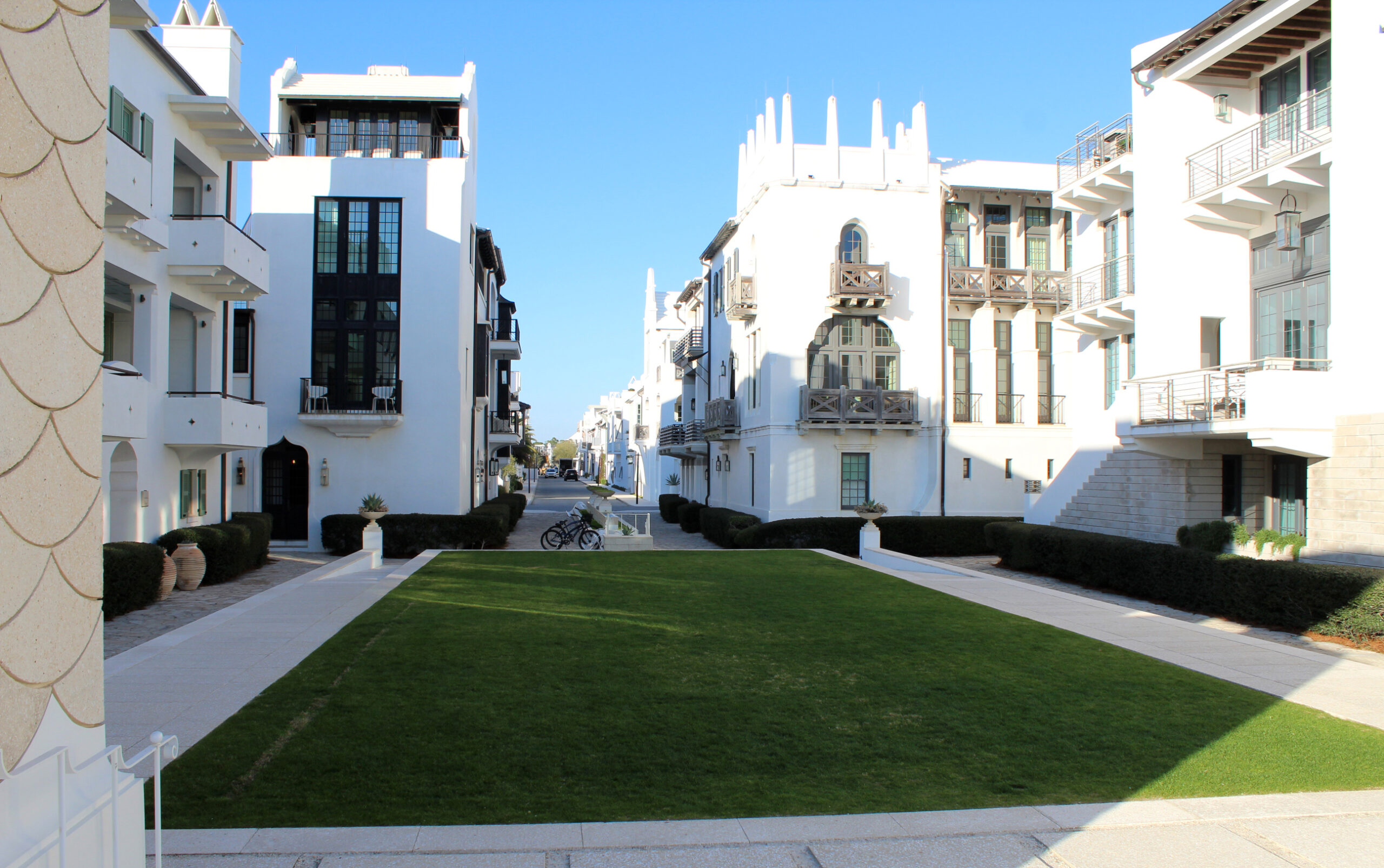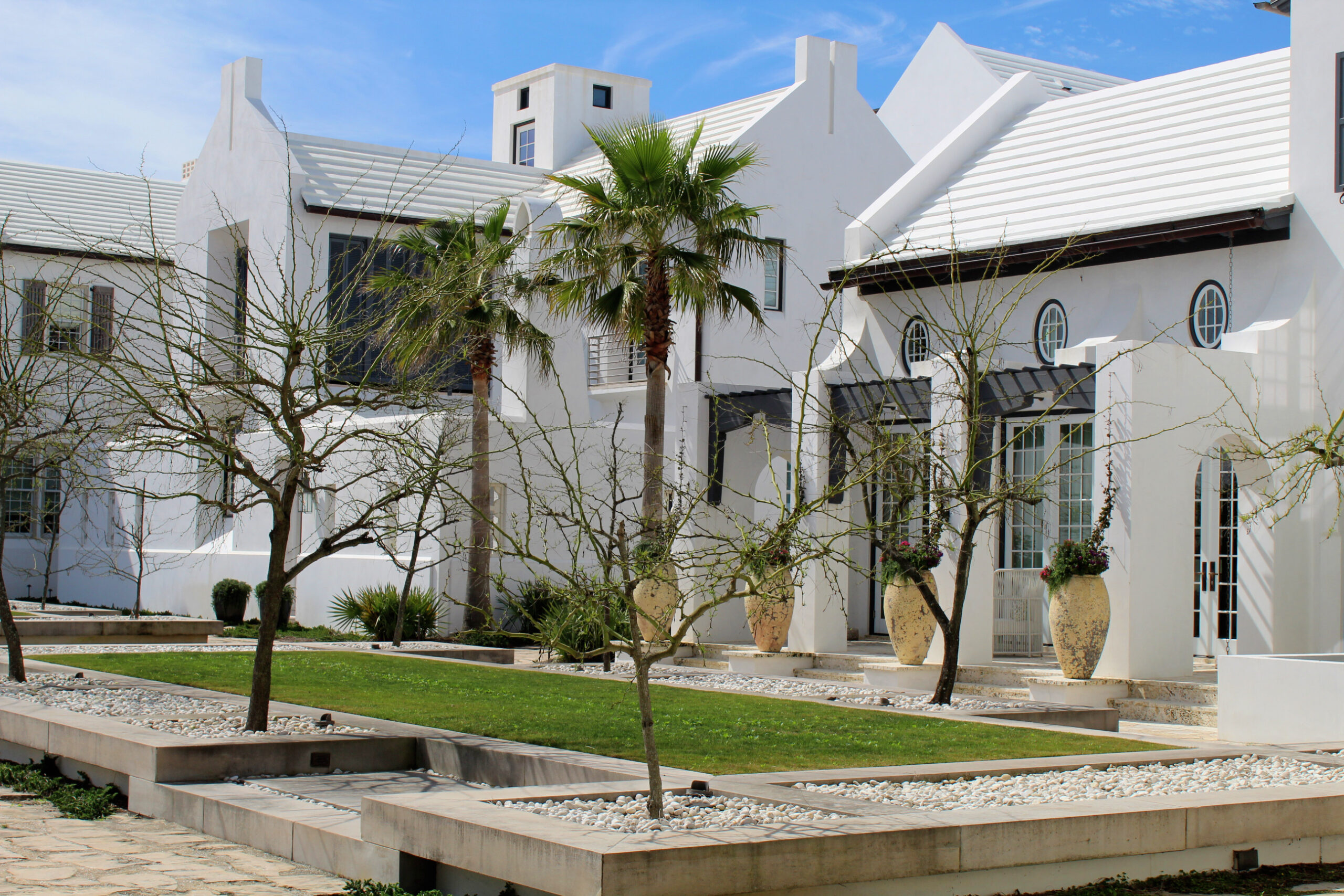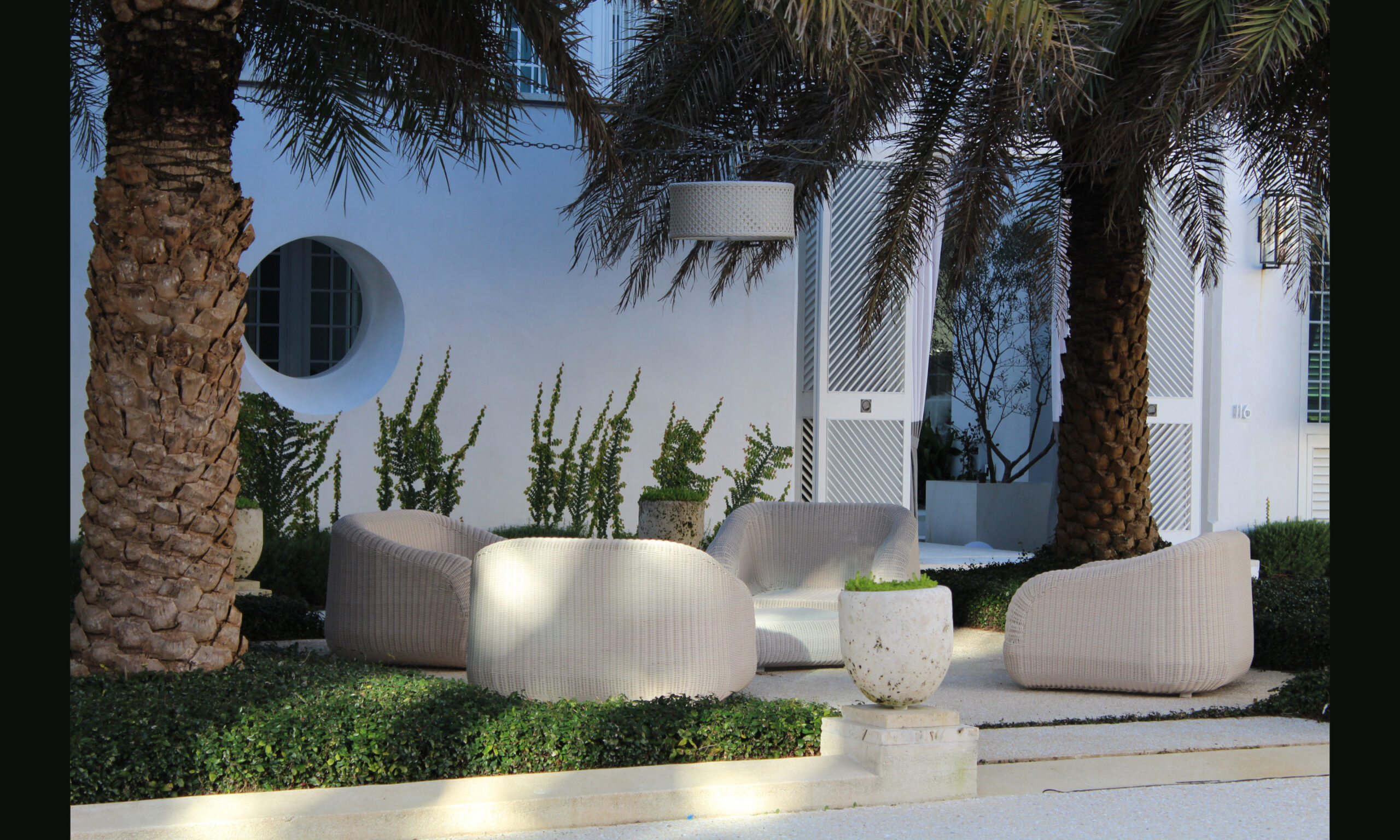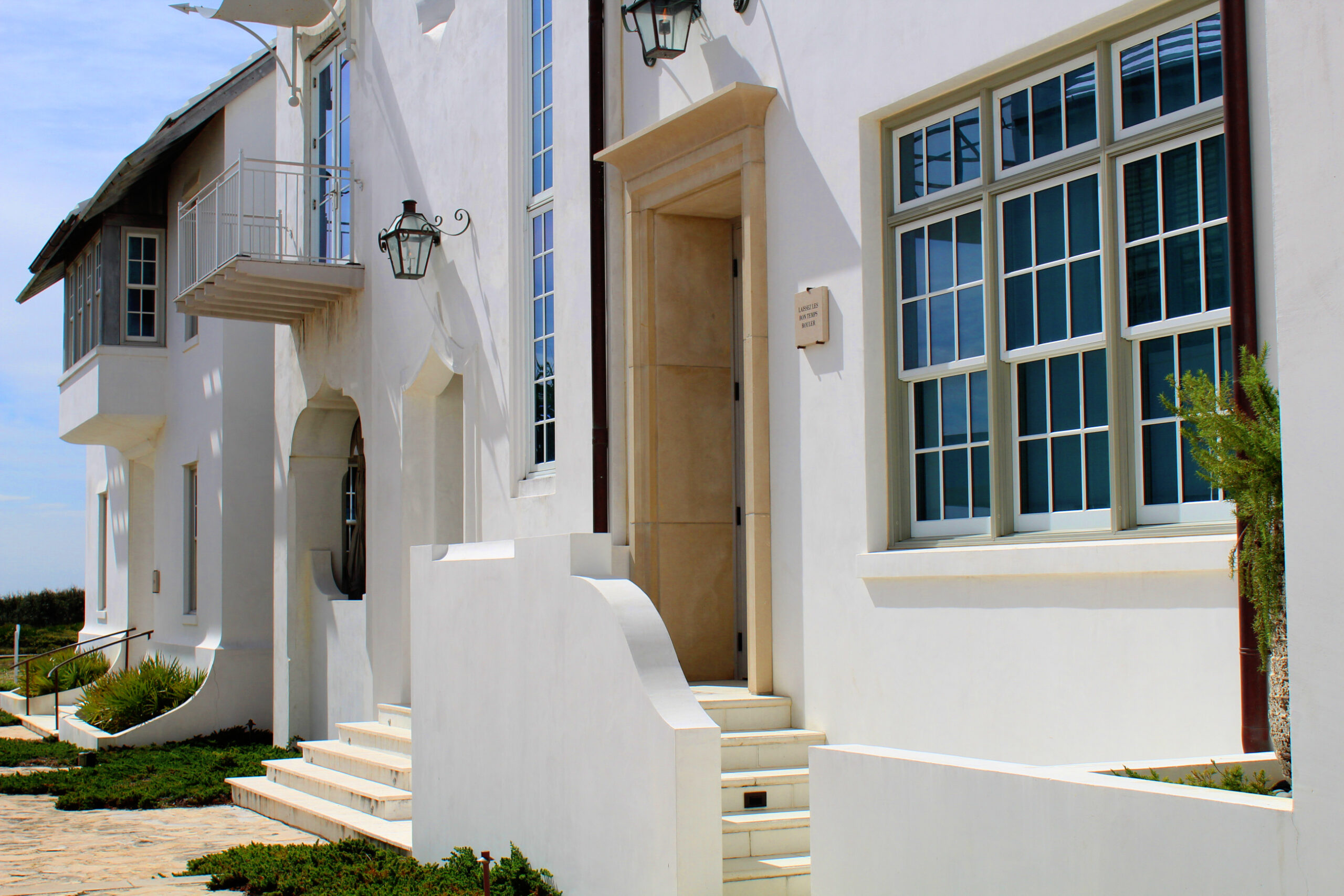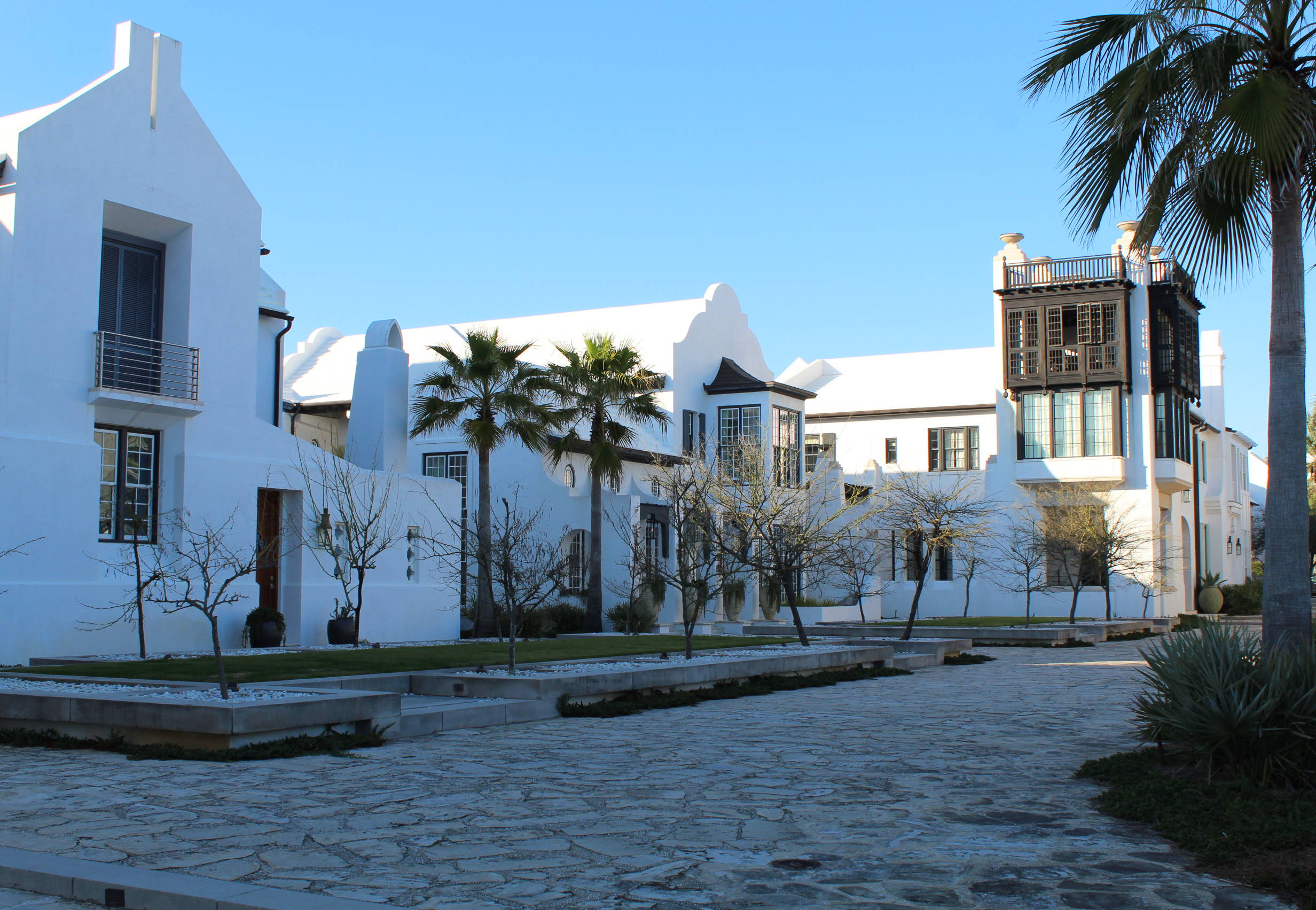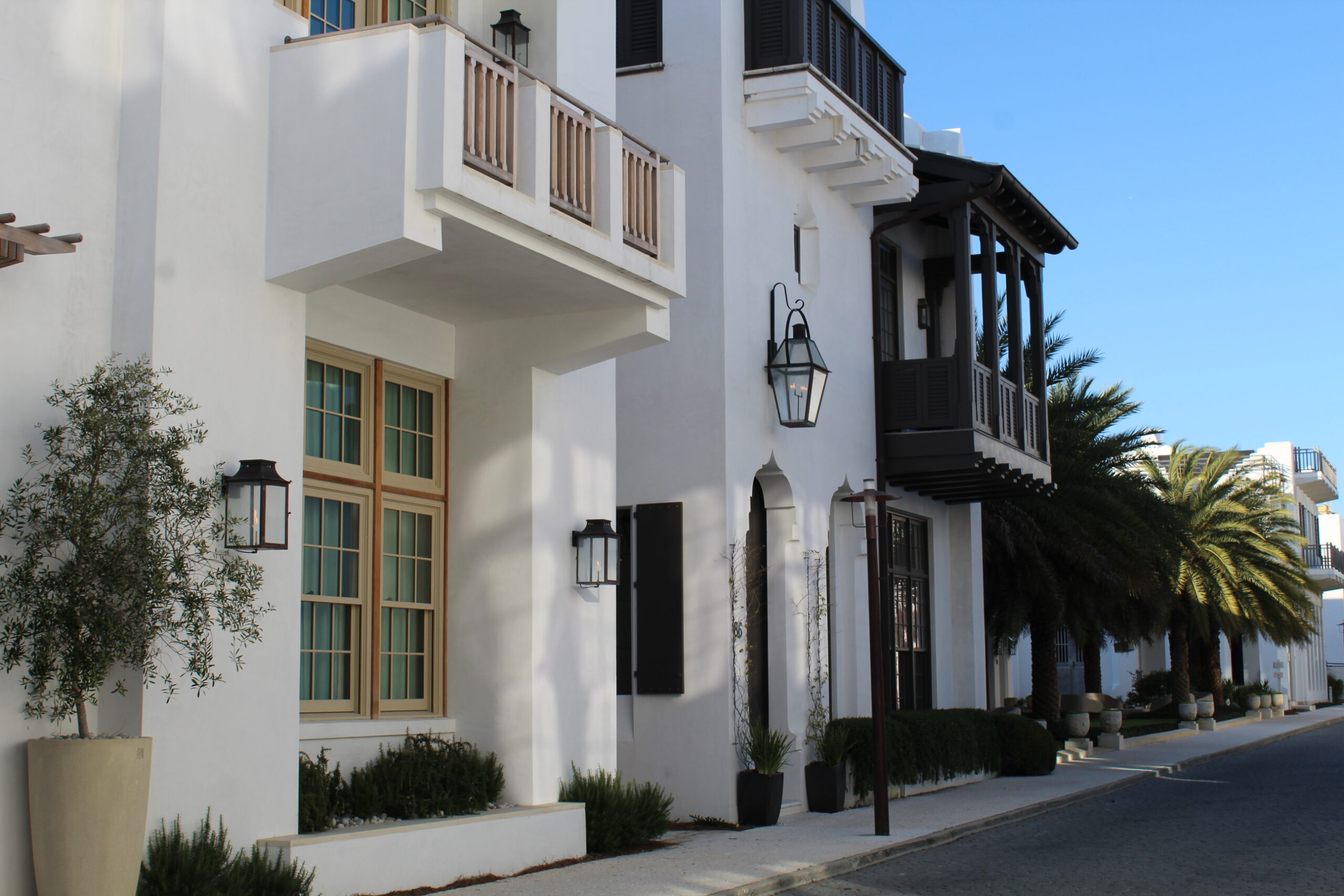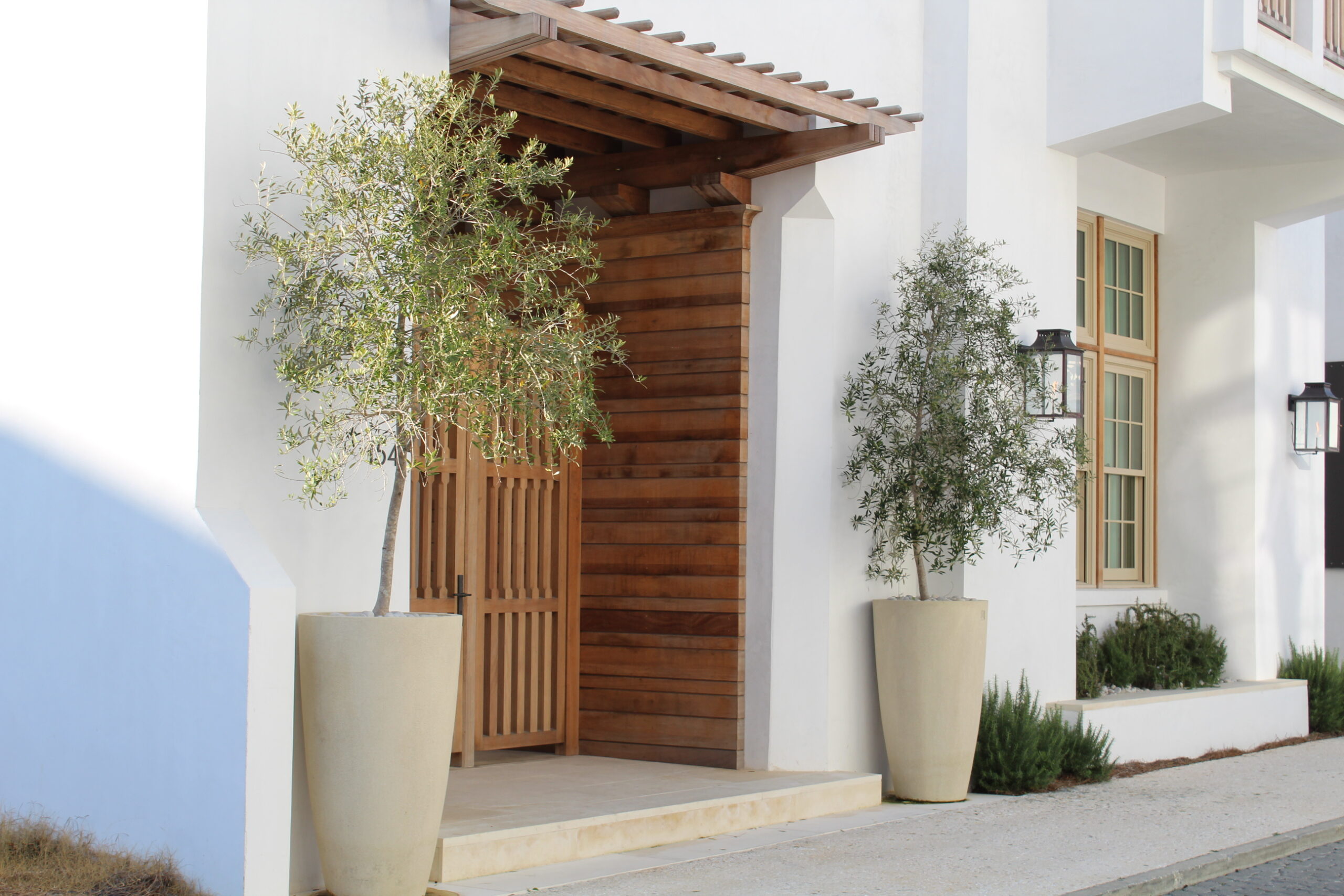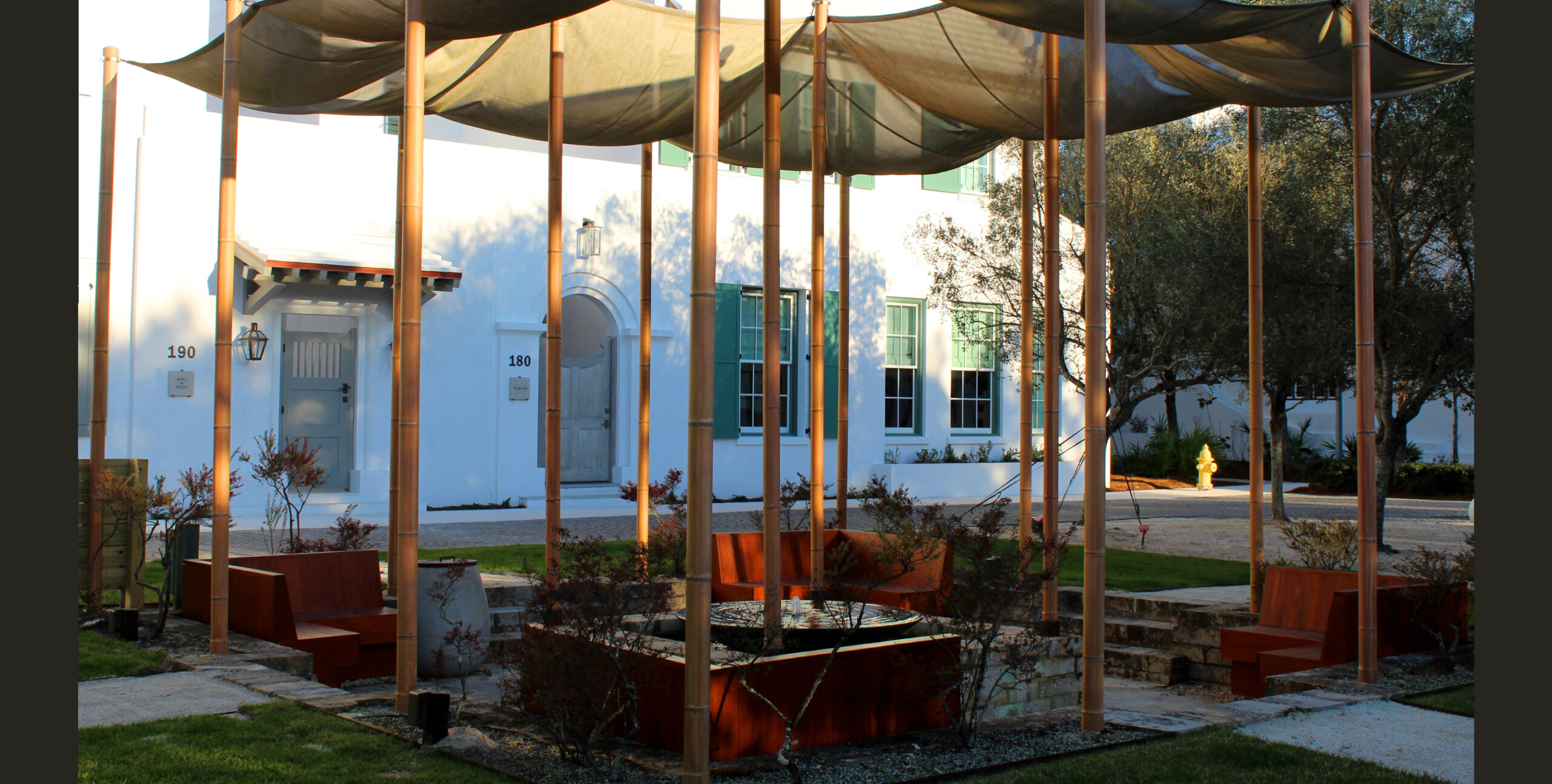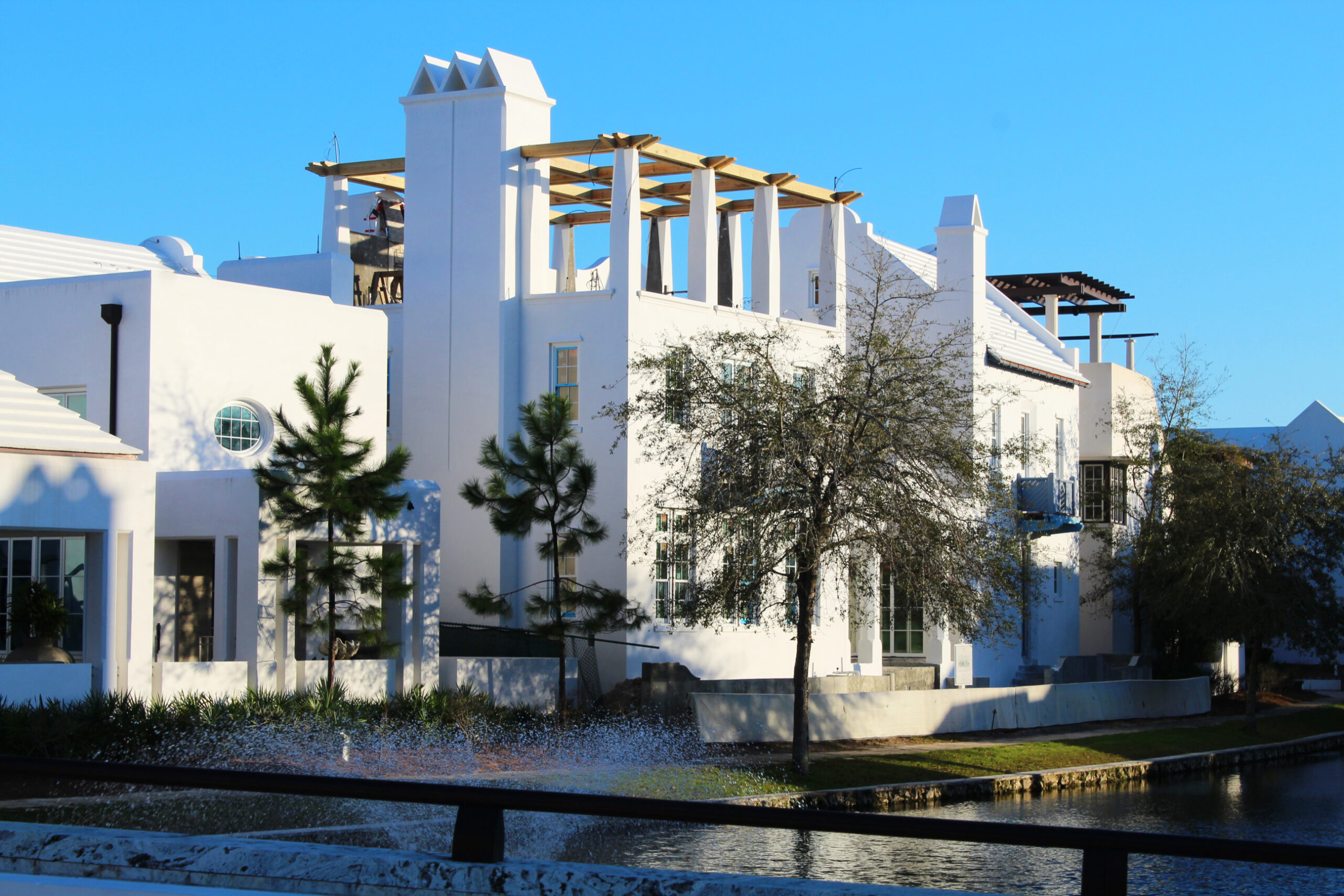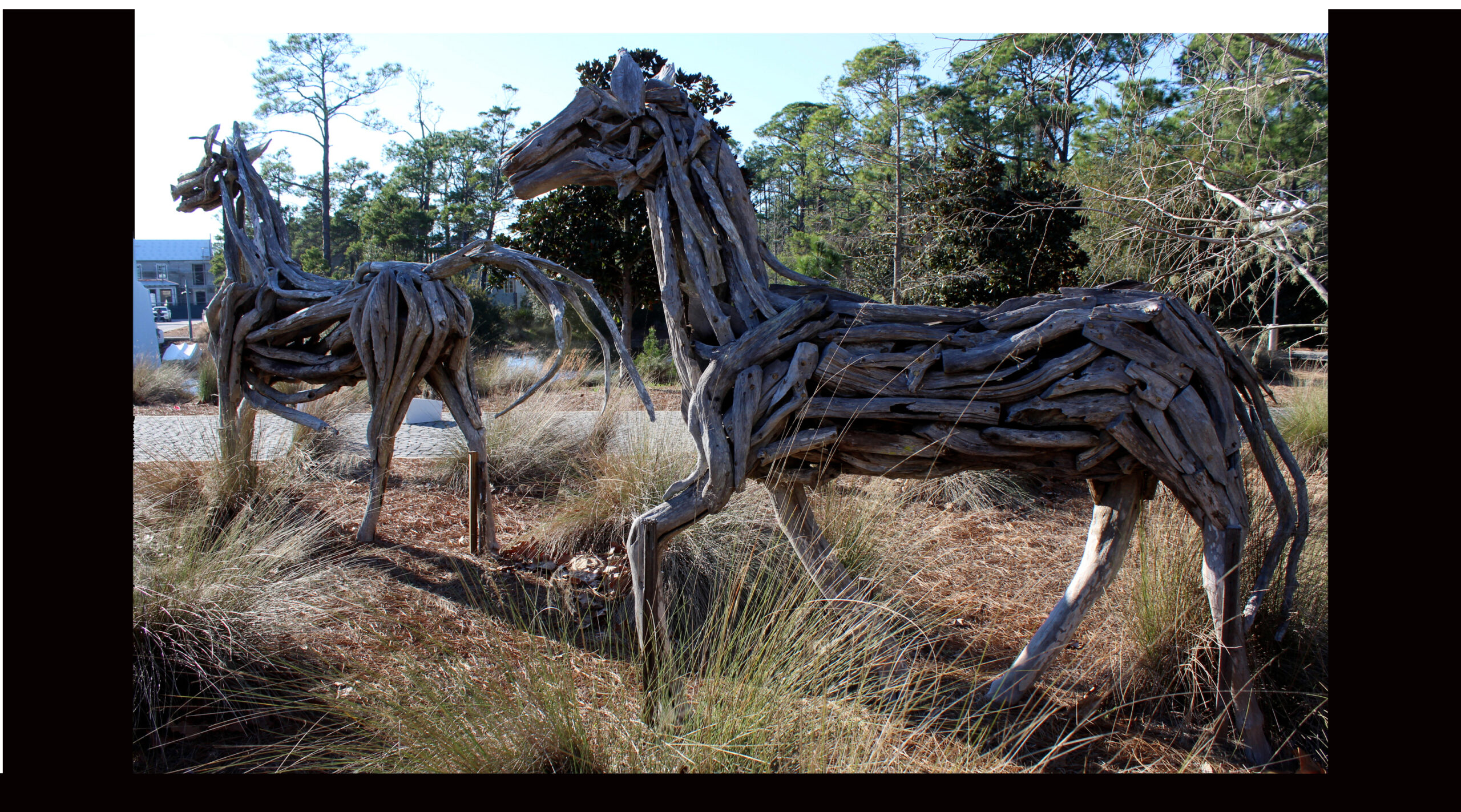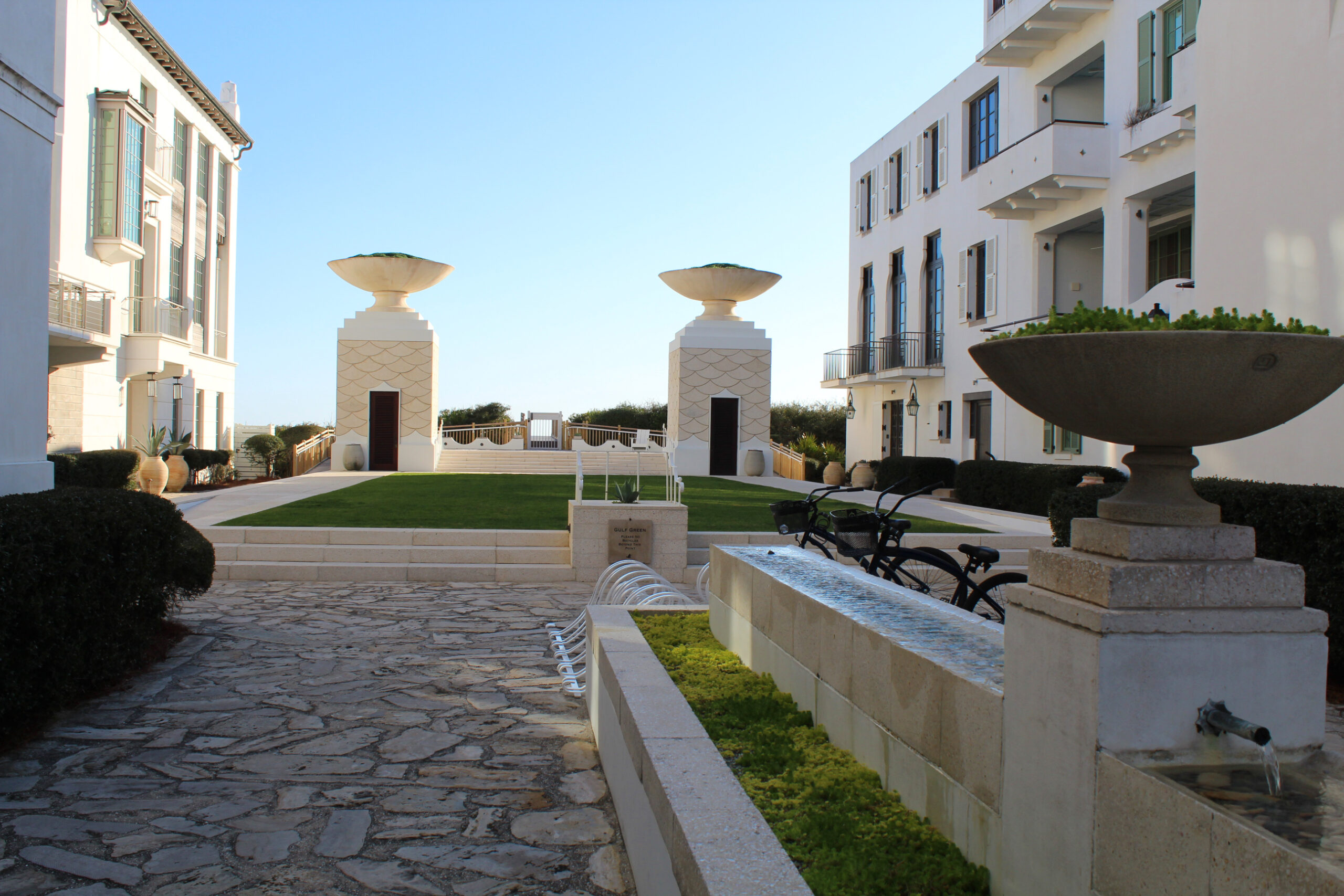 ---
Architecture Tour of Stunning Alys Beach, Florida
Renowned for Iconic Architecture, New Urbanism Movement
---
If you've never experienced Alys Beach on the Gulf Coast of Northwest Florida's panhandle in-between Panama City and Destin, I highly recommend it as a must-see while in the vicinity. Renowned as a New Urbanism planned development with amazing bright white geometrical architecture, Alys Beach is like no other place in the United States. It is as if you stepped into the perfection of another world influenced by a multitude of architectural styles. Alys Beach is upscale, artsy, modern and luxurious. Spanish, Moorish and Mediterranean features are on full display throughout the sophisticated community. With a modern Cape Dutch architectural vibe, the town also exhibits influences of historical colonial hallmarks from Bermuda's "butteries" and courtyards. 
I discovered Alys Beach (pronounced "Alice") via social media and truly, it is awe-inspiring, not only in photos, but even more so in person. The community has been featured in publications including "Coastal Living" and "Southern Living" magazines and it was named as one of the top "50 Most Beautiful Small Towns in America" by Architectural Digest. A beautiful coffee table book features Alys Beach as one of nine coastal communities in "30A Living: Gracious Homes and Unique Communities Along the Gulf Coast" by local resident, Eleanor Lynn Nesmith with photographs by Jean Allsop.
Alys Beach is worth a visit just for the architecture, but if you can get there for a signature community event such as the annual five-day 30A Wine Festival or the one-of-a-kind Digital Graffiti at Alys Beach light show, it would be over-the-top memorable.
---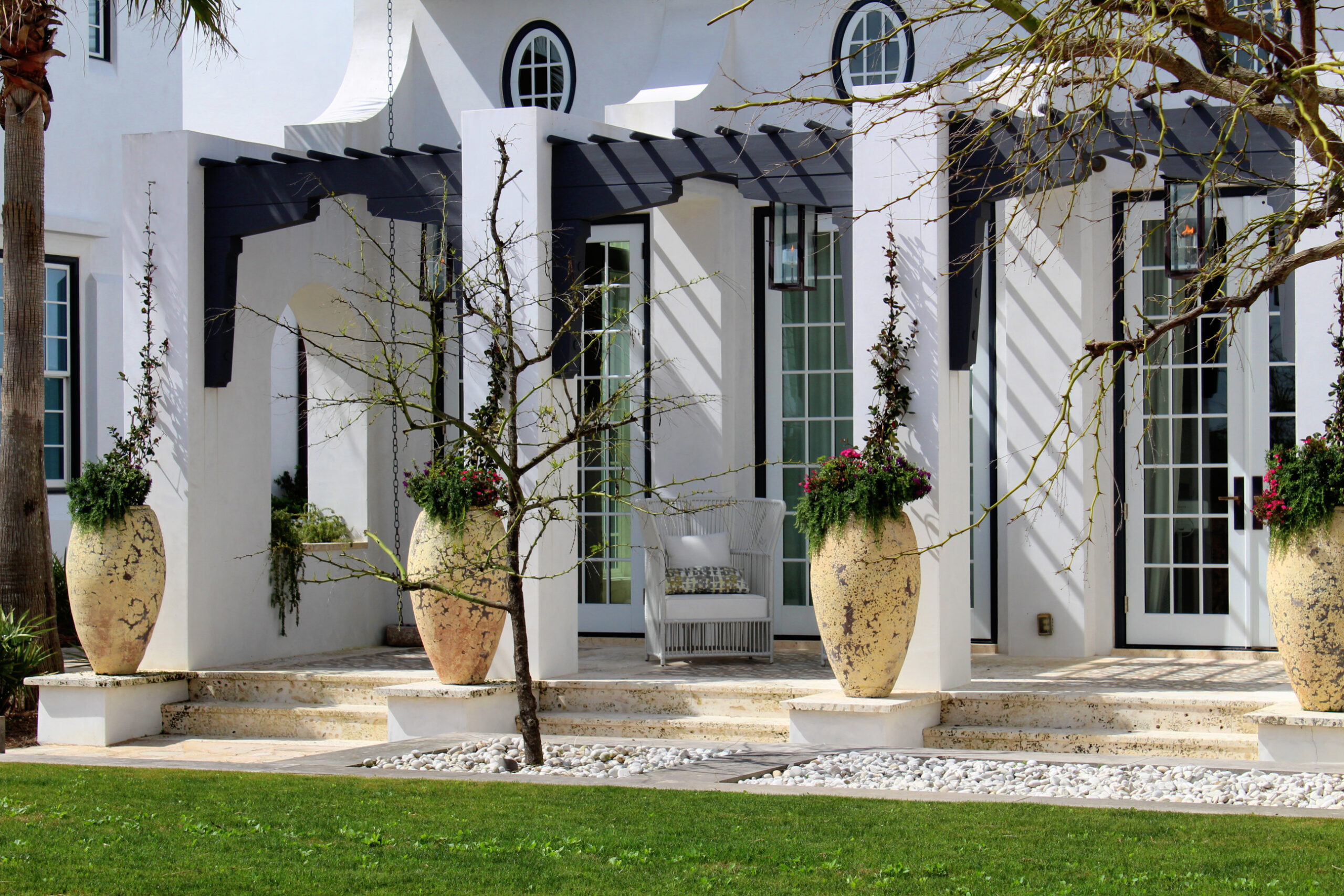 ---
New Urbanism Community Development
New Urbanism communities such as Alys Beach are planned and designed with the concept of featuring a compact, environmentally sustainable pedestrian lifestyle and accessible public spaces. The most common characteristics include being walkable traditional neighborhoods; quality architecture and design; connected; dense, diverse and mixed use housing and environmentally green due to a reduced need for transportation, energy, water for lawns/gardens and so forth.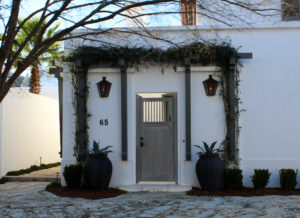 The first and most well-known example of New Urbanism development is Seaside, Florida, founded in 1981 on 80 acres of land just seven miles west of Alys Beach on Highway 30A. Founded in 2003, Alys Beach spans 158 acres and will eventually be built to full capacity of 899 residences. Like Seaside, Alys Beach has few oceanfront homes, instead sharing access to the beach from private entry points.
Private open-air residential courtyards, promenades lined with drought-resistant succulent greens, fountains, sculptural works of art and the incredibly distinctive white stucco architecture with graceful details all define the timeless beauty of Alys Beach.
Pristine paved streets and shell walkways capture your attention, as well as stunningly simple, yet grand front entrances, archways, balconies and commanding rooftop decks and pergolas perched atop the massive homes. The walkable community's beautiful narrow streets and paths are perpendicular to the ocean to catch sea breezes.
---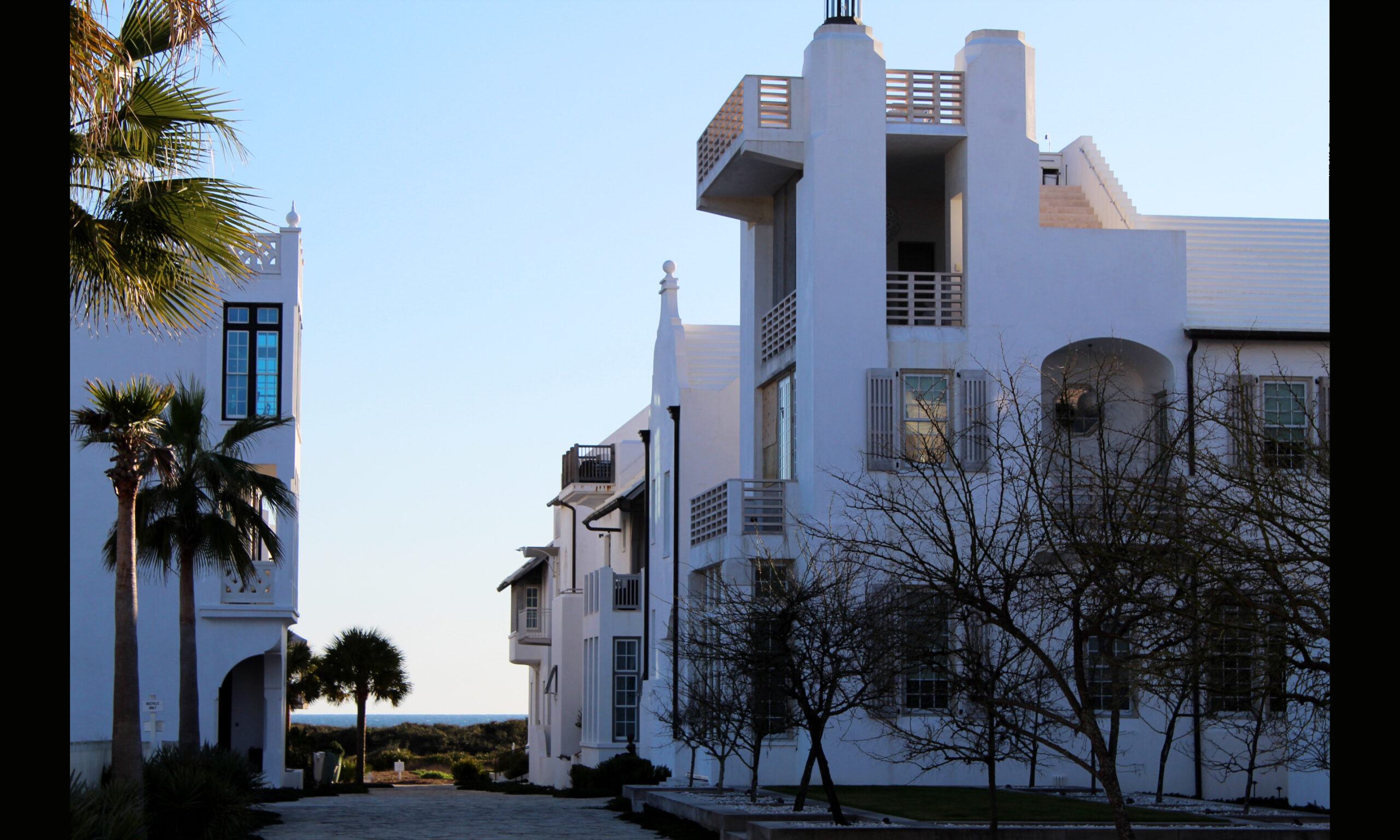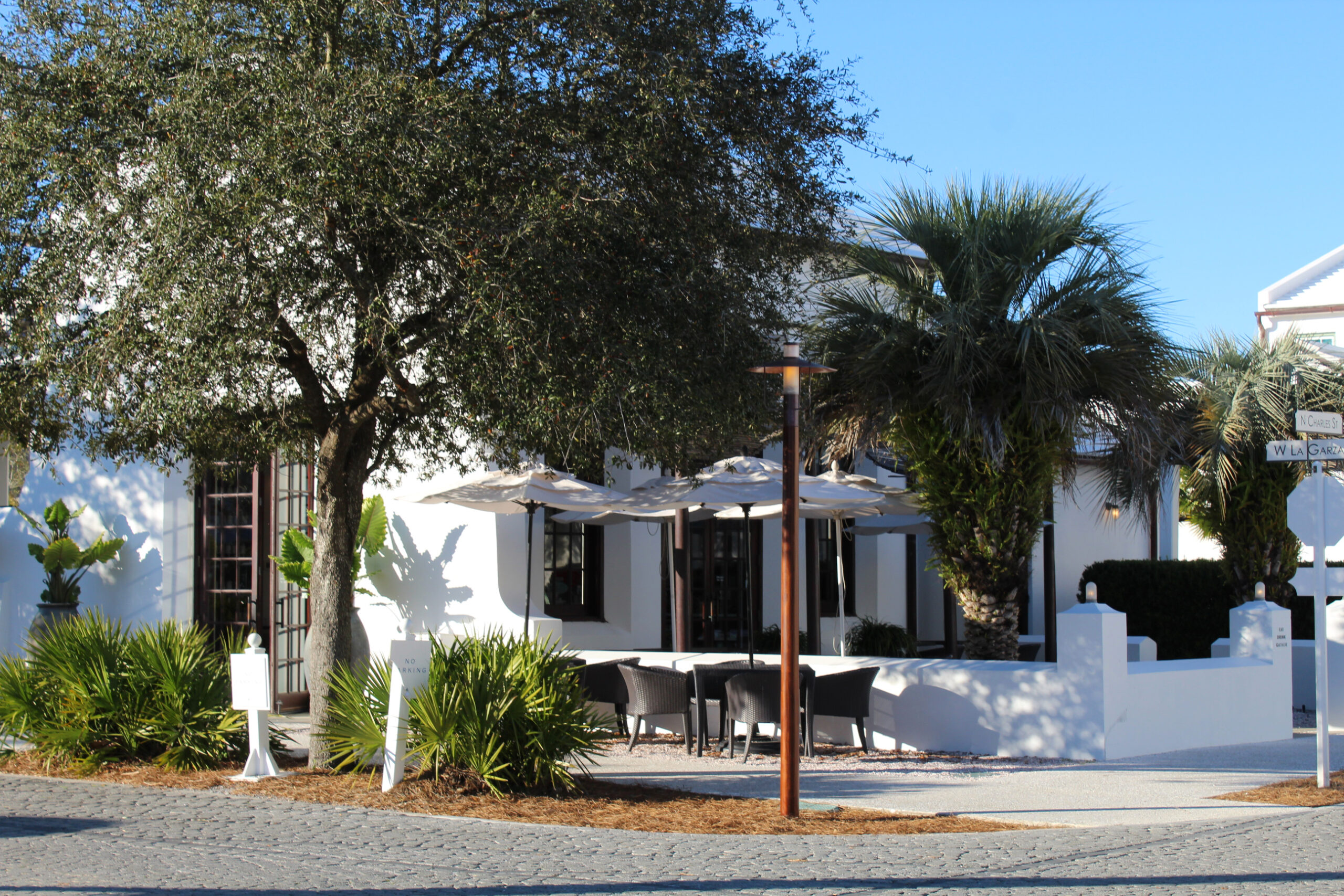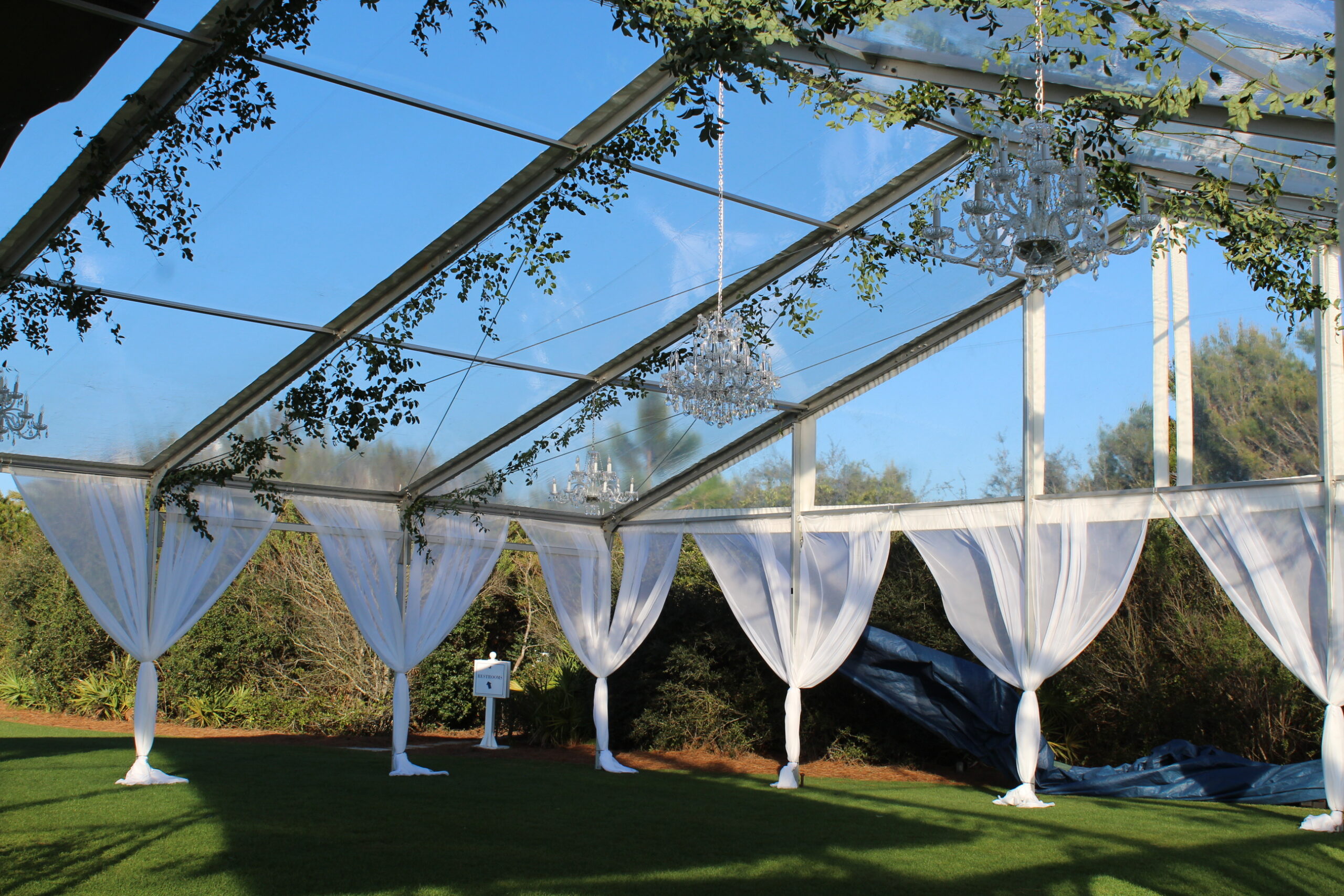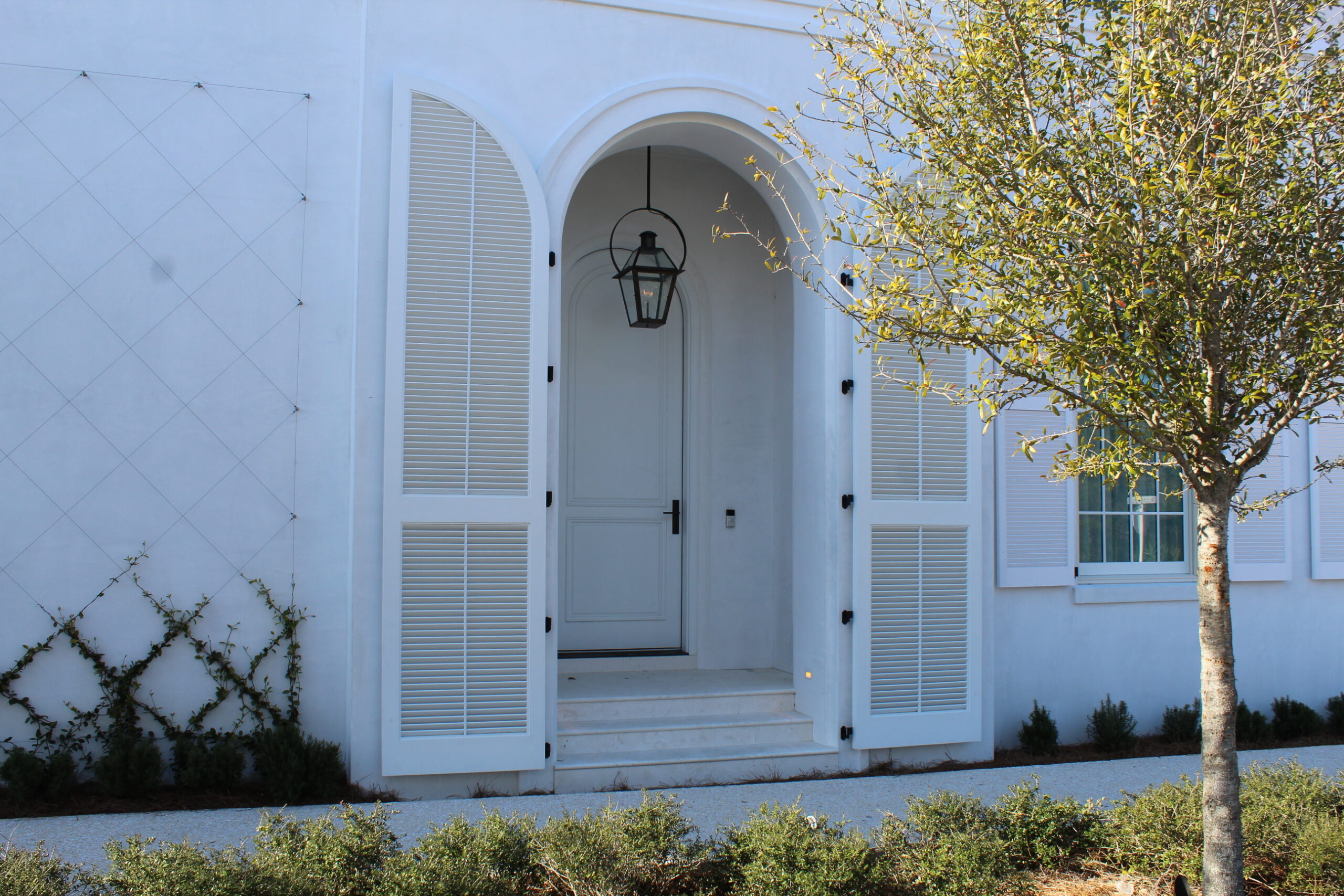 ---
Alys Beach's Architectural Influences
Alys Beach promotes their community as influenced by British Colonial architecture, the style most often found in Bermuda and further south in the Caribbean including Antigua and Guatemala. Based on observation, I have identified prevalent recurring architectural elements in Alys Beach that can be traced to the following influences:
Colonial influences from Europe include incorporating classic elements of the mother country into architecture and structures in an overseas settlement or territory. Historically, this concept provides the perception of comfort to the colony while also exerting influence of the native country.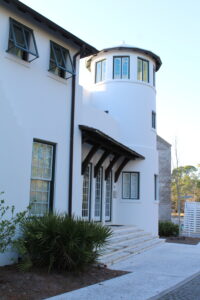 British Colonial architectural examples include rectangular structures; formal symmetry; multi-pane windows; shutters and multiple floors to house bedrooms.
Mediterranean Revival architecture incorporates Spanish Colonial, Spanish Renaissance, Italian Renaissance, Moorish Arabic Andalusian as well as other styles.
Features of Mediterranean homes include: texture such as brick or stucco, carved doors, raw iron and metal work on windows, balconies and front doors.
Moorish characteristics include courtyards, decorative tile work, domes, keyhole and ogee arches.
Spanish Revival architecture includes low pitched tile roofs, stucco walls, rounded arches, asymmetrical facades and rich decorative details.
Cape Dutch architecture is found mostly in the Western Cape of South Africa when Dutch colonial settlers dating back to the 17th century incorporated elements such as whitewashed walls, gables, large wooden sash cottage panes and exterior shutters.
Bermuda's St George, founded in 1612, is the oldest English settlement in the New World and its distinctive British Colonial architecture inspiration is evident in Alys Beach. Alys Beaches' four steepled pillar "butteries" with characteristic high pyramid-shaped roofs pay tribute to Bermuda's historically free-standing butteries that were used to keep milk, butter and perishables cold. Elements of Bermuda's British Colonial influence include white roofs, popped shutters and (limestone) block construction.
Caribbean hallmarks include the many variations of fretwork X-shaped designs, especially in railings and gates; verandas; courtyards; iron and metal decorative enhancements; natural elements such as shells and hurricane-resistant concrete construction. Like Alys Beach, Caribbean architecture is a melting pot of many styles and colonial influences.
The use of towers connected to or entirely as a housing structure originated globally centuries ago, typically where shelter and protection against small-scale attacks from feuding neighbors was necessary. Modern residential towers, no longer needed for defense purposes emerged as a symbol of status and for their panoramic vantage points.
---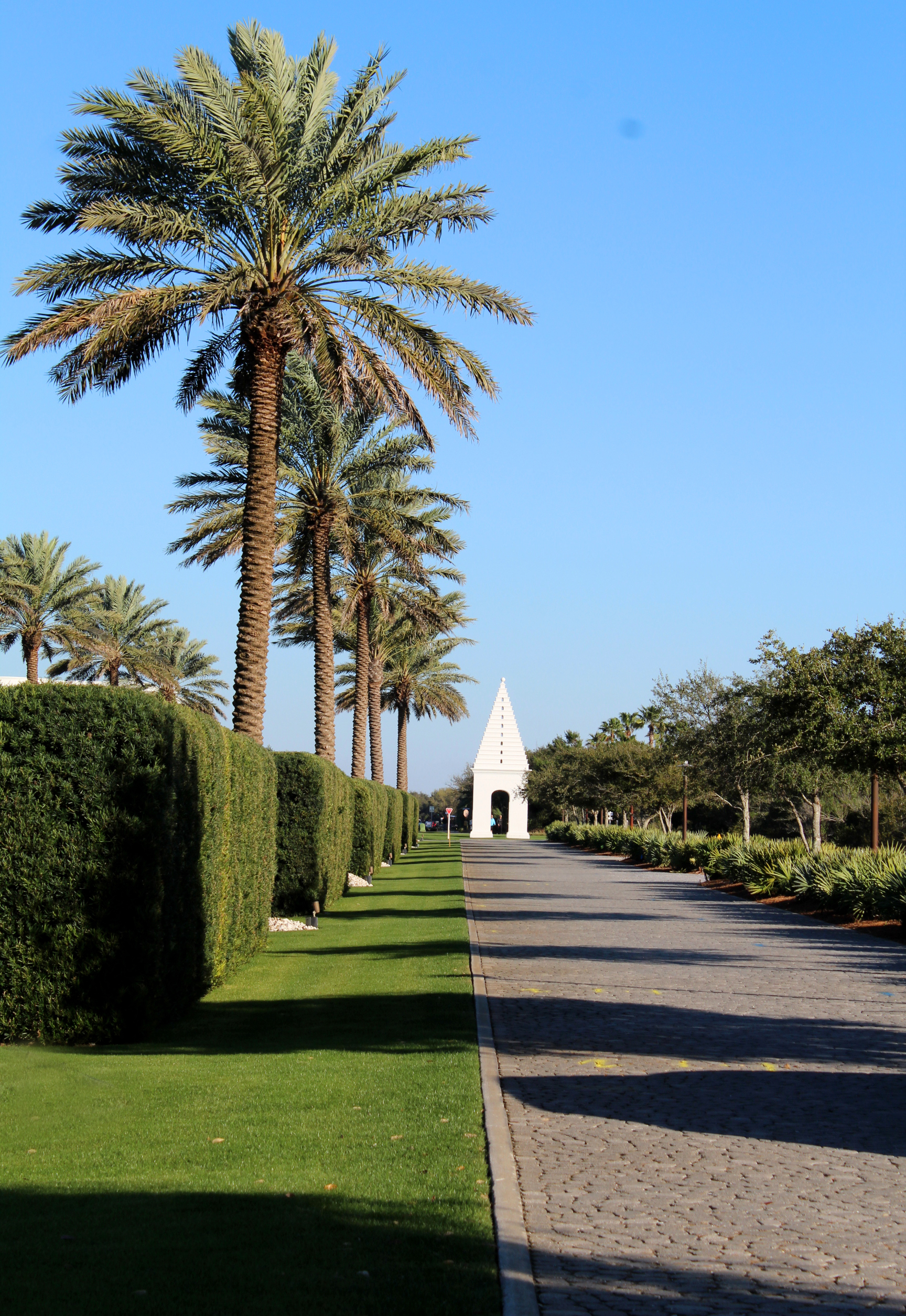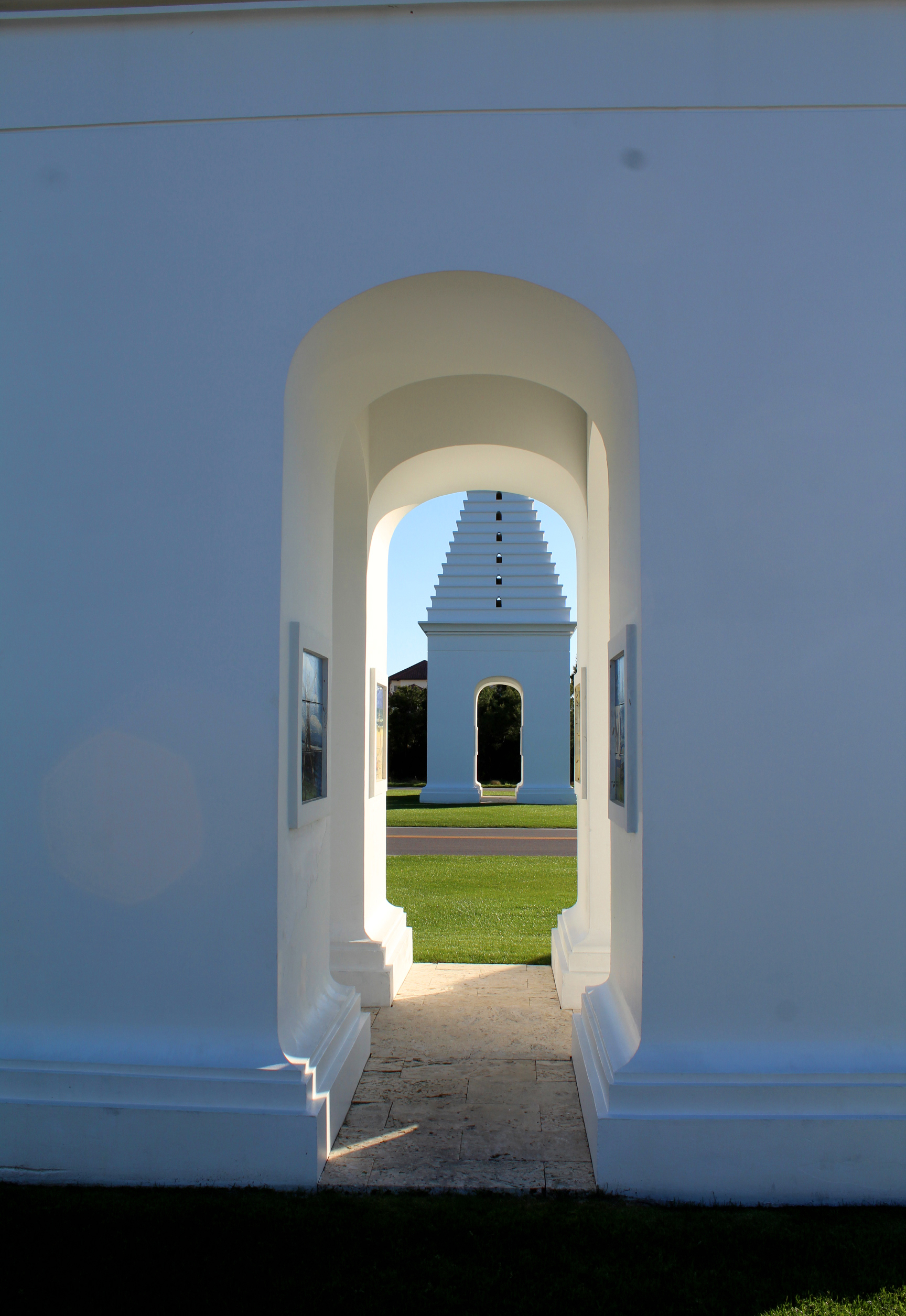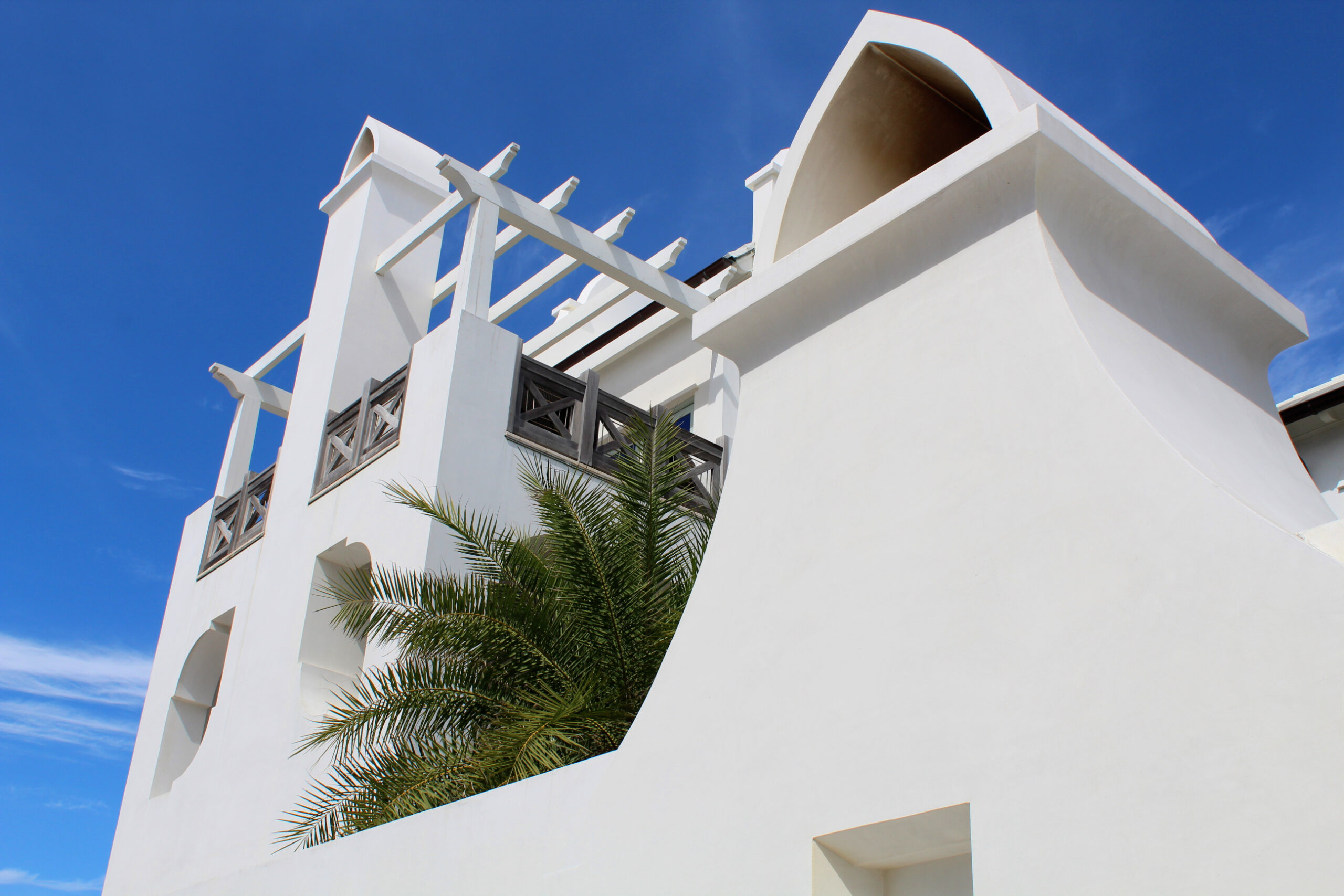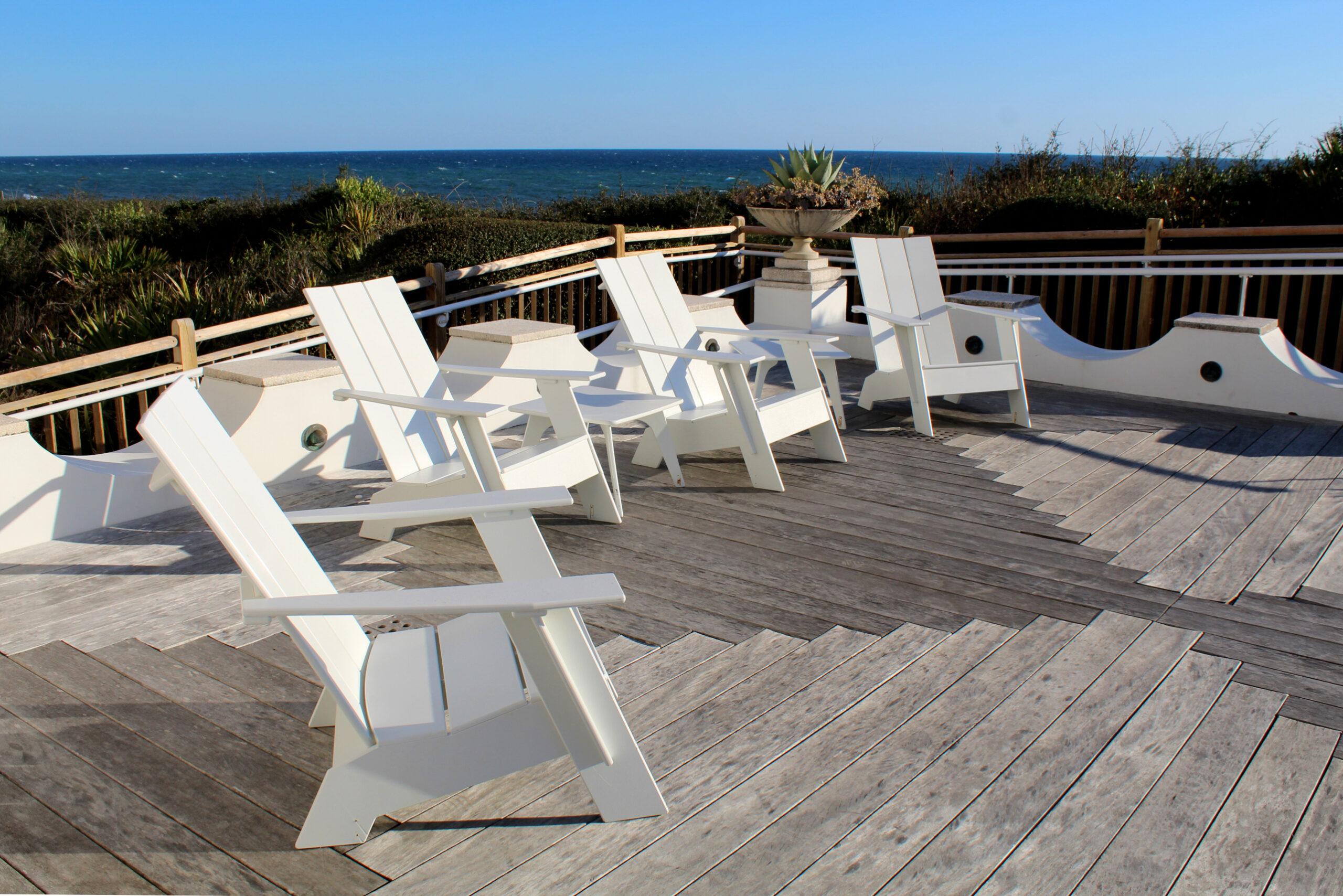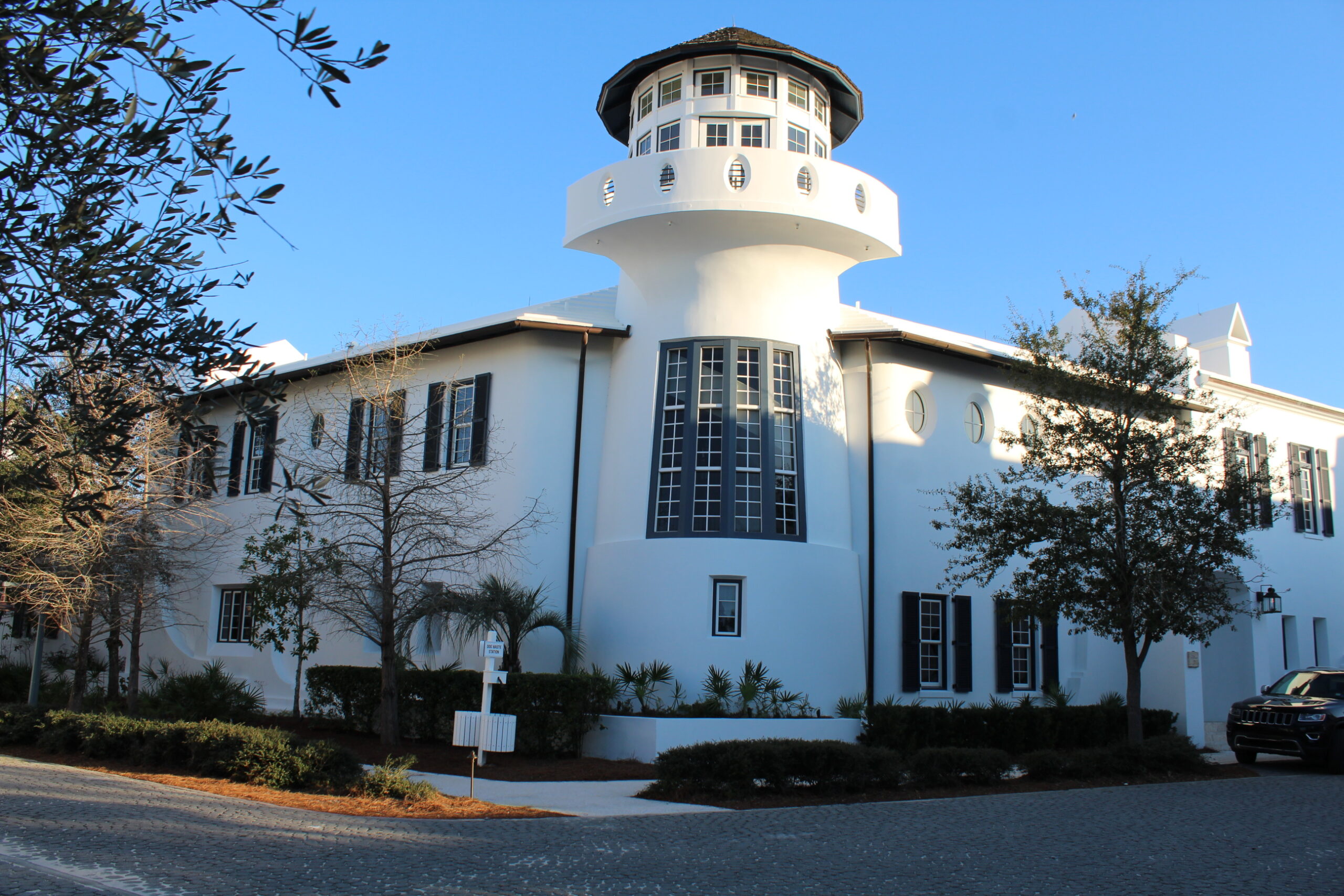 ---
What to Know About Alys Beach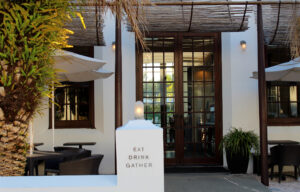 Pairs of Bermudan-style "butteries" welcome visitors traveling from either direction of Highway 30A, which connects fifteen neighboring beach communities. Route 30A slices through the middle of Alys Beach, creating North and South sections, plus the town center, which includes specialty shops and several restaurants, a tap room and a food truck.
Public Spaces
In addition to the walkable pathways, there are ten compact park spaces, including a fun and unique child's play area; a spacious amphitheater green space; a lake and a 22 acre nature preserve with boardwalks nestled in the back of the community. Artwork, fountains and sculptures are found throughout the community.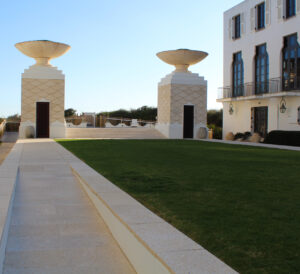 Gulf Green with the duo of massive urns on top of the fish scale bath houses is, in my opinion, the signature space of Alys Beach with sweeping views of the ocean and coastline of the Emerald Coast.
Rentals are available from the Bike Shop during season. In addition to bikes, owners and guests may rent stand-up paddle boards catamarans and kayaks.
Private Amenities
For homeowners and rental guests, Alys Beach features Caliza, a resort-style pool complex, ZUMA Wellness Center and of course the gorgeous white sugary sand beaches. Beach access points are private with restricted access.
The Beach Club, exclusively for property owners, overlooks the intense blue-green hues of the Gulf of Mexico. It is currently under construction and is projected to be completed in 2020 - 2021.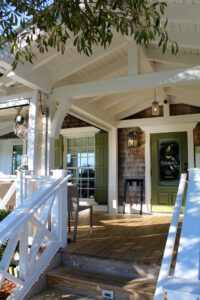 Restaurants/Shopping
Several dining options in season range from very casual such as Raw and Juicy cafe; Piper's Food Kitchen and Charlie's Donut and Yogurt truck, but be sure to check hours of operation in the winter. NEAT Bottle Shop offers artisan beverages and also sells bar/house wares. The adjoining tasting room serves hand-crafted beverages that complement offerings in the Bottle Shop. Full service restaurants include George's and Caliza. Boutique shopping is available at Alys Shoppe, Mast and Ann Hartley at Alys Beach, with more future retail space expected.
Lodging
Although there are no hotels in Alys Beach, rental homes are available, as well as traditional hotel lodging in neighboring communities.
Popular nearby coastal hot spots include Panama City, Florida, located a few miles East on Highway 98 and Destin is about 35 miles West on Highway 98, which can take an hour or more to reach by car.
---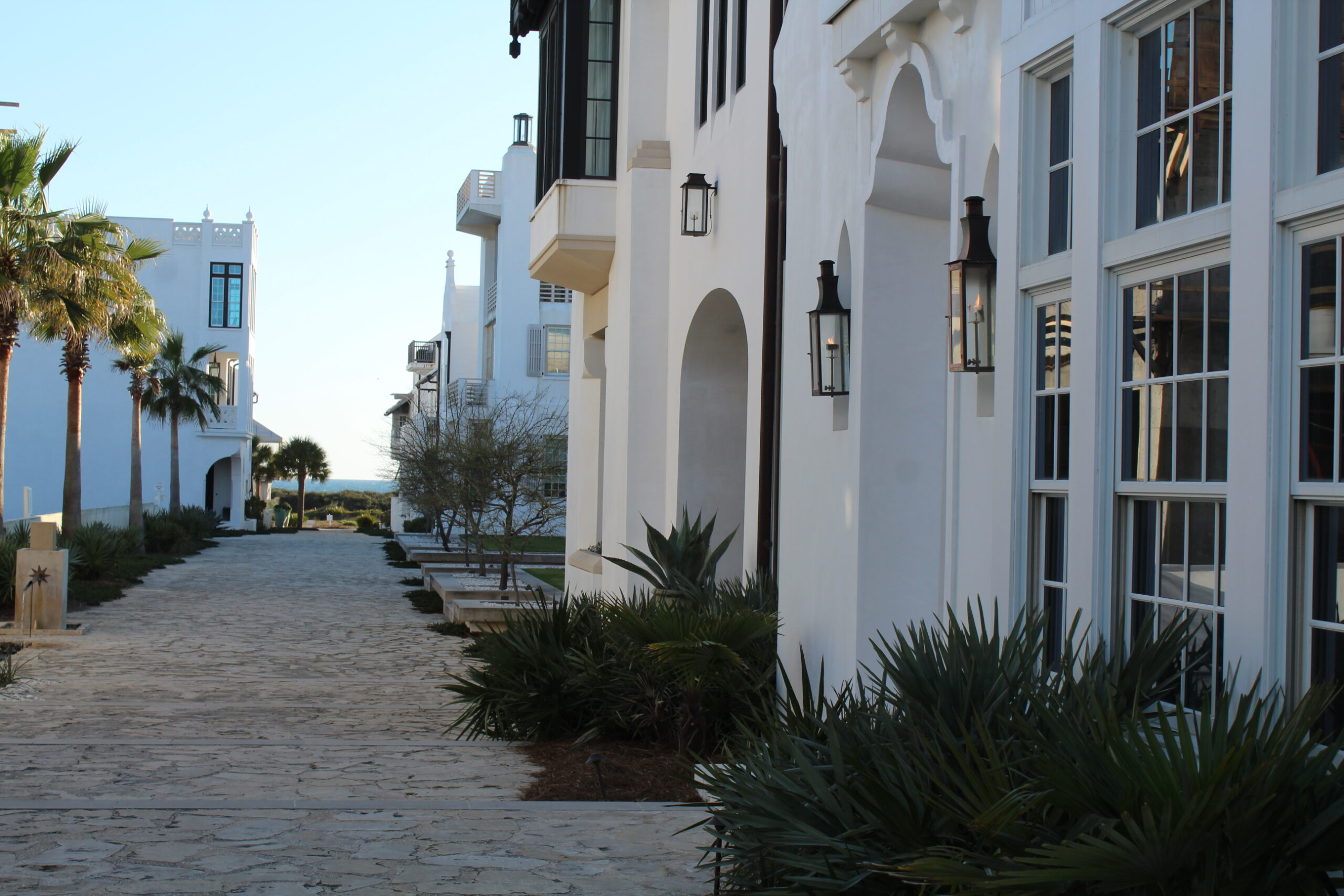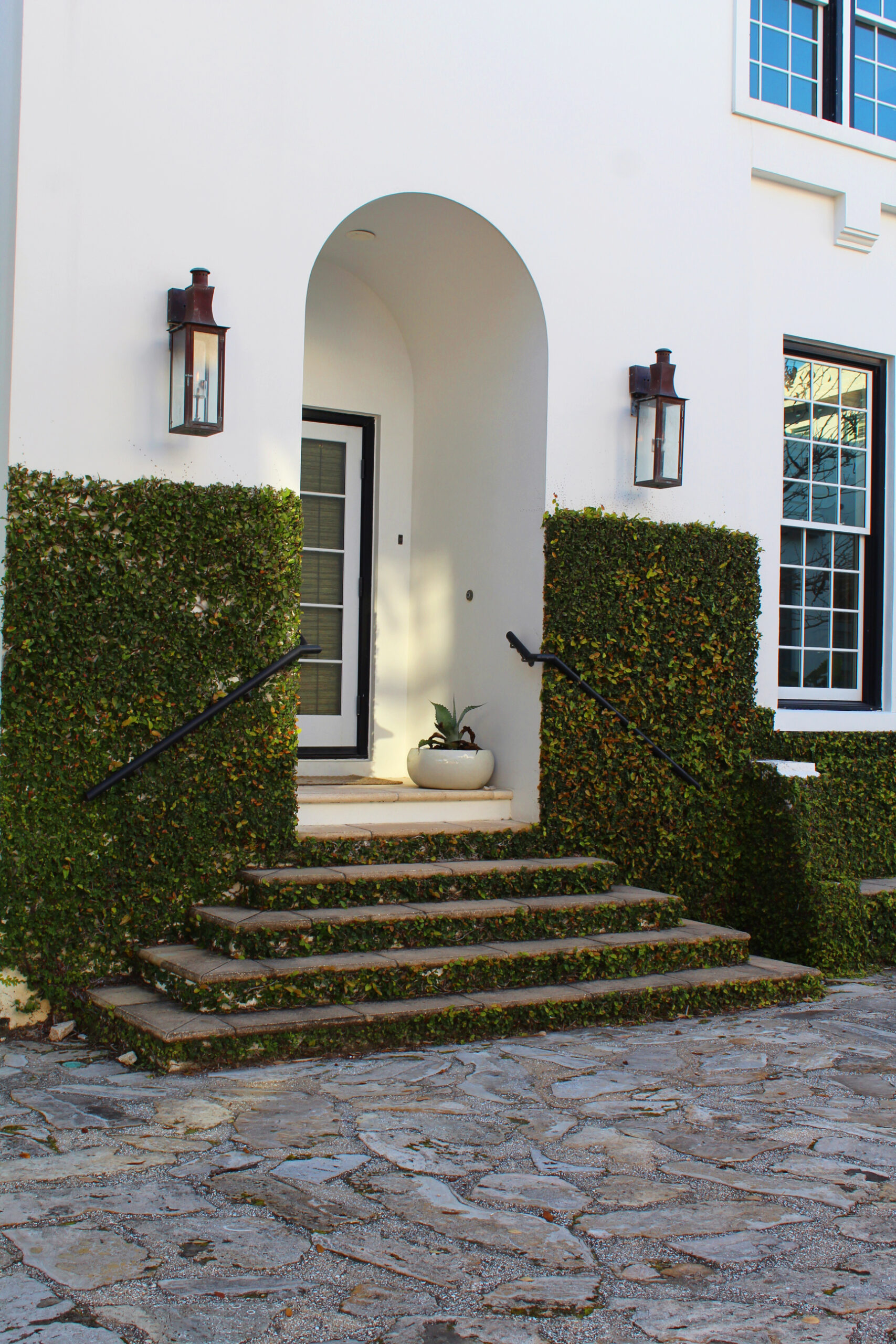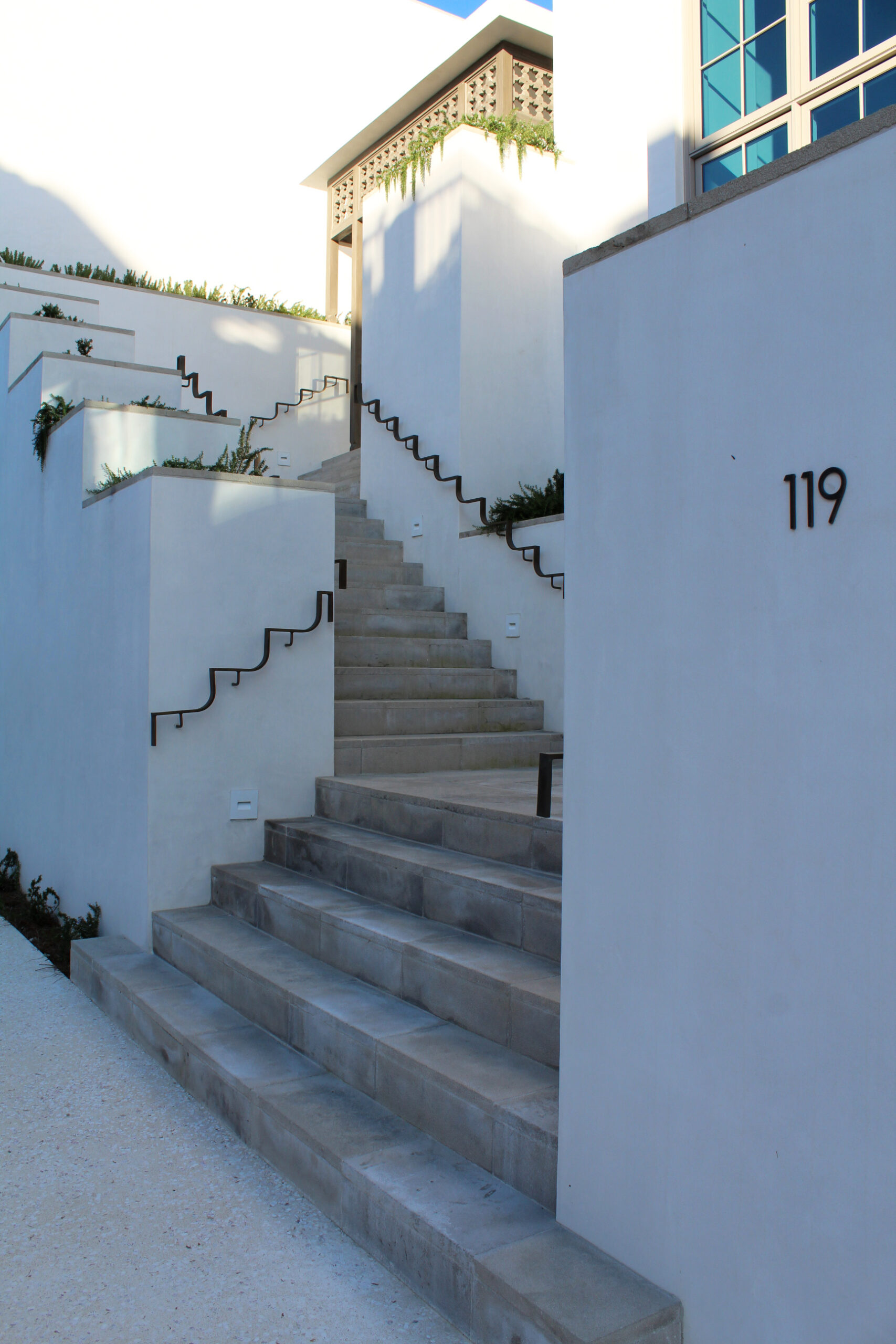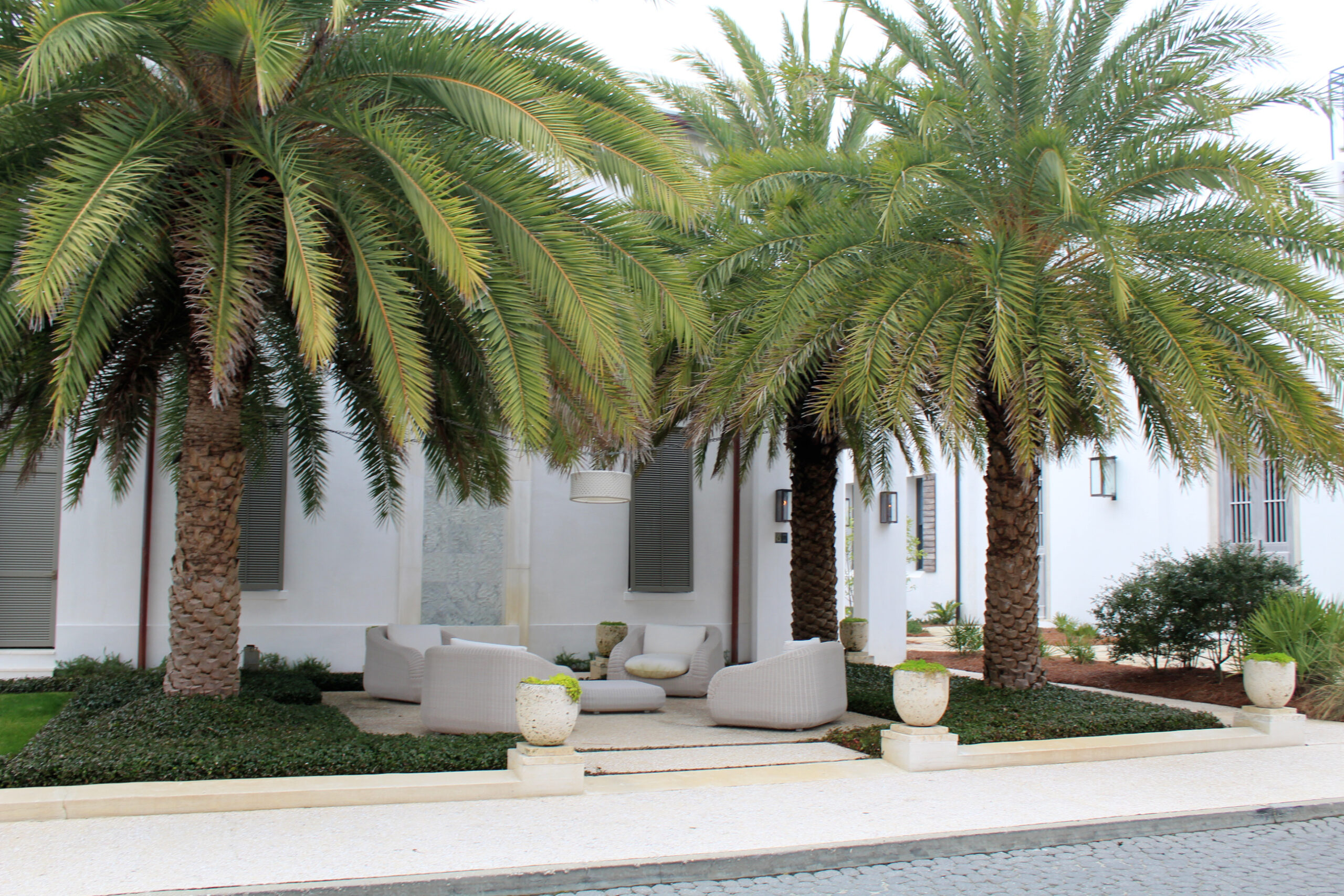 ---
Brief History of Alys Beach
Elton B. and Alys Stephens of Birmingham, Alabama, originally purchased the 158 acre tract for 1.2 million dollars from an auction "on a whim" while passing through the area in the late 1970's. They eventually decided on naming the property Alys Beach as a tribute to Mrs. Stephens.
The creator of two neighboring communities, Seaside, the original New Urbanism design and neo-classical Rosemary Beach, Florida was a natural choice to develop Alys Beach. Thus, Andrés Duany, a Miami-based architect, urban planner and champion of New Urbanism design was enlisted to create the overall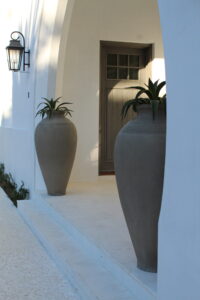 legacy and vision for the community through a charrette, which is a design collaborative. Although not part of the original charette, architects Erik Vogt and Marieanne Khoury-Vogt, owners of Khoury Vogt Architects, joined the Alys Beach design efforts and became so entrenched in working with the clients and community, they became the first residents.
Every building is constructed to meet the highest levels of Florida's Sustainability and Fortified standards to protect against natural disasters, including hurricanes and floods. The sparkling residences with Bermuda-inspired white roofs are constructed of solid concrete/masonry reinforced with stucco, which is perfect for creating elegant curved arches and soaring twelve foot tall entryways.
Three residential options are available: the villa, which is most typical and the more special courtyard and compound homes.
The street names of Alys Beach are noticeably unusual; for example, Featherbed Alley, Shinbone Court, Hogpenny Alley, Nonesuch Way, Sea Foam Alley, Sugar Lump Lane and Spice Berry Alley. This is yet another influence of the historical section of St George, Bermuda's British Colonial street names, which also include the original Featherbed Alley and Shinbone Alley, plus others such as Old Maid's Lane, Needle and Thread Alley and Pieces of Eight Lane.
Architects as well as their students and other industry professionals regularly travel to Alys Beach to photograph the residences and study the impressive designs. It truly is an inspiring, memorable and worthwhile place to visit, stay and return year after year.
---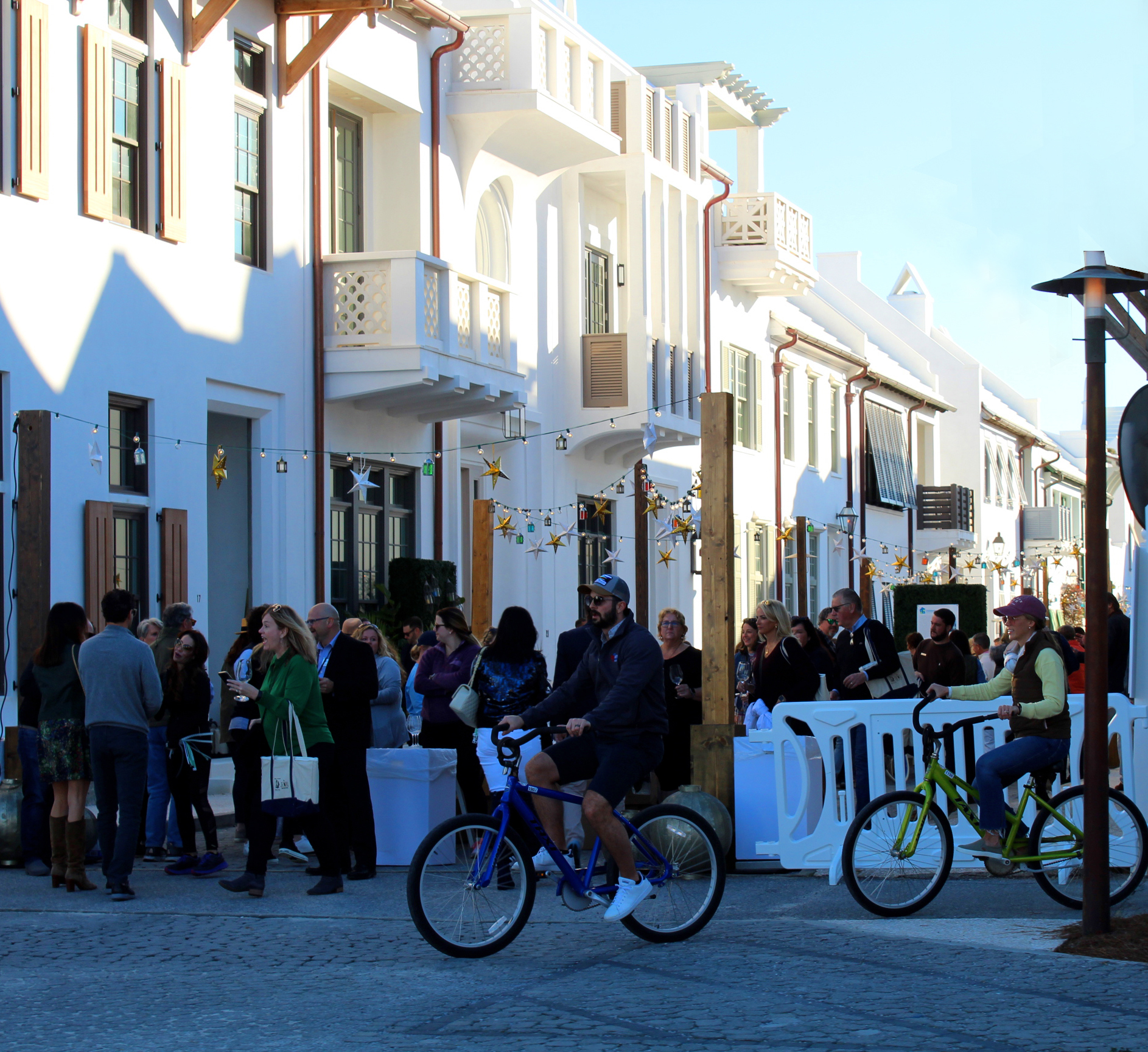 ---
Signature Alys Beach Events
Alys Beach hosts the annual five day 30A Wine Festival every February which benefits Children's Health Volunteer Network. Events include an "Oysters & Champagne," reception, "Bourbon, Beer and Butts," live music and a tasting featuring nationally known BBQ pitmasters, distillers and craft brewers, as well as the "Rosé & Croquet" tournament the final Sunday of the festival.
Digital Graffiti at Alys Beach is a popular family friendly art festival where international artists use the latest technology to project their original digital kaleidoscopes of color and vivid images onto the iconic white buildings each May. Of note, the 2020 event has been postponed to October 2 - 3, 2020 due to the current pandemic health crisis.
---
Before You Go
♦ Consider the time of year when planning your trip to Alys Beach. Spring break and summer are the busiest peak seasons, especially during summer holidays. Winter is the coolest with daytime temps at times being quite chilly. Because it's the off season, the amenities and services may be closed or reduced in January, February and the first part of March.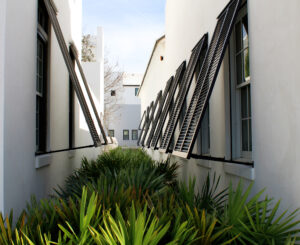 ♦ Alys Beach is designed as a walkable community of narrow streets and pedestrian paths. This means public street parking is not readily available, especially for busy weekends, festivals and the peak season. There are a few parking spaces near the restaurants, shops and amphitheater. During busy times, be prepared to take a driving tour of the community if no parking is available. Or consider parking in a public lot several miles away and hire a private transportation service to drop you off.
♦ Refer to a map when possible, because the parks, sculptures and other places of interest are not marked with signage directives to find them.
♦ Some areas of Alys Beach have ramp walkways to assist those with mobility issues, but there are also promenades with a series of steps and no ramp.
♦ Alys Beach is growing and therefore is under construction. Be prepared for construction noise, traffic and closed-off areas.
♦ Visitors do not have access to the renowned sugary quartz sands of the private beach and some of the amenities unless renting or owning a property. With the exception of the Gulf Green overlook, there is no way to easily view the gorgeous ocean from a public space. The sandy white beaches aren't visible from Gulf Green due to the steep slope of natural vegetation.
♦ For families with young children or teens, the private beach and Caliza pool are big attractions if you are renting a place on site. There are also bike and other water-types of rentals, plus the children's playground near Raw and Juicy. The 22 nature acre preserve is open to the public.
♦ Alys Beach's special events sell out quickly, so purchase your ticket/s well in advance.
♦ Bring a quality camera to capture the details, large and small.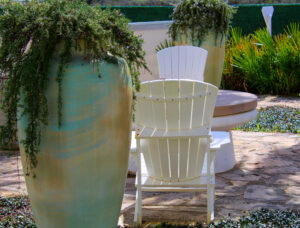 ♦ Allow enough time to look around, there's a lot to see. If you have only a few hours, park on West La Garza Lane near Charles Street (or anywhere close to Raw and Juicy) and start your tour with a visit to Gulf Green with the massive urns on Sea Foam Alley and the South portion of Alys Beach.
♦ There are many architectural moods and styles within Alys Beach because it was created during the past 17 years by various architectural firms. Styles range from contemporary and modern to classic traditional to outright eclectic. Don't assume that because you've seen one street or neighborhood that another will be the same, they are all unified yet quite different.
♦ Alys Beach, Florida is like no other place in the world. For me, it was love at first sight with an ongoing fascination as it continues to evolve. It is a great choice to bring your loved ones and guests for a super memorable day trip.
---
"Communities should be planned with an eye to the effect on the human spirit of being continually surrounded by a maximum of beauty."
-- Thomas Jefferson, Founding Father and Third President of the United States
---
---