Grill Review: Charbroil® Portable Electric TRU-Infrared™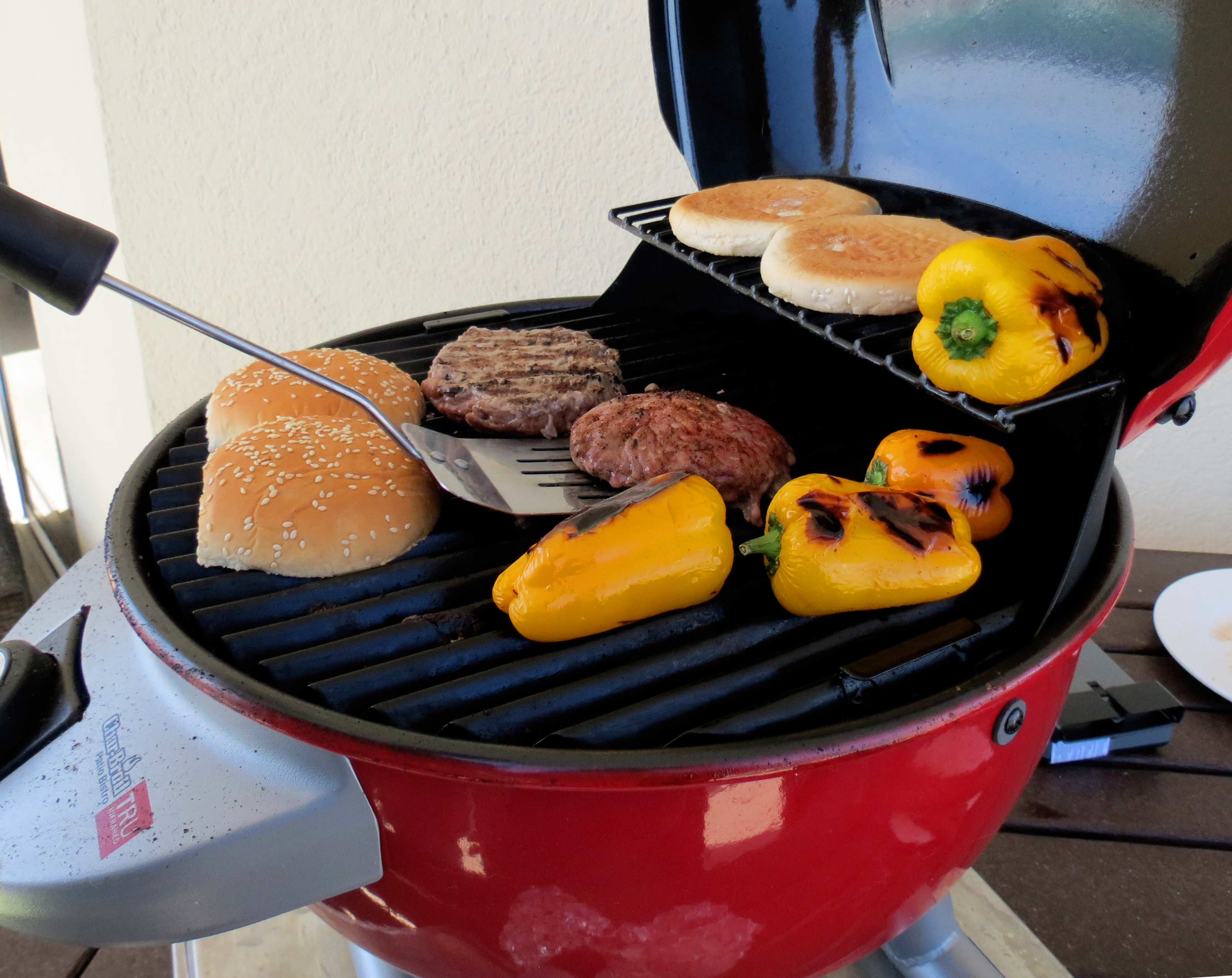 Electric Infrared Grill Review
---
Grilling meat, fish, vegetables and poultry is a favorite activity of many snowbirds, including my husband. Our first season, we tried the community charcoal grill and it wasn't a good fit for us. Purchasing charcoal briquettes, lighter fluid and trying to store them in a condo with no garage is not practical. So the second year, my husband ordered a new portable infrared electric grill that was delivered to our snowbird home. At the end of our stay we shipped it home. We liked the grill so much we now haul it back and forth with us every season. Our infrared grill is so amazing, we use it all year round more often than our gas grill. Here's why we love it.
---
Why We Love our Char-Broil® Portable Patio Bistro® TRU-Infrared Electric Grill

™
Infrared Technology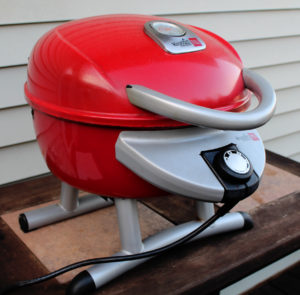 Flavor, flavor, flavor! Because infrared heat sears food quicker at a higher temperature, the flavor of the food is noticeably enhanced. Juices are retained within the meat, fish and poultry for the best possible result. I must admit, I was a little skeptical about an electric grill until I tried the food cooked on our Char-Broil® TRU-infrared™ grill and now I'm an enthusiast. Of course, upon removing food from the grill, don't forget to tent your food and let it adequately rest for best flavor.
Compact/Portable
The tabletop style grill is compact and easily moves.
Easy to Use
The grill preheats in about ten minutes, has an easy-to-adjust dial with five temperature settings, is reliable and never requires refilling the fuel source as gas or charcoal grills do.
Easy to Clean
Just burn off the excess grease or food debris and let the grill cool down. Use a nylon brush to scrape any remaining particles.
Overall Value
The cost of approximately $129 is not that much considering the value of having a quality infrared electric grill
---
Considerations of a Snowbird Grill
Snowbirds who live in a community with fire code regulations are most affected by the type of grill they can have. Some considerations include:
Check your local fire code, lease contract and HOA rules
First, check with your local officials regarding fire code. There's no point in considering a grill if it won't meet code. It's almost 100% certain every community is going to prohibit gas or charcoal grills on multi-unit balconies or patios, but electric grills / cooking appliances may be exempt.
Upon request prior to our arrival, the county fire inspector for our community sent the specific code regarding "cooking equipment." My goal is to always be ready with a copy of the specific fire code in case of any complaints from neighbors. However, there is something to be said about not drawing a lot of attention either. Just because you know you're within the rules, doesn't mean your neighbors in the building next door can see from afar that your red domed table top grill is electric and not gas.
Check your lease contract and Homeowner's Association (HOA) rules to see if there's any language prohibiting electric cooking appliances. HOA restrictions are generally public information and can be researched online prior to arrival.
Portable
A snowbird's grill must be portable. Sure, you can use the community grills, but they are not right outside your door and usually require messy charcoal briquettes and lighter fluid. With no garage or shed, storing these items is problematic.
A portable grill can be transported to and from your snowbird home every season. If you own your place, a portable grill is small enough to store indoors when away for the off-season.
Electric
Because fire code prohibits hibachi, gas or charcoal grills anywhere near a balcony or patio, electric grills solve safety issues related to open flames. An electric grill never needs refueled like charcoal or gas grills. The biggest disadvantage to an electric grill is not being able to use it outdoors in inclement, rainy weather.
Size
Cooking surface size does matter. Electric grills on a balcony or patio must be adhere to the acceptable range of surface area or they likely will not meet fire code, as stated above. Of course, the smaller cooking surface will require cooking in batches if you are serving a crowd of more than 2 or 3 people. Because of the smaller surface size, proper heating zones are not possible as with a larger grill.
We chose a table-top model. Not only will it fit into our SUV, but it is the only style that meets fire code in our snowbird community.
Infrared Heat
By far, the secret to obtaining great flavor with an electric grill is infrared heat. An infrared grill uses electromagnetic radiation infrared technology as the heat source, similar to how a microwave works. An infrared element is located between the grates and the heating element.
Because infrared heat penetrates and agitates food molecules instead of heating the surrounding area, food sears and cooks hotter, quicker and more evenly for maximum flavor. Infrared heat is also more energy efficient due to less time to preheat and less cooking time.
Safety
Never use an electric grill near any water source or during wet, misty or rainy weather.
Use the product in a well-ventilated outdoor area.
Never leave your grill unattended when it is on.
Keep your pets and any children away from your hot grill. Infrared heat can quickly reach very high temperatures, so forewarn your guests who may be unaware. We do not ever allow our large dog alone with the grill. It's too tempting for most pets unless you are very confident they cannot possibly reach the grill.
Always keep a supply of water nearby in case of grease flare ups. Avoid pouring water on the heating element.
Use a surge protector with your electric grill.
Quality, Ease of Use, Price, Value
Additional considerations include quality, ease of use in comparison to the price for an overall value. Typical pricing for an electric infrared grill is less than $150. Shipping will add to the cost. If you need to ship your grill to/from your snowbird home, estimate about $50 each way and don't forget to save the box. If hauling the grill back and forth in your vehicle, clean it up, drain any liquids in the grease trap and wrap it in an over-sized 55 gallon lawn bag.
There's nothing quite like fresh grilled seafood and burgers at the beach.
---
DISCLAIMER: Follow all safety precautions per the manufacturer's instructions.
NOTE: This grill review is based on personal experience with the product. No paid endorsements of any kind were made by the manufacturer.
There's something about standing over a grill or outside with the family that inspires us.
--Guy Fieri, American Restaurateur, Author
DISCLAIMER
The information contained in this website is for general information purposes only. We make no representations or warranties of any kind, express or implied, about the completeness, accuracy, reliability, suitability or availability with respect to the website or the information, products, services, or related graphics contained on the website for any purpose. Any reliance you place on such information is therefore strictly at your own risk.
In no event will we be liable for any loss or damage including without limitation, indirect or consequential loss or damage, or any loss or damage whatsoever arising from or in connection with, the use of this website.
Through this website you are able to link to other websites which are not under the control of Midlife Snowbird. We have no control over the nature, content and availability of those sites. The inclusion of any links or advertisements does not necessarily imply a recommendation or endorse the views expressed within them.
---
---